What You Need To Know
Miami is one of the most exciting, vibrant, and storied cities in the world. Visitors from all over flock to the city for cruise vacations, its beaches, cuisine, unique culture, and nightlife.
In addition to being a world-class destination in its own right, Miami is also one of the largest cruise ports in the world by passengers served.
Location
Sometimes called "the Gateway to the Americas," Miami is located at the southeast tip of the Florida peninsula.
PortMiami is situated on an island in Biscayne Bay, right downtown and within easy view of the skyscrapers which line the waterfront.
In our opinion, Miami is one of the most beautiful homeports and is always a thrill to sail out of.
The climate is tropical, so be prepared for hot, humid summers with frequent rain. In the winter, temperatures still tend to be warm, though mornings can be cooler and the humidity drops making outside adventures more bearable.
Miami Cruise Port Address
1015 N America Way, Miami, Florida 33132
PortMiami Cruise Terminals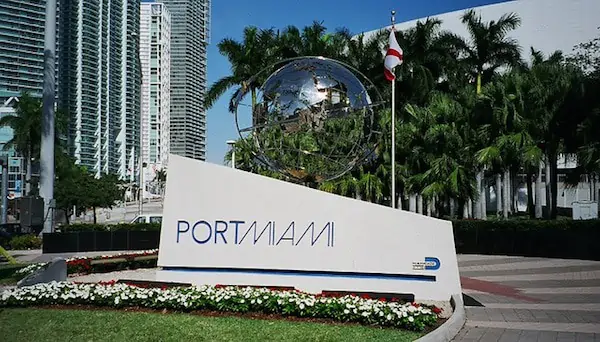 The Dodge Island home of PortMiami is perfectly designed for cruise ships. The portion where the terminals are located is roughly a rectangle with the cruise terminals lining the waterfront and parking garages and lots in between. Many of the terminals are recently built and are truly architectural marvels.
Terminal AA – MSC future terminal, due to open 2022

Terminal A – "The Crown of Miami" – Royal Caribbean

Terminal B – "The Pearl of Miami" – Norwegian Cruise Line

Terminal C – Norwegian Cruise Line

Terminal D, E, & F – Carnival Cruise Line

Terminal G – MSC, Disney

Terminal H – Seldom used, small ship terminal

Terminal J – Oceania, Azamara, Viking Ocean Cruises, Crystal, and other boutique lines

Terminal K – Future Disney terminal

Terminal V – Virgin Voyages
Cruise Lines That Sail From Miami
As one of the largest cruise ports in the world, PortMiami has a wide range of cruise lines to choose from. Some sail year-round like Royal Caribbean and Carnival, while others are seasonal and make Caribbean trips during the winter and spring:
Carnival

Celebrity

Crystal

Disney

MSC

Norwegian 

Royal Caribbean

Oceania

Viking

Virgin Voyages
Itineraries focus on the Caribbean with choices of eastern, western, and southern voyages, along with Panama Canal transits. Miami is also a popular departure and arrival port for transatlantic sailings to and from Europe in the spring and autumn. 
Miami Cruise Port Ground Transportation
Miami, as one of the largest transportation hubs in the western hemisphere, is an easy city to access for cruise passengers. Options include:
Cruise ship shuttle service – These can be booked directly with your cruise line or with your travel professional and are usually a bus or van which will carry a number of other cruisers heading to the same ship or terminal from Miami International or Fort Lauderdale/Hollywood International Airport. Expect to pay about $25-30 per person, each way.

Rideshare (Uber/ Lyft, etc) – About $20 each way from Miami International or $35 from Ft. Lauderdale International, but can vary depending on traffic and demand.

Taxi – The flat fare for taxis from Miami International airport to the Miami cruise port is $27; Ft. Lauderdale International to the Miami Cruise Port will set you back about $75 each way. 
Train – Brightline, Tri-Rail, and Miami Metro Rail all have services which can take you close to the port, but not quite there. A rideshare or taxi will still be required once your train drops you off in downtown Miami, roughly a mile from the port.
Car rental – Of course, you can rent a car, but if you are flying in, it doesn't make much financial sense as you will pay the parking fees for the duration of your cruise (see below).
READ MORE: 5 Reasons Carnival Sunrise Is Perfect For Florida
How far is Miami Cruise Port from the Airport?
Miami International Airport is a 10 mile trip from the cruise port which usually takes about 20- 30 minutes, depending on traffic, of course. A little further away — but a hub for many discount carriers — is the Ft. Lauderdale/Hollywood International Airport.
Though not as close as Miami International, it is still only 28 miles and a 45 minute to one-hour ride, so is definitely a viable option for cruisers. Finally, as another alternative, the West Palm Beach Airport often has great deals on flights and is located 70 miles north of Port Miami, roughly 1 hour and 20 minutes by car, rideshare, or shuttle.  
Parking and Fees at Miami Cruise Port
Parking at the terminals and lots at the cruise terminals on Dodge Island, the home of Port Miami, is $22 per day, including the day you embark and disembark. Offsite options are available from several vendors who have lots and garages in downtown Miami. Rates with these operators range from $6.50 per day to $11 per day.
If you choose an off-site operator, you will need to be prepared to take a provided shuttle, which is generally complimentary for the first 4 passengers and 1 piece of luggage. Additional passengers or luggage often have a cost associated with them. Be sure to factor in time for the shuttle ride when planning your arrival.

LISTEN: Cruise Podcast — Q&A PortMiami Parking, Cancellations, and Embarkation Times
When should I arrive at the cruise port?
You're on vacation, and now you want to get onboard. Don't just show up to the port at any time or you may be in for a long wait. When you have paid your final deposits for your cruise, you will be either assigned or get to choose a boarding time. It is best to arrive at the port around 30 minutes prior to your time. This will give you ample opportunity to find a parking spot (if driving), check any luggage, and then go through security and health screenings. All passengers typically need to be on board the ship one hour prior to the scheduled departure time, so don't arrive too late.

Hotels Near Miami Cruise Port
Because Port Miami is located on a small island in the harbor, there isn't really a safe way to walk there from any hotels. However, several exciting neighborhoods are only a few minutes away and, this being Miami, a ton of hotels are within a short ride of the port.      
Downtown Miami and Brickell are the closest areas of the city to PortMiami and have an enormous range of lodging options from the most opulent (W, Mandarin Oriental, JW Marriott) to the budget-friendly (Rodeway Inn), and plenty in between (Hampton Inn, Holiday Inn, Marriott brands). These neighborhoods have plenty of food and drink choices along with easy transportation to other parts of the city and Miami International Airport.
Many of the hotels offer shuttles to the port too. The Intercontinental Miami, located at Bayfront Park and just steps from Bayfront Marketplace and other must-do sights, is a particular favorite among cruisers. Be sure to ask for a port view room so you can see your ship when you wake up on embarkation day.

Just north of downtown is Edgewater and the Miami Design District. These funky, artsy neighborhoods have a nice variety of hotels which are slightly cheaper than in downtown and still have the convenience of restaurants and bars. In the Design District, Michael's Genuine Food & Drink, Sugarcane Raw Bar and Grill, and Ghee Indian Kitchen are among the local favorites.

South of downtown, and connected to the city and airport via the MertoRail system, is Coconut Grove. This upscale area includes an outdoor mall, plenty of restaurants, bars and nightlife, plus a good selection of mid-range hotels. Coconut Grove is a trendy, but comfortable spot to spend some time.

South Beach, world-famous for its sand and glitz, is the place to see and be seen. It's about a 20-minute ride from the port. While hotels right on the beach are expensive, there are many choices a block or two away that are more affordable. Lincoln Road is a pedestrian shopping and dining street which has fun places to eat and explore. Check out the Cafe at Books & Books, Meat Market Miami Beach, and MILA Restaurant.

Shopping Near Miami Cruise Port
 For hanging out before or after a cruise, the Bayside section of downtown Miami can't be beat. Just over the bridge from PortMiami, there are lots of things to do such as the Frost Museum of Science, Bayfront Park, and the Bayside Marketplace. The marketplace has a nice selection of coffee shops, bars, restaurants, and shops, and is a fun place to watch the boats move in and out of the marina.
READ MORE: 7 Cruise Excursions in Miami You May Not Have Considered
Best Spots to Watch Cruise Ships in Miami
For the best views of the cruise ships leaving Port Miami, head to Maurice A Ferre Park. Located in the Bayfront section of downtown, the park is waterfront, right on the bay. This section of the bay is the turning basin, where the ships go to turn around before they head out to sea. Each ship enters the basin, makes a 180-degree circle, then sails through the channel to the open ocean. It really is something to behold! 
Pin it for later!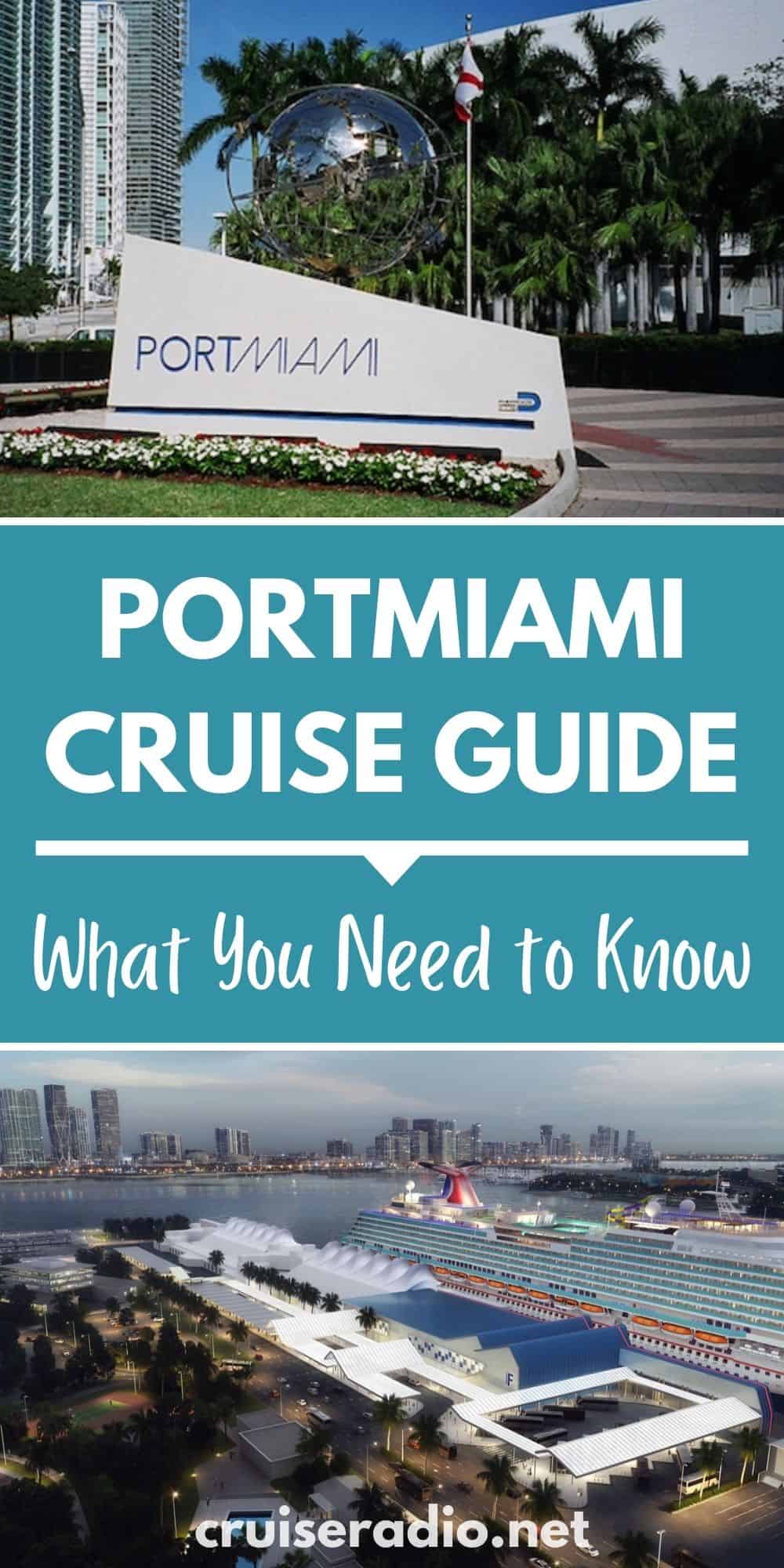 ---
---