9 Things Cruisers Have in Common With Walt Disney World Fans
Despite loving both Walt Disney World and cruises, I've never sailed with Disney Cruise Line. But over time, I've come to realize that there's a huge crossover between people who choose to vacation on the high seas and those who love visiting the House of Mouse.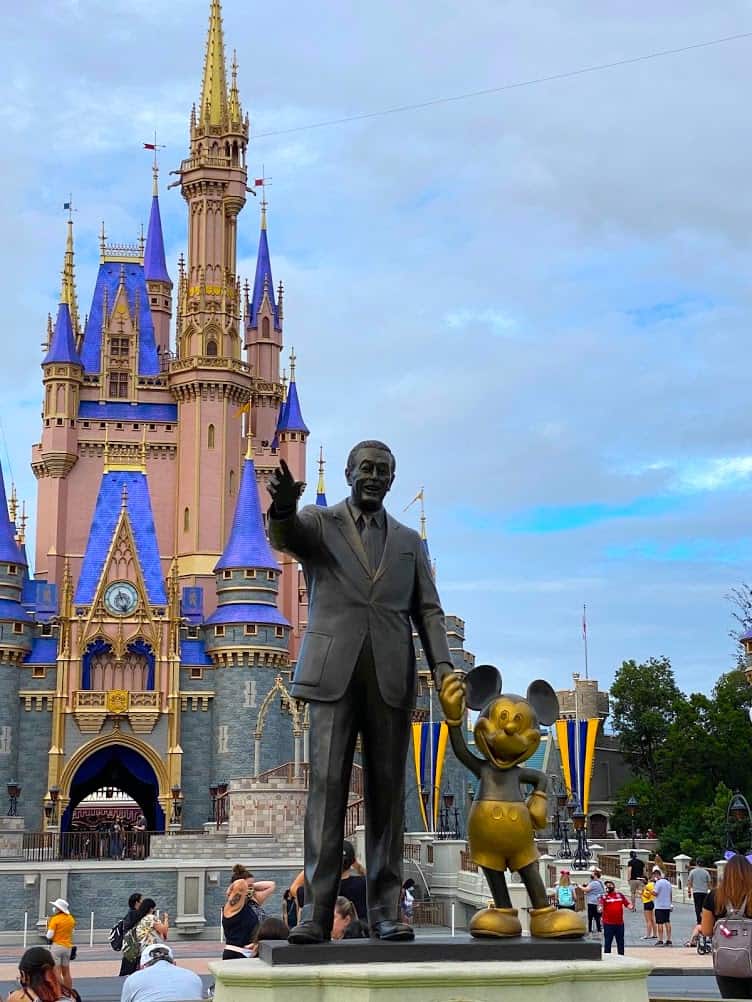 At first, this struck me as odd. On the surface, the two seem like vastly different vacation options, especially if you take Disney Cruise Line out of the equation. What, for example, does your typical Carnival cruise have in common with a visit to the sprawling Florida theme park?
As it turns out, the answer is "a whole lot more than you might imagine."
Don't believe me? Well, let's take a closer look by listing nine ways in which the two are alike.
1. Both offer high-tech thrills
This particular commonality is a relatively new development. After all, until the past few years, you were far more likely to find thrills in general and rides in particular at a Disney park, or any theme park for that matter. But that was before cruise lines began offering everything from surfing and flight simulators to top-deck go-karts.
Next year, even rides like Space Mountain will get competition when Carnival's new ship, Mardi Gras, debuts with an actual roller coaster on the top deck.
2. Both are a dream come true for foodies.
Whether in a Disney park or on a cruise ship, all food is not created equal. At both, you'll find less-than-stellar, prepared-for-the-masses offerings that would definitely offend the sensibilities of a self-declared foodie. But if you look a little harder — and are willing to pay a little extra — you'll also find top-notch dining options.
At Walt Disney World's Grand Floridian resort you can enjoy the only AAA 5-Star restaurant in Orlando, Victoria and Albert's. Meanwhile, nearly every cruise line now offers a Chef's Table experience at which a limited number of guests are treated to a top-notch meal unlike anything they've ever experienced.
READ: 7 Favorite Cruise Ship Restaurants
3. Both offer character interactions.
If you're on a Disney cruise ship, of course, you're going to expect some character encounters. What you might not expect is to be greeted by The Cat in the Hat when boarding a Carnival ship, which happens pretty routinely.
PHOTOS: 2020 Christmas Tree Trail at Disney Springs
While Carnival's partnership with Dr. Seuss is probably the most successful case, other lines have dabbled with similar arrangements… with mixed results. There's a reason you no longer will find Shrek and Fiona dancing Gangnam Style on Royal Caribbean ships.
4. Both offer plenty of opportunities to get your drink on.
Many cruisers would never consider stepping foot on a ship without first securing a drink package. Who doesn't want to enjoy unlimited cocktails — from that morning Bloody Mary to poolside Miami Vices and a final, late-night chocolate martini?
Walt Disney World doesn't offer a similar package, sadly, but that doesn't stop boozehounds from heading to Epcot, where each country offers a chance to see how people in far-flung lands obtain their hangovers.
5. Both cater to our natural love of water.
Whether sitting on your private balcony or taking in the view from the lido deck, cruisers can often be found simply staring off into the distance as the ship cuts through the water. We'll often proclaim that no sight on earth can equal that of a sunset on the ocean.
Similarly, Walt Disney World's parks are filled with water features designed to draw us in. Your mind might immediately go to attractions such as Splash Mountain or Living With The Land, but look closer.
Water is everywhere at the parks, from the cascading brooks of the Animal Kingdom's Oasis area to the Seven Seas Lagoon around which the monorail circles.
6. Both let you explore new worlds.
Whether you're looking to check out the alien landscapes of Pandora at the Animal Kingdom or the more natural wonders found in St. Lucia, both Disney World and cruising allow you to not only see, but experience incredible sights.
An added bonus? Each gives you the option to see nothing more exotic than your cabin or hotel room should you decide that what you really want to check out is the inside of your eyelids while everybody else is off exploring.
7. Both offer top-notch service.
Walt Disney World's employees are so crucial to the overall "show" being presented that they're referred to as Cast Members. While cruise ship employees aren't given that honor (except on Disney Cruise Line), they probably should be.
READ MORE: Port Canaveral Cruise Guide — What You Need To Know
From the waiter who remembers on night two that the only dessert you like is key lime pie (and makes sure to set aside a piece each evening for the rest of the week) to the folks behind the scenes whom you'll never cross paths with, they work their butts off to make sure that you have the vacation of a lifetime.
8. Both involve a whole lot of planning.
Yes, you could go to Walt Disney World or jump on a cruise ship without having done a bit of planning and have a good time. But for most true Disney World/cruise fans, planning is half the fun.
From figuring out which hotel room/cabin they want to researching menus, both can spend months or more plotting out the perfect vacation and, more importantly, enjoying every minute of it.
For them, planning is a crucial part of the vacation. (Fortunately for people who don't find that at all entertaining, almost every family or extended group of friends includes at least one person who does.)
9. Both feature active communities.
Unless you happen to have a fellow cruise/Disney lover as your best friend/partner, nobody's going to understand you the way others in the community do. There's a reason approximately 5.3 billion Facebook groups and message boards are dedicated to Walt Disney World and cruising (that's an exaggeration).
When you're looking for a restaurant reservation or to complain about something that disappointed you, these communities will be there for you. They won't always agree with — and might even turn on — you, but they'll always be there!
More Disney articles in our travel series:
Pin it!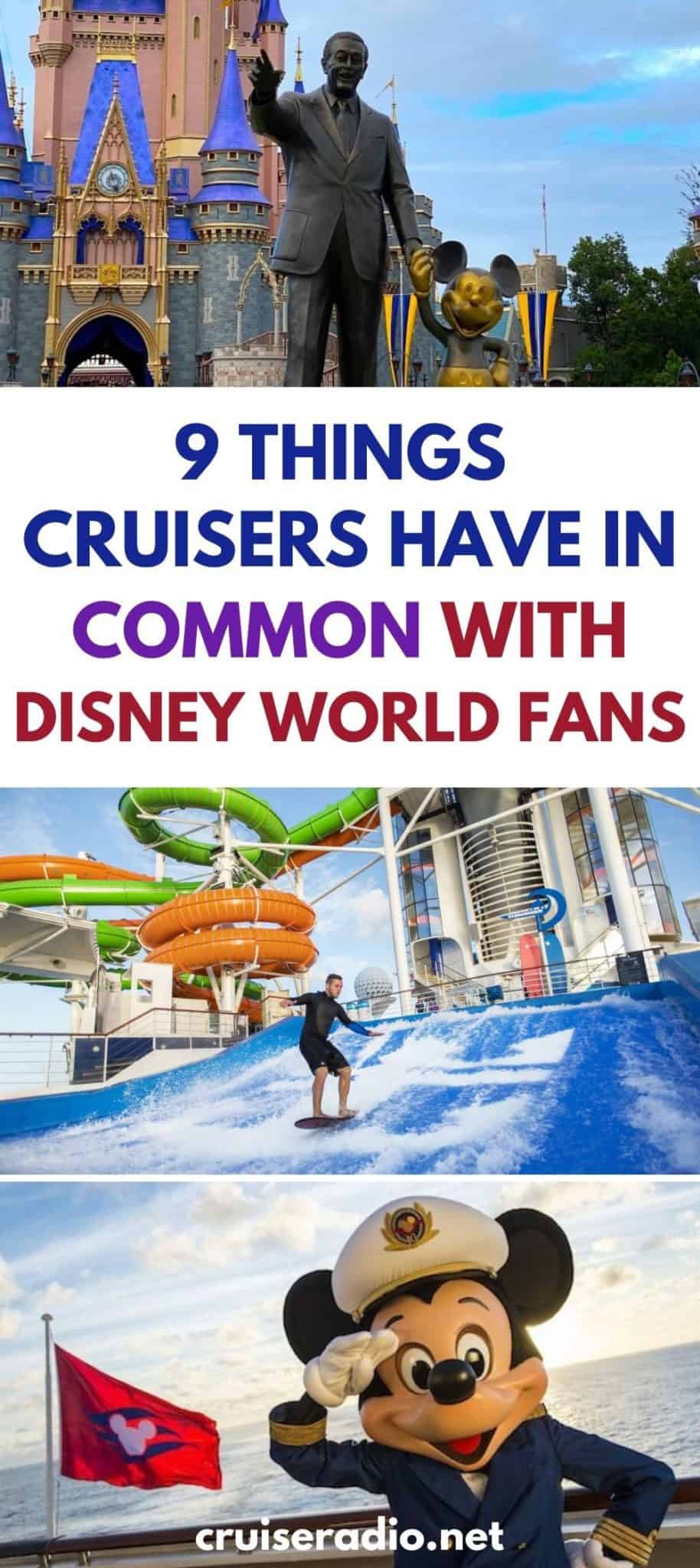 ---
---