2020 Christmas Tree Trail at Disney Springs [PHOTOS]
Disney Springs has long been a great stop to make in Orlando before or after a cruise from Port Canaveral, all the way back to when it was still called Downtown Disney. And one fun Christmas tradition they have is putting up a variety of Christmas trees themed after Disney movies and attractions.
Even though cruises aren't sailing this year, the fun themed trees are still up at Disney Springs, and we thought it would be fun to take you on a photo tour of each one. We hope you enjoy it!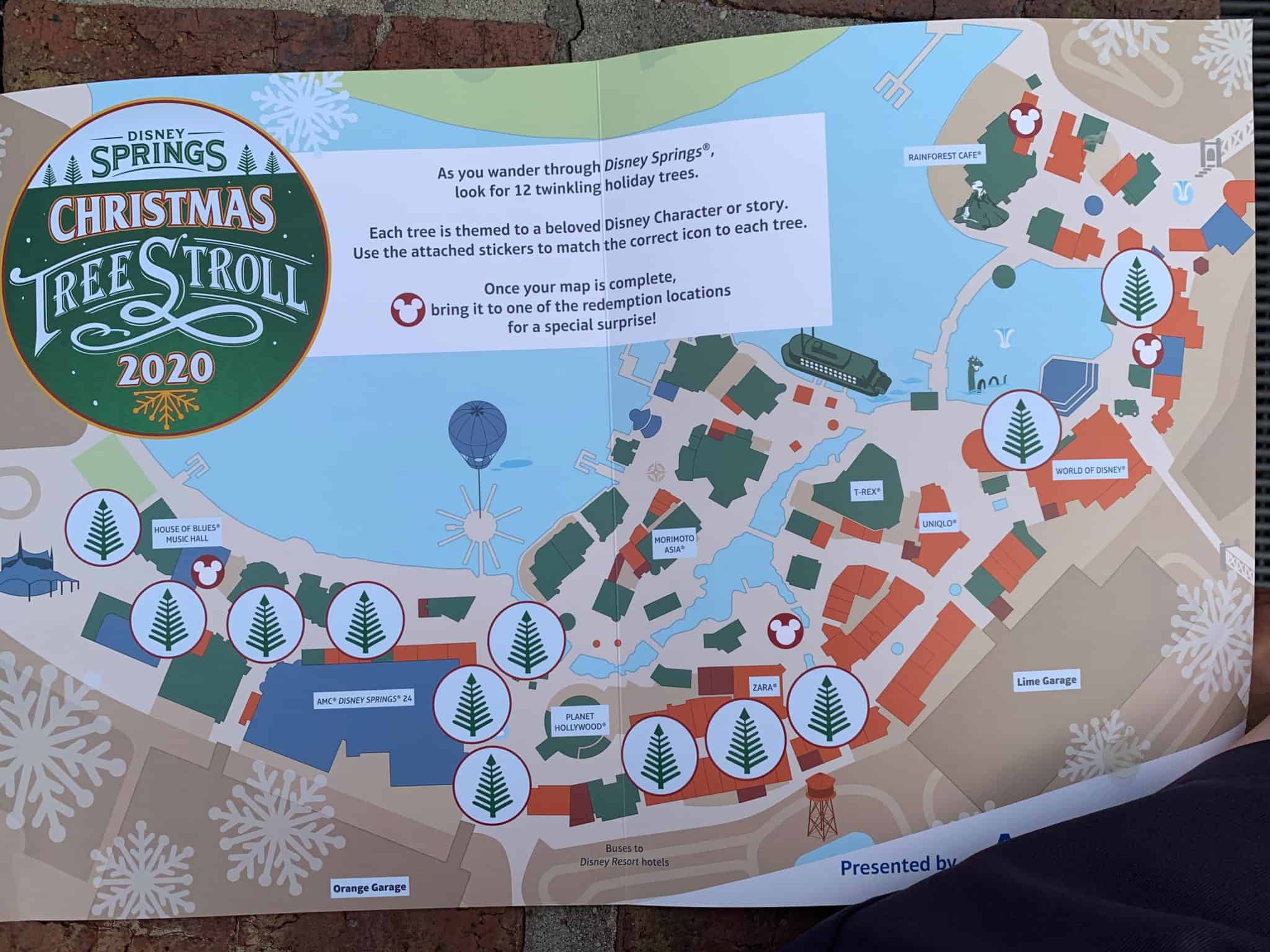 First, let's take a look at the map. Unlike in previous years where Disney Springs did a Christmas Tree Trail in one designated spot, this year they scattered the trees throughout the complex and now call it a Christmas Tree Stroll. We assume this was to more easily allow for social distancing in the midst of the global health crisis.
First up is the largest tree in the bunch… the Disney Springs tree. A sign there says that it "is dedicated to all of the artisans, chefs, and shopkeepers who make this place feel like home."
READ MORE: Travel During A Pandemic: Visiting Disney Springs
The Princess and the Frog tree is filled with odes to New Orleans and the colorful culture of Mardi Gras. It features little jazz instruments, Mardi Gras beads, and even a lantern with Tiana herself inside (near center of photo).
It isn't hard to imagine what a tree themed after Frozen might look like! It's filled with icy and snowy things, varying shades of icy blue, and cute ice skate ornaments. We think the carrots at towards the top are a nice touch, too.
We've got to admit, this Star Wars tree is one of our favorites. It's got a bit of everything… porgs, BB-8 ball ornaments, Jawas with glowing eyes, and come on… look at that lightsaber topper!
Fantasia is such a Disney classic. The abstract, fantasy-like film is an ode to classical music. Fittingly, its Christmas tree includes brooms, mop buckets, music notes, and wispy sprites. If you know, you know.
The Haunted Mansion tree is another favorite! The detail and thought that went into this tree is pretty incredible… the creativity of Disney's employees and imagineers never ceases to amaze us. This tree has a very dusty, old-timey feel with paintings, books, candlesticks, keys, and even a lantern with the Hatbox Ghost inside. And who could ignore the beautiful but terrifying bride?
There's no way you can have a variety of Disney Christmas trees at a Disney shopping complex and not dress one up for the big boss himself, Mickey Mouse. This Mickey and Minnie tree features lots of the mouse duo's signature colors, red, black, yellow, and white. It's also got lots of polka dotted bows, a signature Minnie Mouse staple.
If you've got Mickey and Minnie, chances are good that Pluto won't be far behind! His tree features chewing bones, food and water bowls, Minnie's polka dot bows, and lots of yellow. Our favorite part is his doghouse sitting atop the tree.
We're ROARing with adoration for this stunning Lion King themed tree. Filled with African and nature-inspired textures and materials, this tree includes paw prints, African motifs, and even a Lion mask. Plus, check out Simba overlooking his kingdom at the top!
RELATED: Travel During A Pandemic: Visiting Disney's Animal Kingdom
We just adore this brightly-colored Mulan tree. Wrapped in beautiful pink sakura (cherry blossoms), Mulan's tree features lots of odes to China, including traditional Chinese fans, lanterns, motifs, and lots of red and gold. Plus, look closer and you'll find Mushu in a lantern. Characters in lanterns seems to be a theme with the trees this year.
The Toy Story tree is full of childhood fun! A garland made to look like a paper chain wraps around the tree, reminiscent of the paper chains that many families make to count down the days until Christmas… or just make to hang somewhere for a pop of color! The tree features a variety of toys, as well as Angel Kitty hanging out at the top. We think that's a neat play on the fact that an angel traditionally tops many families' trees.
Last, but certainly not least is the Disney Parks tree. As we're sure it does with many, this tree holds a special place in our hearts because we just love the Disney parks so much. On it are the classic park icons: Cinderella Castle, Tower of Terror, Tree of Life, and Spaceship Earth. You'll also find the monorail wrapping around the tree.
READ MORE: Disney Offers Update on New Cruise Ships, Future Bookings
Photos by Orlando Martinez.
---
---