The 7 Best Lines For a Family Reunion Cruise
Cruises are a superb vacation value and provide an ideal setting for family reunions. Family groups can explore amazing destinations and choose activities and amenities for every member of the family, all in a relaxing and fun travel environment.
Highly inclusive vacation packages, flexible daily itineraries, and a wide variety of dining choices make family reunion cruises easy to plan and hassle-free. Group discounts and free cruise perks are available for family reunion groups as well.
Planning a Family Cruise
If you're planning a family reunion cruise, it's never too early to start the process. Planning your family reunion cruise at least 10-12 months in advance will allow family members to get excited and commit, coordinate their schedules, and begin saving money for their vacation. In addition, early advance planning will help your family access the best group rates, discounts, staterooms, and itinerary options for your family reunion cruise.
Start by choosing a group leader who can get things organized, communicate with your clan, keep track of deadlines, and be the key liaison person with outside contacts. Discuss budgets, best embarkation ports and cruise itineraries with the family as well.
It's also wise to seek out a trusted travel advisor who can find the ideal family reunion cruise options to meet your group's needs, secure the best deals and perks, book staterooms, keep track of deadlines, and help with special events and private room requests.
Onboard activities, specialty dining, and shore excursions are important parts of family reunion cruises. Book your favorite options early to ensure availability, optimal dining times and seating arrangements. Private tours and discounts on group shore excursions may be possible in some ports of call depending on the size of your group.
Cruises offer a wide array of activities allowing family members to have plenty of fun, both together and apart. Decide where to meet each day and set up a time for group photos to commemorate your trip.
You may want to create a family reunion cruise website or Facebook page to make communications easy. Encourage everyone to do online check-in and discuss how you plan to stay in touch while onboard the ship.
Today's cruise ships offer extensive amenities and accommodation choices at all budget levels, allowing all family reunion guests to have a vacation they can afford while making great memories together.
Top Family Reunion Cruise Lines:
Carnival Cruise Line | Celebrity Cruises | Disney Cruise Line | Holland America Line | MSC Cruises | Norwegian Cruise Line | Royal Caribbean International
With its wide range of ships and itineraries, Carnival Cruise Line is a popular choice for family reunion cruises. Carnival carried a record 800,000 kids in 2019, making it a leader in family cruising. Carnival estimates that about half of all Americans live within a day's drive of one of its 17 homeports, making it convenient and cost-effective for families to reach their family reunion destination.
Carnival's ships are loaded with fun activities for guests of all ages, from toddlers to seniors and everyone in between. Carnival offers award-winning children's and teen programs, massive water parks, a wide array of dining options, and exciting attractions including the first roller coaster at sea aboard Carnival's new Mardi Gras when it debuts next year.
Adults have their own amenities onboard including outdoor Serenity adult-only retreats, superb entertainment, and other activities just for grown-ups.
Carnival ships also feature awesome experiences that family members can enjoy together including fun-filled Seuss at Sea programs. Carnival's newest ships offer Family Harbor with extra-roomy accommodations specially designed for families plus a cool family lounge, too.
Carnival's standard group policy is for every 15 full fare guests, the 16th full fare guest receives a credit equal to the sailing's average cruise fare. A dedicated groups department is available to help family groups plan their reunion activities and arrange special events.
Celebrity Cruises offers an upscale cruising experience for family reunion groups with an emphasis on innovative experiences, enrichment, entertainment and learning. Celebrity's ships offer activities for all ages and interests including its award-winning customizable Camp at Sea program for kids and teens featuring a constantly changing schedule of over 500 activities from which to choose.
Family reunion groups can get together at a number of cool meeting spaces on Celebrity's ships including The Lawn on Solstice Class ships and The Rooftop Garden on Edge Class ships. There's also a wide variety of group activity programs onboard including movie nights and games, plus a choice of almost 700 family-friendly shore excursions in ports of call.
Families can select from a variety of staterooms including Family Verandas accommodating up to five guests and The Retreat staterooms with exclusive access to The Retreat lounge and sundeck.
Family reunion groups save with Celebrity's GroupX fares, which are based on the size of the group as well as desired activities and amenities. Some of the more popular package offerings include onboard credits per stateroom, specialty dining vouchers, wine tasting vouchers, a group cocktail party, and more. Special promotions are also available. Each group is assigned a primary Celebrity Cruises contact to ensure a seamless shipboard experience and assist with special requests.
Beloved Disney characters, beautifully-designed ships, and world-class family entertainment have made Disney Cruise Line a top destination for family reunion cruises.
The cruise line is renowned for its programs and venues for every generation, as well as its outstanding activities designed to bring families together. Every ship features dedicated spaces and events for adults and kids of all ages to enjoy on their own, allowing families to have fun both together and apart.
Family reunion groups can get together for themed dining, Broadway-style shows, character experiences and a host of other attractions that are fun for every family member, from grandparents to young children. At other times, smaller family groups with similar ages or interests can meet to enjoy a wide variety of amenities and interactive activities onboard the ship.
All Disney Cruise Line staterooms are designed to be family-friendly, with the line's innovative bath-and-a-half design offered in most staterooms. Ports of call include Castaway Cay, Disney Cruise Line's award-winning private island, which is always a family favorite.
Reunion groups may arrange for connecting staterooms based on availability, as well as request special dining celebrations, private functions, and in-room amenities. Family reunion groups reserving five or more staterooms can connect their reservations, making seating together in dining rooms easier.
Families often make reunions even more magical by combining a Port Canaveral-based Disney cruise with a land package at nearby Walt Disney World.
Great family reunion cruises merge the interests of multiple generations while also providing attractions each can enjoy separately. Holland America Line excels in this area, offering its Club HAL program for kids and teens as well as live music venues, memorable culinary experiences and enriching seminars for adults.
Holland America's premium product resonates with older family members while still delivering outstanding activities and amenities for the younger set. Holland America's newer ships feature popular family-friendly elements including staterooms for families of five, superbly-designed Club HAL facilities and more. The cruise line's exceptional specialty dining restaurants are perfect for family reunion gatherings where kids under 12 can dine free of charge.
Itineraries in the Caribbean, Alaska, Canada/New England and the Norwegian Fjords offer plenty of family-pleasing outdoor active excursions. Half Moon Cay, Holland America's award-winning private island in the Bahamas, is a hit with families as well.
With Holland America's Group Advantage Program (GAP), groups can choose from more than 30 different amenities to enhance their cruise experience. Families booking eight or more staterooms can take advantage of Holland America's special family reunion package. This includes a free stateroom upgrade for the head of the family, a within-stateroom category upgrade for all family members, a Pinnacle Grill lunch for every family member, and a $50-value beverage card and $50-value fountain soda card per stateroom.
MSC Cruises provides immersive programs and enriching experiences for guests of all ages on its ships in North America and abroad. MSC's extensive array of children's and teens' activities, 'kids sail free' program for children ages 11 and under, and up to 50% discount for Healthcare Heroes can make it an attractive option for family reunions.
MSC Cruises' ships offer a wide variety of dining and entertainment options plus varied staterooms to suit all family members. Families can book up to three flexible connecting modular staterooms accommodating up to 10 people on MSC Cruises' newer ships. These ships also offer the MSC Yacht Club, an all-inclusive private VIP club level area for family reunion members seeking luxury, privacy and ultra-personalized service.
Families can enjoy plenty of thrilling MSC attractions as well, including two of the longest zip lines at sea, massive state-of-the-art aqua parks, Formula 1 simulators, and more.
MSC Cruises' Caribbean and Bahamas itineraries are popular with families and feature exciting ports of call including Ocean Cay MSC Marine Reserve, the cruise line's exclusive private island destination.
Family reunion groups booking at least eight or more staterooms are eligible for special group rates and amenities. MSC's dedicated groups department is available to help family reunion planners reserve lounges and spaces for special events, coordinating staterooms and booking memorable dining experiences.
Norwegian Cruise Line caters to family reunions with its extensive choice of family-friendly shipboard accommodations, standout amenities, Broadway-caliber musicals, and activities for every age group.
Family reunion groups enjoy Norwegian Cruise Line's huge Aqua Parks, complimentary award-winning youth programs, top-notch entertainment, and the cruise line's signature flexible Freestyle Dining program. The cruise line's latest ships offer an enticing array of over-the-top family attractions including the industry's only racetracks at sea, outdoor intergalactic laser tag arenas, brand new dining concepts, and its state-of-the-art interactive Galaxy Pavilion.
The line's wide range of accommodations allow families of all shapes and sizes to enjoy their unique brand of vacation experience while still enjoying family reunion activities and meals together. The Haven by Norwegian™, Norwegian Cruise Line's boutique-hotel-within-a-ship, provides luxurious accommodations, personalized service and privileged access for those seeking a more upscale cruise experience. Family-friendly staterooms and studios for solo guests are available, too.
Norwegian's generous Affinity Groups program makes it popular with family reunion planners, as only five stateroom bookings are required for groups to select free amenities from an extensive list of options. Norwegian Cruise Line's Direct Groups department is available to help groups plan their family reunion cruise from start to finish. The department works closely with the brand's Special Events team to coordinate family reunion celebrations including private gatherings, group dinners and entertainment on board.
Planning a great family reunion cruise means catering to varied preferences and multiple generations. Royal Caribbean delivers with memorable rides and epic attractions, dazzling shows, and unforgettable dining experiences on their ships.
Royal Caribbean offers extensive programs for kids from tiny tots to teens, which adds to its family reunion appeal. About 15 percent of guests who sailed with Royal Caribbean in 2019 were under the age of 18.
The line's biggest ship, Symphony of the Seas, was designed to be the ultimate family vacation destination featuring an extensive array of staterooms plus the ship's two-level Ultimate Family Suite with cool design elements including a floor-to-ceiling LEGO wall, colorful spiral slide, a 3D movie theater-style TV room, and more.
Royal Caribbean's itineraries and ports of call are exciting as well. Perfect Day at CocoCay, the line's private island in the Bahamas, serves up a wide array of adventures including Thrill Waterpark with 13 slides, the Caribbean's largest wave pool, a 1,600-foot zip line, two beaches, and an exclusive beach club with overwater cabanas.
Royal Caribbean's Group Rewards program provides group discounts and amenities for family reunion groups booking eight or more staterooms. Travel advisors can help manage the group's booking and arrange private parties and activities, meeting space, private shore excursions, and more. An onboard dedicated group coordinator makes sure all requests are handled smoothly.
Pin it for later!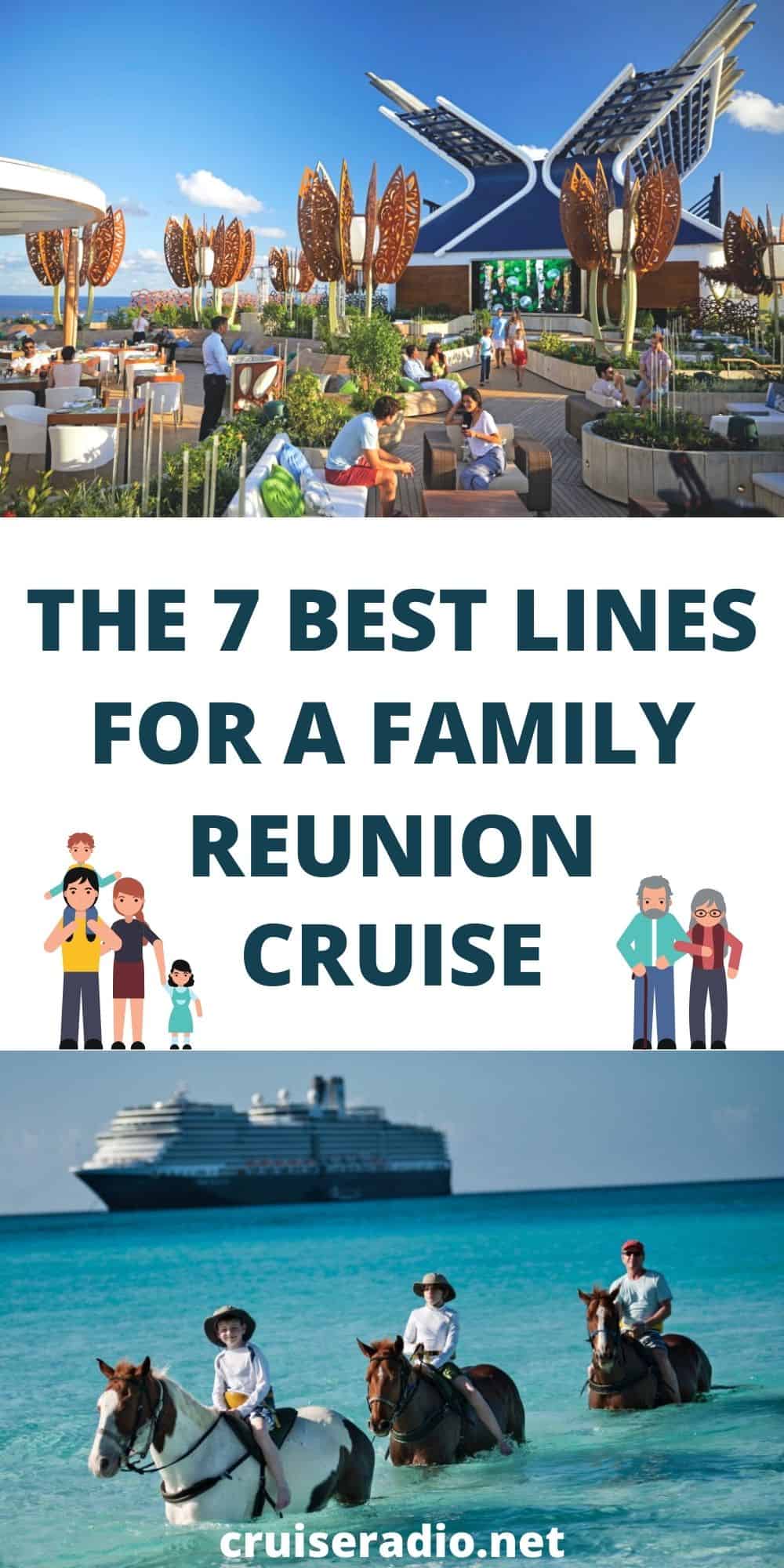 ---
---