9 Cruise Line Ticket Contract Surprises
When checking in for their cruise, most passengers breeze right past the cruise contract — often known as the Ticket Contract or Contract of Carriage — without bothering to read it.
Yes, it's a dozen pages of legalese written by lawyers for the sole purpose of protecting the cruise line in almost every possible scenario, but since your cruise vacation is governed by what you're signing, it's worth taking a closer look.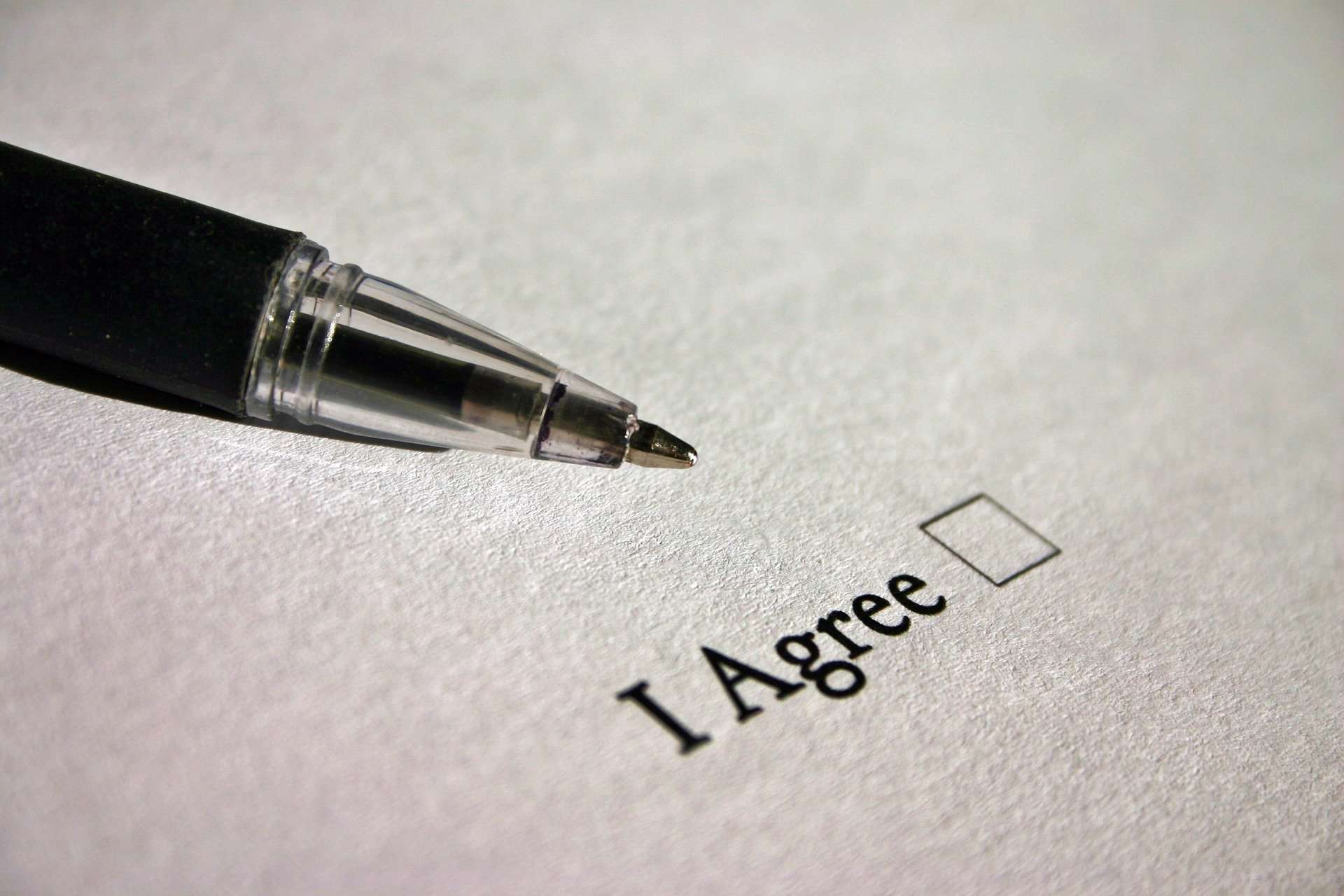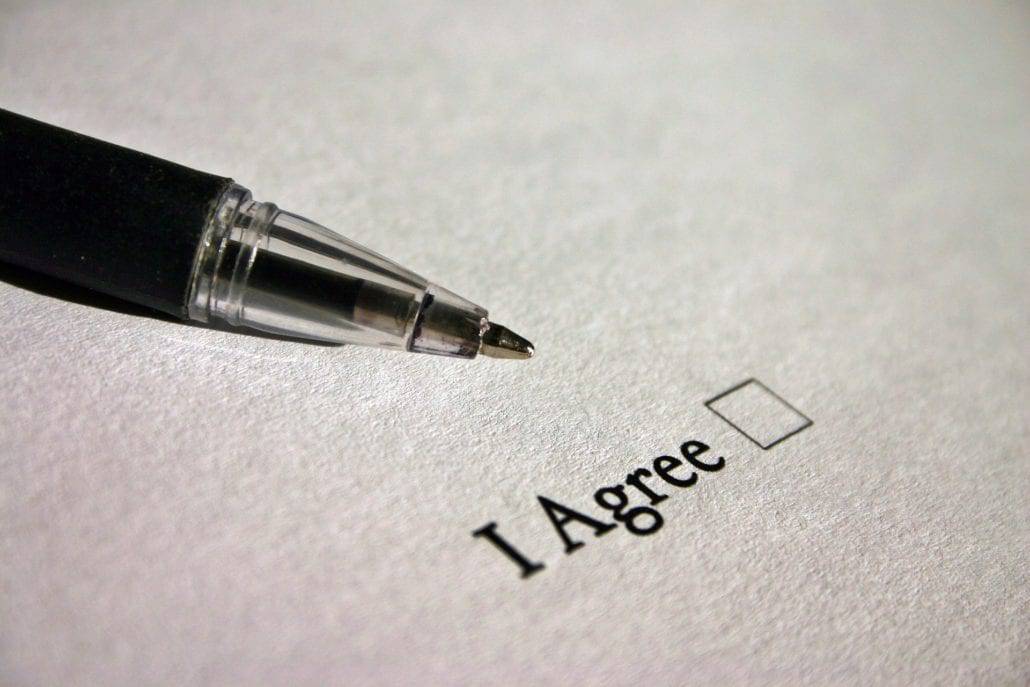 We reviewed the cruise contracts for Carnival Cruise Line, Royal Caribbean, and Norwegian Cruise Line and found these somewhat surprising provisions.
1. No Liability For Medical Care Onboard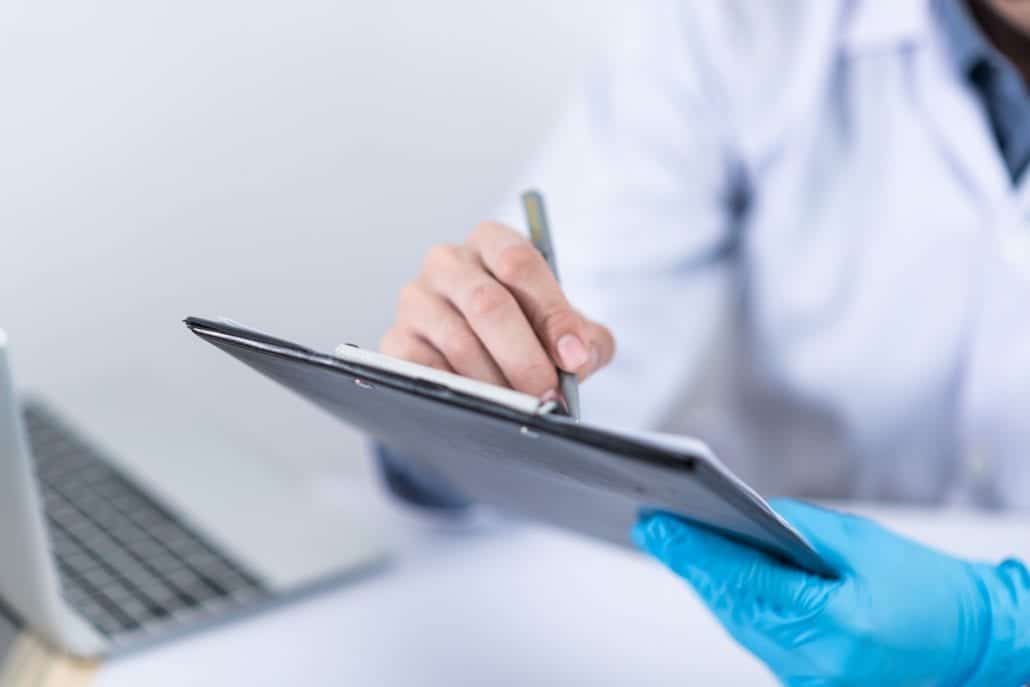 Norwegian Cruise Line: The Guest therefore agrees that the Carrier cannot guarantee the performance of such Medical Services, and that the Carrier shall not be liable for losses or injuries arising there from.
Believe it or not, if you're sick and need to visit the ship's doctor, you're doing so at your own risk. Most cruise lines won't accept any responsibility for the action of the doctors, nurses, and other staff in the shipboard medical centers, who are typically independent contractors rather than employees of the cruise line.
FACT CHECK: Cruise Industry Illness and Cleanliness Standards
The doctors and nurses are trained, certified, and credentialed, though typically at medical colleges and universities outside the U.S.; there's little reason to worry about malpractice, but if something does go wrong, you'll need to pursue any relief directly from the healthcare provider rather than the cruise line.
2. Itineraries Can Change at Any Time
Royal Caribbean: Carrier may for any reason at any time and without prior notice, cancel, advance, postpone or deviate from any scheduled sailing, port of call, destination, lodging or any activity on or off the Vessel, or substitute another vessel or port of call, destination, lodging or activity … Carrier shall not be liable for any claim whatsoever by Passenger, including but not limited to loss, compensation or refund, by reason of such cancellation, advancement, postponement, substitution or deviation.
Folks who cruise during hurricane season know that the lines often change itineraries in order to keep the ship and its passengers out of harm's way. But what many don't realize is that cruise lines can pretty much make any change your itinerary for any reason they see fit.
Hurricane Season: What Cruisers Need To Know
The reasons a port might be skipped are many, from weather conditions which would make it difficult for the captain to dock, to issues that impact the speed at which the ship can travel or political unrest in a particular port.
Of course, cruise lines want to minimize port changes as they impact passenger satisfaction and scheduling, so they usually don't change things on a whim. But when weather conditions or operational needs require an itinerary change, the cruise line does what it needs to do to ensure safe operation of the ship.
3. Cruise Lines Can Place a Lien On Your Luggage
Carnival Cruise Line: Carnival and the Vessel shall have a lien upon all baggage, money and other property whatsoever accompanying the Guest and the right to sell the same by public auction or otherwise for all sums whatsoever due from the Guest under this Contract and for the costs and expenses of enforcing such lien and such sale.
If you run up a big onboard bill or take cash advances in the casino and your credit card gets declined, or you get a little too tipsy and damage something on the ship and don't settle up, the cruise line might have the right to confiscate your luggage, property, or any cash you have onboard and sell or auction it to satisfy your bill.
4. You Can Be Denied Boarding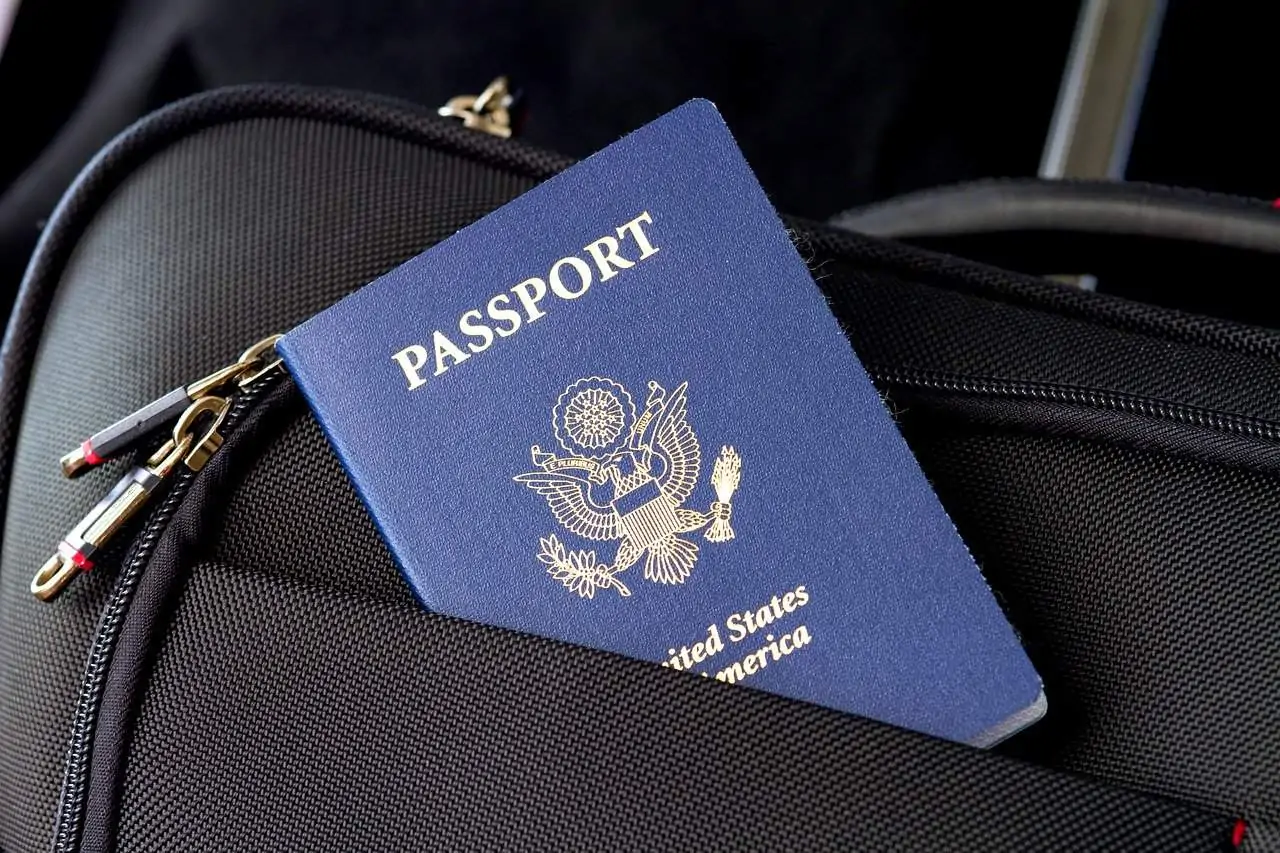 Norwegian Cruise Line: Upon embarkation,  the  Guest shall have in his or her possession,  and assumes all responsibility for obtaining, all visas, passports, certified birth certificates,  travel and health documents required by any governmental authority, and if he or she fails to do so the Carrier shall have no further obligation to transport or to furnish transportation to the Guest.
Everyone knows that if you fly internationally, you need a passport, but it might not initially occur to some first-time passengers that you also need documentation to cruise. Since nearly all cruises leave the U.S., it's required you have proper proof of citizenship with you to re-enter the country at the end of the sailing.
READ: Do I Need a Passport To Cruise?
If you show up for your cruise without a valid passport or (for closed-loop sailings from the U.S.) a certified copy of your birth certificate and a valid government ID, the cruise line won't let you board the ship.
The same thing applies if your exotic itinerary requires any visas, medical documentation, or proof of vaccination. If your paperwork isn't in order, you're not cruising. The worst part is that if you are denied boarding for these reasons, you won't get a refund or be allowed to reschedule your cruise.
5. It's Hard to Sue The Cruise Line
Carnival Cruise Line: Any and all disputes, claims, or controversies whatsoever, other than for personal injury, illness or death of a Guest … including but not limited to alleged violation of civil rights, discrimination, consumer or privacy laws, or for any losses, damages or expenses, relating to or in any way arising out of or connected with this Contract, the booking of the cruise …  with the sole exception of claims brought and litigated in small claims court, shall be referred to and resolved exclusively by binding arbitration pursuant to the United Nations Convention on the Recognition and Enforcement of Foreign Arbitral Awards.
With the exception of personal injury or death, you probably won't be able to sue the cruise line if something goes wrong on your vacation. Instead, you'll need to participate in binding arbitration, a quasi-legal process that's overseen by an arbitrator, usually with legal training, who hears evidence from both sides and makes what they believe to be a fair, equitable decision.
READ: Court Throws Out Drunk Cruiser's Lawsuit
And since it's binding arbitration, the decision of the arbitrator is final and can't be appealed or questioned. Binding arbitration reduces risks for the cruise line, as there are no sympathetic juries awarding cruisers large sums of money, and the arbitration process usually moves faster than court trials, further reducing legal costs for the cruise line.
That said, it's not entirely impossible to take a cruise line to court as has been seen time and again over the years. It is, however, definitely something the cruise line will work overtime to avoid.
6. They Can Use Your Photos For Marketing
Carnival Cruise Line: Each Guest grants Carnival and/or its promotional partners the exclusive right to include photographic, video and other visual portrayals of Guest in any medium of any nature whatsoever for any purpose including without limitation trade, advertising, sales, publicity or otherwise, without compensation to Guest, and all rights, title and interest therein (including all worldwide copyrights therein) shall be Carnival's sole property, free from any claims by Guest or any person deriving any rights or interest from Guest.
If you're having a good time on your cruise and are beaming from ear to ear while enjoying the drink of the day, the cruise line just might want to snap your photo and use it in their next email or brochure.
The thing is, they don't have to pay you for using your image as an unsolicited testimonial in their marketing, thanks to the waiver embedded in your cruise contract.
7. They Can Sell Your Photos
Carnival Cruise Line: Each Guest understands and agrees that professional onboard photographers may photograph Guest, and that those photos may be processed, displayed and sold to Guests and others.
Chances are, you'll have your picture taken by the ships' photographers multiple times a day on a cruise. Each night, those photos get posted in the photo gallery for you to see and — the cruise line hopes — purchased as a keepsake of your vacation. But did you know anyone can purchase your photos?
The cruise line, in the interest of profits, will sell your images to anyone onboard who is interested. Remember that creepy guy smiling at you from the other end of the bar? He might go home with a photo of you and your family.
8. Your Cabin Can Be Searched at Any Time
Carnival Cruise Line: Guest agrees Carnival has, at all times with or without notice, the right to enter and search Guest's stateroom, personal safe or storage spaces, or to search or screen any Guest, and/or personal effects, at any location, to ensure compliance with any of the restrictions set forth in this agreement. Any Guest who refuses any such search or screening may be denied boarding or disembarked and no refund of the cruise fare will be issued.
FACT CHECK: Are Cruise Ships Safe?
Your right to privacy on a cruise ship is far from absolute, and the line can enter your room and search you and/or your property at any time, for any reason. If you don't agree to the search, the captain has the right to disembark you from the ship immediately. Don't have any illegal materials or substances in your possession, so that if they search your room, all they find is dirty underwear.
9. They Can Add a Fuel Supplement Fee
Carnival Cruise Line: Subject to applicable laws, Carnival reserves the right to impose or pass any of these surcharges and no right of cancellation shall be implied. "Fuel supplement" shall mean any additional charge to defray a portion of Carnival's fuel costs. … Carnival reserves the right to charge a fuel supplement of up to $9.00 USD, or its equivalent in foreign currency, per person per day, without prior notice, in the event that the price of light sweet crude oil according to the NYMEX … is greater than $70.00 USD per barrel of oil. Carnival may collect any fuel supplement in effect at the time of sailing, even if the cruise fare has been paid in full.
Fuel is one of the most expensive elements of operating a cruise ship, and the cruise lines typically budget a certain amount for this expense, just as you probably do at home.
The big difference between you and the cruise lines? If the price goes up during your road trip, you have to eat the added expense. The major lines, however, have provided themselves with a rarely used but still-available-to-them out.
RELATED: 6 Hidden Cruise Costs
If the price of oil goes beyond what the line expected, they're going to pass the extra expense on to you via a fuel surcharge, typically calculated as a per-person, per-day fee.
This won't just happen before you've made the final payment for your cruise, it can happen up to and including the day of embarkation. You'll have to pony up or you won't be able to take your vacation.
In Conclusion…
As you can see, there are some things you'd expect to find here, but we've learned that it's also best to expect the unexpected. Before your next cruise, be an informed passenger and take several minutes to read your cruise contract.
Pin it for later!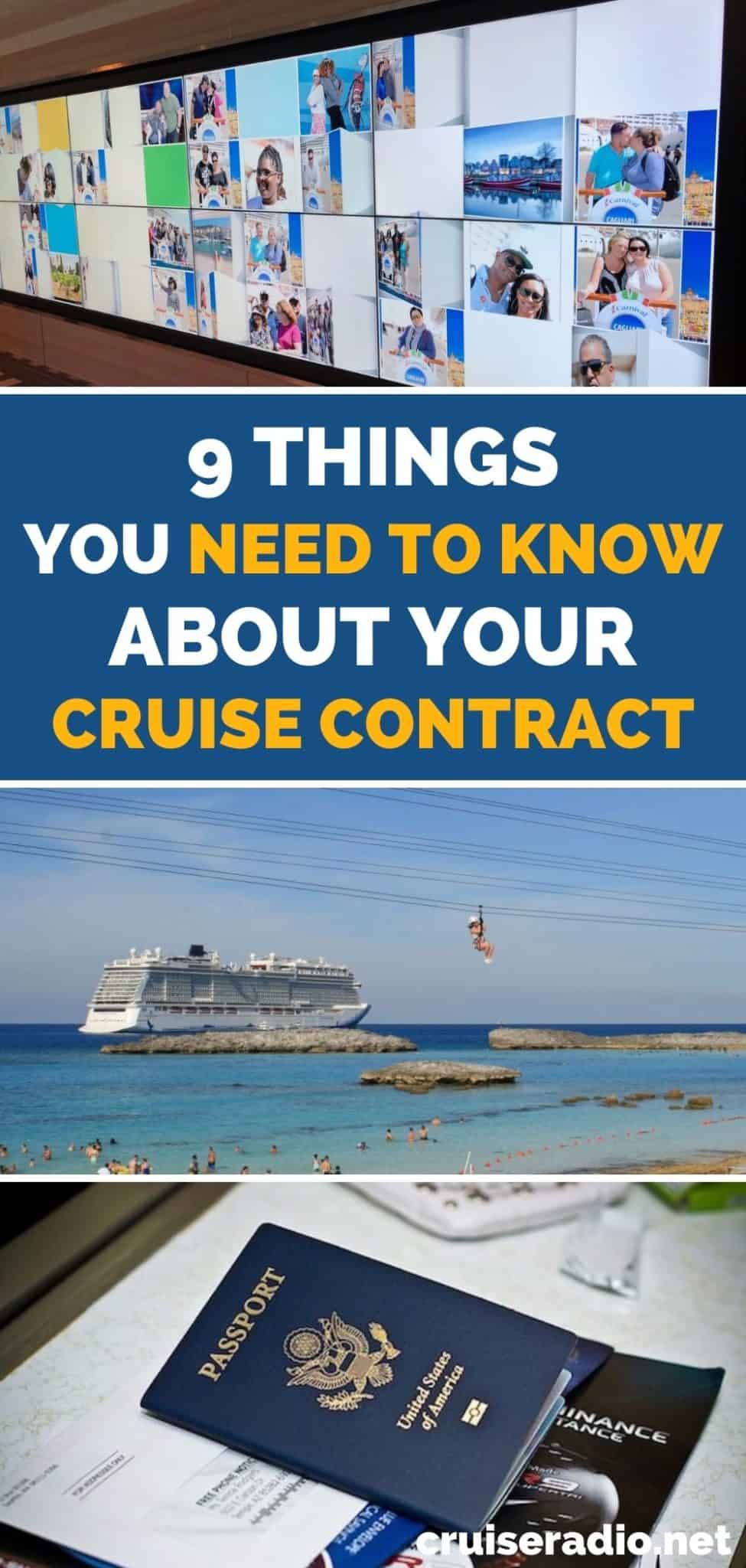 ---
---