Royal Caribbean Crown and Anchor Loyalty Program
The Crown and Anchor Society, the loyalty program inspired by Royal Caribbean's famous "Crown and Anchor" logo, rewards frequent cruisers with exclusive discounts, perks and amenities.
While the name sounds like a snooty, formal club for shipboard royalty, it's nothing of the sort. Even though cruisers who reach the vaunted Pinnacle Club tier might just feel like royalty.
How to Sign Up For The Crown and Anchor Society
You'll be automatically enrolled in the Crown and Anchor Society after you sail your first cruise with Royal Caribbean International.
You don't need to take any special action to start receiving the benefits. All you have to do is take a cruise to accumulate points.
How To Earn Crown and Anchor Loyalty Points
You'll earn one Crown and Anchor point for each night you cruise on Royal Caribbean. You'll get double points when you book a suite.
Quick three-night weekend getaway to the Bahamas? That's three points in a regular stateroom, six points in a suite.
READ MORE: Best Cruise Line Loyalty Programs
A seven-night Alaska cruise will earn seven points for a regular stateroom or 14 points in a suite.
Points can only be earned on Royal Caribbean International cruises, but once you achieve the Platinum tier or above, you'll receive the reciprocal tier benefits when you sail on sister lines Celebrity Cruises and Azamara Cruises.
Crown and Anchor Points Chart and Levels
Each Crown and Anchor level offers three different types of benefits: Exclusive Savings, Benefits on Land, and Onboard Rewards.
The Exclusive Savings vary by tier, but include reduced rate upgrades, up to a 25 percent discount on close in cruises. The more you cruise, the better the savings get.
The Benefits on Land are similar for each tier, offering exclusive perks on MGM International Resorts and Casinos, and Hertz car rental Gold Plus Points.
READ MORE: Has Cruise Loyalty Program Entitlement Gone Too Far?
The biggest perks, though, are Onboard Rewards, which get more generous as you move up the tiers.
Gold (3 to 29 points) – Once you've taken your first cruise with Royal, you'll be enrolled in the Gold tier of the Crown and Anchor Society, entitling you to onboard offers, priority check-in a private departure lounge with Continental Breakfast, and a Gold SeaPass Card on your next cruise.
Platinum (30 to 54 points) – All the Gold level benefits, plus an invitation to an exclusive top-tier loyalty event, robes in your stateroom for use onboard, and a Crown and Anchor Society lapel pin.
Emerald (55 to 79 points) – All the Gold and Platinum benefits, plus a selection of waters and snacks on the first day of the cruise and a complimentary beverage per passenger.
Diamond (80 to 174 points) – All the Gold, Platinum, and Emerald benefits, plus a Chef's Choice Gift or amenity, access to the Diamond Club on select ships, exclusive Diamond event each night of the cruise, daily breakfast with specialty coffee, milestone recognition, entertainment tours, and behind the scenes tours. In addition, Diamond cruises will receive additional priority access including a priority waitlist for shore excursions, spa services, and seating requests in the main dining room, as well as priority departure.
Diamond Plus (175 to 699 points) – All Gold, Platinum, Emerald, and Diamond benefits, plus a personalized gift or amenity, concierge club access, and varying perks when certain point levels are achieved (a meal with an officer and upgraded bathroom amenities when you earn 340 or more points, and extra bonus gifts at 340 or more points and 525 points). In addition, Diamond Plus members will receive priority seating at select entertainment venues, and a reduced single supplement fee.
Pinnacle Club (700+ points) – This is where things get really good. Pinnacle Club members get all the benefits we've already mentioned, plus a personalized Pinnacle Club lapel pin, a customized SeaPass card with special privileges, and priority access to stateroom upgrades. But the best part of the Crown and Anchor Pinnacle Club is the free cruises. Yes, cruises. Not just one, you can earn multiple free cruises the more you cruise. When you reach 700 points and then again at 1050 points, you'll be eligible for a balcony stateroom on a seven-night cruise, and at 1400 points and again for every 350 points earned, you'll be eligible for a Junior Suite on a seven-night cruise.
What Makes the Crown and Anchor Program unique?
The MGM Resorts and Hertz Gold Plus benefits are a great perk so you can leverage your Royal Caribbean loyalty even when you're not on a cruise.
Reciprocal benefits on Royal Caribbean's sister cruise lines are also a nice bonus but are limited, check each line's individual policy.
Royal Caribbean Crown and Anchor Look Up
You can look up your Royal Caribbean Crown and Anchor membership number by clicking here. Or if you already know your login information, you can sign in here.
Pin this article for later!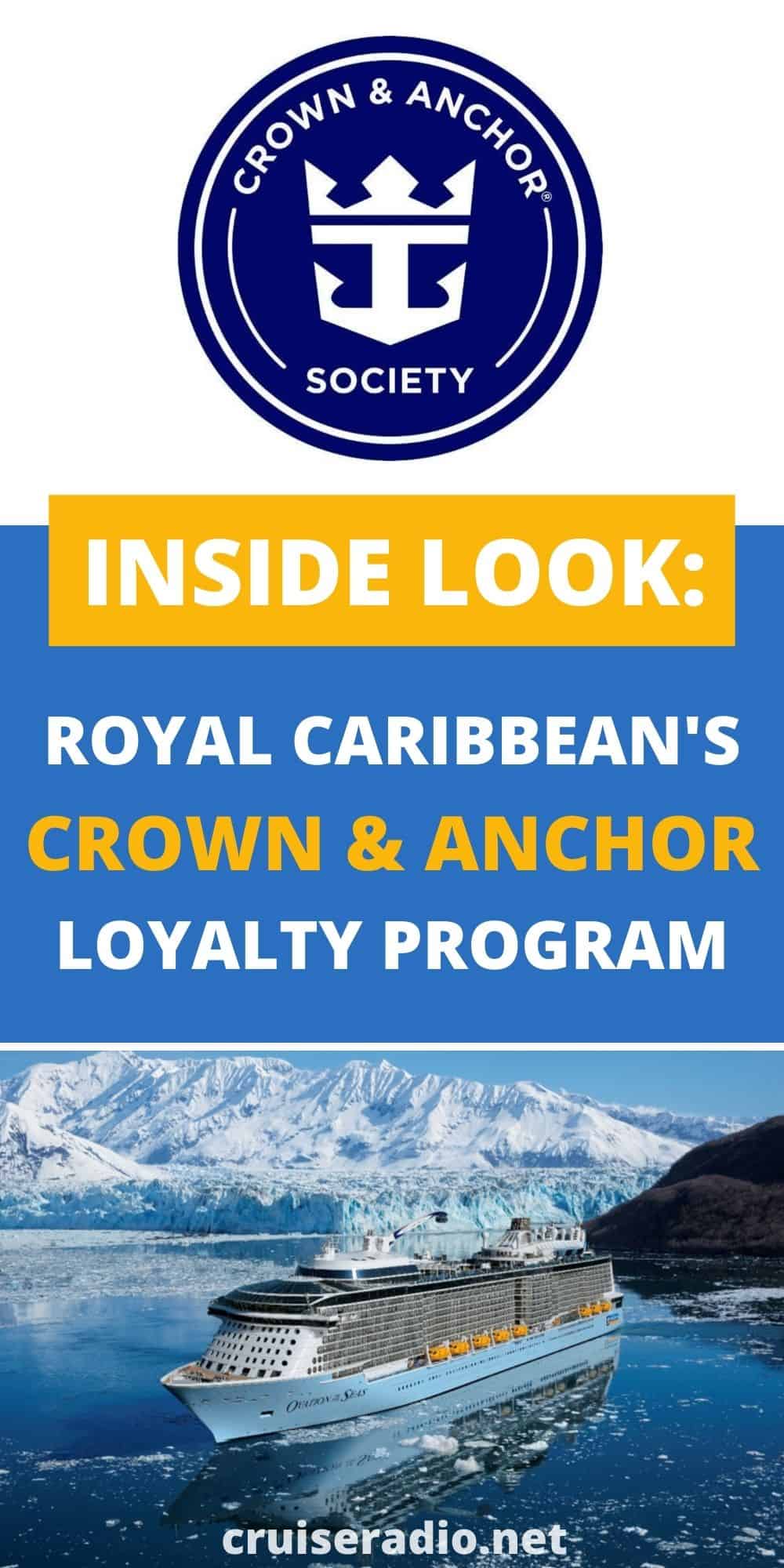 ---
---