Which River Cruise Lines Are Best for Kids?
River cruising is becoming increasingly popular with families and multigenerational groups, particularly kid-friendly river cruises in Europe.
On these enriching river cruises for families, adults and kids of all ages can bond while enjoying a rich variety of cultural, adventure and learning experiences.
Small ship family riverboat cruises offer a relaxing way for families to enjoy Europe and make lifelong memories together. Inclusive meals, programming, and shore excursions make the family river cruise experience fun and hassle-free. 
If you're looking for the best river cruises for families, here are four lines offering kid-friendly river cruises:
AmaWaterways
AmaWaterways offers luxury river cruises on Europe's Danube, Douro, Main, Moselle, Rhine, Rhône, Garonne, Dordogne, Saône, and Seine rivers, as well as on the Dutch and Belgian waterways and in other sought-after locations around the world.
While AmaWaterways does not offer family-specific river cruise departures, the line offers a wide variety of sailings that are excellent options for families wishing to enjoy a river cruise together. AmaWaterways' Danube river cruise itineraries are perfect for families because they offer something for all ages, and the cruise line's Christmas Markets Cruises on the Rhine and Danube are a magical way for families to celebrate the season together.
The cruise line's commitment to family river cruising has resulted in several travel industry awards, and a number of AmaWaterways' innovative family-related initiatives have helped drive family river cruising's recent growth.
In 2016, Adventures by Disney and AmaWaterways partnered to launch family-focused European river cruises and demand for these sailings has increased substantially.
In partnership with Adventures by Disney, AmaWaterways now sails through some of Europe's most spectacular destinations along the Rhône, Seine, Rhine, and Danube rivers. These outstanding all-inclusive family river cruises feature Disney-trained Adventure Guides, engaging activities for a variety of ages, behind-the-scenes tours, and special after-hours experiences in Europe's most popular ports. 
AmaWaterways was the first to pioneer new riverboat design elements catering to the needs of families, skip-generational travelers, and multigenerational groups. Eight AmaWaterways ships offer connecting staterooms with triple and quadruple occupancy as well as suites accommodating four guests. This makes river cruising much more appealing for larger families and multiple generations traveling together.
AmaWaterways' newest and most innovative ship, AmaMagna, is twice as wide as traditional river cruise ships and offers special family-friendly amenities including a cinema and two libraries with games, plus adult and child-size bikes for active excursions ashore.
AmaWaterways was also a leader in offering bikes onboard for its guests, attracting more families with their active approach to river cruising. For teens, AmaWaterways frequently hosts activity nights, movies, karaoke, life-sized chess lessons, and additional activities including themed nights on some sailings. 
Minimum Age to Sail: Children must be 4 years old to sail on AmaWaterways' river cruises in Europe and Southeast Asia. However, the line recommends that all children be at least 8 years old for these sailings. 
CroisiEurope Cruises
CroisiEurope offers family-friendly river cruises loaded with cultural immersion opportunities and French flair. Launched over 40 years ago, this family-owned and operated cruise line welcomes families on its fleet of 55 ships sailing on waterways throughout the world.
In Europe, CroisiEurope offers river cruises on the Rhine, Danube, Seine, Rhône, Bordeaux, Loire, Elbe, Douro, Guadalquivir, and Po Rivers. Families also enjoy CroisiEurope's crewed barge cruises on France's canals. These canal barge cruises are a superb choice for multigenerational groups, as they accommodate a maximum of 22 guests and are available for private charter. 
CroisiEurope's river cruise experience is very French, featuring fine French cuisine and excellent service. CroisiEurope strives to make river cruising affordable and accessible for all travelers, including families with kids of all ages. About 4,000 passengers under 18 sail with CroisiEurope annually.
On CroisiEurope's all-inclusive sailings, families can enjoy an international cruise experience with friendly multi-lingual staff, single and triple cabins for families traveling with odd numbers of guests, and Discovery shore excursions offering more active and unique local experiences. Both French and English are generally always used onboard and other languages are included depending on the composition of passengers on each sailing. 
Along with its well-priced highly inclusive river cruises, CroisiEurope offers an excellent value for families with "Kids Sail Free" deals and discounts on their sailings.
Children under 2 cruise free on all CroisiEurope river cruise departures and kids under age 10 always receive a 20 percent discount on all CroisiEurope river cruises as well. Children up to 16 years old also sail free of charge on CroisiEurope's designated Family Club river cruises in Portugal, Spain, and Italy during the summer months.
In addition, CroisiEurope offers 30 percent off for kids up to 16 years old on their family-focused sea cruise in Croatia and Montenegro. Family Club cruise perks include special kids' menus, kids' activities, family-friendly stateroom locations, shore excursions geared towards children, and more. 
Minimum Age to Sail: There is no minimum age to sail. CroisiEurope welcomes all ages on board their ships, but certain departures or rivers may be more family-friendly. 
Tauck
Celebrating its 95th year as a travel industry leader, Tauck offers guided land trips, small ship cruises, riverboat cruises, and family journeys to more than 70 countries across all seven continents. Tauck offers luxury all-inclusive European river cruises on the Danube, Douro, Rhine, Rhône, and Seine rivers. The company's dedicated family brand, Tauck Bridges, has been one of the forerunners in European family river cruising, launching its first family-specific river cruise in 2010.  
Tauck Bridges offers six different 8-day family-focused river cruise itineraries aboard three different classes of riverboats, the largest of which holds no more than 130 passengers. In 2021, Tauck Bridges plans to offer 25+ family river cruise departures during the months of June, July, and December.
Tauck's custom-designed European riverboats have been built or completely redesigned within the last four years and feature triple and quadruple staterooms or accommodations in adjacent (not connecting) cabins, two indoor dining venues, high levels of director-level staffing for more personalized service, a dedicated Family Host to offer additional activities for children on family river cruises, and more.
All Tauck riverboats feature a small pool or hot tub, a putting green, fitness center, and bicycles for complimentary use ashore. 
All-inclusive Tauck Bridges European river cruises are specially designed for the whole family to enjoy together, featuring interactive fun for every age group.
Shore excursions on these sailings are often unique — including exclusive insider visits to landmark sites like the Louvre, lunch and a hayride at a private cowboy ranch in la Camargue, a morning of medieval games at Devin Castle in Bratislava, and a medieval dinner in the grand banquet hall of a 12th century moated castle.
Tauck offers special family-friendly reduced rates on their sailings including up to $500 discounts for children 12 and under and special savings for family groups of eight or more booked on the same cruise, with the ninth guest cruising free. 
Minimum Age to Sail: Children must be 4 years old to sail on Tauck's river cruises. The company recommends that children be at least 8 years old for these sailings. 
Uniworld Boutique River Cruise Collection
Uniworld Boutique River Cruise Collection offers all-inclusive luxury cruises on 19 ships sailing on 20 rivers around the world including the Danube, Douro, Main, Moselle, Neva, Po, Rhine, Rhône, Dordogne, Garonne, Svir, Saône, Seine, and Volga rivers.
Uniworld is a pioneer in offering generations-themed sailings and age-specific river cruise options for families and young adults including its Generations Collection family river cruises, Gen Z on U river cruises designed for teens traveling with their parents, and U by Uniworld river cruises appealing to young adults and families traveling with adult children ages 18 and older. These award-winning targeted river cruise sailings offer special programs, activities, and excursions, providing greater value and more personalized opportunities for family fun. 
Uniworld offers seven distinct Generations Collection family river cruise itineraries on European waterways, with departures during the summer months and in December. The Uniworld ships used on these river cruises feature a well-equipped Young Travelers' Lounge and Game Room, as well as a Young Travelers' Table reserved just for younger guests on certain nights. Family Hosts are also onboard to supervise and coordinate activities for young travelers.
Additional Generations Collection highlights for kids onboard include cooking classes with the ship's chef, hands-on craft workshops, language classes, and other events. Kids' menus are also available on these family river cruises. 
Special teen-focused activities on Uniworld's Gen Z on U sailings include karaoke and an onboard themed party for teens, plus parents and teens can enjoy rooftop camping, painting, and even a silent disco party together.
Uniworld offers a wide variety of specially designed kid-friendly shore excursions on their family-themed sailings in Europe including pasta workshops, visits to fairytale castles, memorable scavenger hunts, cool museum tours, and active adventures. Complimentary bikes for both adults and kids are available as well. Uniworld also offers special discounts for families, with children ages 4-17 years old receiving 25 percent off their fare when traveling with an adult.
Minimum Age to Sail: Children must be 4 years old to sail on Uniworld's Generations Collection river cruises and at least 13 to sail on Uniworld's new Gen Z on U European river cruise sailings exclusively for families with teens. The minimum age for the cruise line's unique U by Uniworld river cruises is 18. 
U.S. River Cruises for Families
While kid-friendly European river cruises are incredibly appealing, some families and multigenerational groups may be seeking family riverboat cruises closer to home. There are river cruises available for families in the United States, but the choices are a bit more limited. Here are several attractive options for U.S. river cruises for families:
Family-friendly UnCruise Adventures offers 7-night small ship adventure cruises on America's magnificent Columbia River from August through early November. This exciting U.S. river cruise itinerary features opportunities for active families to hike through spectacular landscapes, kayak along gentle tributaries, go swimming and paddleboarding, and take an exhilarating whitewater rafting adventure on the Deschutes River.
Families with children over age 8 are welcome on these sailings, but the average minimum age is 10 for river rafting excursions on this river cruise itinerary. UnCruise Adventures provides special rates for families, with a savings of $500 per child ages 8-17. 
Families wishing to return back to the days of Tom Sawyer and Huck Finn may enjoy taking a family river cruise on the Mississippi River. Some multigenerational families have booked family river cruises on the Mississippi with companies such as American Cruise Lines and American Queen Steamboat Company. Both cruise lines offer authentic paddlewheel riverboat cruises on the Mississippi that bring America's history and Mark Twain's tales to life.
Short Mississippi River day cruises for families are also available with companies like La Crosse Queen Cruises in La Crosse, Wisconsin. The company offers a variety of multi-hour Mississippi River paddlewheel riverboat cruise itineraries suitable for families with kids of all ages. 
Pin it!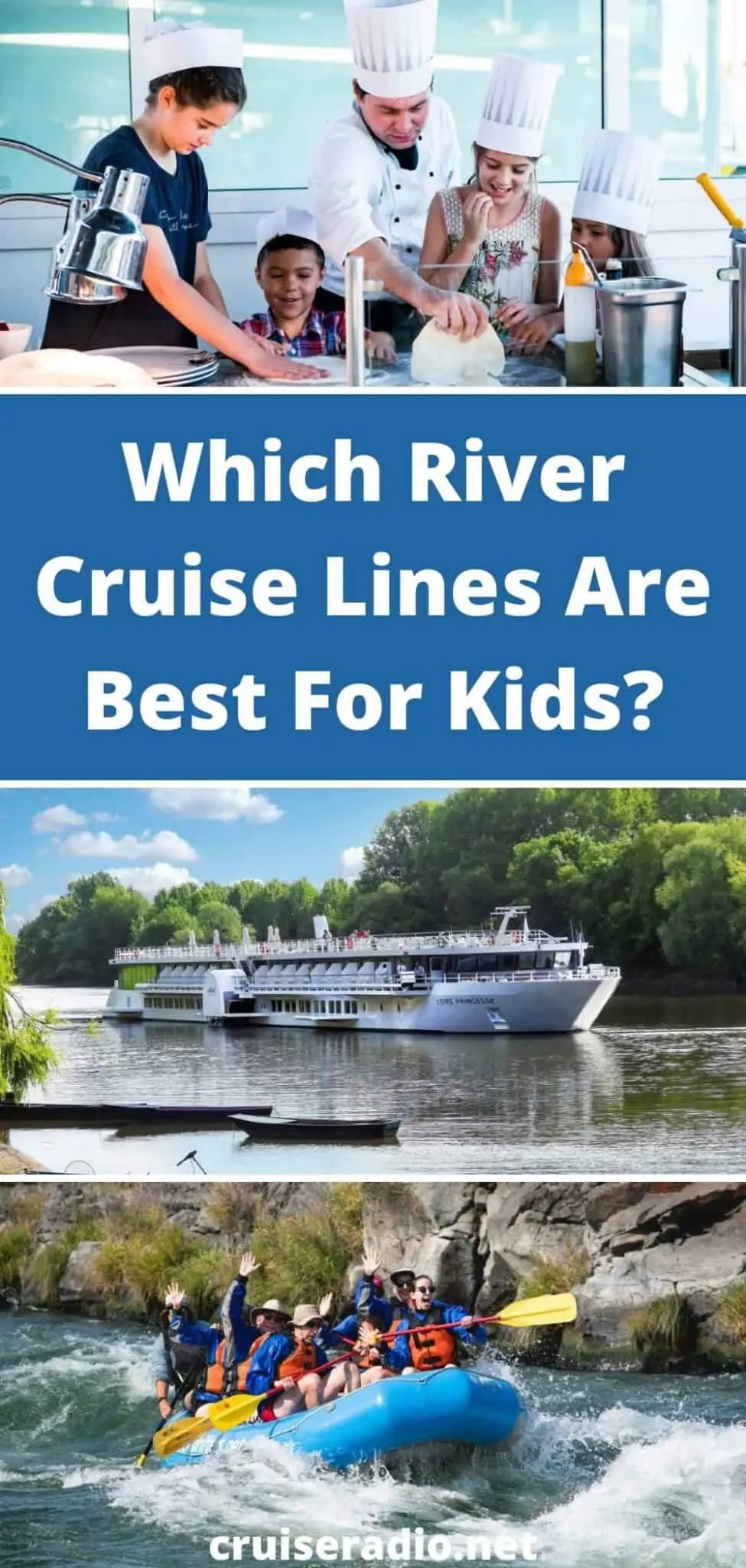 ---
---