Travel During a Pandemic: Visiting Disney's Magic Kingdom
Thanks to the current health crisis, cruise ships aren't sailing, leaving many people looking for alternatives they can enjoy while still remaining safe. With that in mind, we're offering a series of articles about various restaurants, hotels, parks and venues found around Florida, one of the cruise capitals of the world.
Having already spent a day touring Disney's Animal Kingdom, it's time to explore some of the other Walt Disney World theme parks.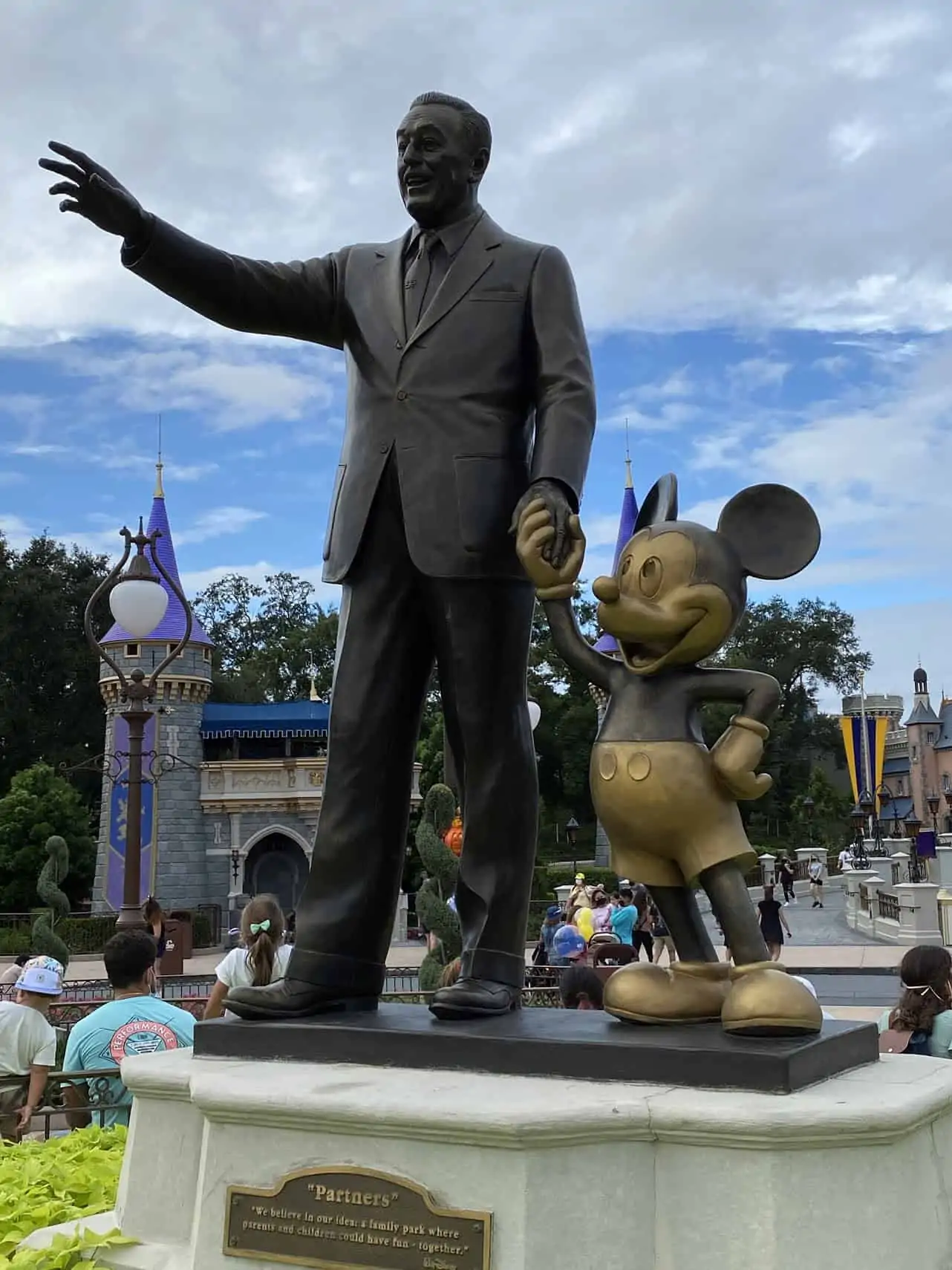 I've been wanting to hit Epcot's Food and Wine Festival, but decided to hold off for a cooler day, given that nobody wants to wander around the World Showcase overindulging in tasty treats when it's hot outside. So instead, let's head to the park most people think of when they think of Walt Disney World, the Magic Kingdom.
Making Magic Kingdom Park Reservations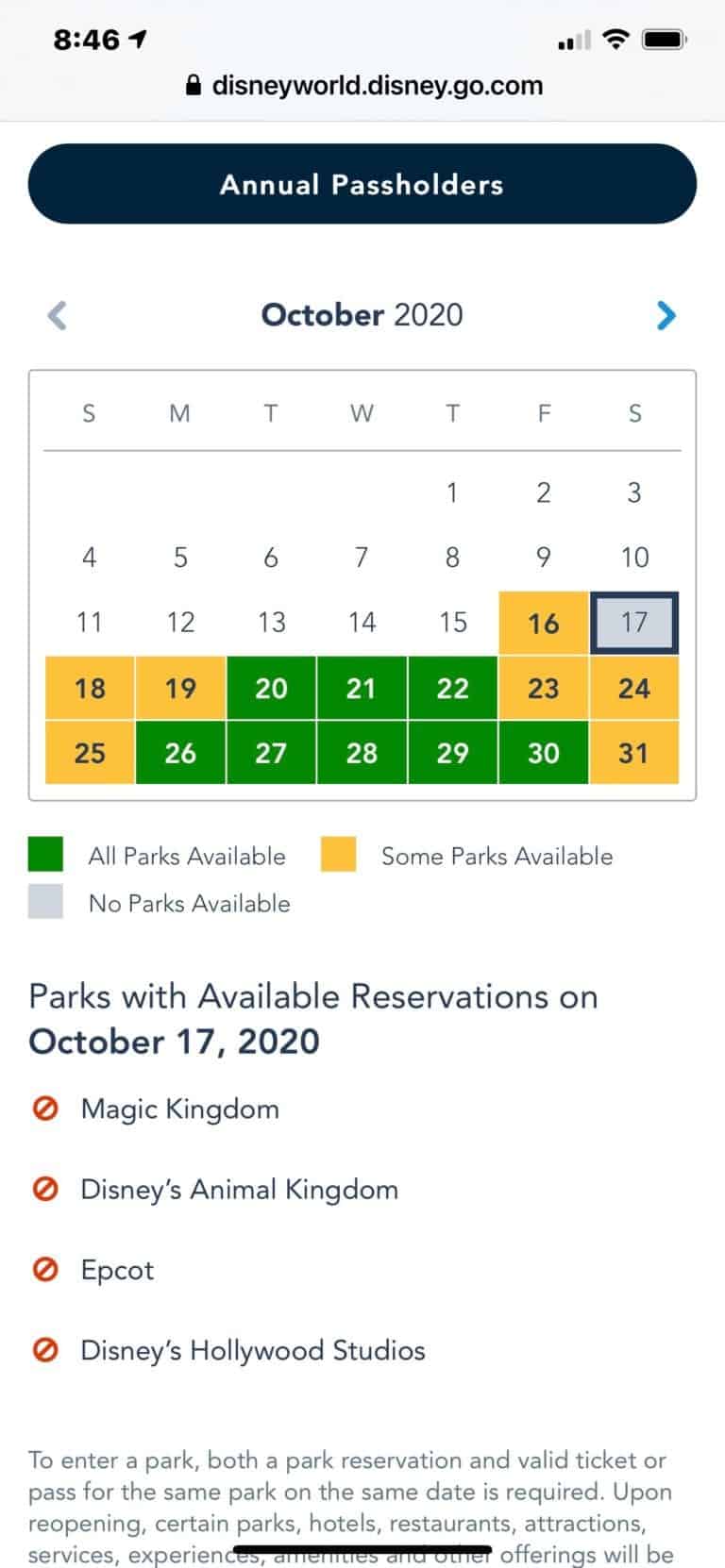 For now, at least, the days of being able to simply show up at a Disney theme park and enjoy your day are gone. Instead, every guest needs a reservation in order to gain admittance. And because it's so popular, getting a reservation for Walt Disney's Magic Kingdom can be tough.
So tough, in fact,  that I went ahead and splurged for the multi-day Florida Resident Magical ticket. 
These days Disney is giving priority for park reservations to resort guests and general admission tickets, putting annual pass holders such as myself pretty low on the list. If you spent time on any Disney-centric message boards or Facebook pages, you know this hasn't been sitting particularly well with annual passholders, some of whom have even opted to cancel their passes. 
But here's the thing: With the parks operating at around 25 percent capacity for the foreseeable future, Disney needs to generate as much revenue as possible from every person who enters the parks. Resort guests and day-ticket holders tend to spend a lot more money than do many annual passholders.
READ: Port Canaveral Guide For Cruisers 
Why? Because for someone like me, who usually goes to Disney a few times a month, going to the parks isn't the big deal that it is for someone who goes once a year. Those folks are going to stock up on souvenirs and spend money on things that I'm not likely to.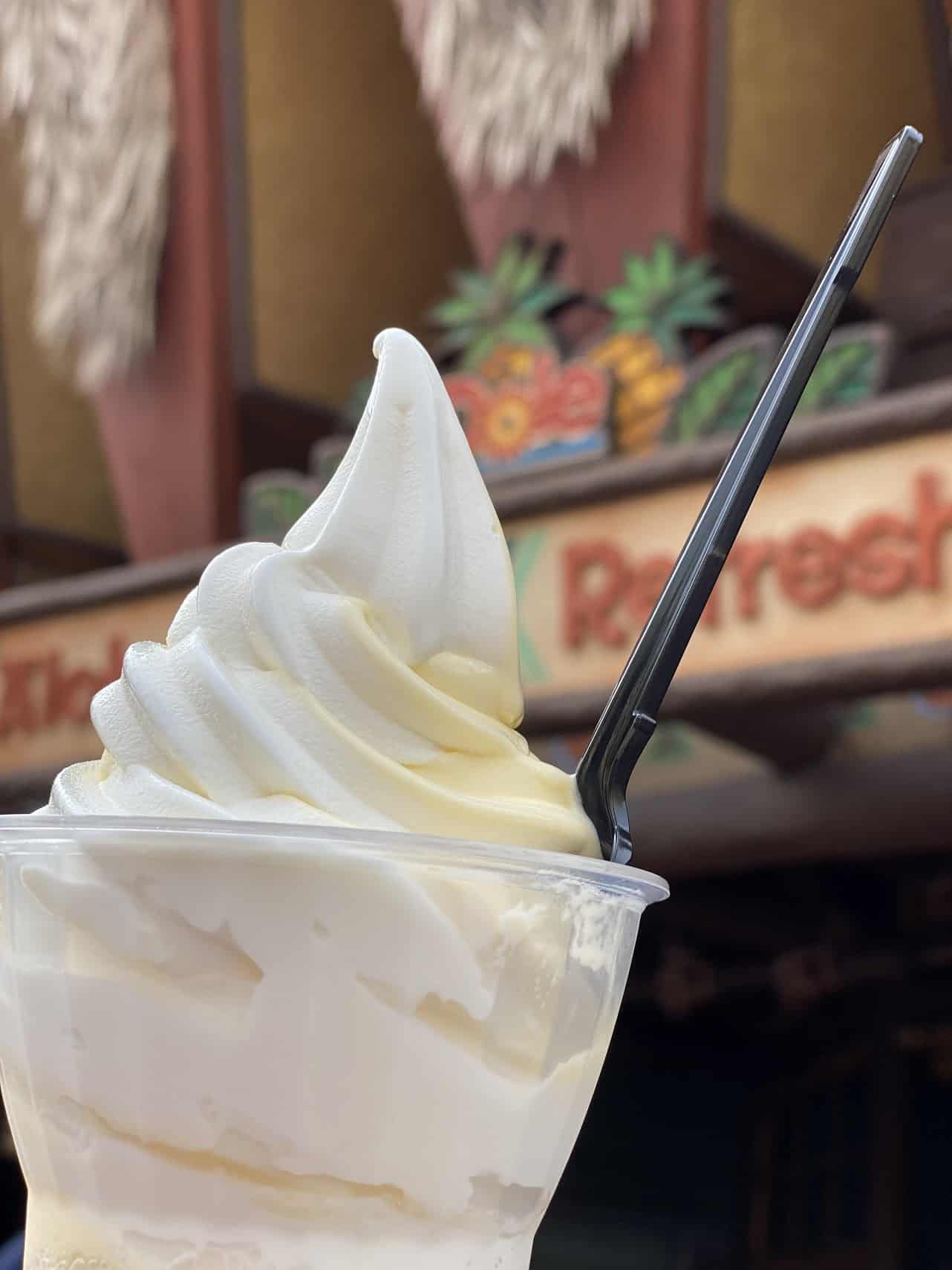 I understand why Disney is handling reservations the way they are and, as someone who wants to see the parks thrive long after this current crisis has become a distant memory, I support the decision. And I definitely won't be canceling my annual pass.
Anyway, once I secured the multi-day Florida Resident Magical Ticket, I was able to make my park reservation instantly on the Disney app and was ready to go. 
Arriving at The Magic Kingdom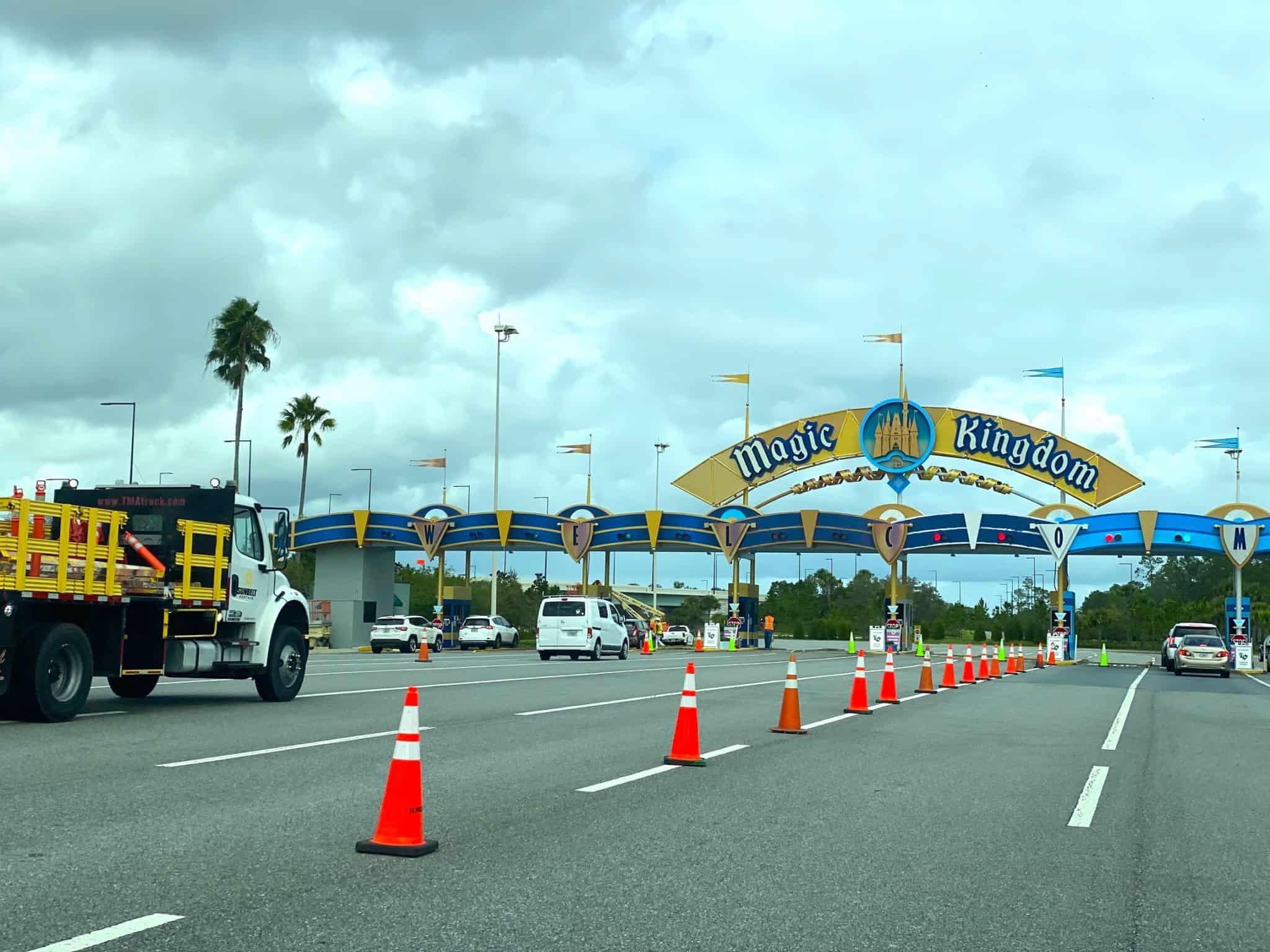 Parking-wise, the situation was very similar to what we'd experienced at the Animal Kingdom. The parking attendants only utilized every other parking space in order to allow f0r physical distancing.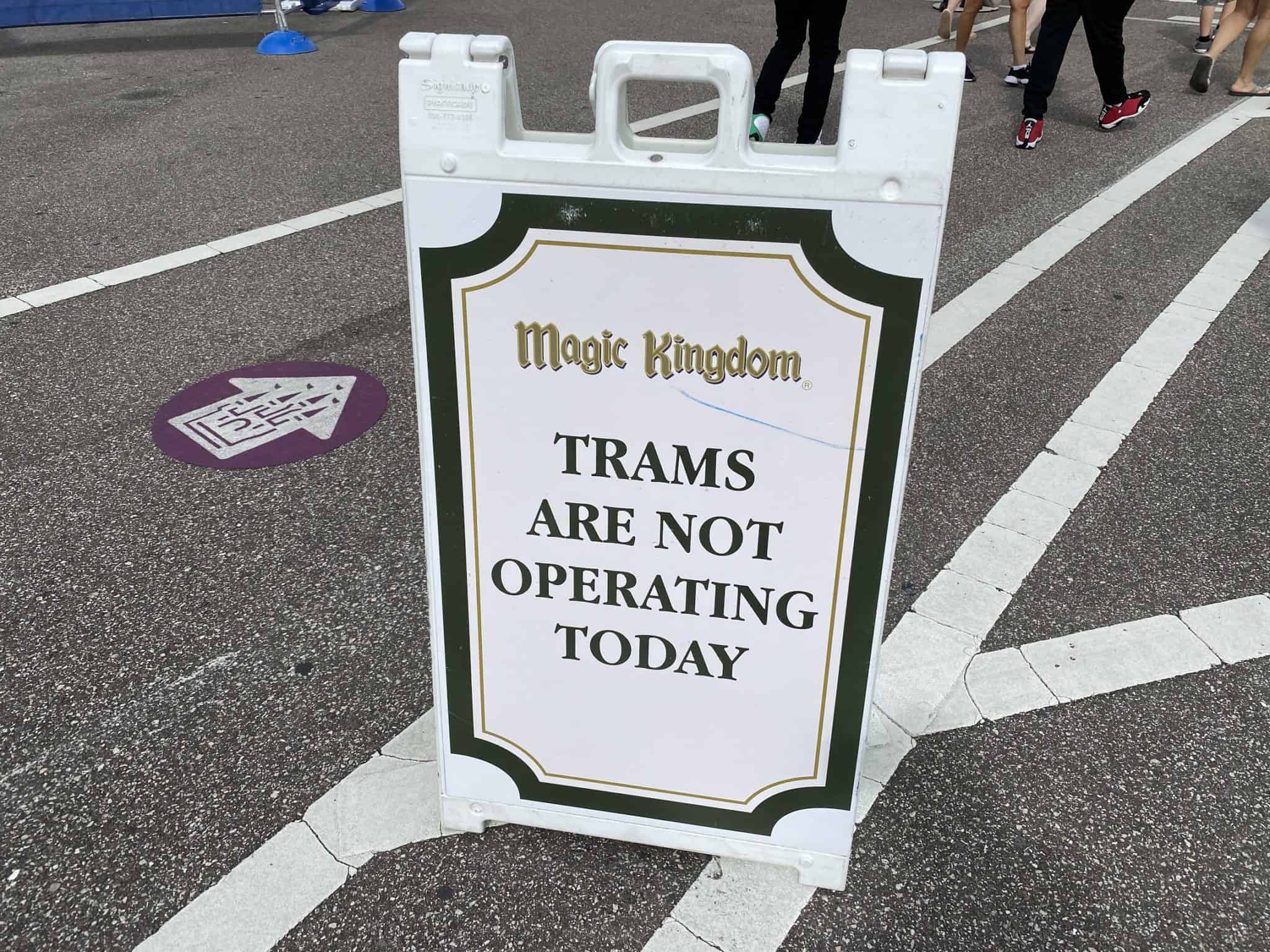 Since the trams still aren't running, it was a little bit of a walk from the Zurg section of the parking lot to the Transportation and Ticket Center (TTC).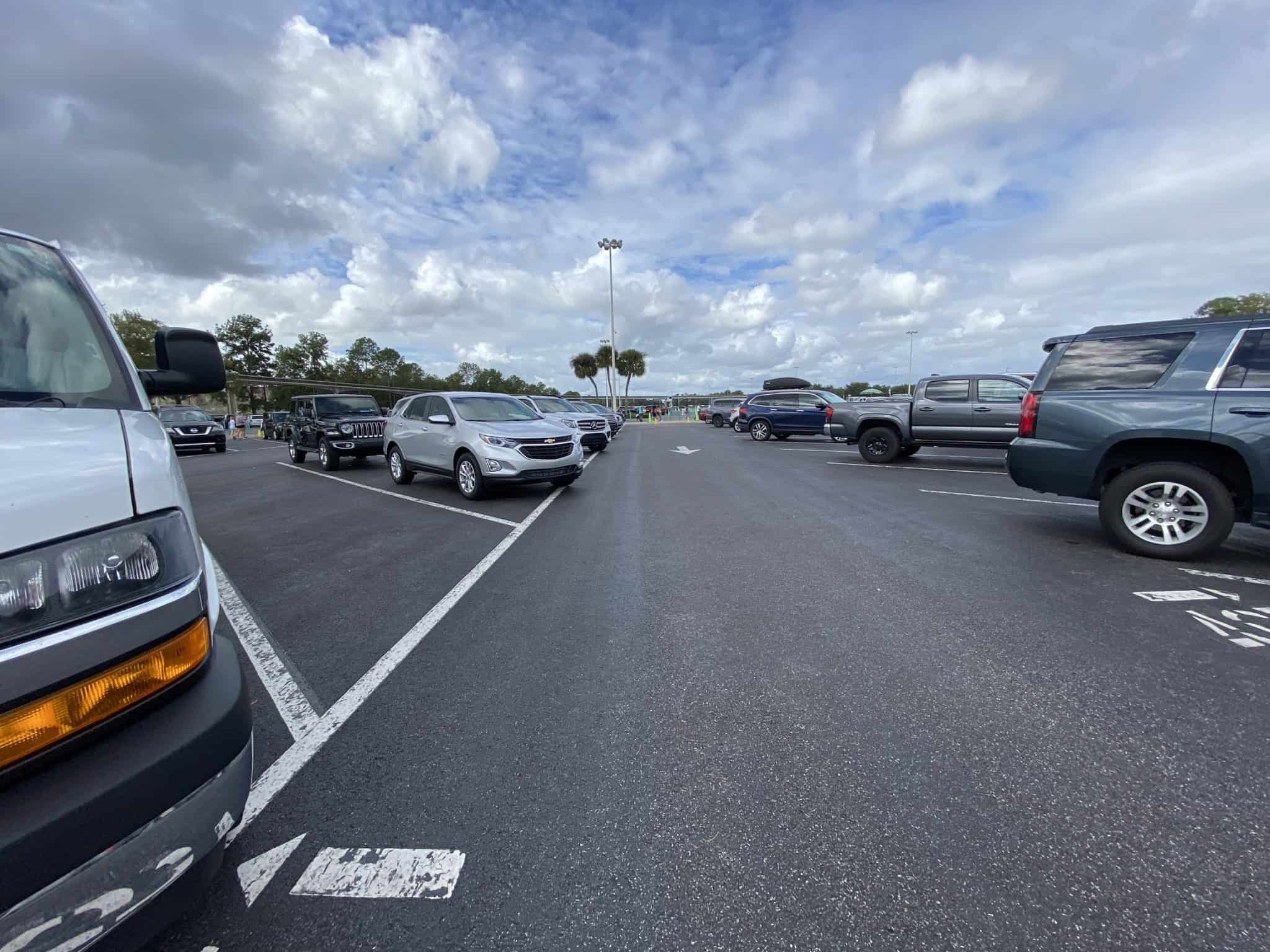 As we approached the ticketing area, we went through the health screening set up for temperature and mask checks. It's important to make sure that you have not only a mask, but one that is compliant with Disney's requirements.
Two guests in front of us who had inappropriate masks — one was an N95 respirator mask and the other was wearing a scarf — were asked to either return to their cars to get an appropriate mask or purchase one in the shop next to the entrance. 
Before Disney reopened their parks, the company took a stand on N95 masks. Disney posted on its website, "At this time, based on guidance from health authorities, neck gaiters, open-chin triangle bandanas and face coverings containing valves, mesh material or holes of any kind are not acceptable face coverings."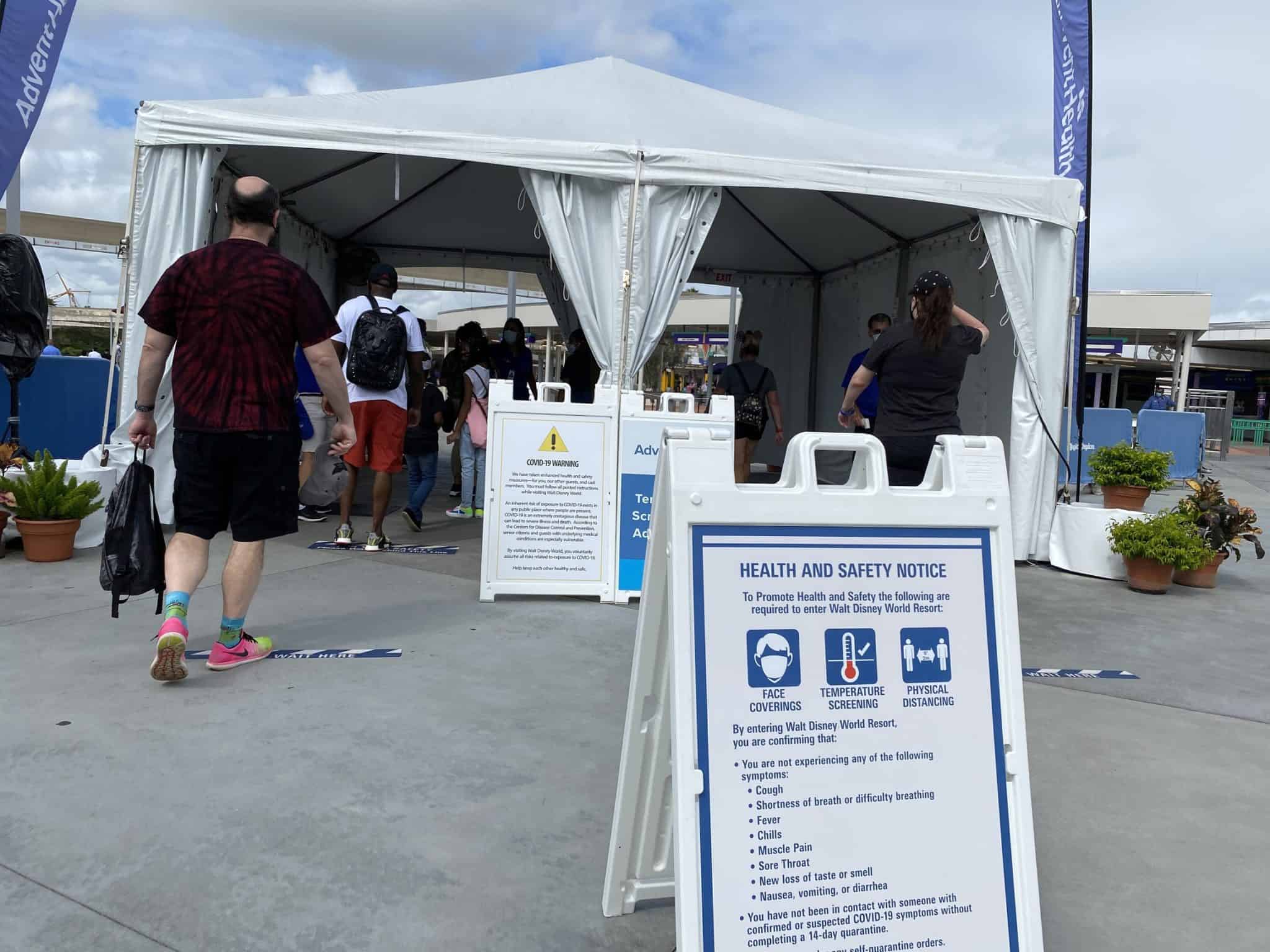 My advice? Remember that visiting a Disney theme park right now is going to be different than it would be during normal times. Head to their website and make sure you know what will be expected of you. It's also important to read the protocols and ask yourself, "Can I comply with these and still enjoy myself?" If the answer is no, it might be better to delay your visit.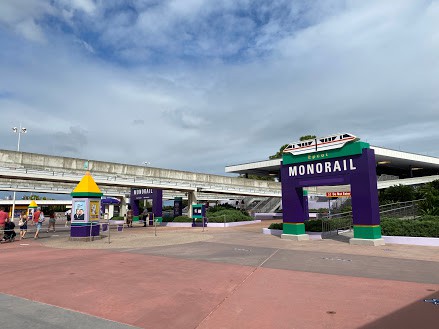 Unlike Animal Kingdom where you walk directly up to the park, the TTC is some distance from the Magic Kingdom. To get to the park, you decide if you want to take the monorail or ferry boat. 
Because I wanted to be able to fill you in on everything you'd need to know, we opted to do both. On the way to the park, we took the Monorail and on the way back to our car, we took the ferry boat to the TTC. 
Riding The Monorail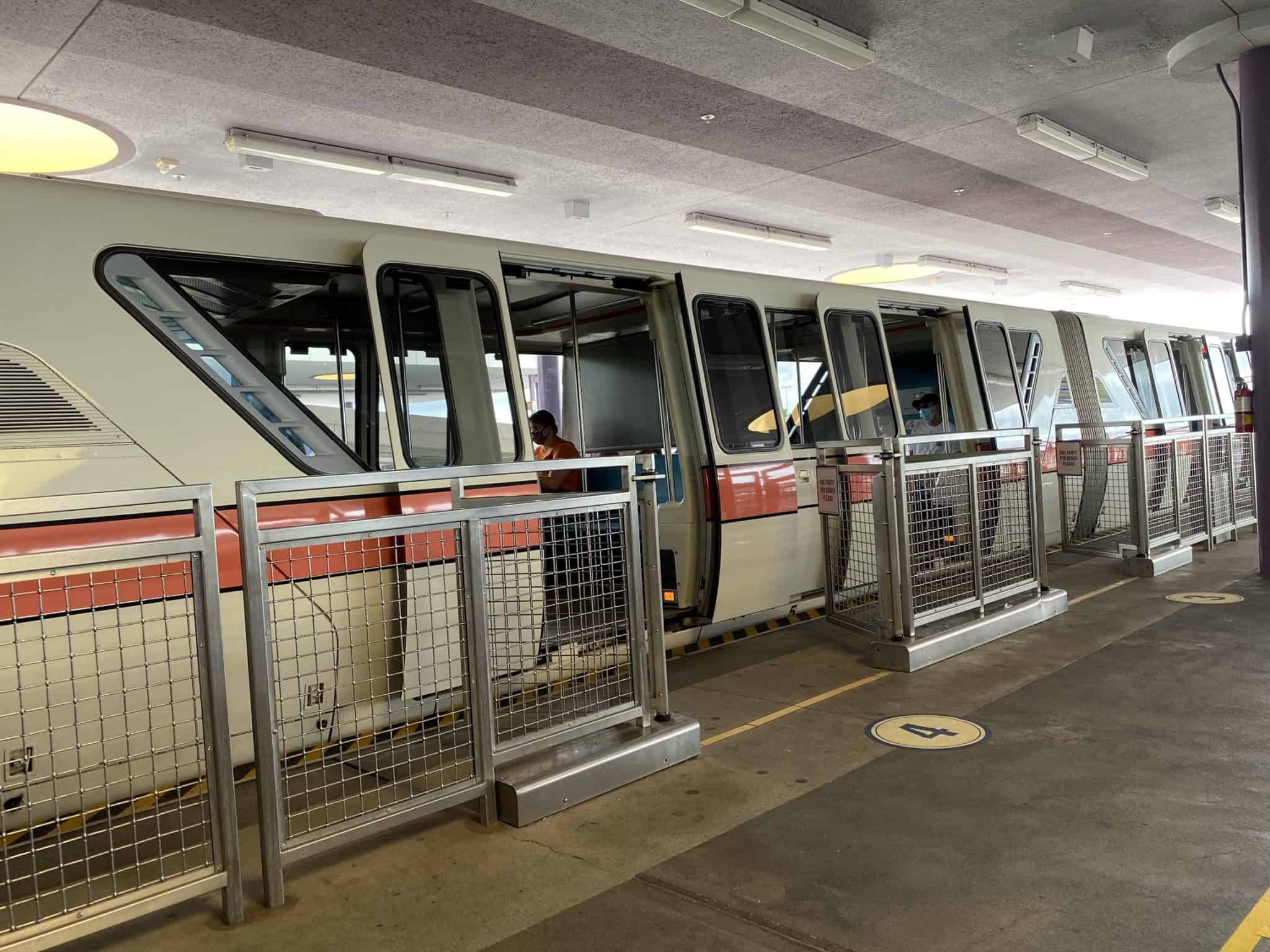 The monorail experience was different from what I'd experienced in the past, to say the least. Disney guidelines only allow two parties per cab, and each of those parties must sit on their own side of the monorail.
On the plus side, this is a lot more comfortable than some of the past rides I've experienced, where people shove into the space as if it's a clown car. But at the same time, this definitely creates a bottleneck of people waiting for available space.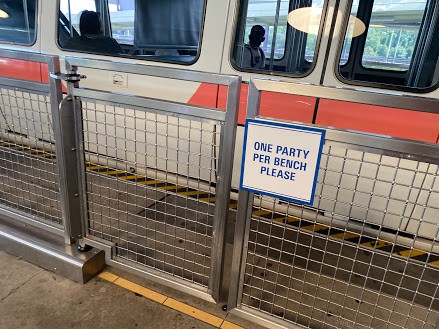 The express monorail runs direct from the TTC to the entrance of the Magic Kingdom. One thing I noticed was that there were workers disinfecting the monorail cars after we got out and before it left to complete the circle back to the TTC.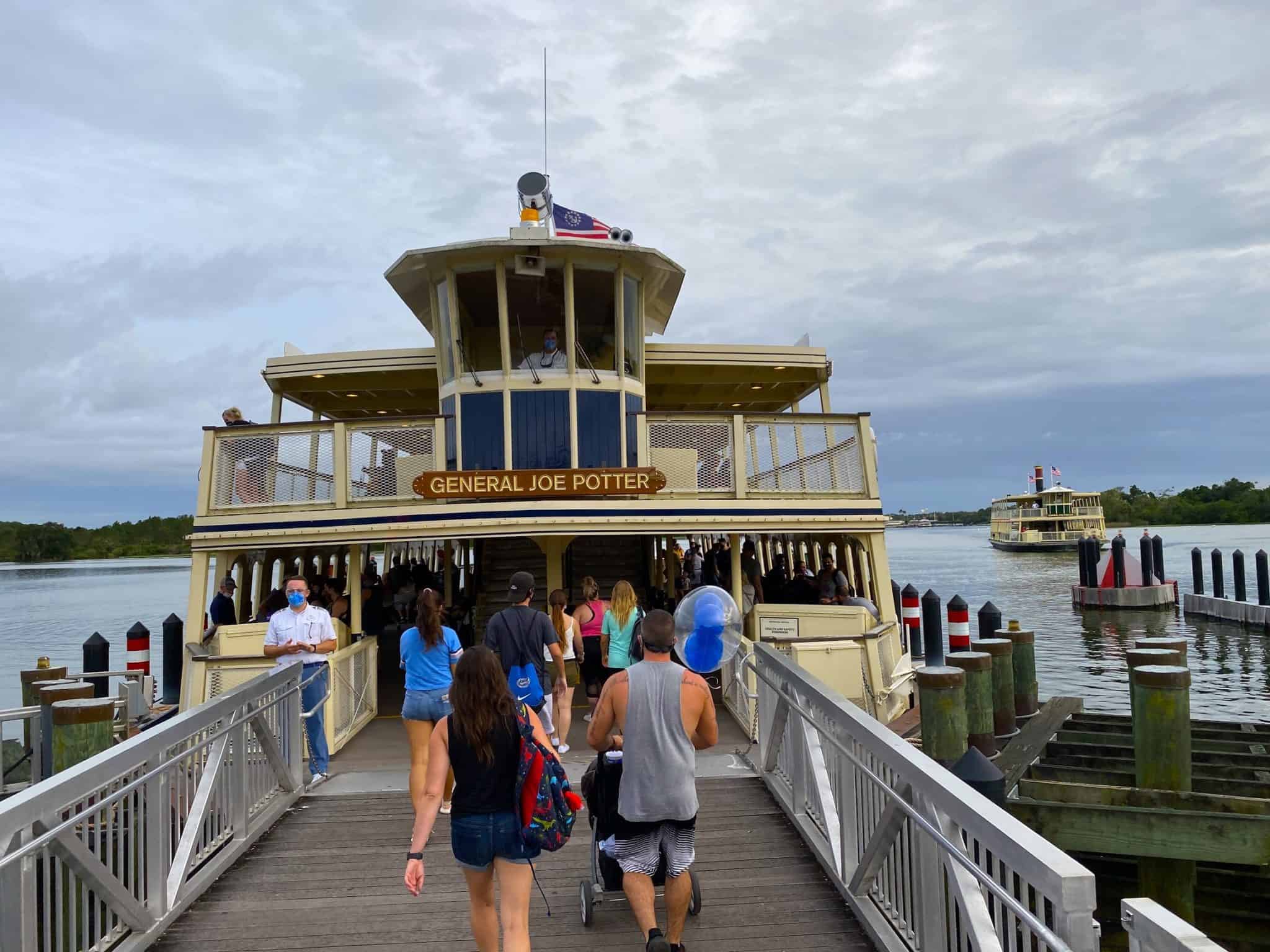 If you're weirded out about being in an enclosed space with people who are not in your party, I suggest taking the ferry boat or splurging for a night at Bay Lake Tower at Disney's Contemporary Resort, which would give you the luxury of walking to the Magic Kingdom.
First Impressions of Magic Kingdom
Entering the park was as easy as putting my Magic Band against the reader and walking inside. 
As it happened, we were visiting during the Halloween season, and it was cool to see the Mickey pumpkins hung along Main Street USA.
The park wasn't as decorated as it was in prior years, when Mickey's Not So Scary Halloween Party would be occurring multiple nights per week, but it was nice to see they were celebrating the season.
Of course, any day now (assuming you are reading this when it was posted in mid-November), Christmas decorations will begin popping up. (And if you've never experienced Walt Disney World at Christmastime, you have no idea what you're missing!) 
There was a noticeable difference in the number of people in the park. Under normal circumstances, the Magic Kingdom can host approximately 90,000 guests, and while there are not that many people in attendance on an average day, it can still get very crowded.
Currently, they are operating at 25 percent capacity, allowing for a maximum of about 22,500 people in the park. That may sound like an awful lot of people, but when you spread them out across the entire park (and take into consideration how many it's designed to handle), it changes your perspective. 
It's Not a Parade, it's a Calvacade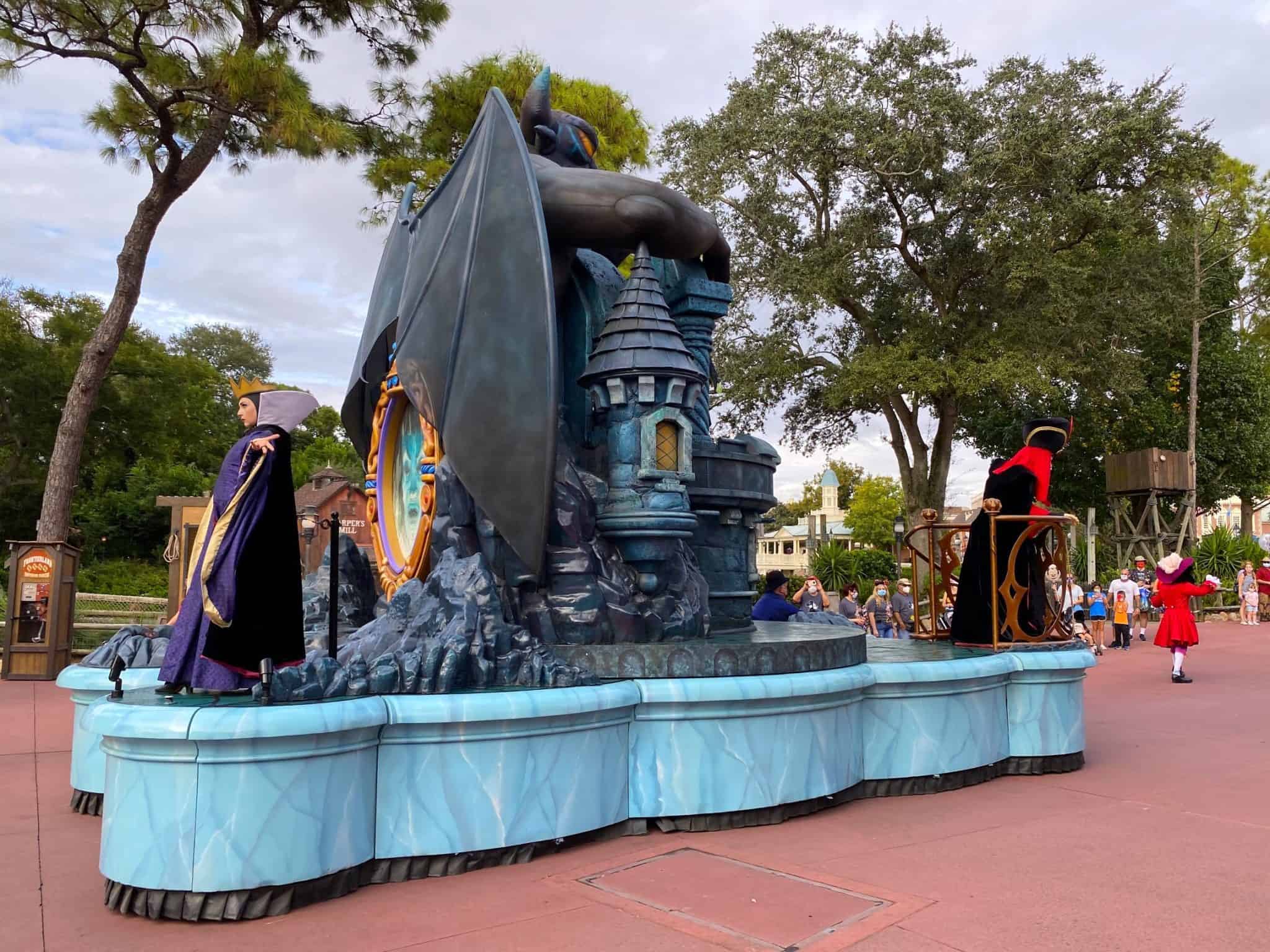 Stepping under the train station bridge and walking into the park we came across what looked like a parade. There was only one thing wrong: there was only one float.
Why? Because this was not a parade, but a cavalcade.
So what's a cavalcade? Well, it's a miniature parade. In order to avoid the crowds which line Main Street in anticipation of the big, multi-float parades, Disney is offering a variety of smaller "cavalcades," most of which involve one or two floats with characters.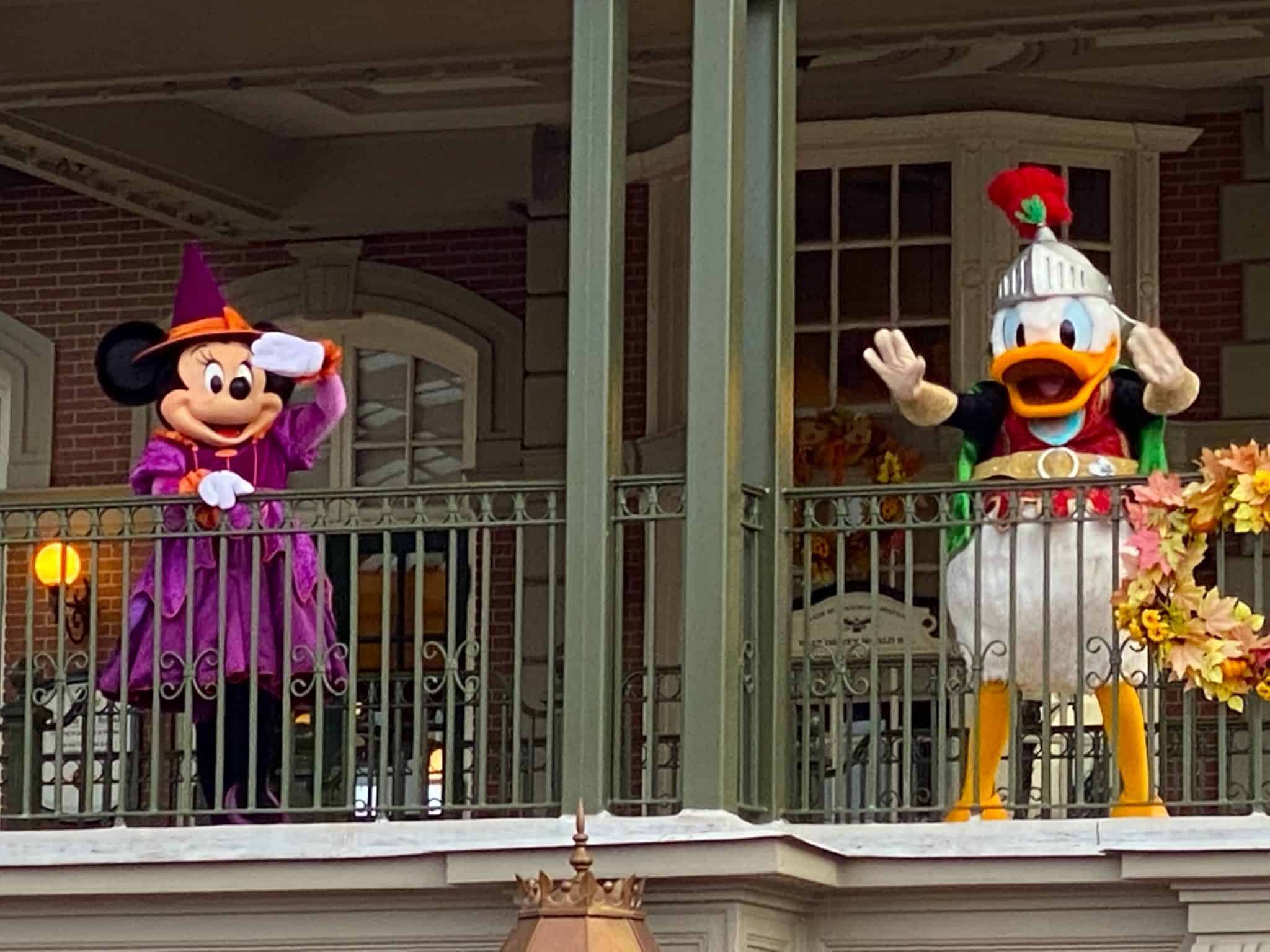 Over the course of our day at the Magic Kingdom, we caught two of the cavalcades. The Royal Princess Processional was going by as we were walking into the park, and we later caught the Halloween-themed Disney Villains Cavalcade. We were eating lunch during Mickey's Cavalcade, which was also modified, running from Frontierland to the Town Square Train Station.
The park designed special themed cavalcades for Halloween and will also do so for Christmas; during non-holiday times, the processions feature the usual Disney characters, including Goofy, Peter Pan, Tinkerbell, and others.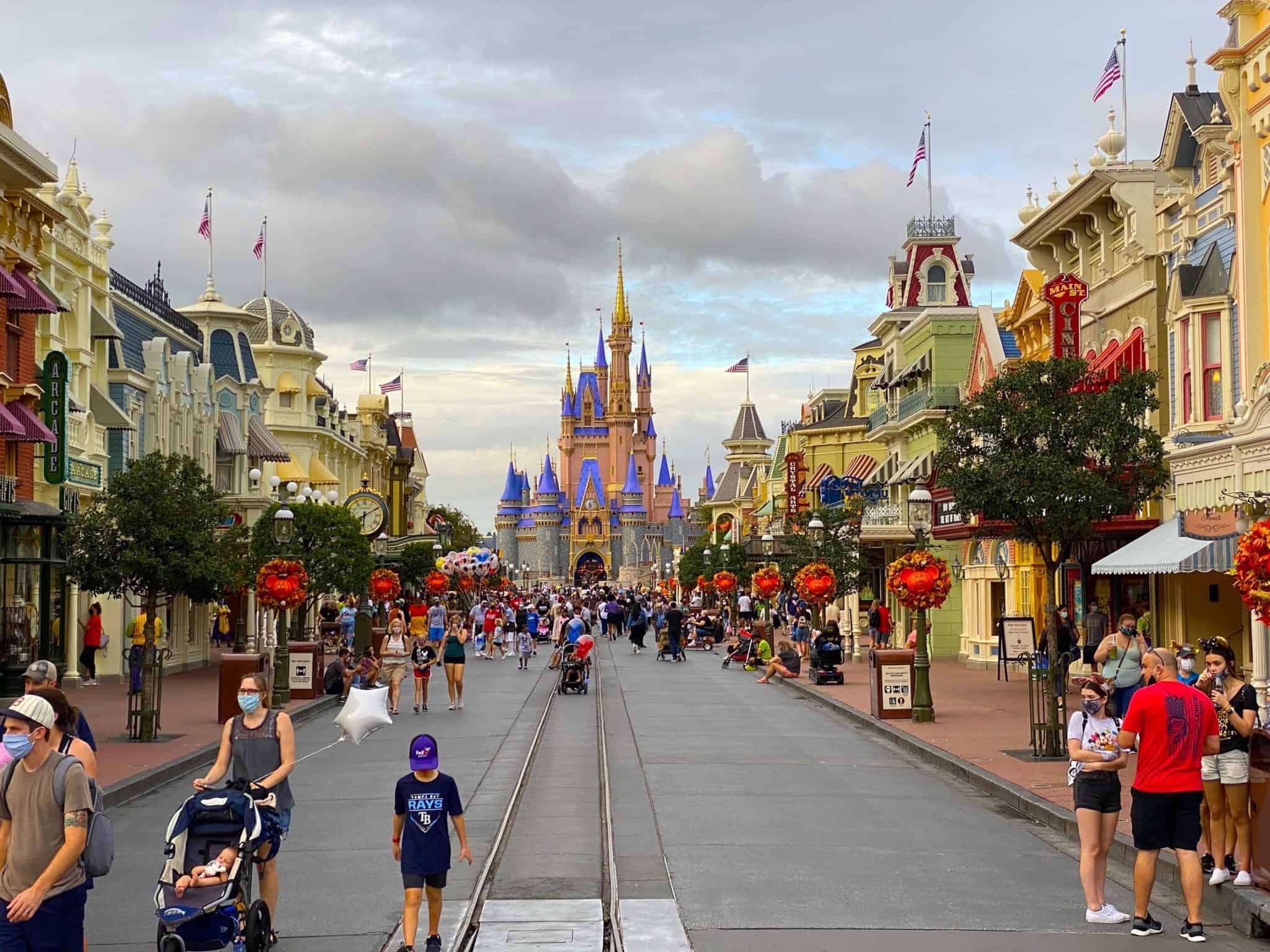 It was odd walking down Main Street with 75 percent fewer people than typically line the street during similar events. It did make parade viewing a lot easier, and there are designated viewing spots marked on the sidewalk to encourage social distancing.
Dining at Magic Kingdom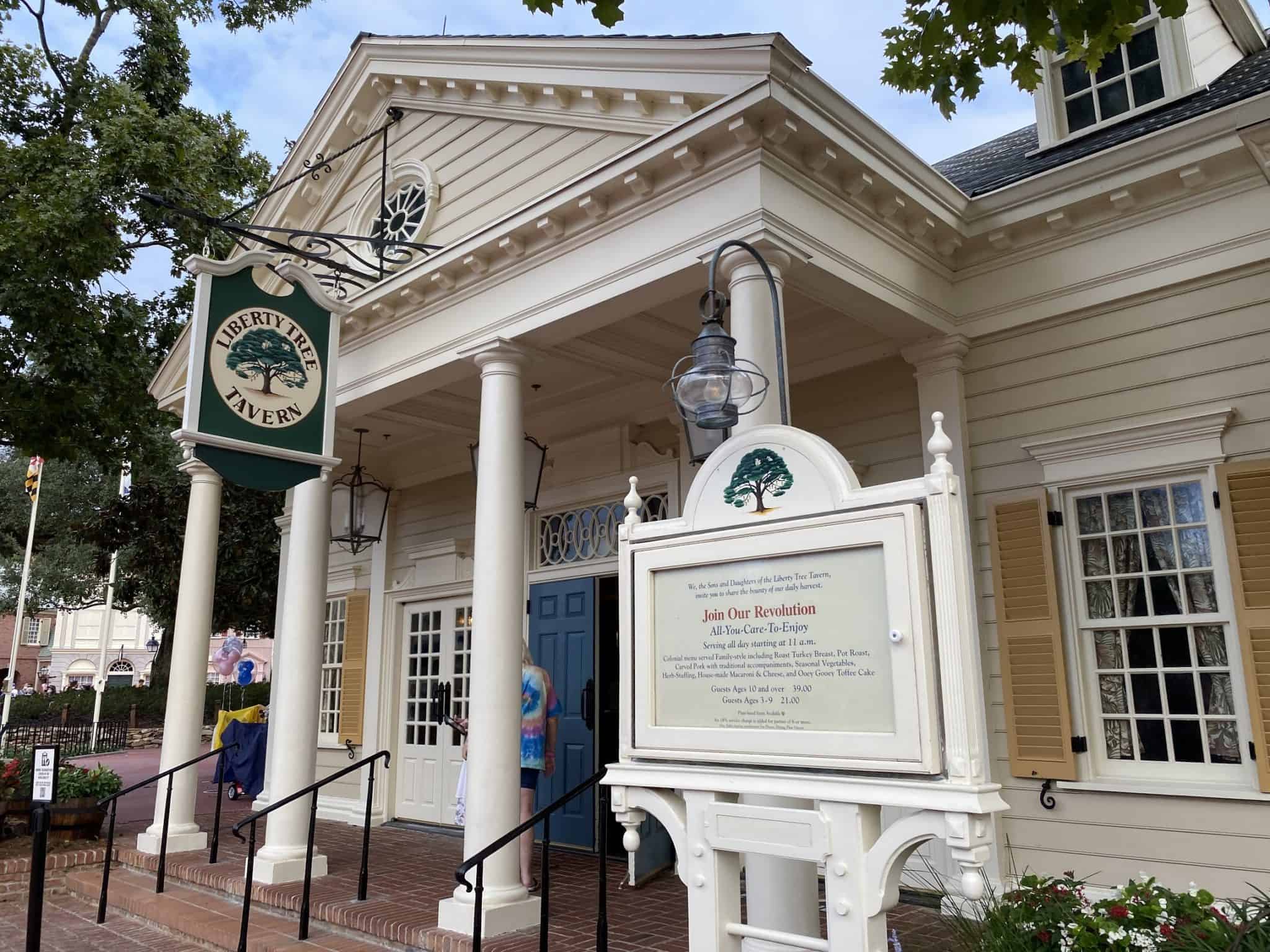 When booking our day at the park,  we looked to see what venues were available for sit down dining. Aside from numerous quick service options, table service options that were available included Jungle Navigation Co. Skipper Canteen, Liberty Tree Tavern, and Tony's Town Square Restaurant.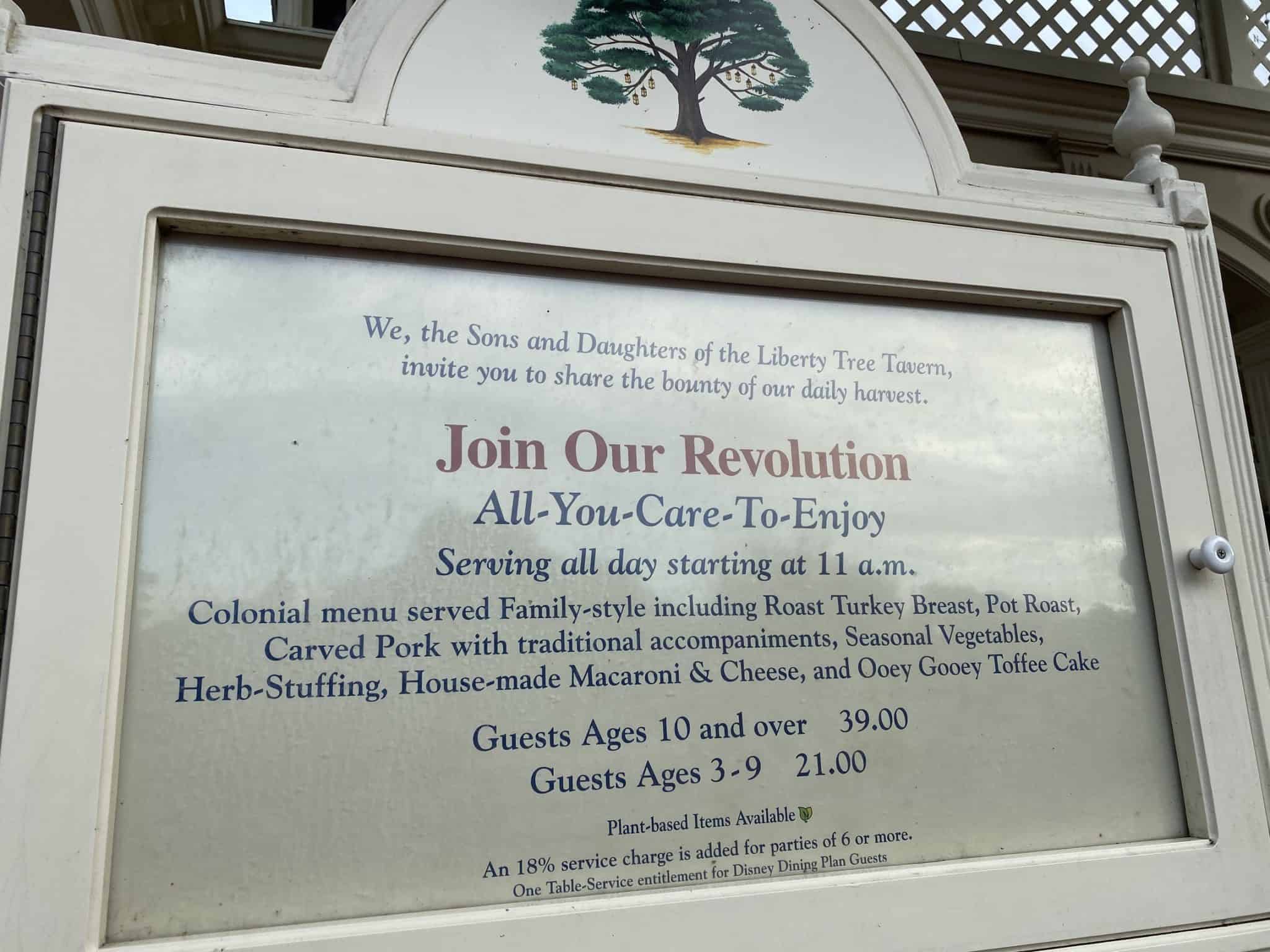 We opted for Liberty Tree Tavern which is an all-you-care-to-eat venue but offering a limited menu of roasted turkey, mashed potatoes, gravy, stuffing, mac and cheese, green beans, and a 'gooey' dessert. The cost is $39 per person (before any applicable passholder discounts). 
The process was fairly straightforward and nothing unlike you may have experienced at restaurants in your own hometown. When we walked up to the Liberty Tree, a cast member greeted us and showed us how to check-in for our meal, then she directed us to a green dot where we stood until they called our names.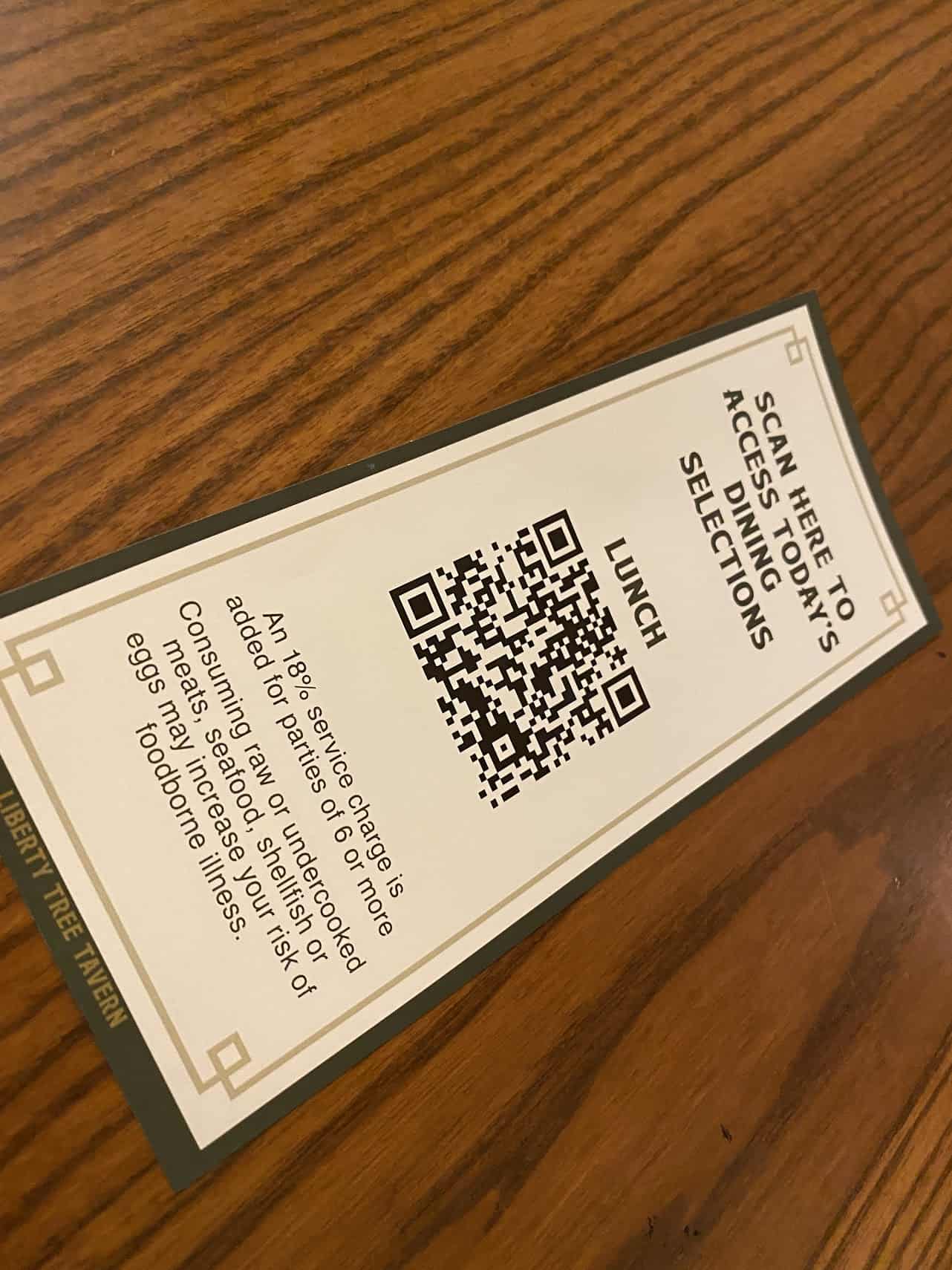 Once we were seated, the hostess handed us a QR code to scan with our phone to see the menu. Because this is a set menu, this was really more about seeing what options they had for beverages than anything else. 
The meal was brought out in a timely manner and served family-style, with large platters of food for the table. When I say "large platters" I mean it. There was so much food we couldn't finish, although we gave it the old college try. And just when you were ready to throw up your hands and admit defeat, they brought out the oeey-gooey cake.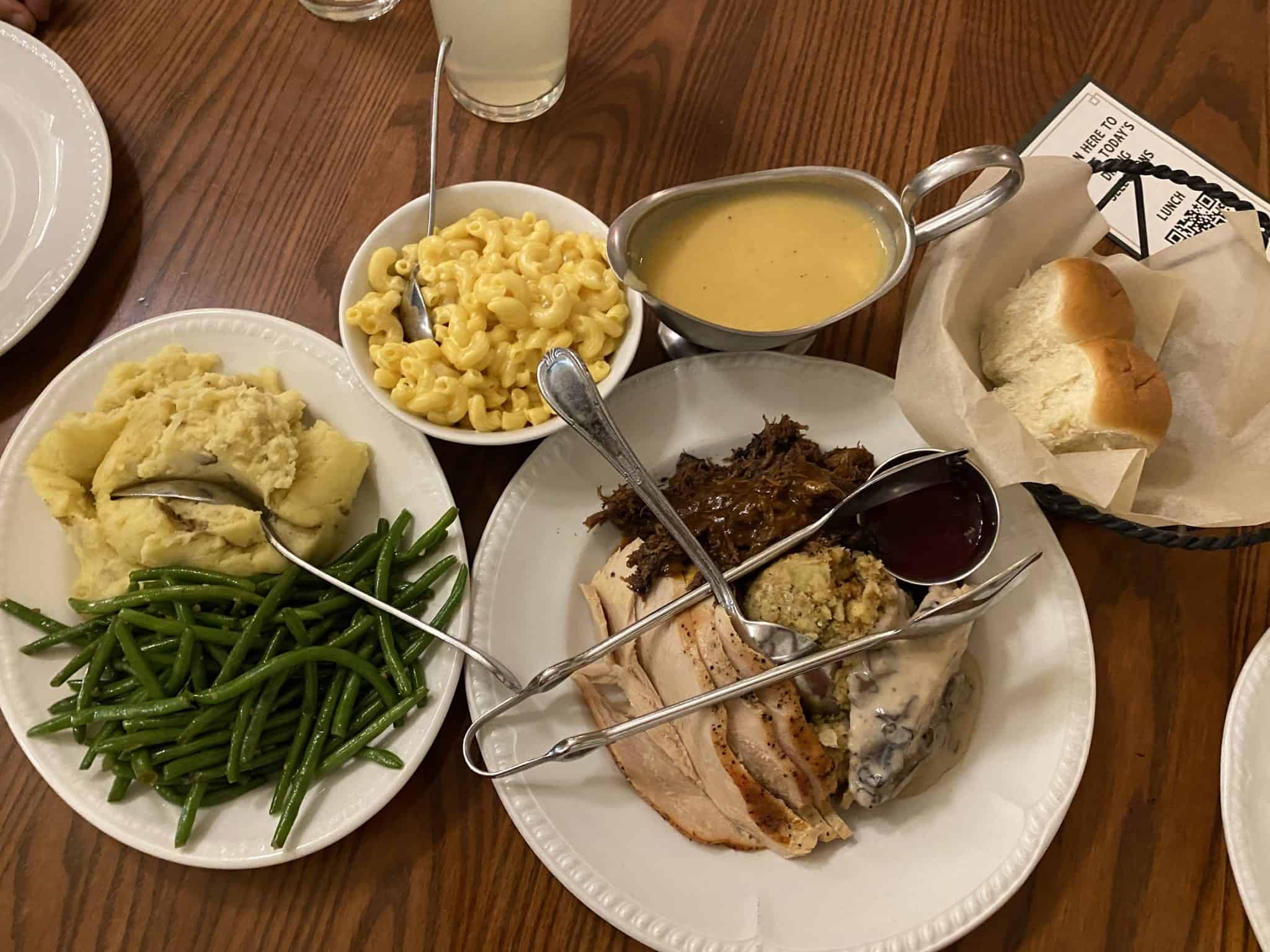 At this point, you're going to think, "I can't eat another bite." But then you'll take just a little taste of the cake and change your mind, because it was to die for. In fact, it was probably one of the best desserts I've ever eaten at Disney World, and this is coming from a guy who has eaten a lot of desserts at Disney. 
The restaurant had plenty of space between tables and it felt like it was maybe at half capacity.
At the quick service restaurants, use of Mobile Ordering via the My Disney Experience smartphone app is strongly encouraged to reduce crowding, touchpoints and lines.
We didn't dine at a quick-service restaurant in the Magic Kingdom, but mobile ordering was easy to use during our day at Animal Kingdom.
Attractions at Magic Kingdom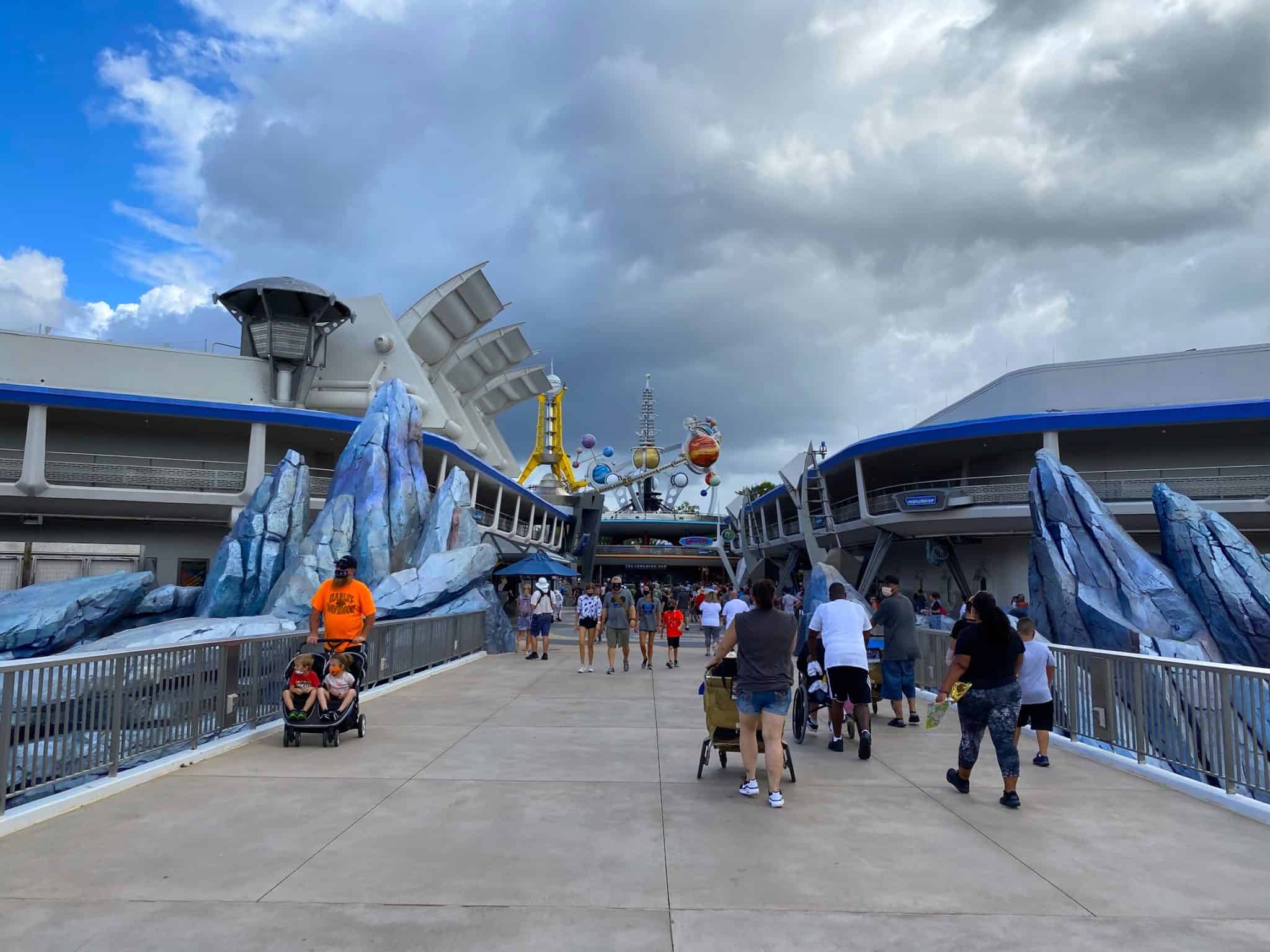 FastPass+ is currently not operating, meaning only stand-by lines are available for attractions. Thanks to social distancing techniques used to keep parties at least six feet away from other parties, the lines can look a whole lot longer than they actually are. But don't let them — or the posted wait times — intimidate you.
For example, the line for the Haunted Mansion reached all the way to Frontierland, stretching along the Rivers of America. While the line was posted as a 60-minute wait, it moved at a pretty steady clip and I doubt it would have taken that long to get into the attraction.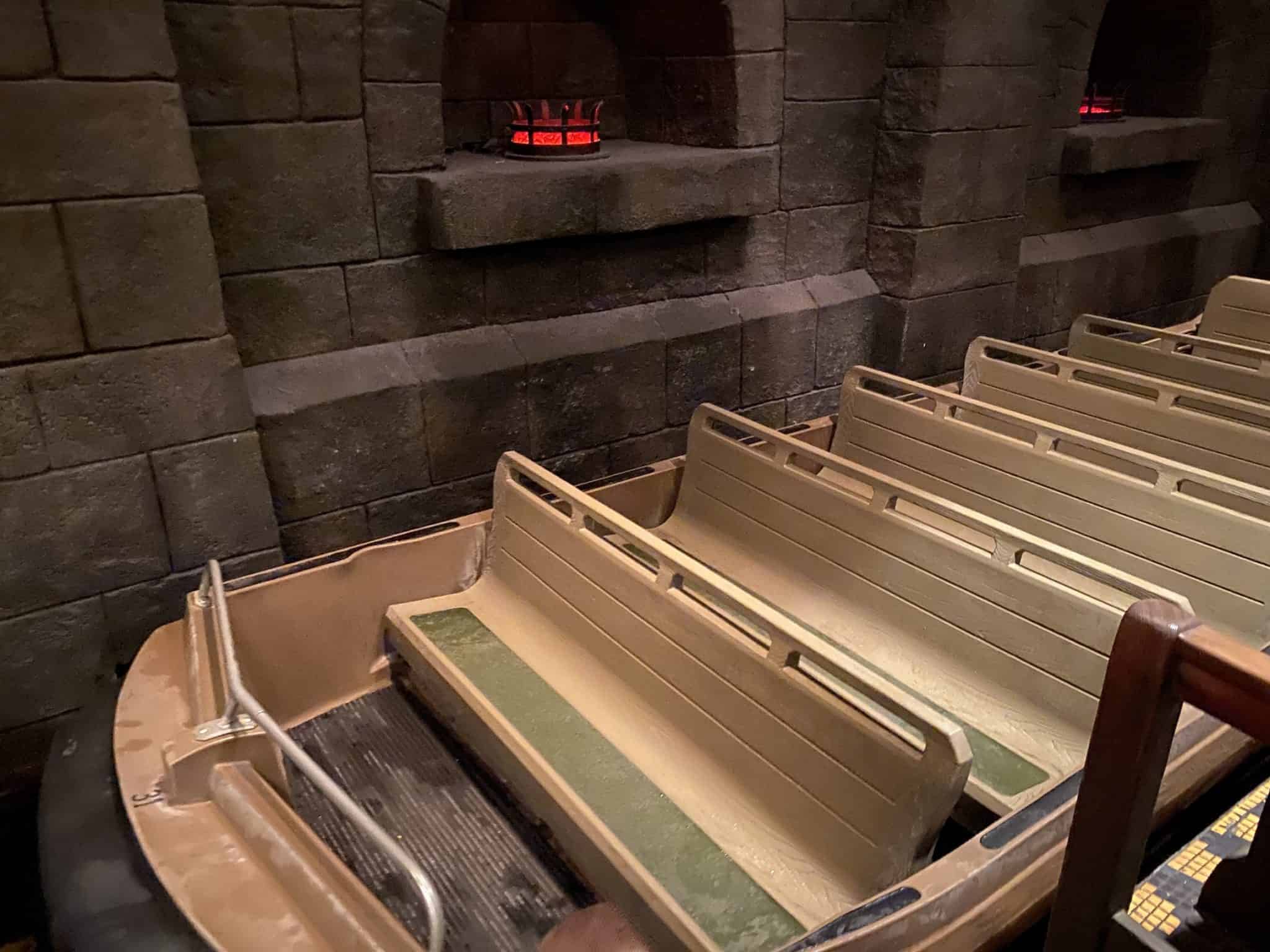 Ultimately, I can't really say because the routing of the line was confusing, and we inadvertently skipped ahead of another party. They didn't take our accidental "cut" well, and things got a little tense. Rather than stay in line and deal with an uncomfortable situation, we opted to skip the Haunted Mansion.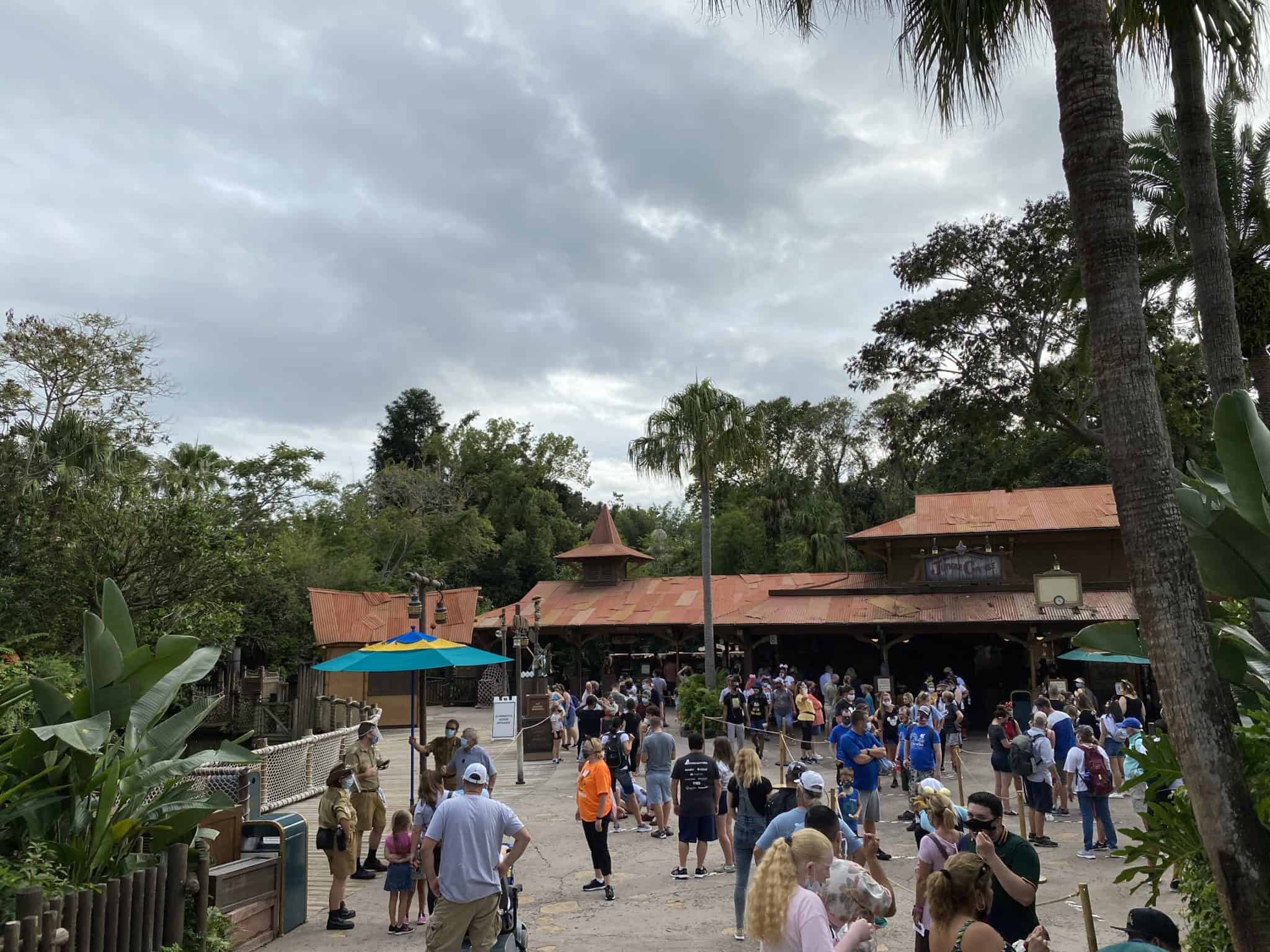 On the plus side, we had no such problems when it came to riding Space Mountain, Pirates of the Caribbean, Jungle Cruise, and the Carousel of Progress.
The Jungle Cruise boats have plexiglass dividers between each party, and the skipper stands behind a clear plastic tarp that looks like a shower curtain.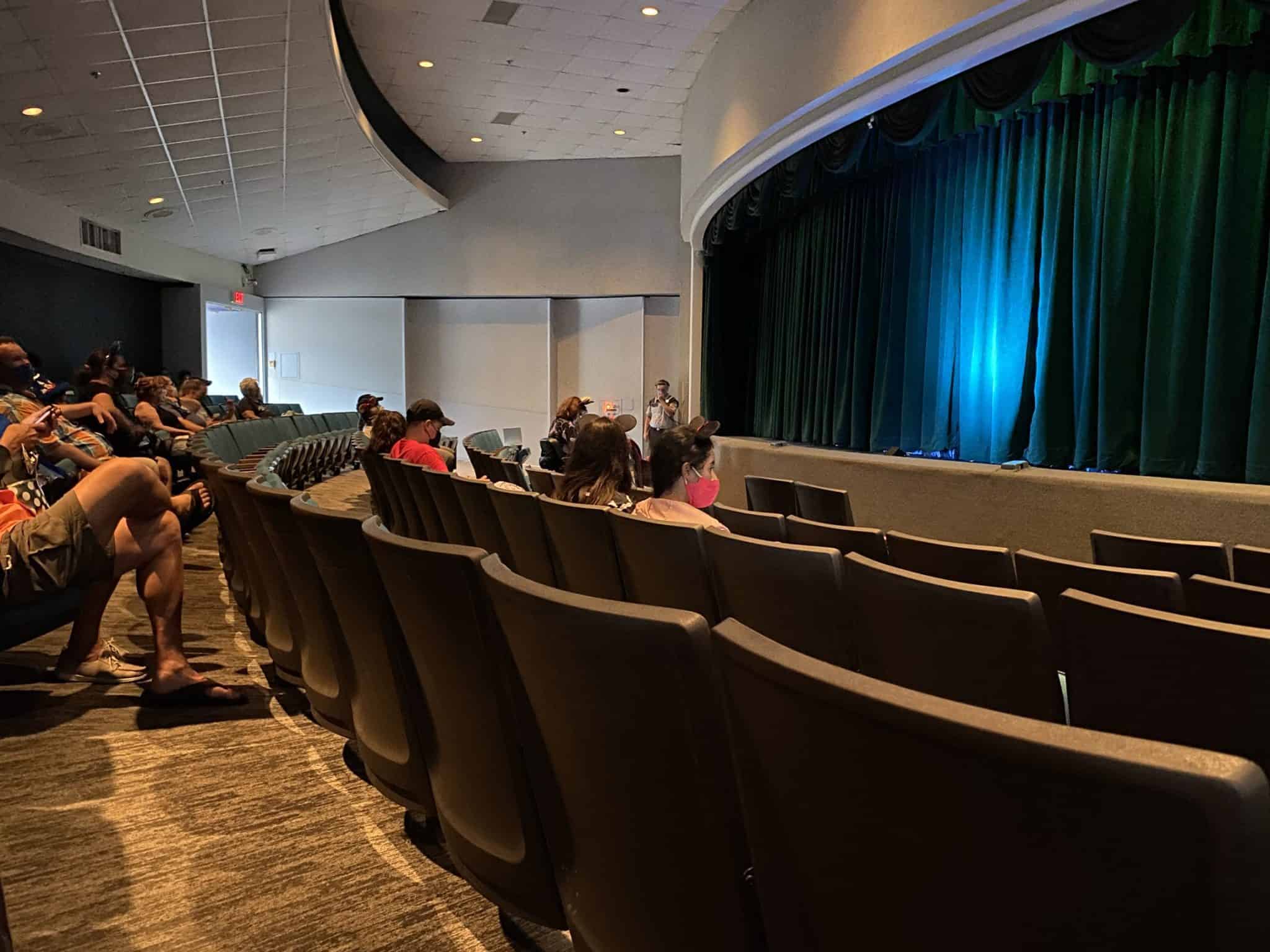 At the Carousel of Progress, alternate rows are blocked off, and in the open rows, groups of four seats alternate with three blocked seats to ensure social distancing between parties.
Due to the confusing way the theater is designed, I inadvertently entered a blocked row, and had to be reminded by a Cast Member to sit in a designated seat.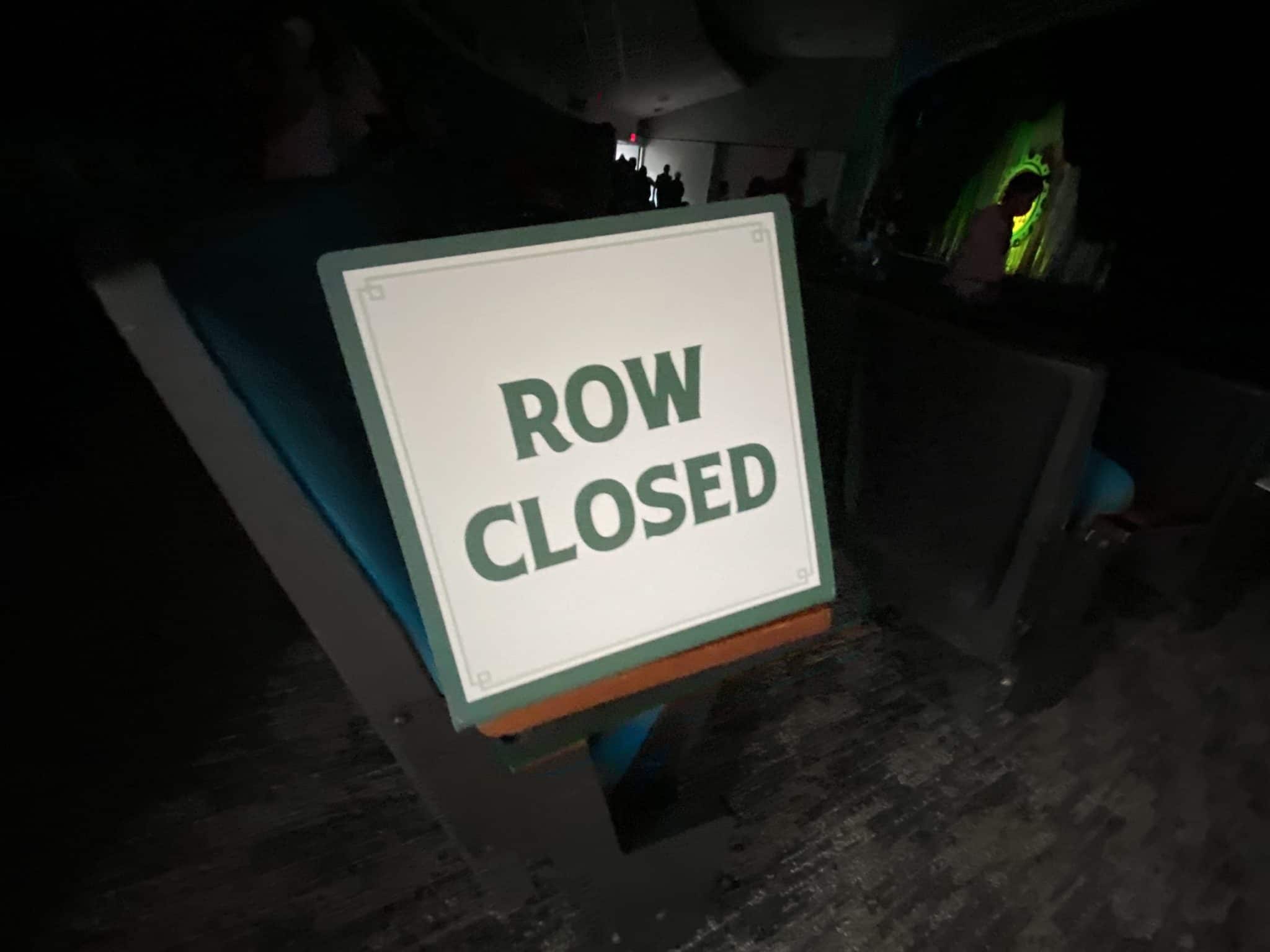 Most entertainment and entertainment-based attractions in the park are closed, so there's no stage show in front of Cinderella's Castle, most of the Citizens of Main Street aren't performing (with the exception of the Dapper Dans), there are no character meet and greets, and Monsters Inc. Laugh Floor and Enchanted Tales with Belle are not operating.
Final Thoughts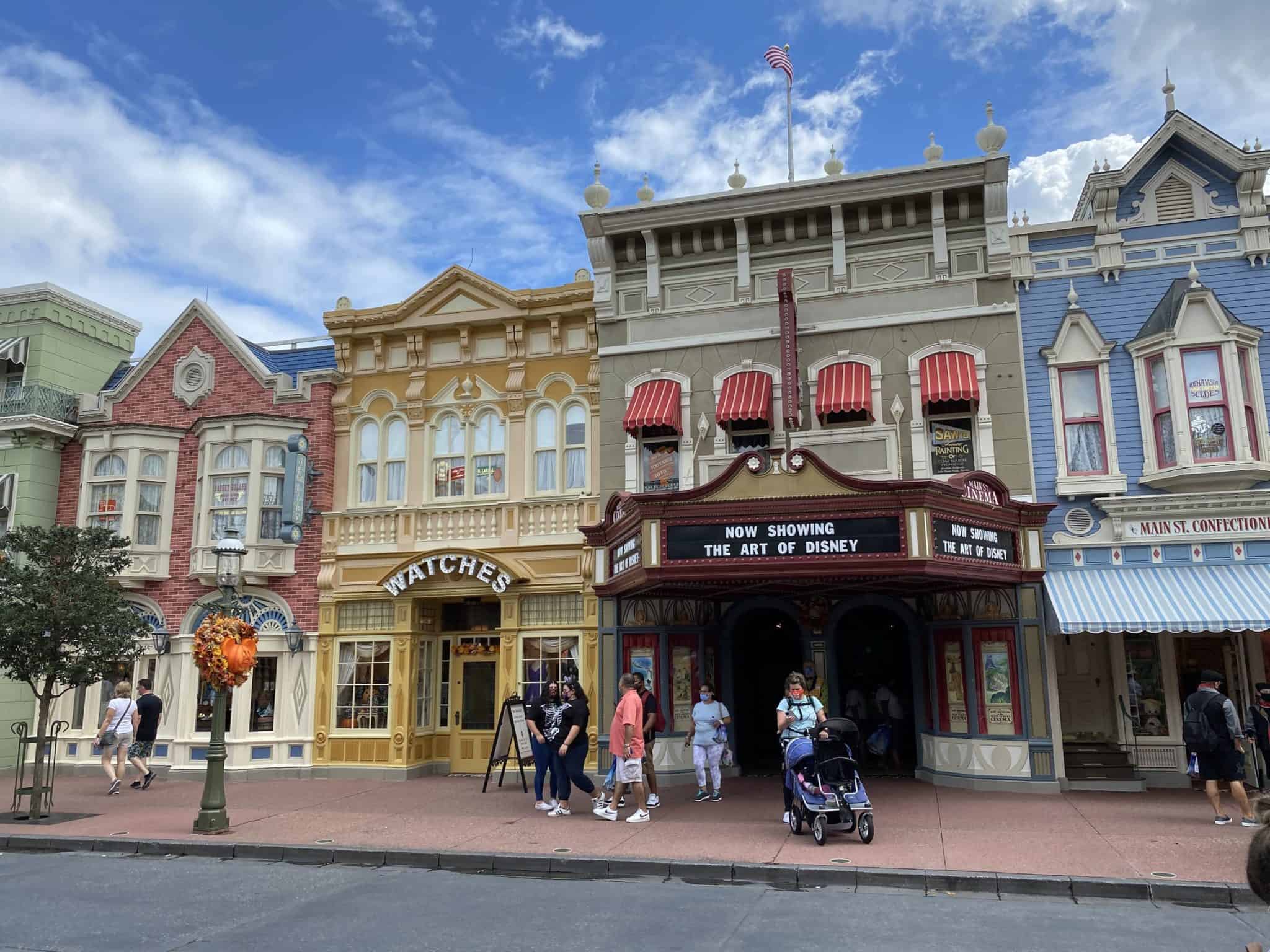 It felt good to be back in the Magic Kingdom, and the lighter-than-normal crowds made for a relatively pleasant day in the park. Weirdly, the smaller crowds made the park feel less energetic, and we definitely missed some of the in-park entertainment. I may not necessarily be someone who'll stand and watch a whole parade, but I like catching glimpses of it passing by as I'm zipping from one area to another. 
The extended lines for the attractions made for an unpleasant experience, so it seems hard to imagine that Disney isn't looking into implementing a virtual queue or some other alternate to the current situation. 
What you get out of your day in the Magic Kingdom is going to rely heavily on what you're expecting. If you're someone like me, who visits the parks frequently and maybe just wants to soak up some atmosphere or jump on a couple of rides, you'll likely enjoy your visit.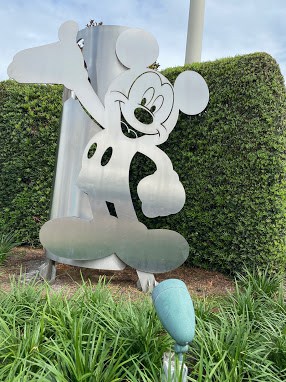 But if you're a first-time visitor or planning a once-in-a-lifetime trip with your family, it might be best to wait a few months to see how things play out. This is true both in terms of the current health crisis and what changes Disney ultimately makes when it comes to the parks. There are definitely some kinks to be worked out. 
More article in our "Travel During a Pandemic" series:
Pin it for later!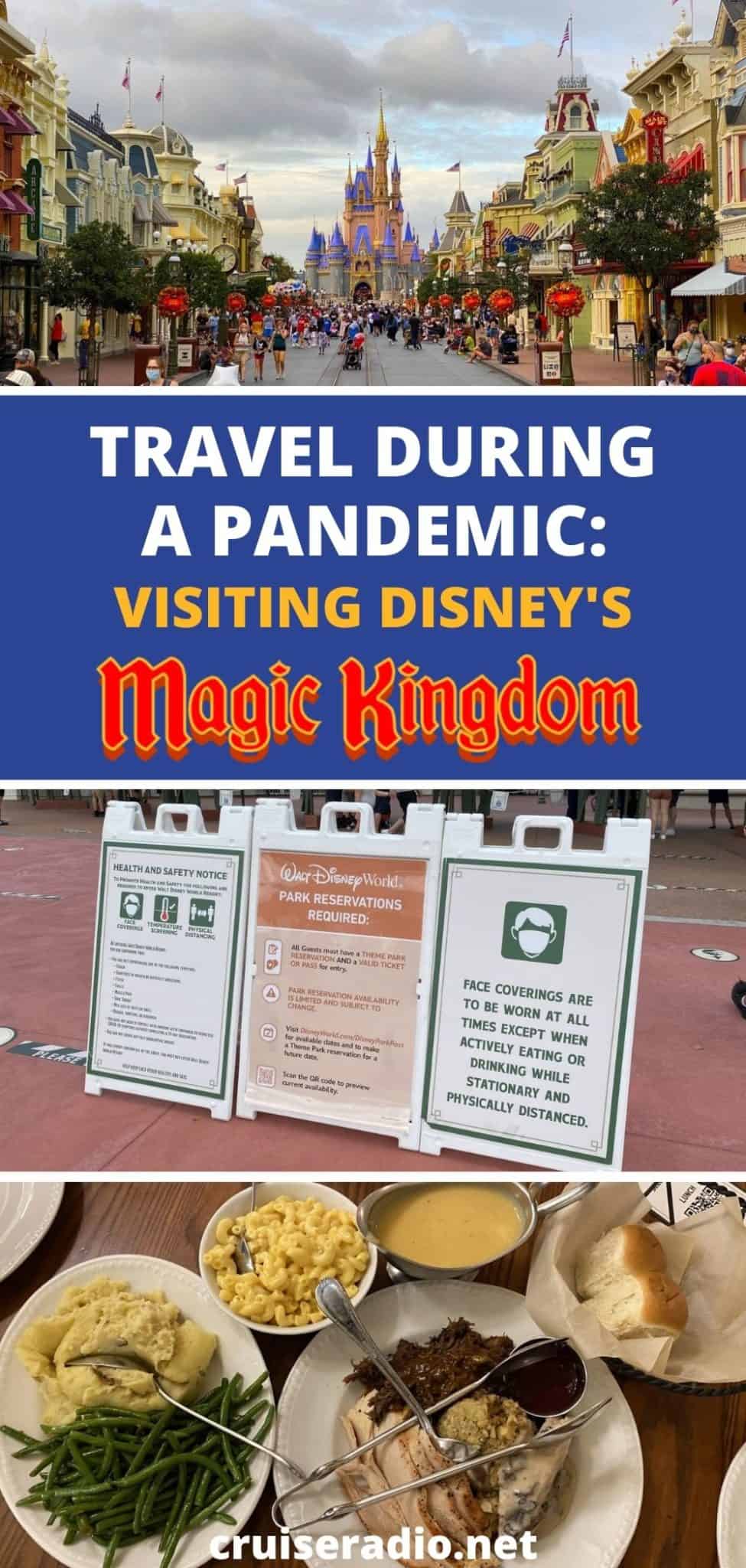 ---
---