5 Things to Do in Venice By Cruise Ship
Venice is known to be the world's most beautiful, most romantic city. This city is filled with treasures of beauty that could take months to explore.
The windy alleyways, wonderful architecture, mesmerizing waterways, and tantalizing cuisines to tickle your taste buds; there is no reason to exclude Venice from your cruise adventure list.
Whether you are heading for a short stop in Venice on the day of your cruise departure or you want to spend a full night in the city, this Porto di Venezia travel guide lists:
Getting Around the Floating City
Transportation in the beautiful city of Venice is simple and cheap. You can travel around the city through its reliable transport services by water taxi, bus, and vaporetto (a water bus, basically a boat that carries a lot of people).
Land taxis are limited here as automobiles are off-limits. Venice has six districts with different types of transport available in different areas for public use.
You don't have to worry though, Venice guarantees available public transportation 24/7.
Five Best Things to Do In Venice, Italy
Since you've gotten a handle on the means of transport in the Floating City, here are five things for you to explore in Venice.
Venice is a city of romance with bustling local life and notable historical buildings crafted with enticing architecture. Most tourist attractions in the city are located by the historic city center, easily accessible via public transport.
1. Take a gondola ride.
We would be remiss if we didn't mention the quintessential tourist thing to do in Venice… even though it's completely touristy you just have to do it: taking a gondola ride.
You will find various spots around the canals of Venice where gondoliers have their gondolas ready and waiting for the next visitor to hop in for a ride. It's not difficult to find them; you'll probably pass by a lot of these spots just walking around the city.
At the time of writing, daytime gondola rides are 80 euros for a private 25 to 30-minute ride and can accommodate one to six people. At night, the price goes up to 120 euros for a ride of the same length. This is a fixed price, so don't try to negotiate it. If you want a longer tour, ask how much it will cost before your ride.
2. Ponte di Rialto
The Rialto Bridge or Ponte di Rialto is the oldest among the four bridges of the Grand Canal, built in the late 16th century. It was named after its builder, Antonio da Ponte, and is most popular because it resembles Renaissance architecture.
The Rialto Bridge has three walkways: the main walkway and two more along the outer balustrades. Along with this centuries-old bridge, you will find some small local shops selling Murano glass, linens, and handmade jewelry, which is exceptionally beautiful.
3. St. Mark's Basilica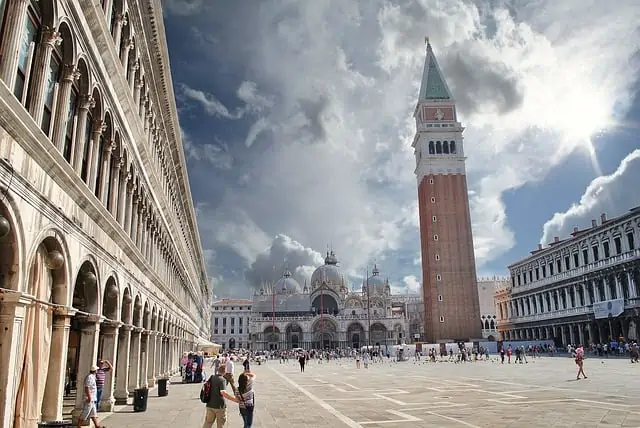 The Patriarchal Cathedral Basilica of Saint Mark, or better known as "St. Mark's Basilica", is at the heart of Venice.
A cathedral church built in the 11th century, nicknamed the 'Church of Gold' because of its captivating architecture and engineering. Fascinating mosaics, luxurious design, ornate gold glass, and bronze statues fill the church.
The interior design is inspired by the Greek cross, but the Pala d'Oro, the high altar retable, is known as one of the finest artwork of Byzantine enamel.
4. Palazzo Ducale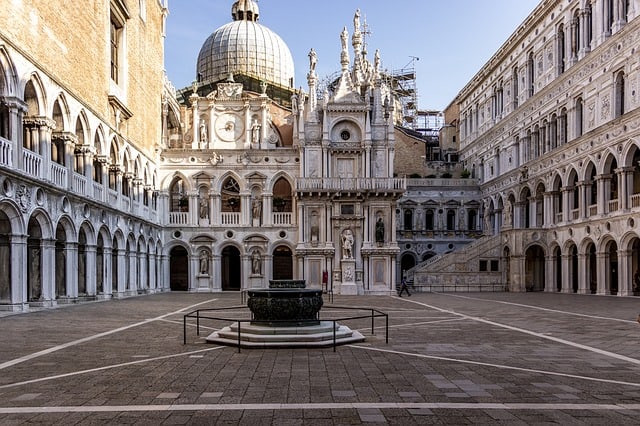 The Palazzo Ducale, former residence of the Doge of Venice and now a museum, is the most popular place on the Grand Canal waterfront; known to be a Gothic masterpiece.
Built-in the 14th century, its pink Veronese marble, dainty colonnades, and white Istrian stone scream opulence. The chambers, private apartments, courts, prisons, glided ornamental structures of the great room, are not to be forgotten.
The museum holds the ingenuity of Venetian art.
5. Bridge of Sighs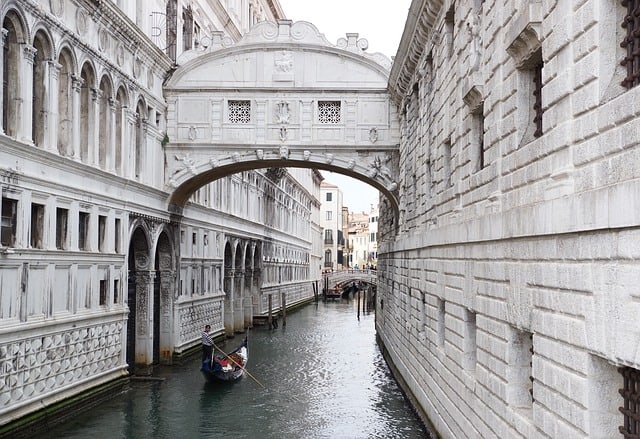 The white limestone bridge, popularly known as the Bridge of Sighs, was built in the 17th century by Antonio Contino to connect the Doge's Palace interrogation rooms to the New Prison.
"Ponte Deisospiri" or the Bridge of Sighs is a realistic name given by Lord Byron, as the prisoners would sigh aloud when viewing the beautiful Venice for the last time before being locked in their cells.
It is also believed that the couple who kisses under this bridge at sunset on a gondola will cherish eternal love.
Walking in the City
If you are on a quest to explore the beauty if Venice within the city, you can walk; the only other means of getting around the city is by water.
The boats can get you from one place to another, but there is so much you don't want to miss visiting on foot.
Things You Should Know Before Going to Venice
Language
The local language of Venice is Italian, but you can find people speaking English in most tourist spots. The Venice Pavilion is the tourist information office nearest to the cruise port, only about a 30-minute stroll.
Best Time to Visit
Venice is an awkwardly crowded place and is especially hot in July and August. If your options are flexible, April, May, and October are good times to travel considering the weather.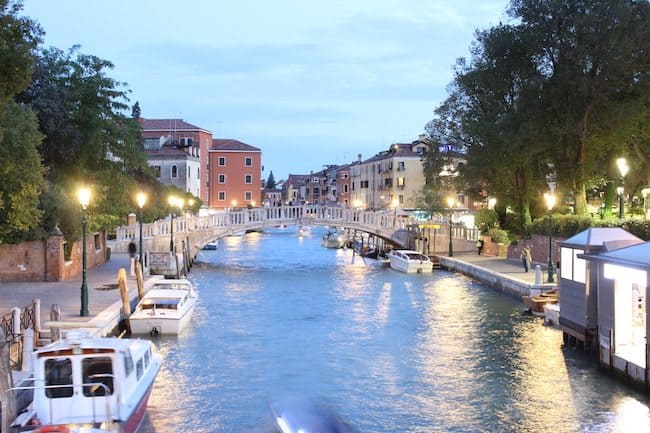 Open Times
Local shops open Monday to Saturday from 9 am to 7:30 pm and are usually closed on Sunday.
The market takes a lunch break between 1 pm and 4 pm, so it is best to visit the market with that in mind. Most food shops are closed on Wednesday afternoon and the gift and garment shops are closed on Monday morning.
Safety
Venice is known for its beauty, but also safety as well; it has a very low crime rate compared to much of Europe.
Nevertheless, it is vital not to go without protecting your personal belongings, especially in highly crowded tourist areas. Exposure to pickpocketing is a real possibility. Make sure you have the national emergency number on your phone, which is 112.
So, when are you going to make your trip to the most beautiful city in the world? Don't forget to enjoy every moment of your journey and capture them on camera to reminisce in the future, because this place is worth remembering for a lifetime.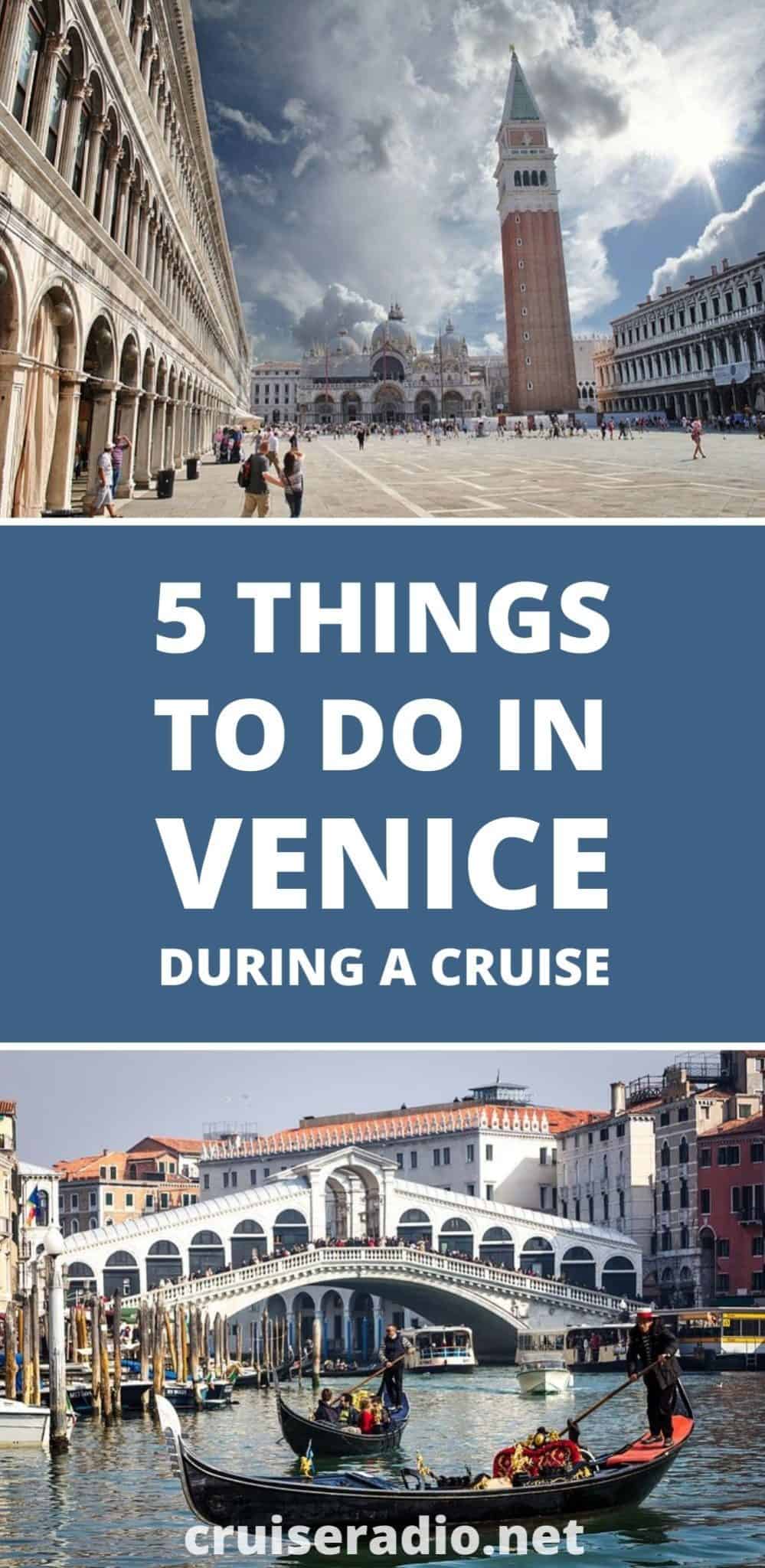 ---
---