Travel During A Pandemic: Visiting Disney Springs
Thanks to the current health crisis, cruise ships aren't sailing, leaving many people looking for alternatives they can enjoy while still remaining safe. With that in mind, we're offering a series of articles about various restaurants, hotels, parks and venues found around Florida, the cruise capital of the world.
Disney Springs — which some people still refer to by its former name, Downtown Disney — has long been a popular entertainment and shopping complex, no matter its name.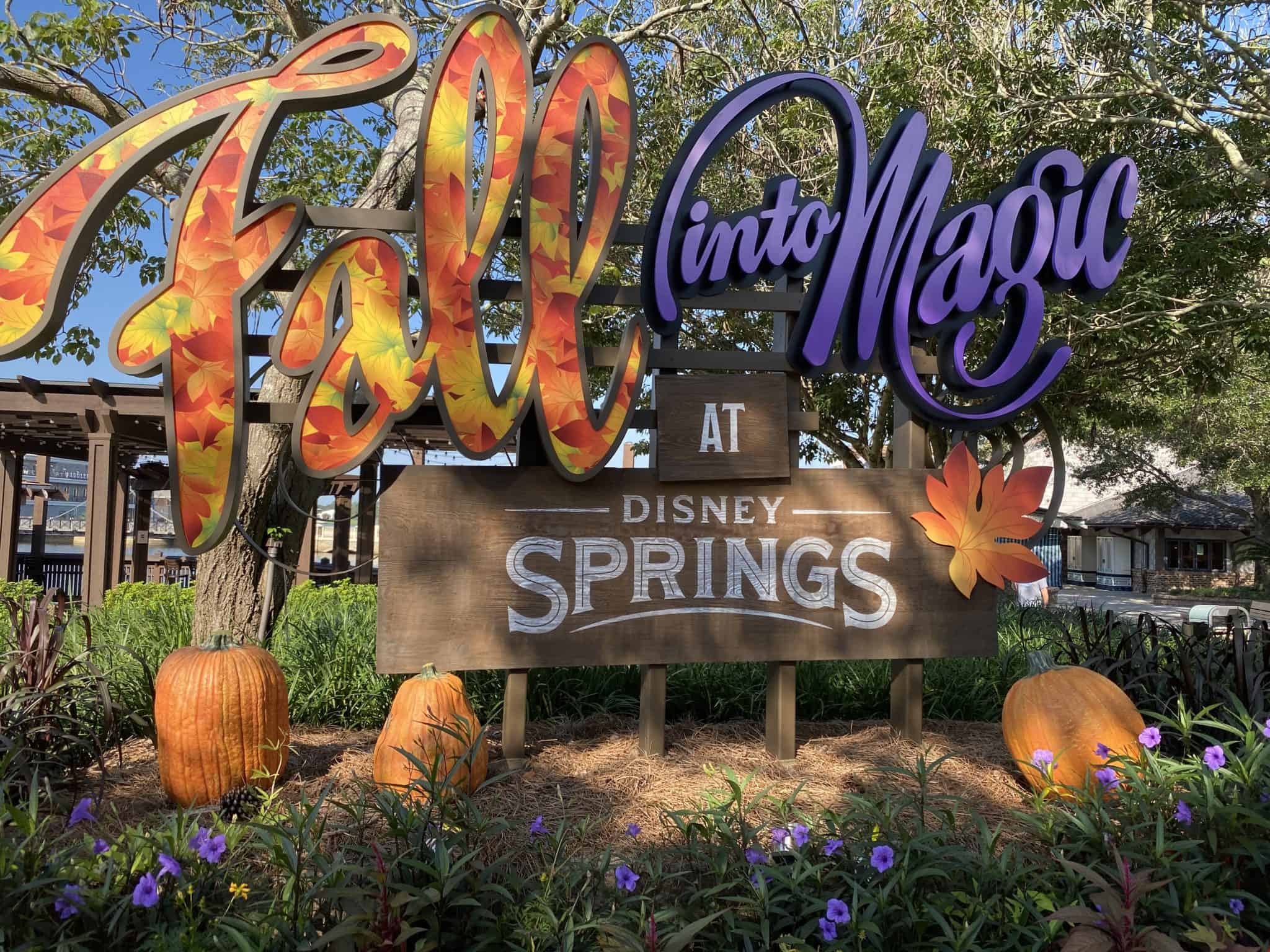 Located in Lake Buena Vista, Florida, the collection of shops, restaurants and entertainment venues are the perfect place to spend a few hours, whether on a day when you're not hitting one of the Walt Disney World theme parks or while waiting for your hotel room to be ready. 
But what is it like to visit Disney Springs during a pandemic? I've been a few times since the area re-opened, and here's what I think you need to know to plan your day there.
Arriving at Disney Springs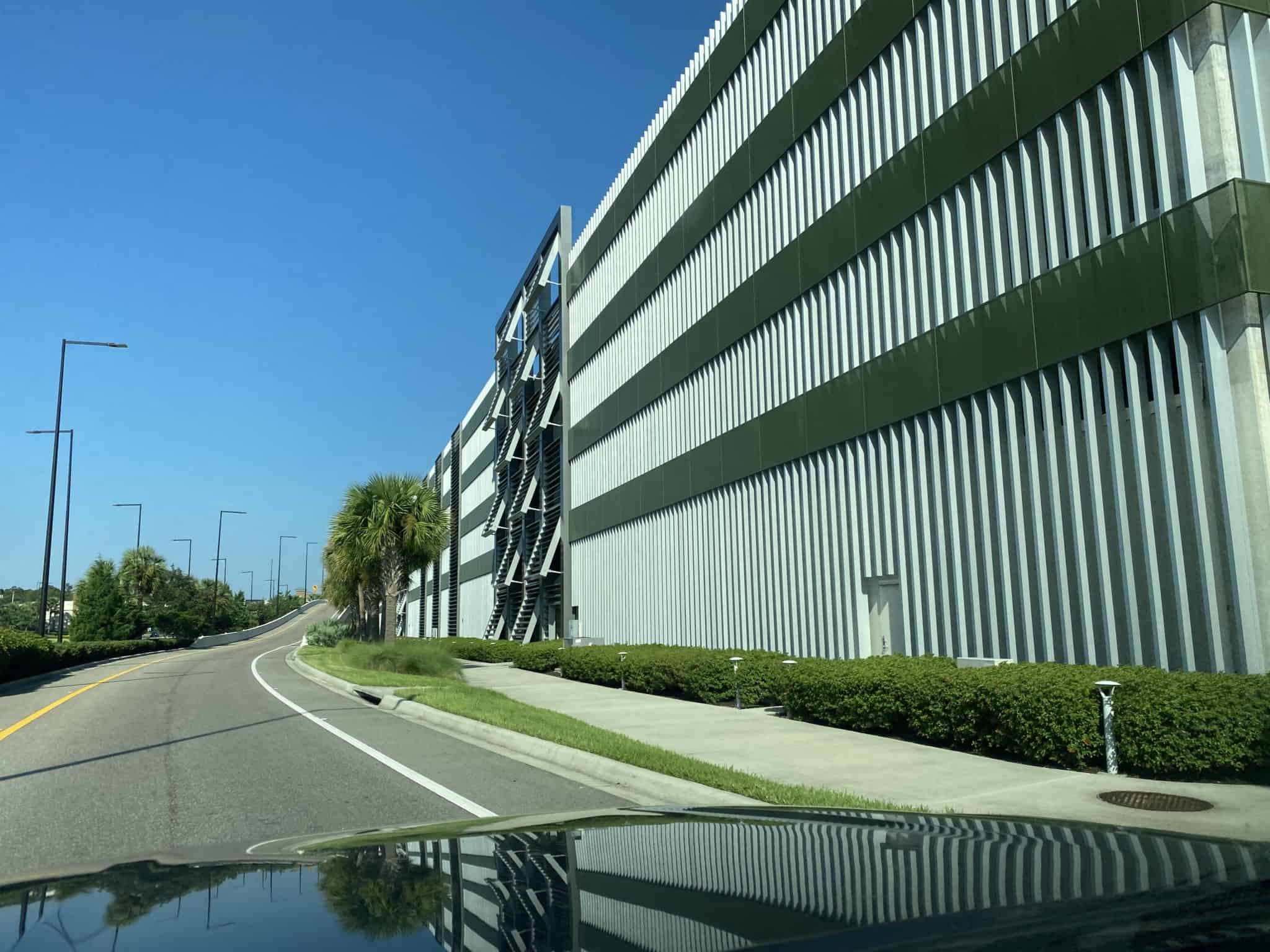 The first thing you wind up having to deal with at Disney Springs — assuming you arrive by car — is parking. Disney Springs is a sprawling area, so it's not a bad idea to plan in advance where you want to leave your vehicle. For reference, the Orange garage puts you near Planet Hollywood and the AMC Movie theaters, between the Town Center and West Side. The Lime Garage is situated by the entrance to Polite Pig and the Ron Jon Surf Shop, closer to the Marketplace. 
Both the Orange and Lime parking garages are currently open. In the evenings, the Watermelon lot, in front of the Cirque du Soleil Theatre, is open for overflow parking, but all other surface parking lots are currently closed.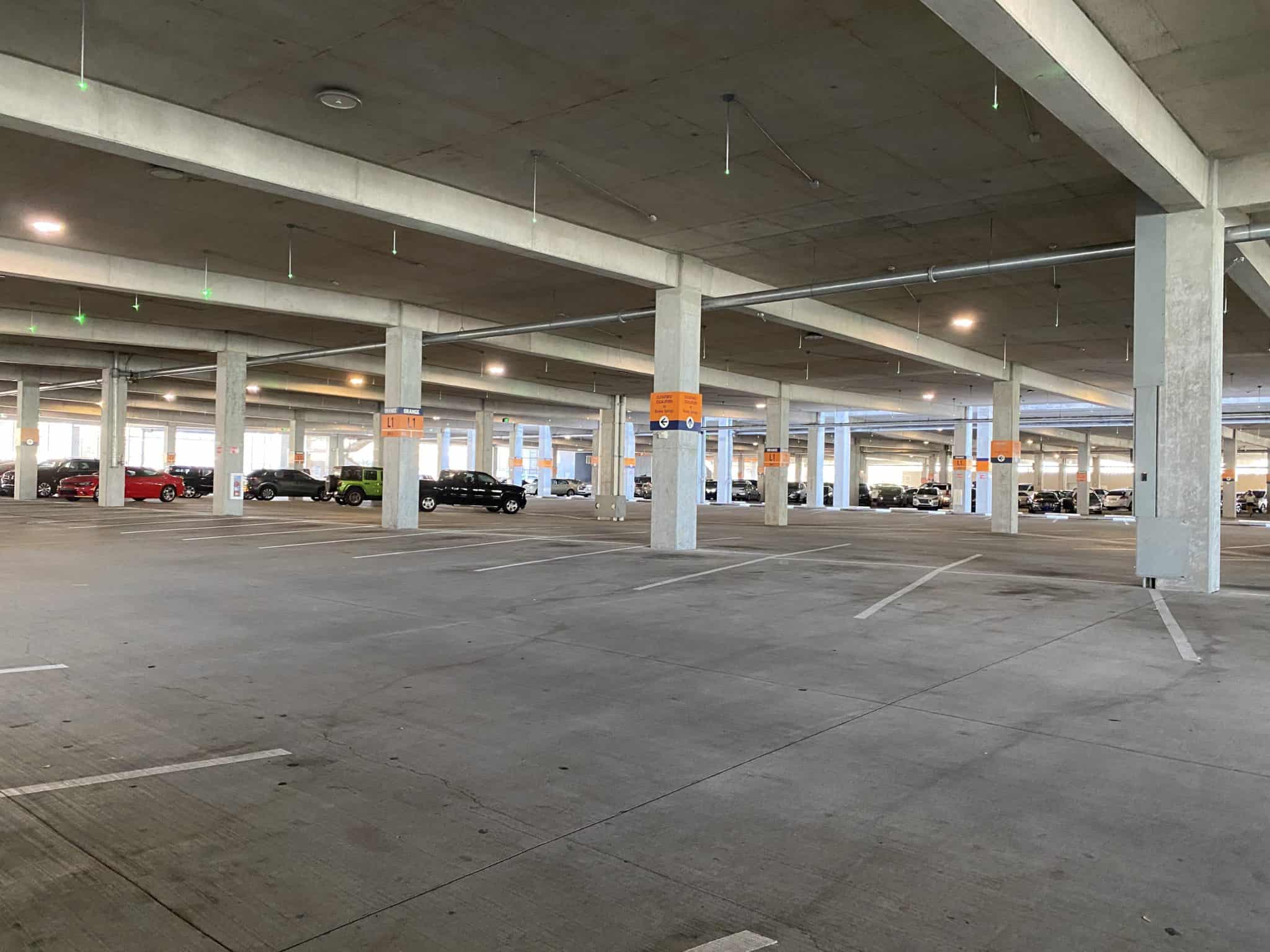 Once you're parked, you have to do a mandatory temperature screening to make sure your body temperature is not above 100.4 Fahrenheit before you can enter the main shopping area.
It's here that the health screeners also ensure that you're wearing a mask, which is required to be worn throughout the various Disney parks and properties with very few exceptions.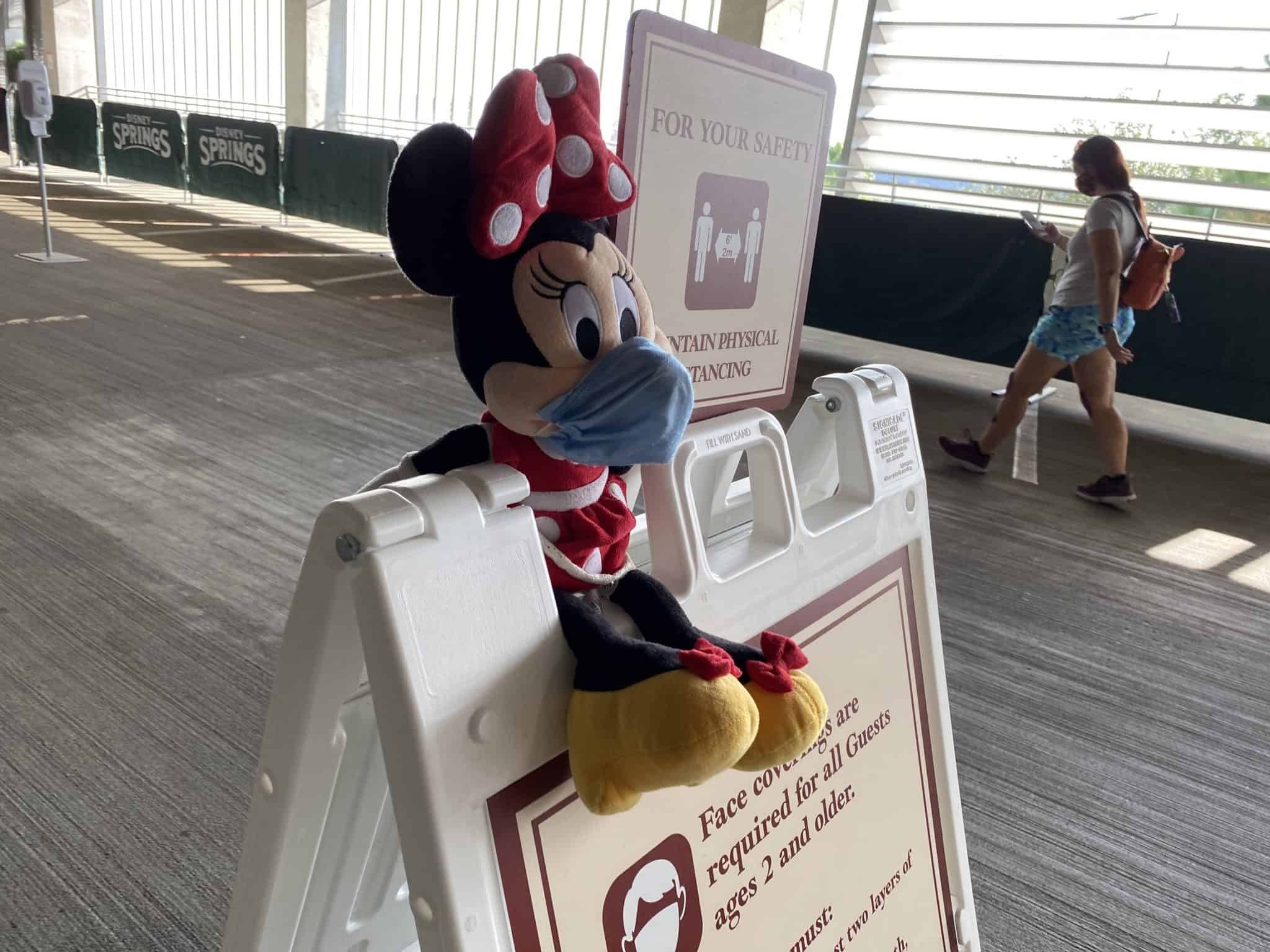 If you didn't bring a mask with you, they have vending machines right next to the screeners where you can pick up a temporary mask for $2. Disney also sells character-themed face masks inside Disney Springs at World of Disney for $6. 
Disney Springs Dining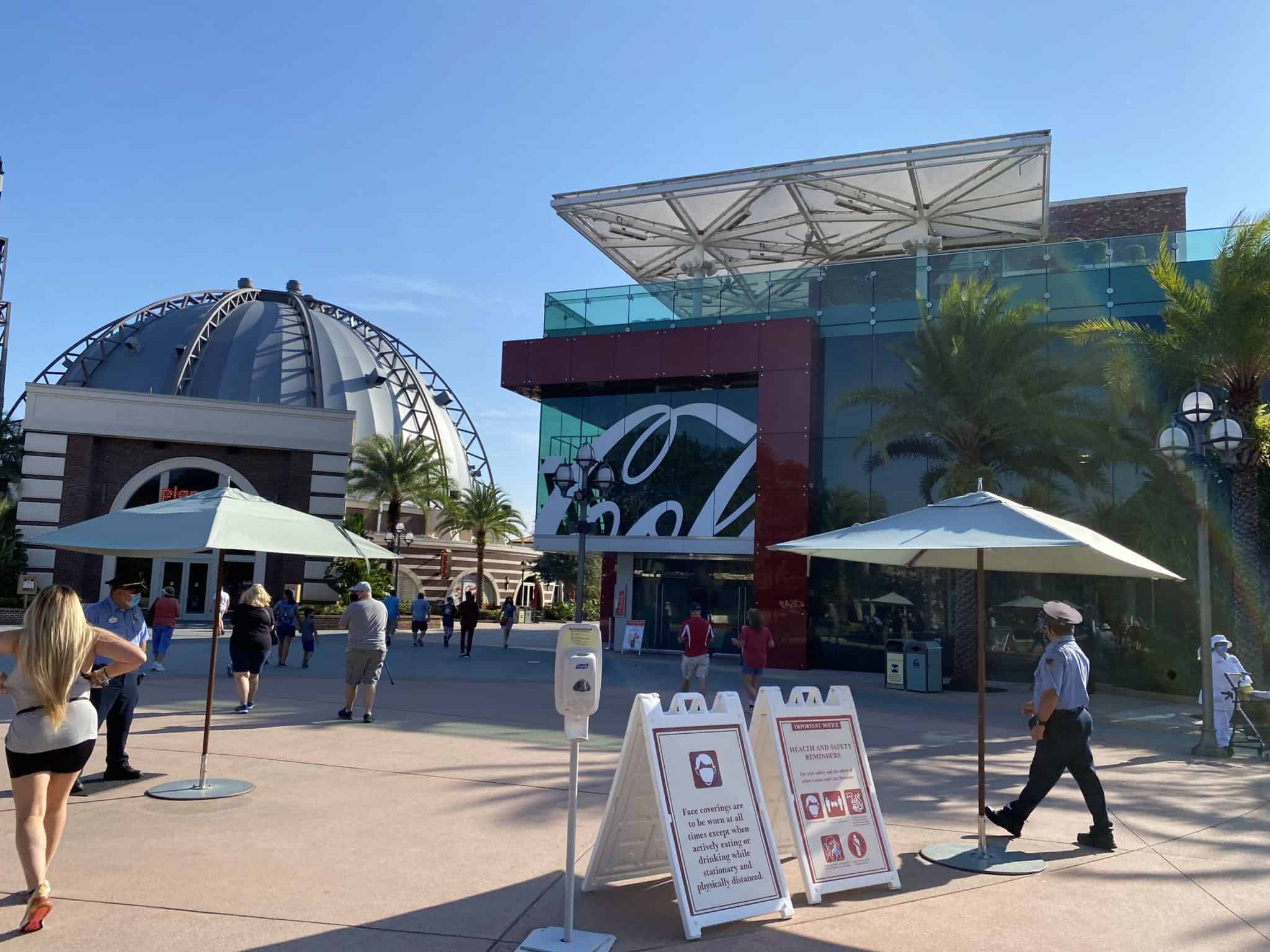 I've always been a fan of the restaurants at Disney Springs, where you can find something for every appetite and budget, from the quick-service barbecue venue Polite Pig to table service dine-in establishments like Terralina Crafted Italian and The Edison. 
Reservations are a Must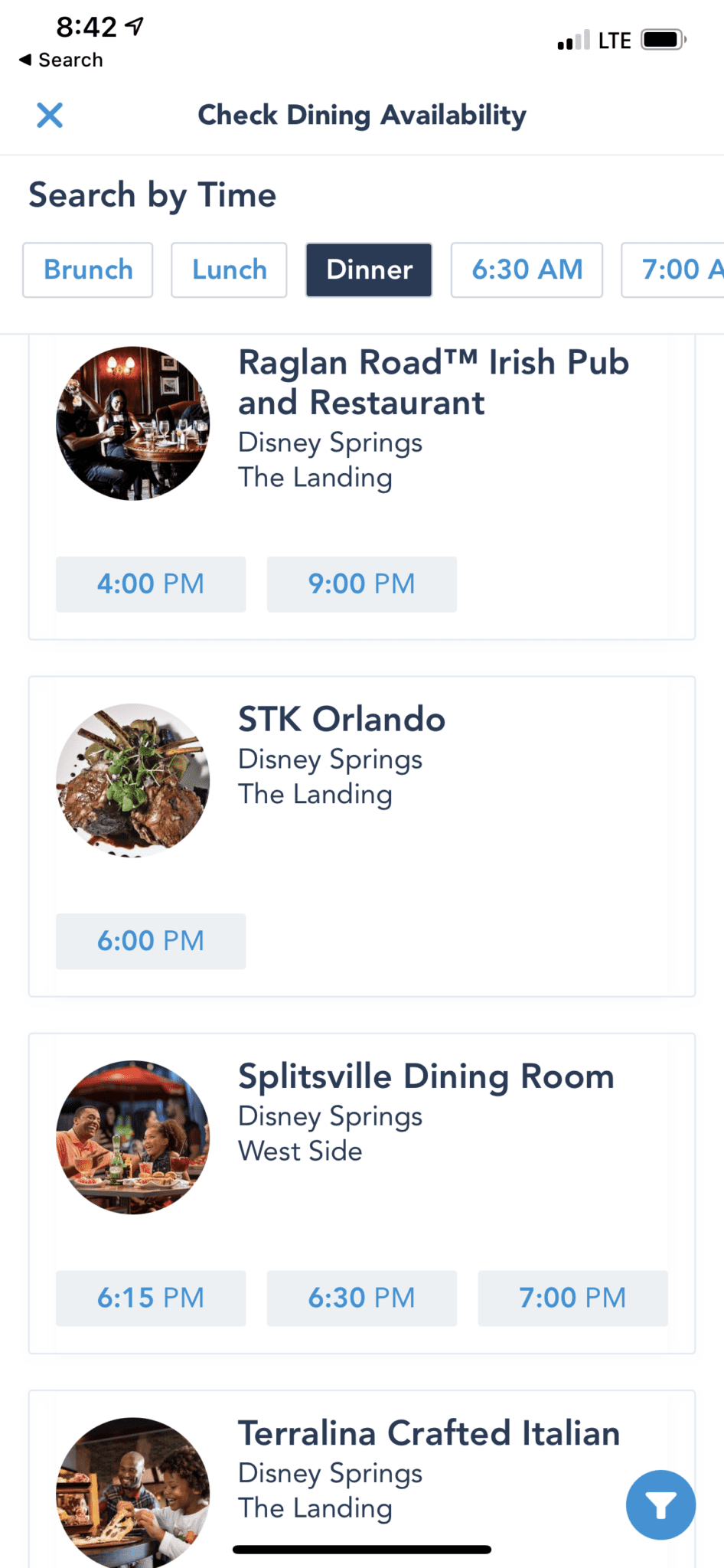 Right out of the gate I should mention that if you want a confirmed seat at a dining venue in Disney Springs, make a reservation in advance. This was always a good idea, given how popular many of the venues are.
Prior to March, it was fairly easy to walk up to a venue and either be seated immediately or put on a waiting list. Now, however, the restaurants are operating at a limited capacity to allow for social distancing, and they have fewer staff members.
That means that it's more important than ever to have reservations, especially if you're looking to eat at a specific venue at a specific time. (If you're the type who's willing to wander around until you find a place with an opening, go for it!)
The Dining Experience 
As with just about any public establishment these days, there's a layer of plexiglass protection that partitions you from the hostess or cashier at each dining venue in Disney Springs.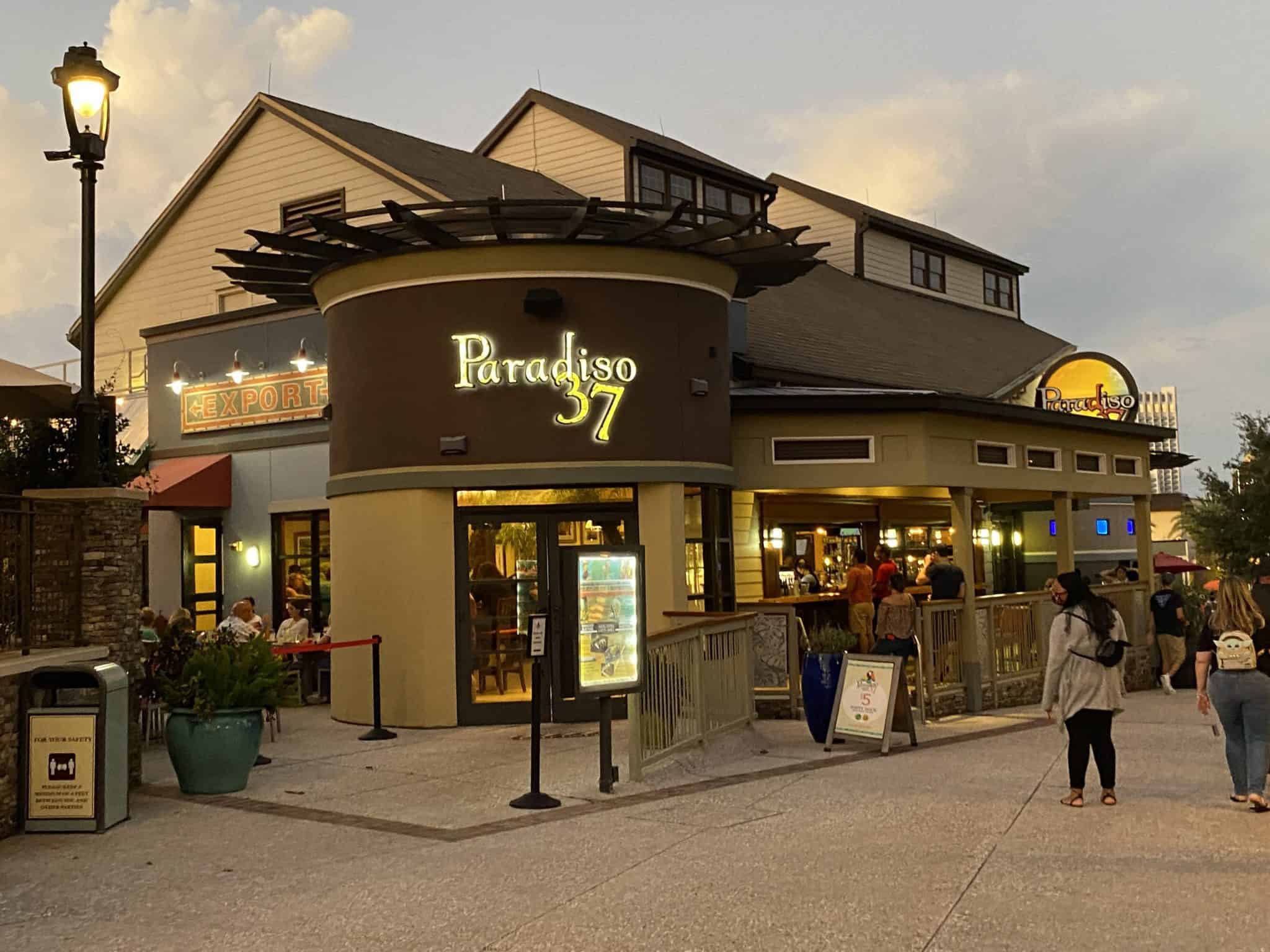 You'll also find an abundance of hand sanitizing stations everywhere you look. They won't be found simply at the entrance to a restaurant, but at any touch points you might encounter, such as handrails or bathroom doors. If you've touched something, there's going to be a sanitizing station there for you to deal with any germs you might have picked up.
Once inside, all the employees are wearing masks and you're asked to keep yours on as well until you are seated at your table.
As we mentioned in our Animal Kingdom write-up, QR (Quick Response) codes are very popular in restaurants. For the uninitiated, this is a way to call up the venue's menu on your smartphone, making it possible to avoid touching a menu that others have handled. It also allows you to order from your phone.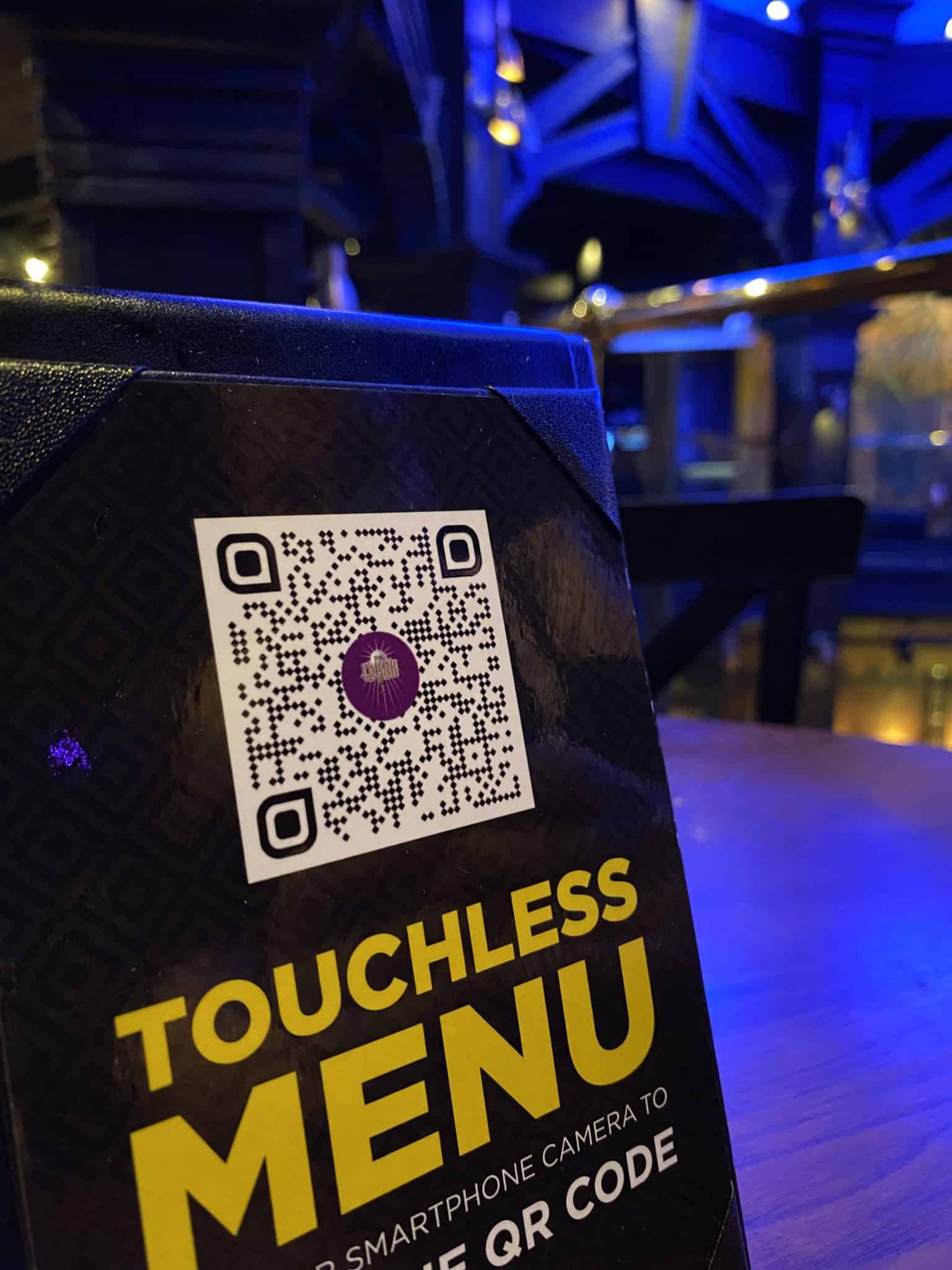 If you don't have a smartphone, have a bad internet signal, or simply aren't comfortable using the technology (hey, not everybody is!), they will happily provide you with a regular menu, which you can be assured has been thoroughly sanitized.  
Many venues in Disney Springs also have disposable menus. For example, when we recently dined at Terralina Crafted Italian, the server disposed of our menus after we had ordered. The recyclable paper menu route is more popular with the dining venues that have nightly specials or 'fish of the day' type offerings.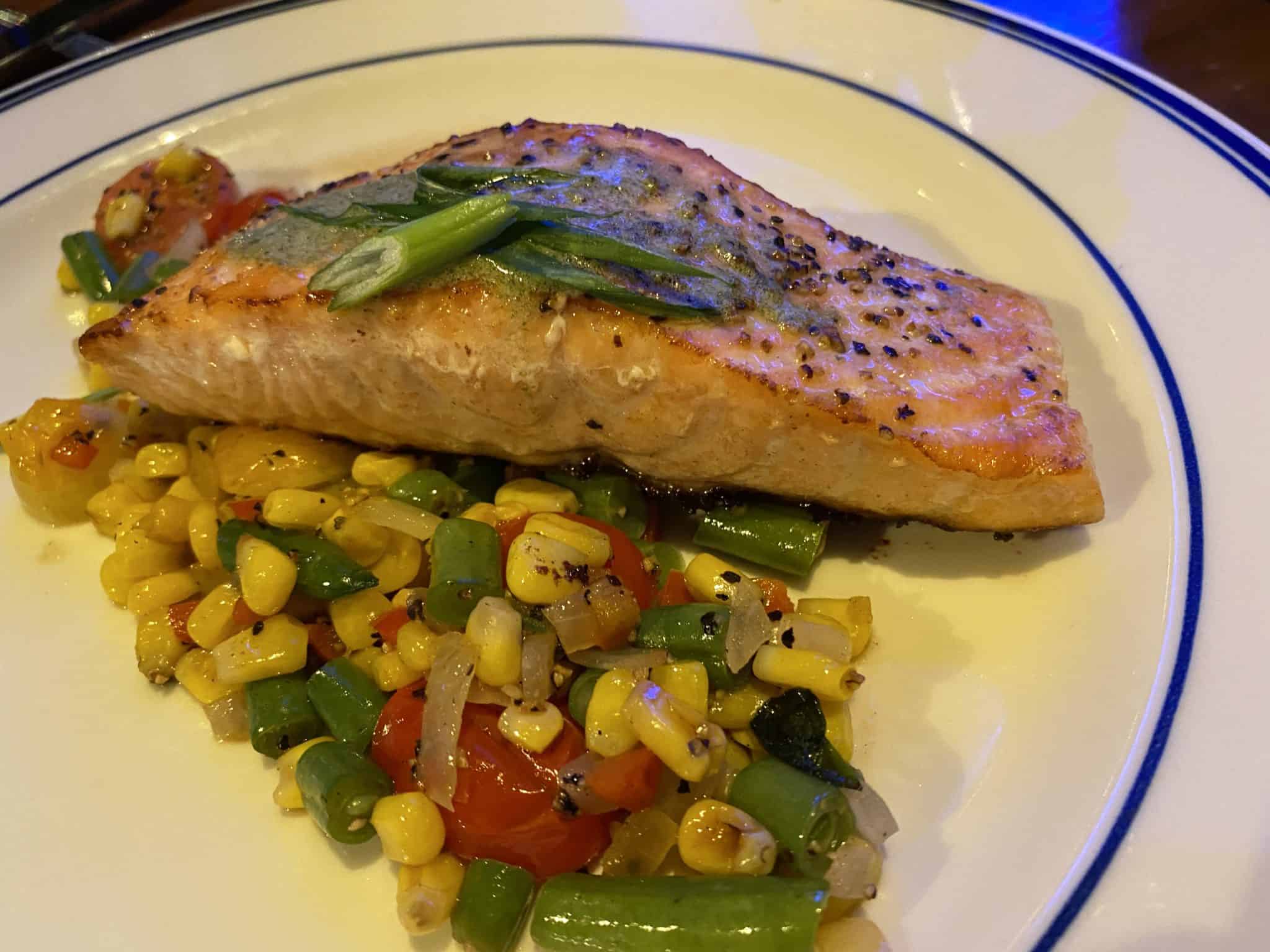 It's important to note that when you arrive at your table, there won't be, for example, salt and pepper shakers or packets of sweetener. This is done to avoid yet another point of contact between the previous guests and you. But simply let the server know what you need, and they'll make sure you get it. 
How Much Has Really Changed? 
For the most part, nothing has changed, and that includes the fact that service can be hit or miss. 
During one recent visit, we had a great meal at Terralina during which service was spot-on despite the fact they only had seven servers working, as opposed to the usual 25. Another night we had a good meal at The Edison, but the service was incredibly slow.
It is hard to fault the restaurants for the service, because everyone is doing what they have to do to survive and keep both employees and customers safe. With that said, it seems like The Edison could have used an extra server the night we were there. We got our appetizer before getting our silverware, water, or cocktails. The server was running around like a chicken with her head cut off.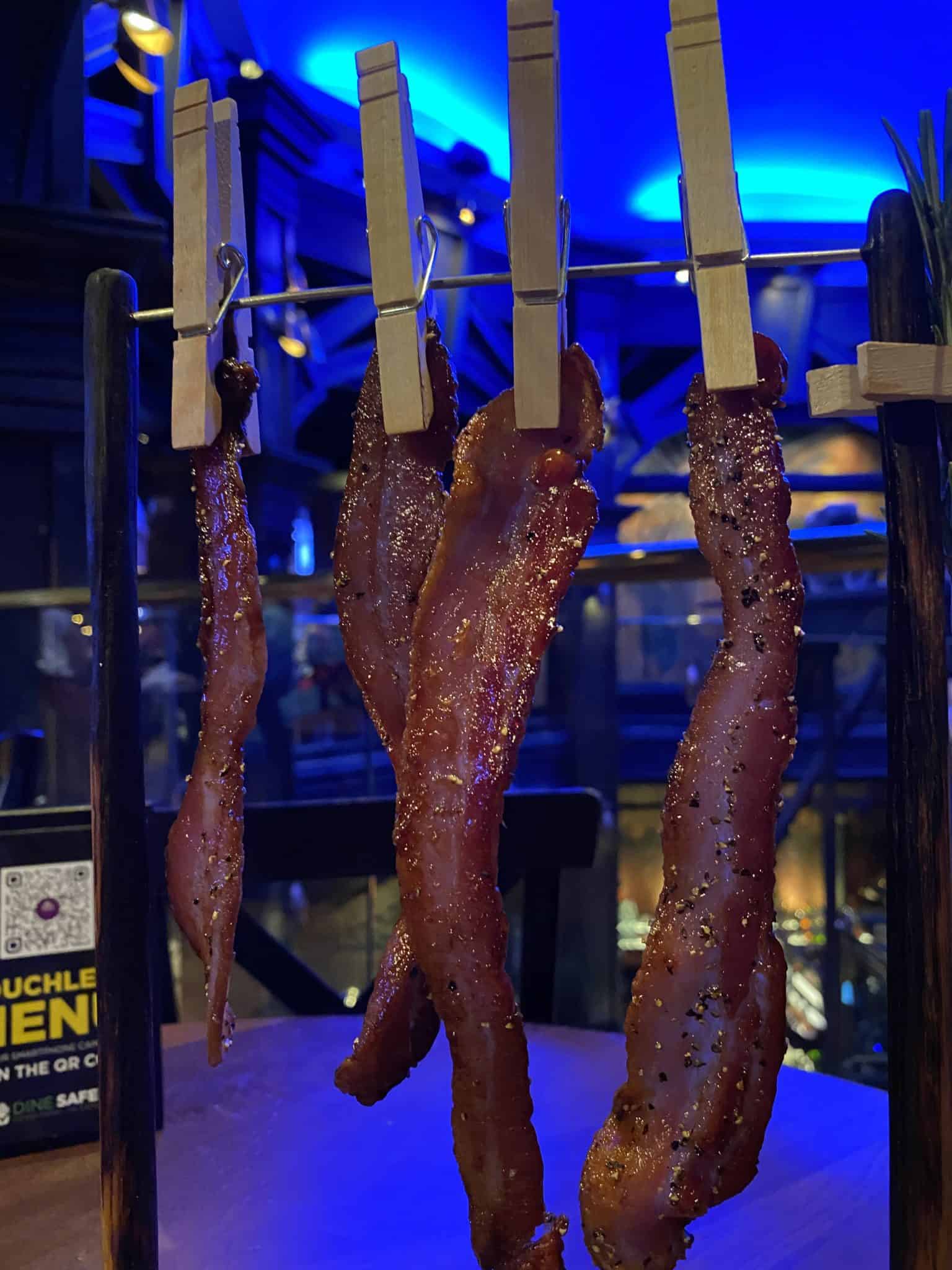 On the plus side, the fact that they were busy is an indication that people are getting used to the idea of eating out, even with new protocols put in place. But if they want people to keep coming back, they're going to have to make sure there's enough staff to make the experience a pleasurable one for guests.
The fact that business is picking up again goes back to a point I made earlier: Do yourself a favor and make a reservation. 
Shopping at Disney Springs 
Where shopping is concerned, not much has really changed at Disney Springs.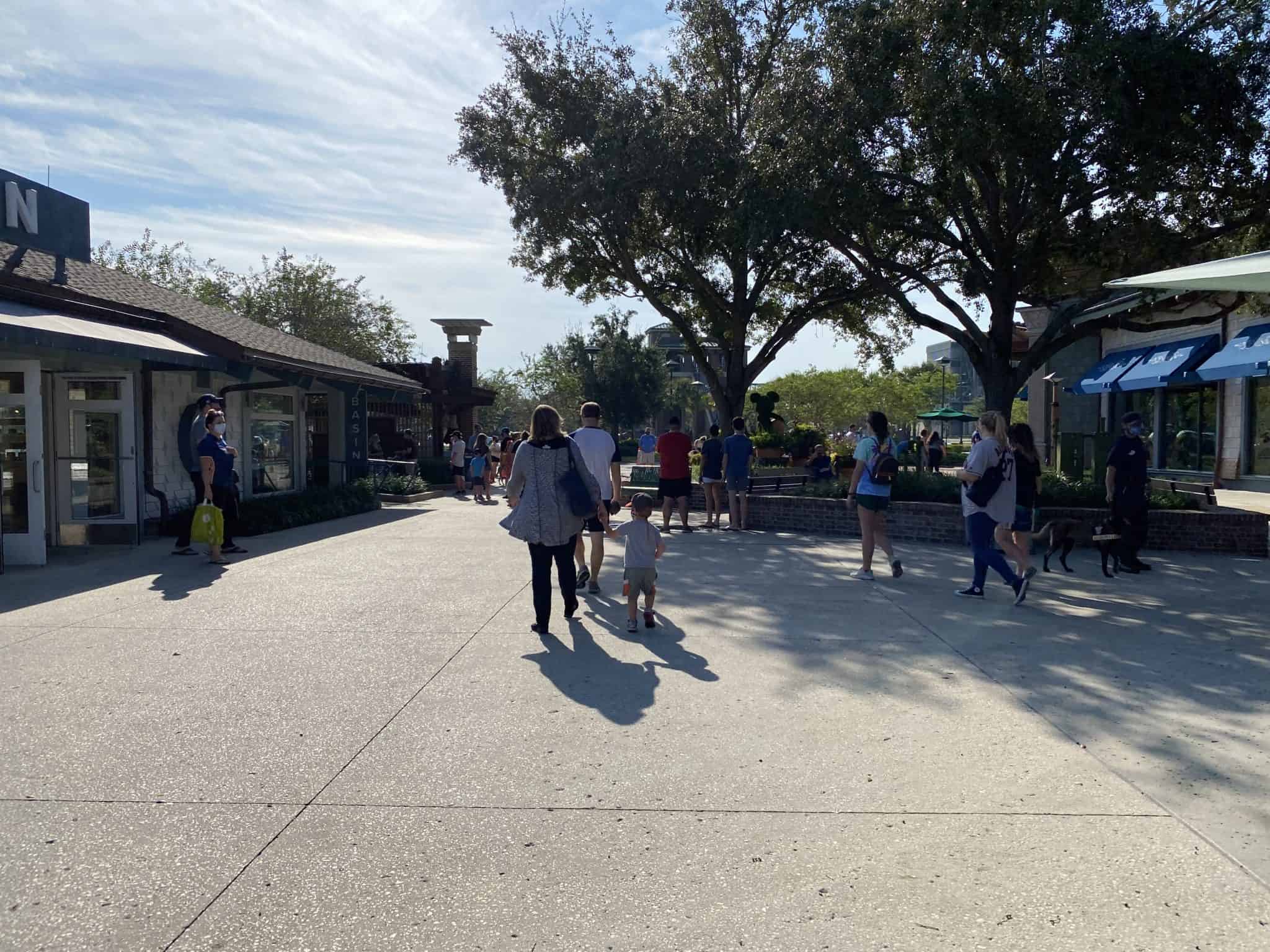 Probably the biggest difference is that at each store, they're controlling the number of people allowed inside at any given time. Someone at the store will ask how many are in your party and then, when a corresponding number have exited, allow your group to enter.
You may have a short wait before you can enter a really popular store, but you'll find social distancing markers outside the entrance in order to guarantee that people can stay safe while waiting to shop.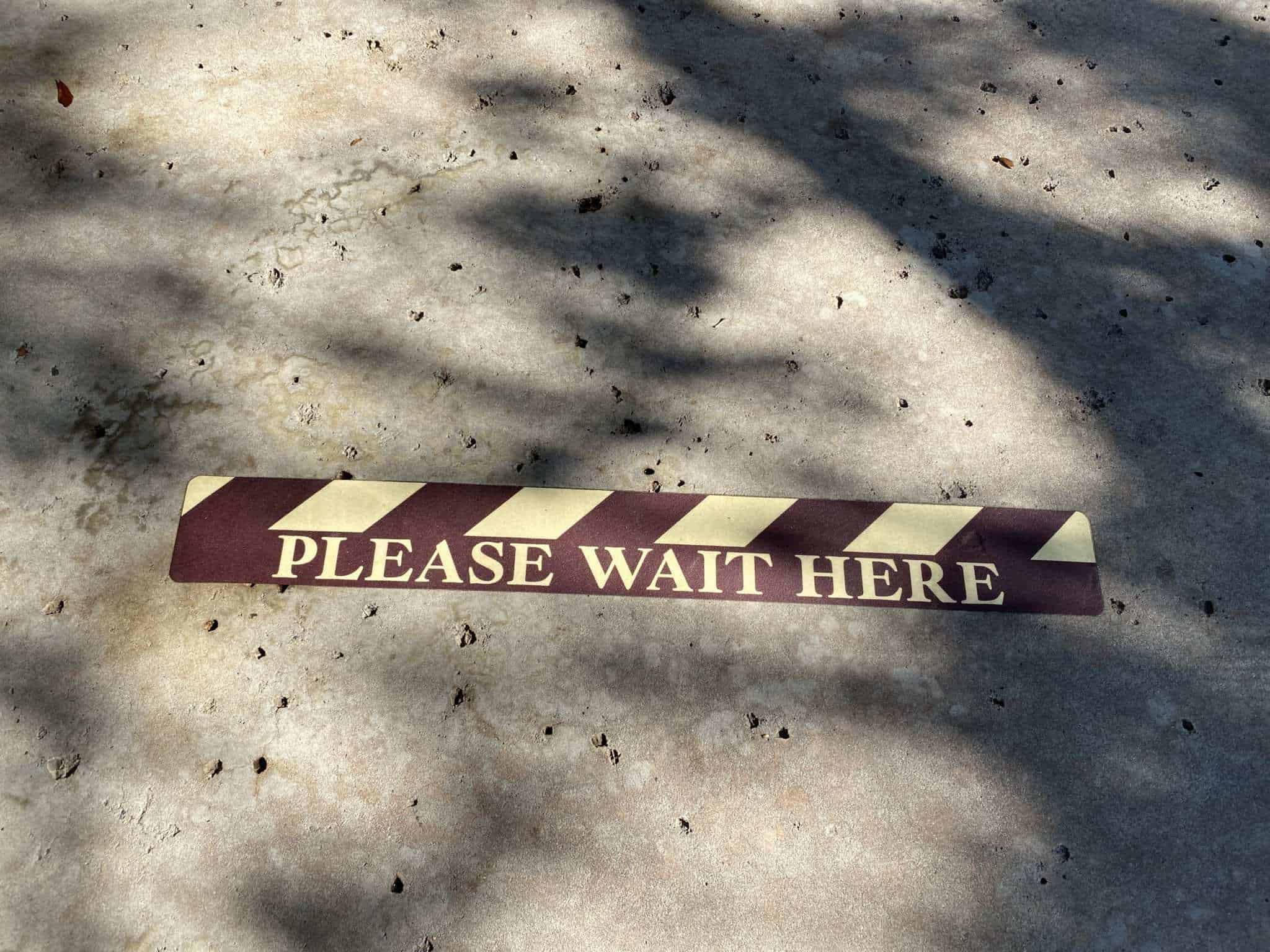 If you're going into a store that has a dressing room, chances are you won't be able to try anything on until you get back to your hotel.
Cast Members are still very helpful in assisting you with anything you may need. This is one thing that Disney has always excelled at doing. If you are in a Disney store and are looking for something in particular — say, for example, the Orange Bird ornament from the Epcot Flower and Garden Festival — they will do everything in their power to find it for you. If the store you're in doesn't have it, they'll look the item up to find out exactly which store carries the item and if it's in stock. 
With an eye toward limiting potential contact points, they ask that people not touch items they aren't considering purchasing. (In other words, no matter how funny that Goofy hat with the big ears would look on your head, don't pick it up and put it on unless you're planning to buy it.)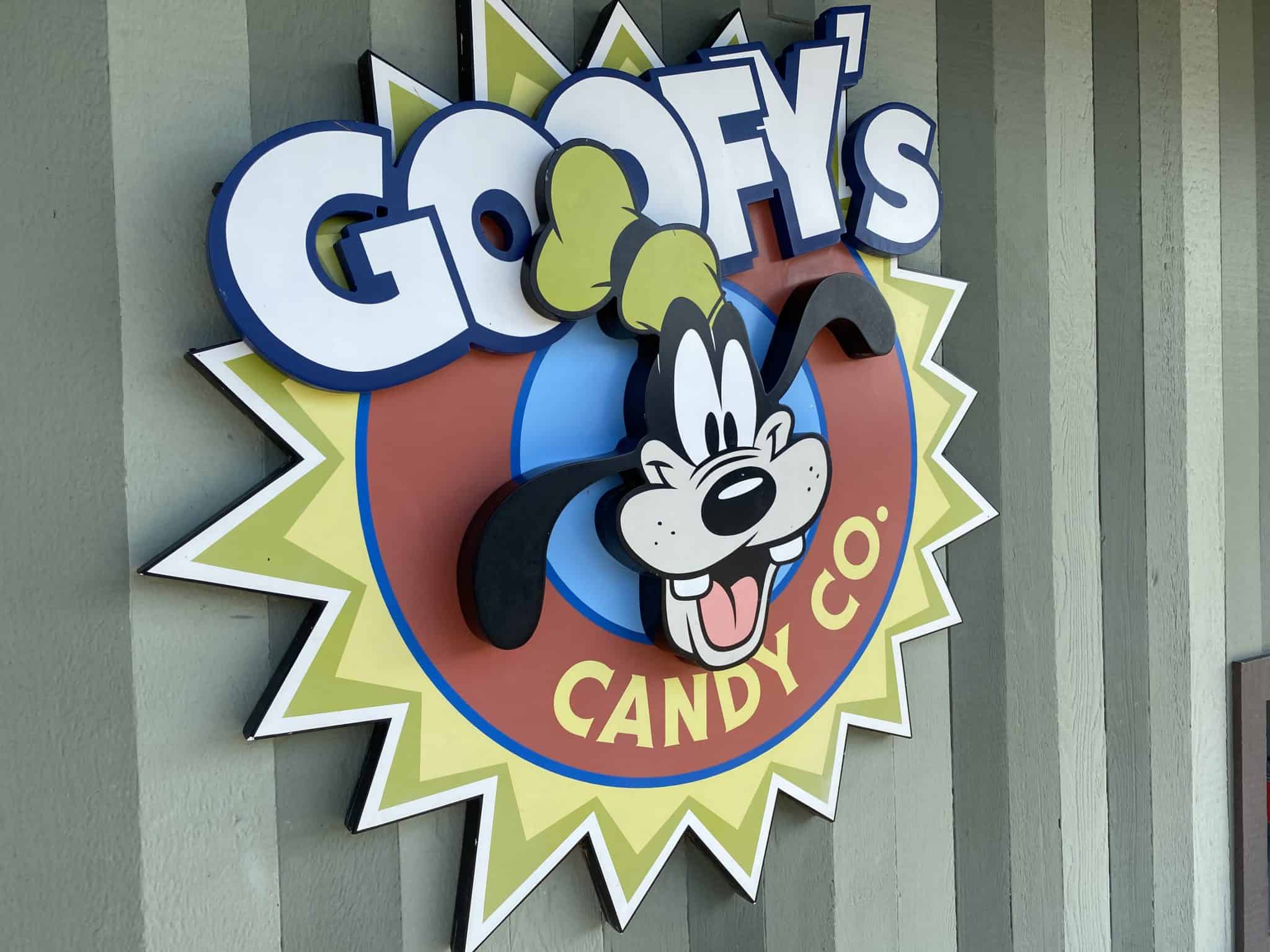 This doesn't mean you can't touch anything, but they obviously want to keep the chance of spread from casual contact as low as humanly possible.  
Like the restaurants and every other establishment that has a guest-facing Cast Member, there are glass partitions protecting the cashiers from the guests.
Disney has long been at the forefront of touchless technology — stemming all the way back to the rollout of Magic Bands —  and they are still encouraging guests to use touchless technology (Magic Bands, Apple Pay, etc.) whenever possible at the checkout counter.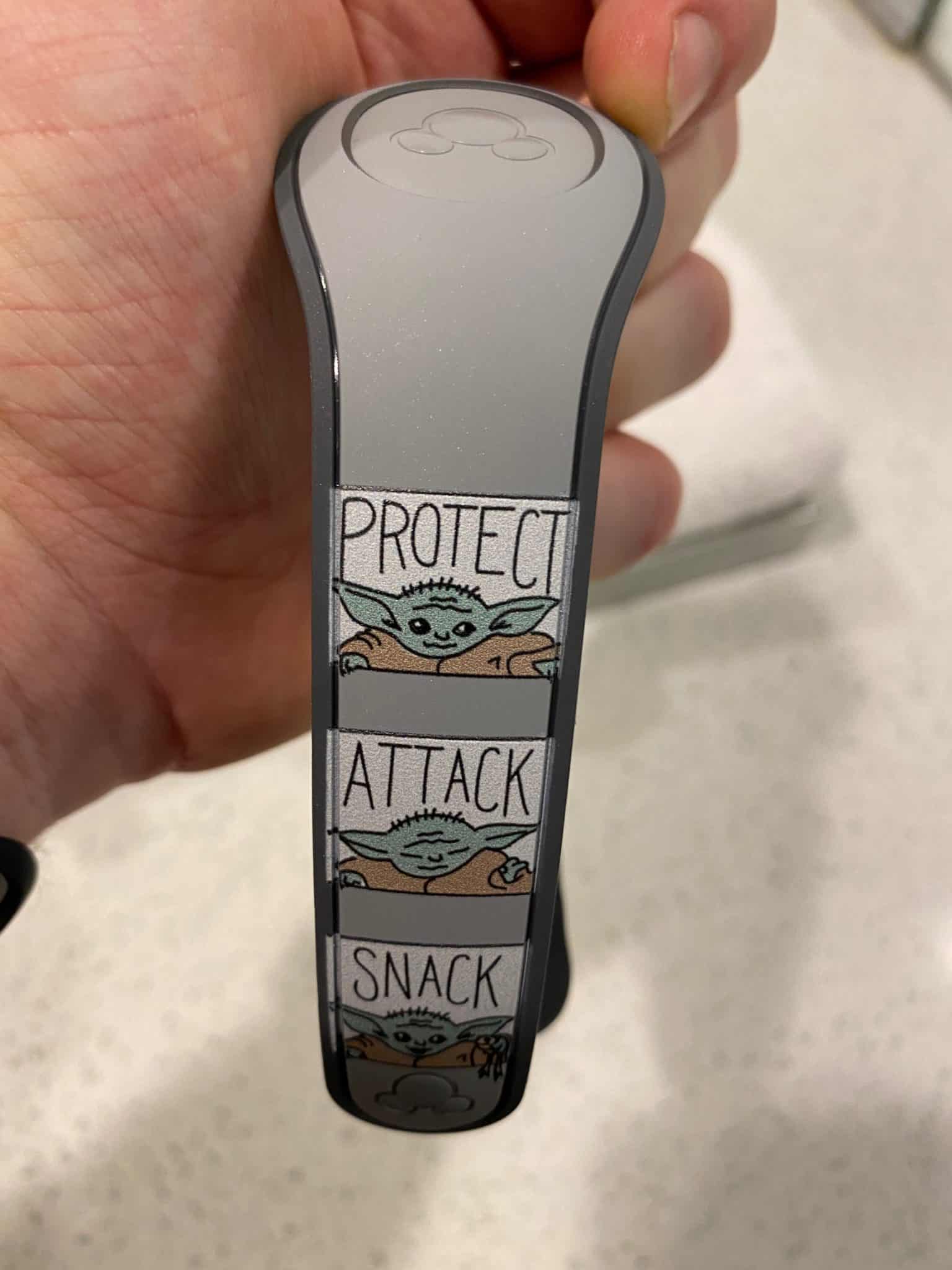 One change that will be noticeable to those who are staying at a Disney resort is that the shops have temporarily suspended the complimentary resort delivery service they previously offered. 
Finally — and I'm not sure if this has more to do with the health crisis or the environment — but when guests check out, they'll be asked if they need a bag (as opposed to your items just automatically being put into one). Whatever the reason, this is a good thing given that it automatically reduces the amount of plastic going into the waste stream. 
Entertainment at Disney Springs 
In a weird way, it's almost as if Disney Springs' entertainment options were perfectly designed for a pandemic. That's because, for the most part, they are offered outside in areas where social distancing is relatively easy to maintain. 
During our recent visit, for example, there was an acoustic guitar player jamming next to the fountain as you came out of the Orange parking garage.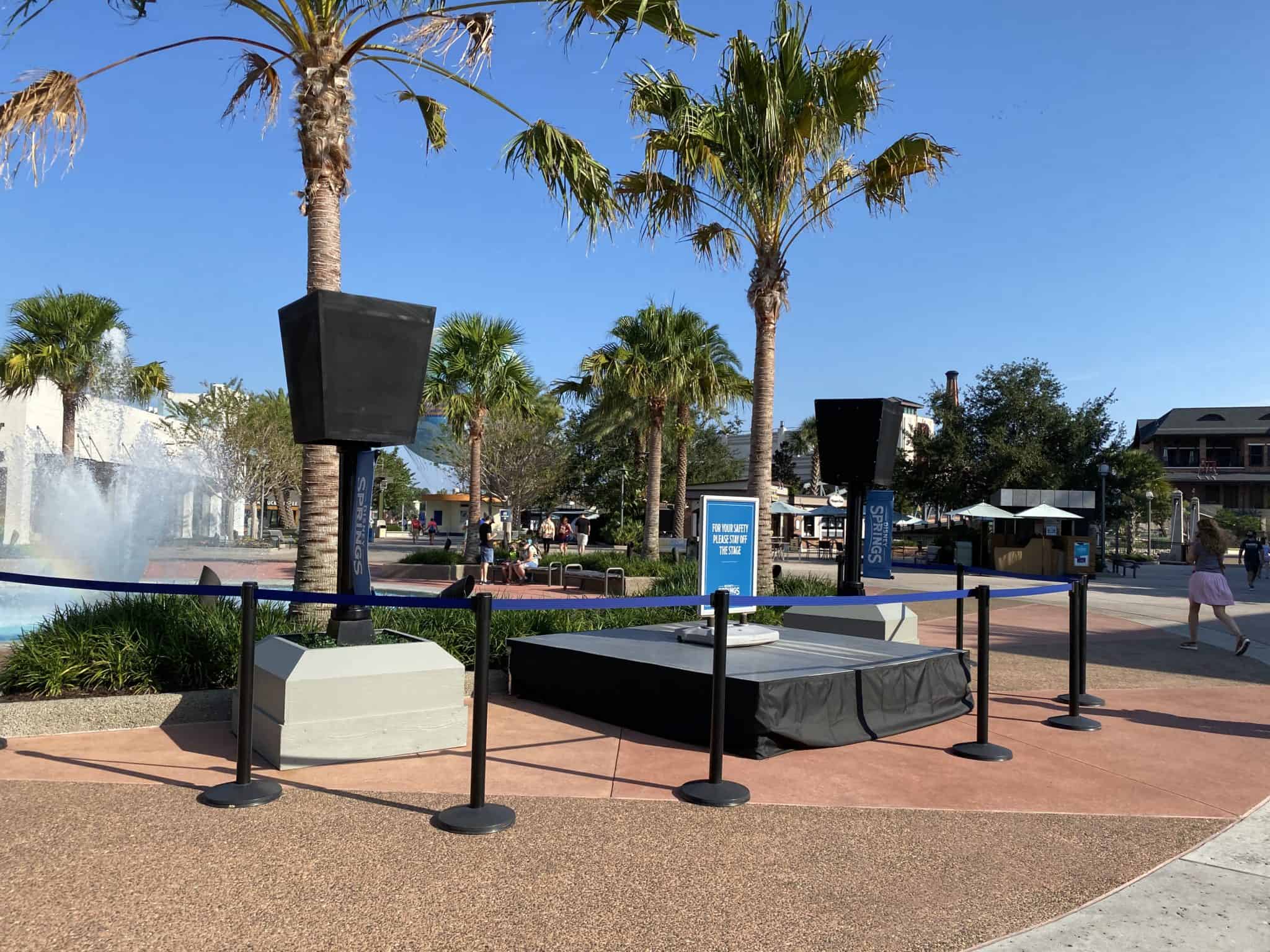 Obviously when the performers are not on stage or when they are breaking down their gear, they wear a mask. Otherwise, they are far enough back from the audience that they can safely perform without wearing one.
The Strolling Piano was rolling around the area playing different Disney tunes. When it rolled past us, the pianist was playing "A Whole New World" from Aladdin.
Even the piano had plexiglass shields surrounding it. The main amphitheater also had a duo performing, with signs posted asking people to be mindful of physical distancing.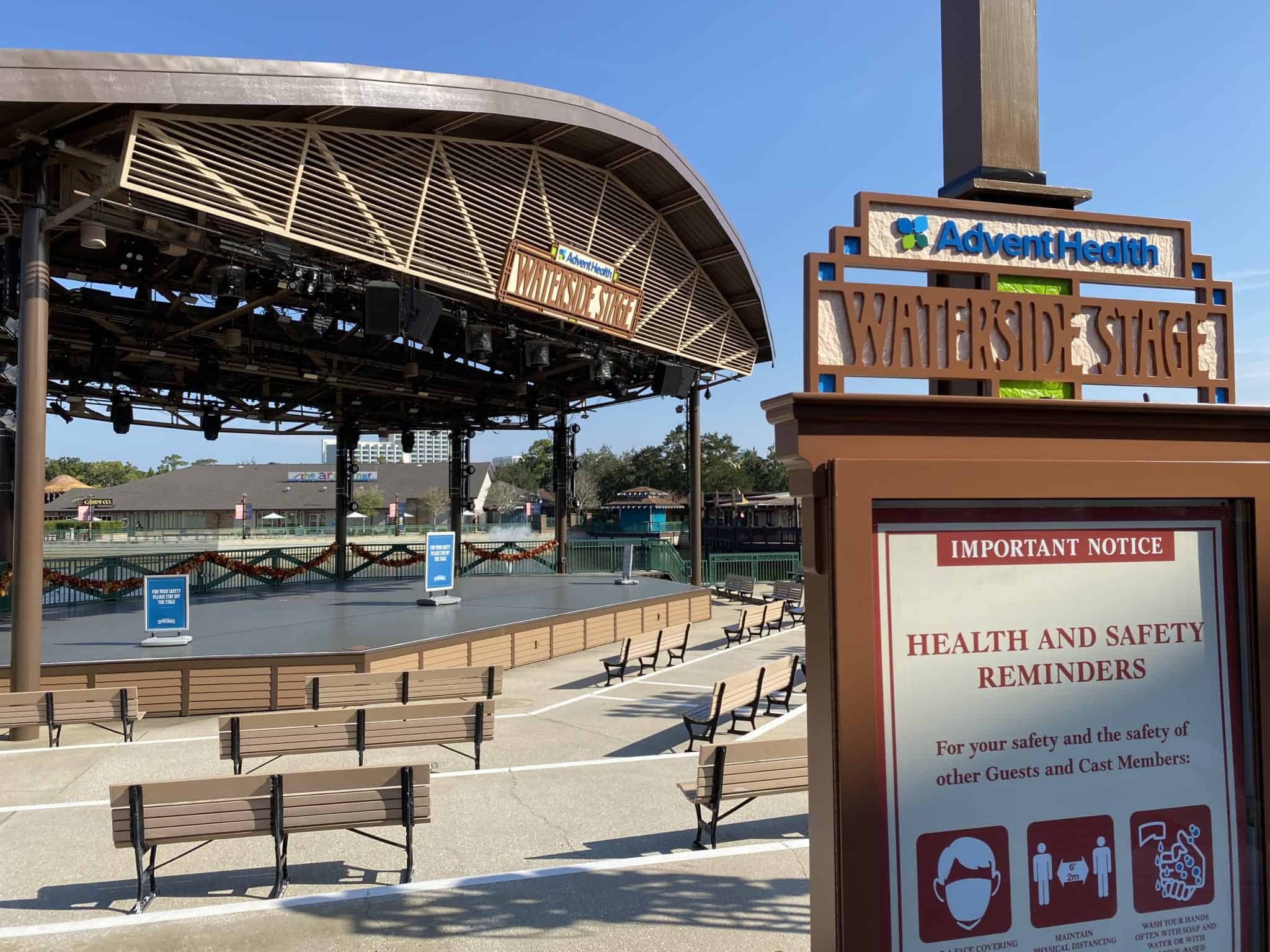 The popular House of Blues Orlando concert venue has reopened for food and drinks with both indoor and outdoor seating. That said, all of the venue's concerts have been postponed until at least 2021. 
Final Thoughts of Disney Springs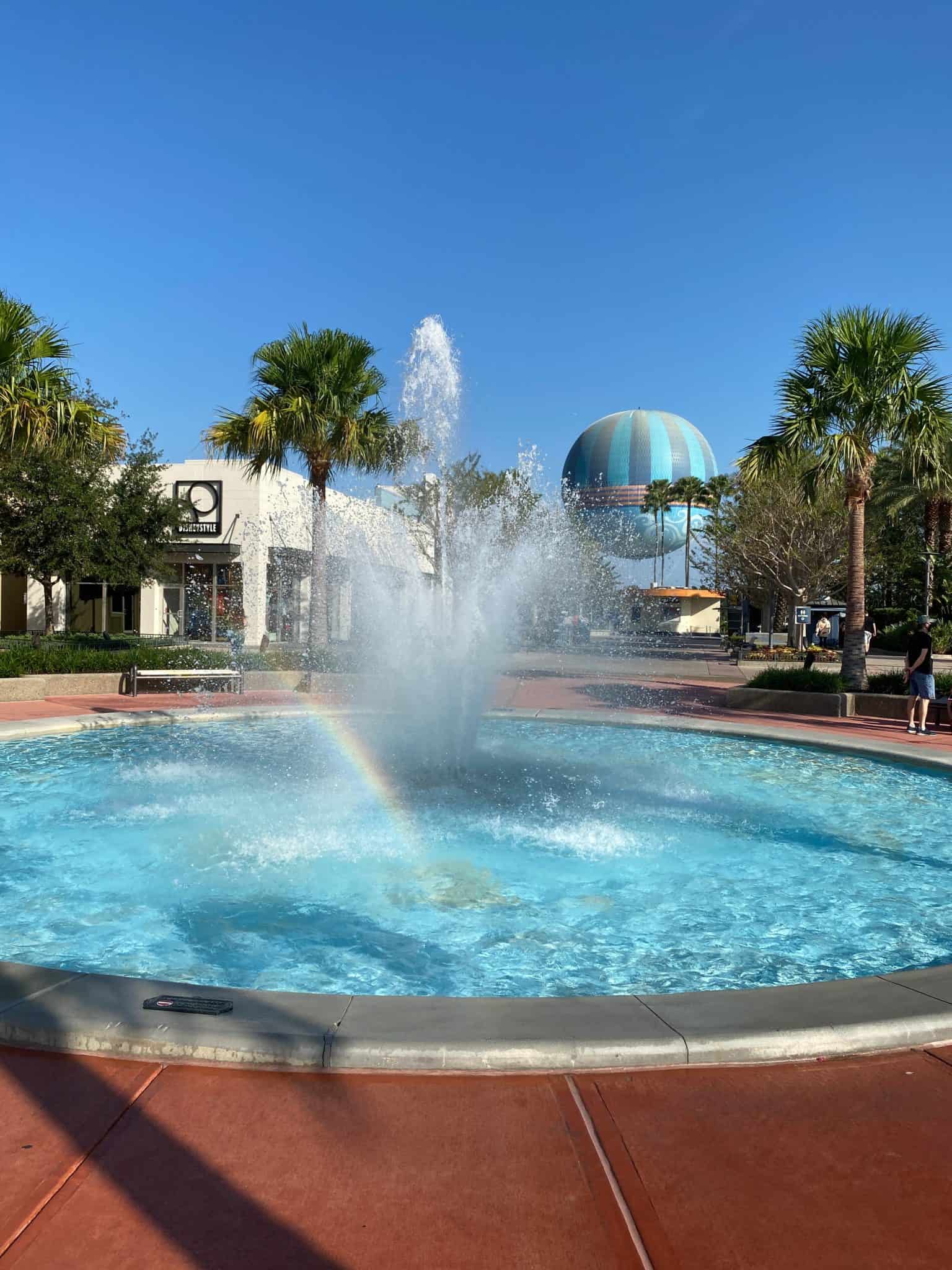 Disney Springs is still a great place to dine, shop, be entertained, and walk off those post-meal calories. Yes, some things are different, about that there can be no argument. But if you've been slowly learning to function in this new (hopefully temporary) normal, then you won't find the experience that much different than it would be if you were going out to eat in your home town.
The key is to manage your expectations, which can be a little harder when you're in Disney Springs than it might be at home because, well, you sort of want to experience the Disney magic in full, without hesitation.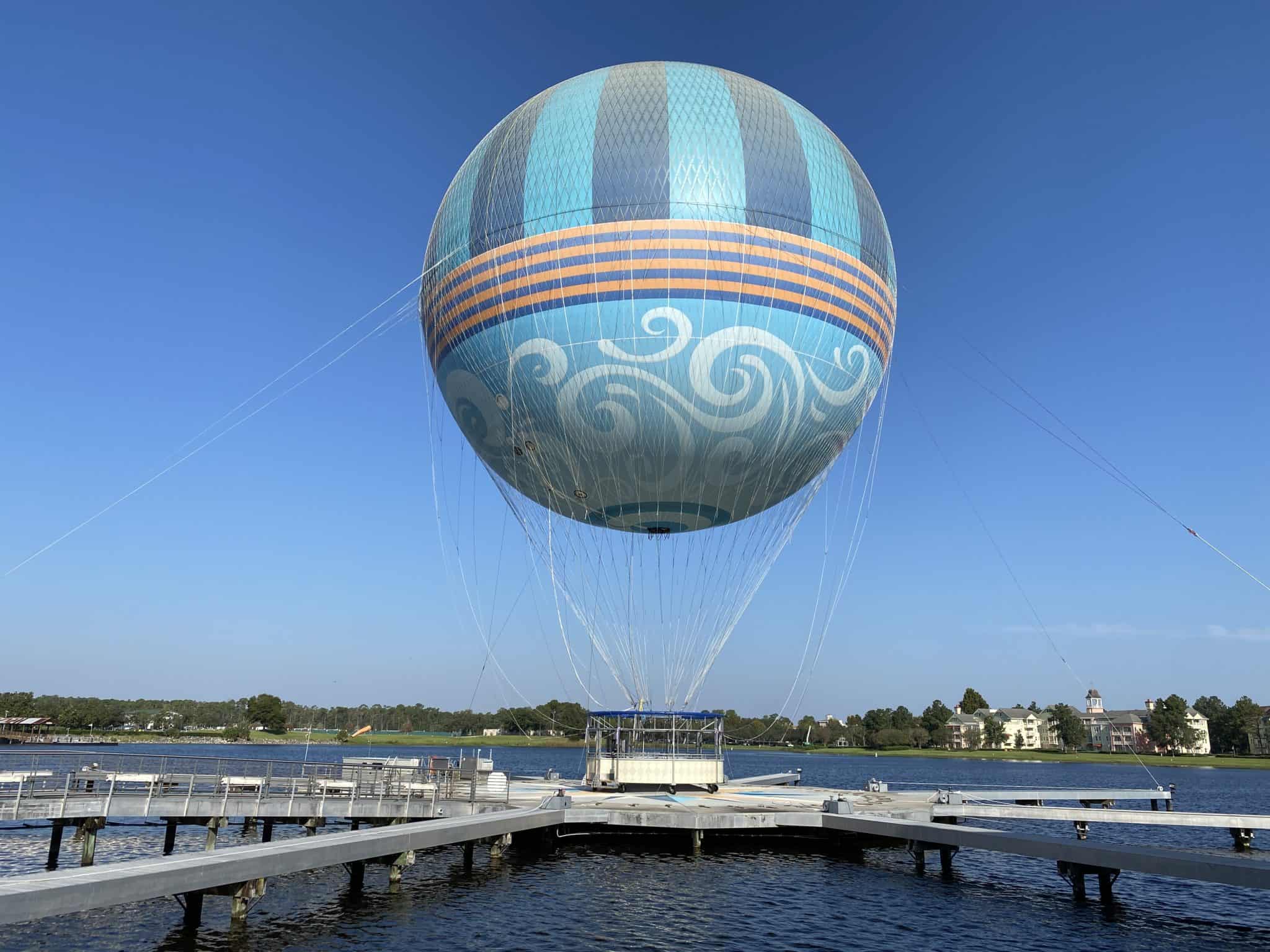 But for now, whether we like it or not, things are going to be a little different. We will be reminded to wear a mask. We will be reminded to stay physically distanced from people not in our party. We will see hand sanitizer stations popping up everywhere. Until this mess passes, this is going to be the way it is. 
But hey, if following a few rules allows you to enjoy some of that Disney Springs magic, it's all worthwhile in the end… right?

READ MORE: Travel During A Pandemic: Visiting Disney's Animal Kingdom
Pin it for later!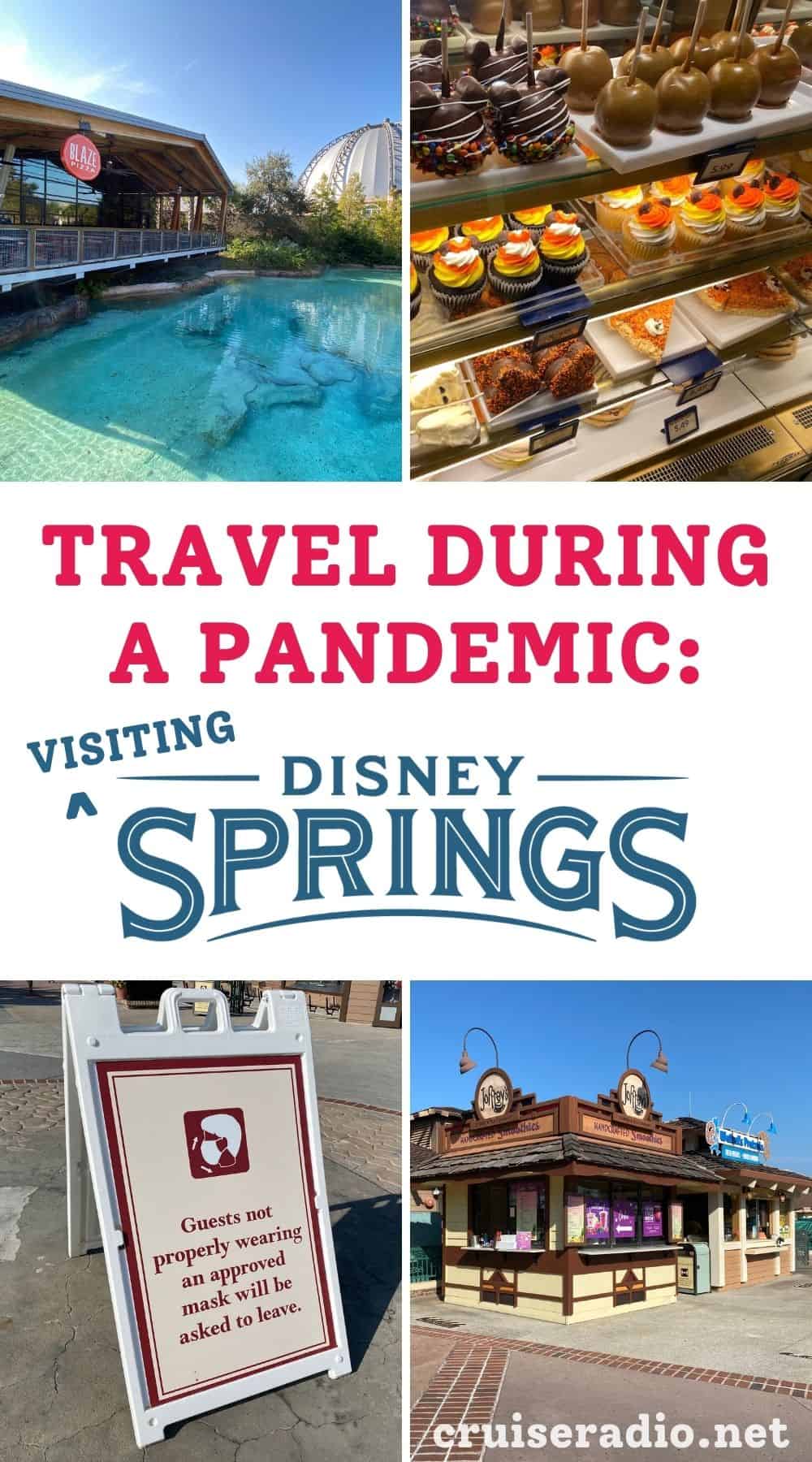 ---
---