Travel During A Pandemic: Disney's Animal Kingdom
Waiting so long to return to Disney's Animal Kingdom in Orlando had nothing to do with being skeptical of traveling during a pandemic.
After all, I just did a 16-night road trip from Florida to Yellowstone National Park. Using the proper precautions, not once did I feel unsafe being outside of my house.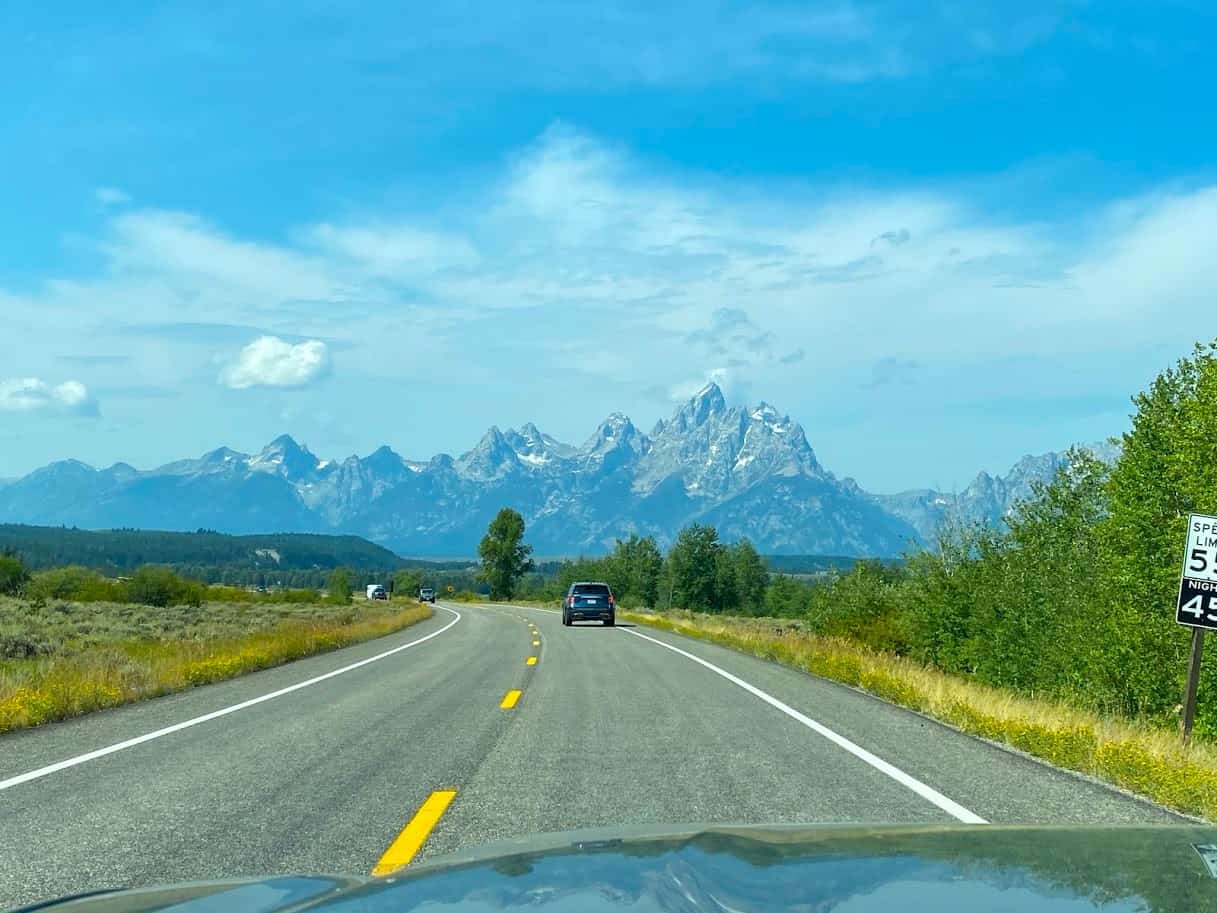 With the 5,800-mile trip under my belt and cruise ships still docked, I thought it was the time to venture somewhere a little closer to home — Animal Kingdom at Walt Disney World.
The last time I was at a Disney park was to check out the new Star Wars: Rise of the Resistance at Hollywood Studios just before everything — including Walt Disney World — began shutting down in mid-March.
Little did I know that a couple of days later the travel sector would be brought to a grinding halt — hotels would go dark, cruise ships would shut down —  life as we knew it would become much different. 
Making Park Reservations For Animal Kingdom 

It used to be much easier to use your annual pass to enter a Disney theme park. All you had to do was go to the main gate of the park, scan your Magic Band and start having fun. If you wanted to just swing by for a few hours on a random Tuesday, no problem.
But at least for the moment, those days are gone. Now, a reservation is required and, if you're an annual pass holder, you can only book three days at a time.
Disney's website has a color-coded system in place for each theme park. If the park shows up as green, that means there are plenty of reservations available for the day in question. Yellow indicates the park is starting to fill up, and gray means you will need to find another day.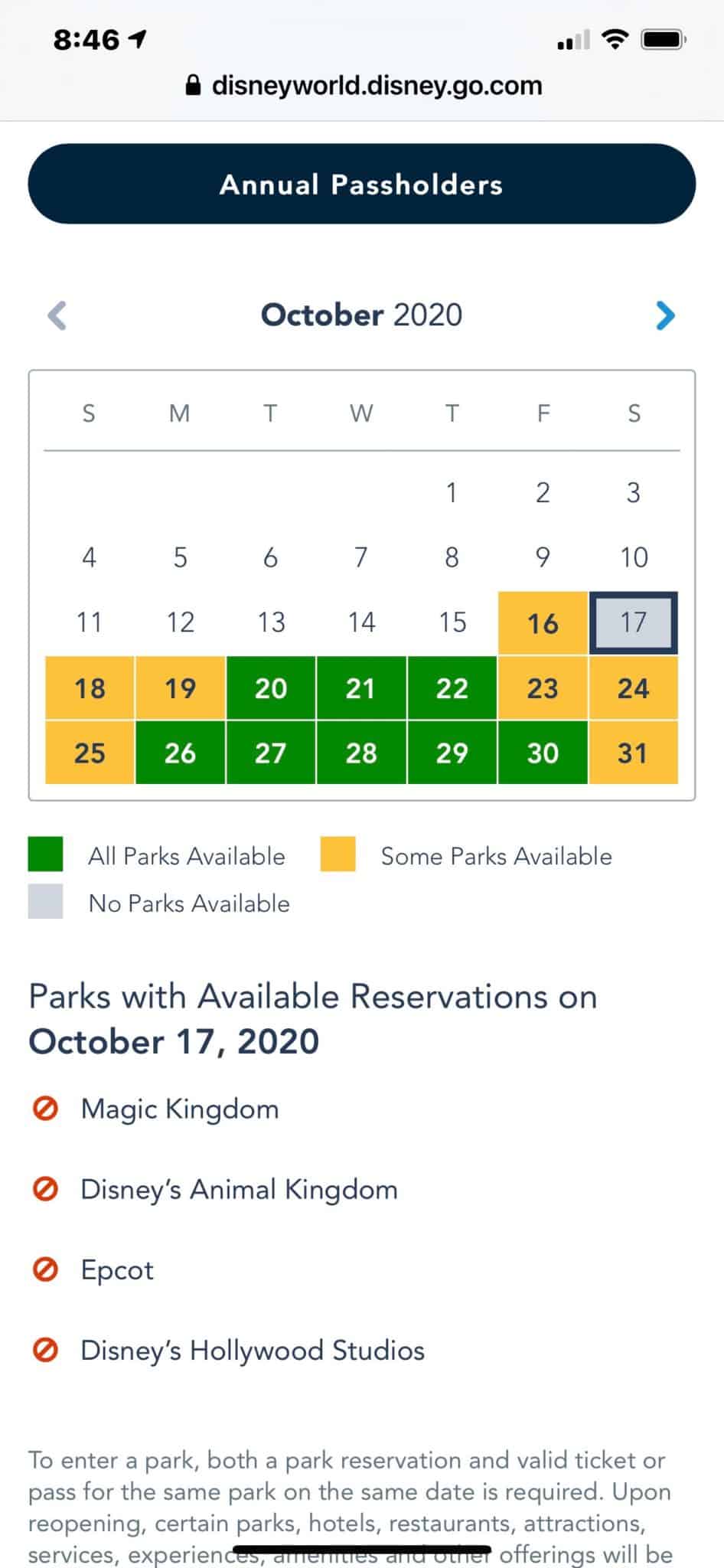 This system was put in place to help control crowds at the parks.
Back in mid-October, Walt Disney Company's Bob Chapek told CNBC that all Disney theme parks would be operating at 25% capacity until the guidelines put in place by the Centers for Disease Control were lifted.
I choose to go on a weekday because historically, Disney parks are more crowded on weekends. (This isn't always true, and can vary based on the season and what special events happen to be taking place. But as a general rule, it tends to hold true.) 
No FastPass+ Yet 
Many Disney guests spend an awful lot of their pre-park visit lining up FastPasses+ for attractions that traditionally draw big crowds.
But currently, with crowd capacity meaning far shorter lines, the parks are not utilizing the FastPass+ system. This means everybody in the park is on the same level playing field at all times when it comes to how long you'll be waiting in stand-by lines. 
While many guests have asked when FastPass+ will return, that is — like many things about modern life — up in the air at the moment.
Disney's website reads, "As a result of the COVID-19 crisis, the FastPass+ service must be suspended as we plan to use additional queue space to control capacity at our attractions and maintain physical distancing. We will automatically cancel existing FastPass+ selections and share any future updates on the service at a later date."
Arriving at Disney's Animal Kingdom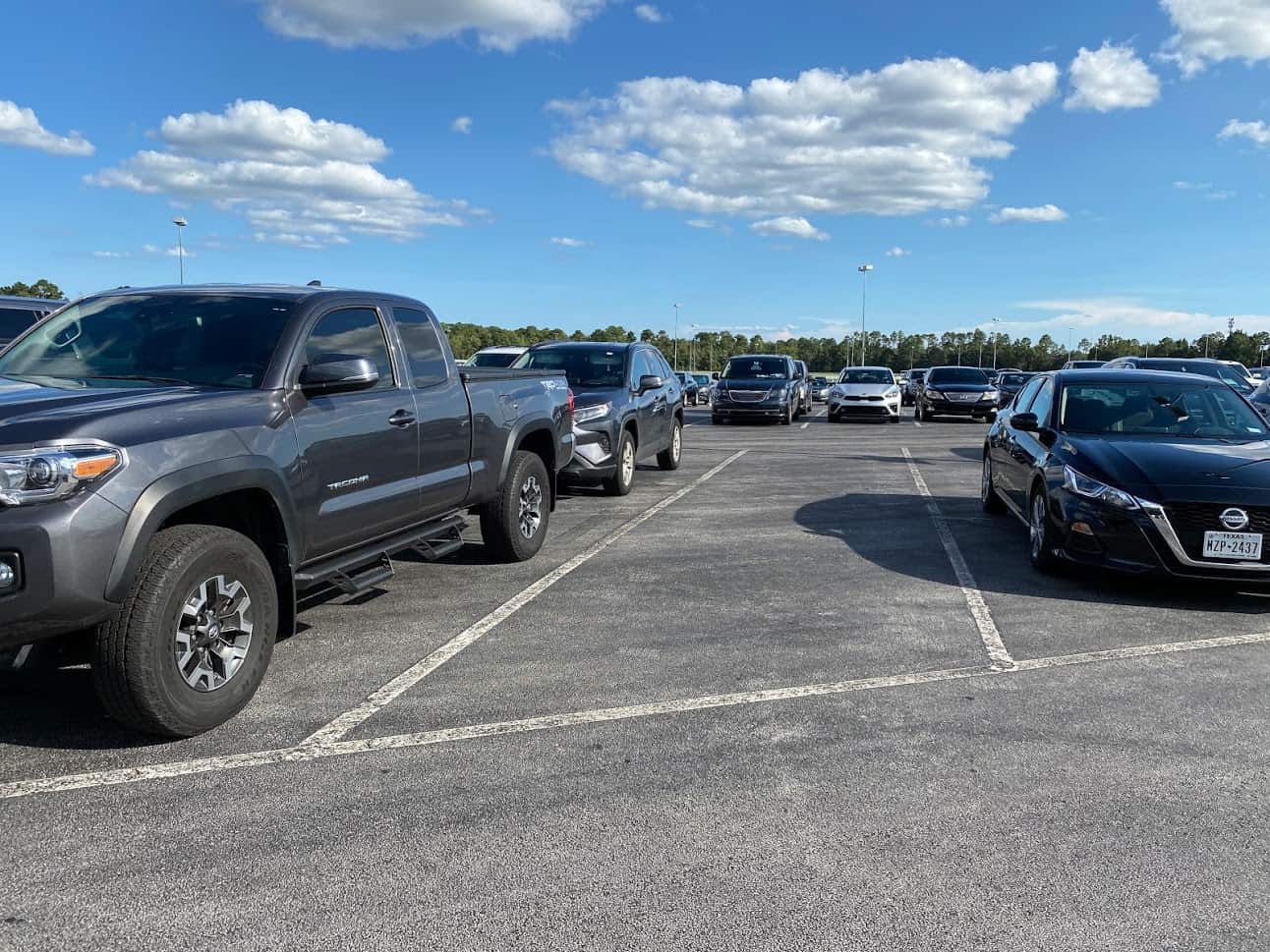 Aside from preparing for the day by reading articles and watching videos, my first sign that the visit wasn't going to be normal was seeing seven trams sitting in an empty parking lot. It was almost eerie, and I realized I needed to mentally prepare for what the day might hold. 
When we got to the parking lot, the cars were being arranged in a way that would allow eight feet between vehicles. Yes, even cars were practicing social distancing!
While it probably wouldn't be possible on days when the park is full, this would be worth doing year-round if only so to reduce the number of people who wind up dinging the cars around them when getting in or out of their vehicles.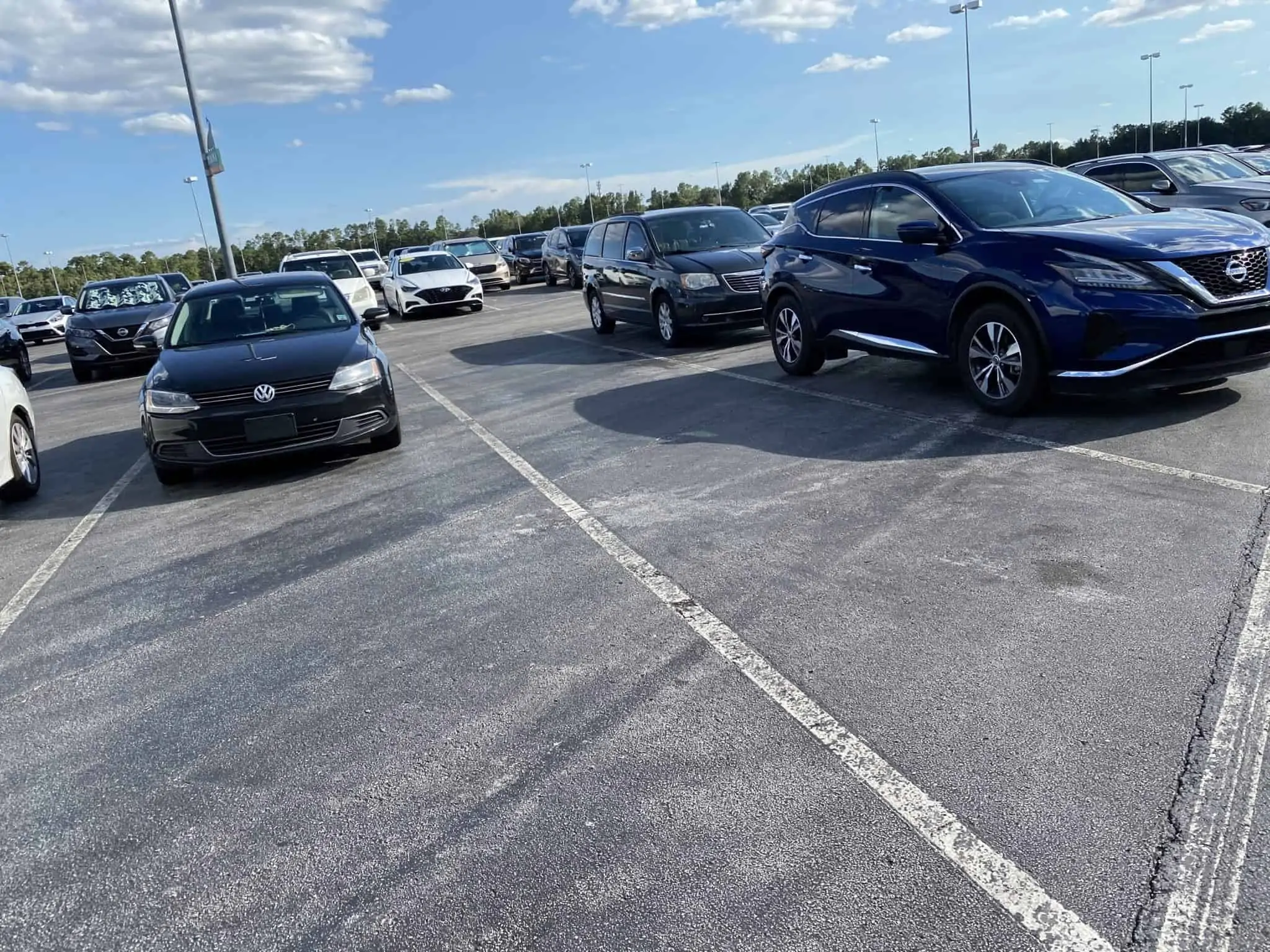 As the day went on, the parking attendants would fill empty slots while still maintaining the extra space. It sounds complicated, but they seemed to have a handle on the situation.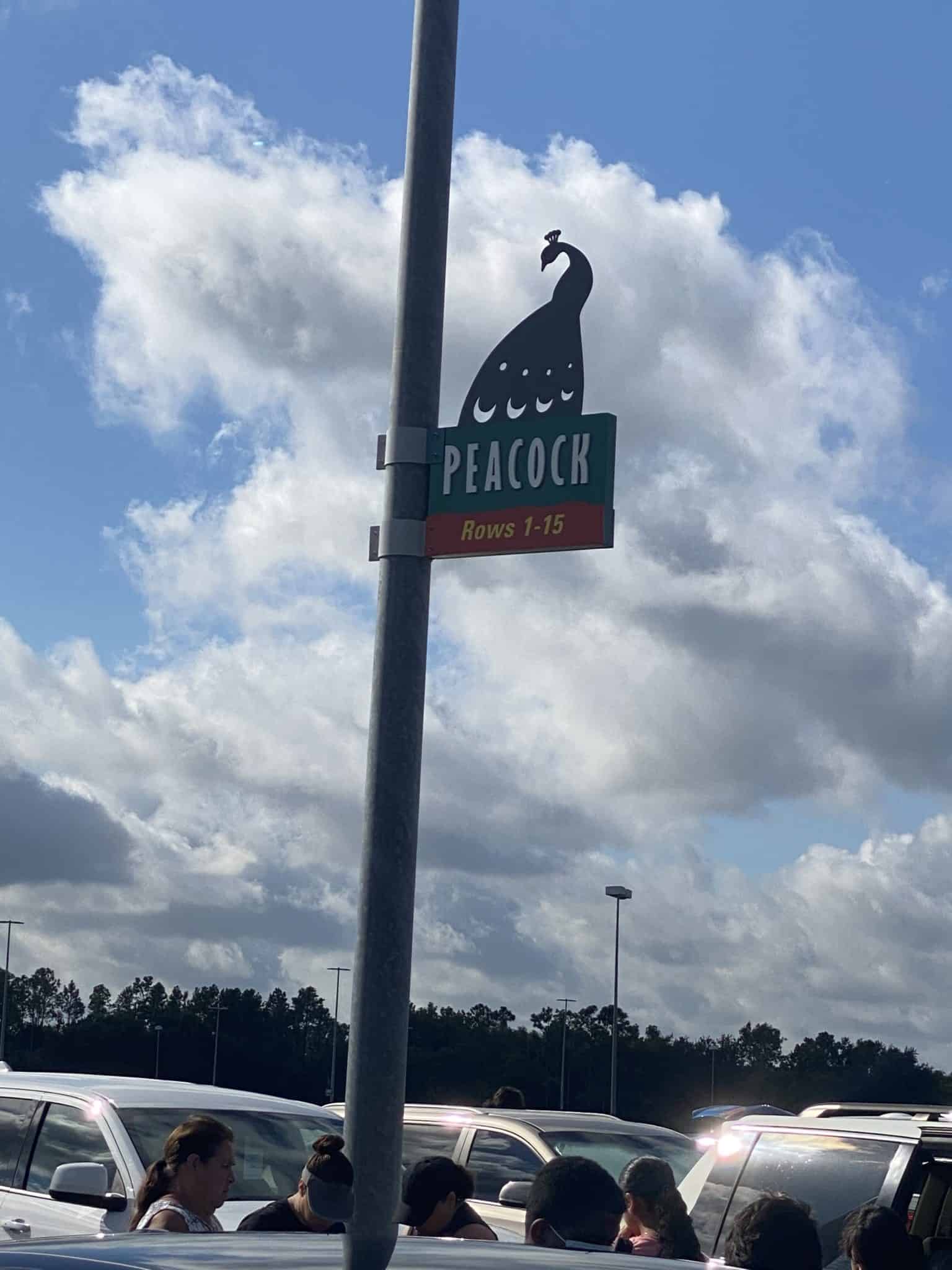 The trams weren't running, but we were parked in the Peacock lot, which is just a short walk to the main entrance. 
The first checkpoint is encountered even before you get to the health screening station. Here, cast members were making sure everyone had a mask. Anyone without their mask had to go back to their car and retrieve it.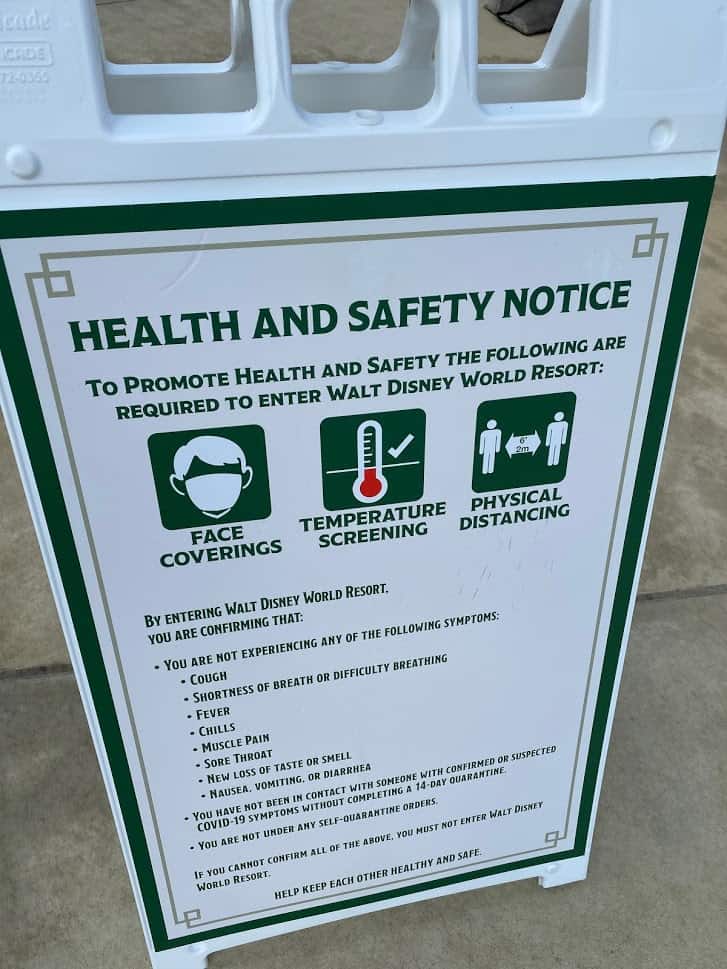 They had masks for sale at the entrance if you did not have one with you. Surprisingly, Disney is only charging $6 for themed masks. 
Next was the temperature-check area. Approaching the area, there's a lot of signage about the new procedures and how Disney has partnered with AdventHealth to conduct the health screening using a contact-free thermometer to ensure you don't have a fever.
One thing to note: When picking a line, try and avoid getting stuck behind families with kids in strollers. Depending on how fussy the child is, you could be in for a long wait at the temperature-check than you'll find for most attractions inside the park.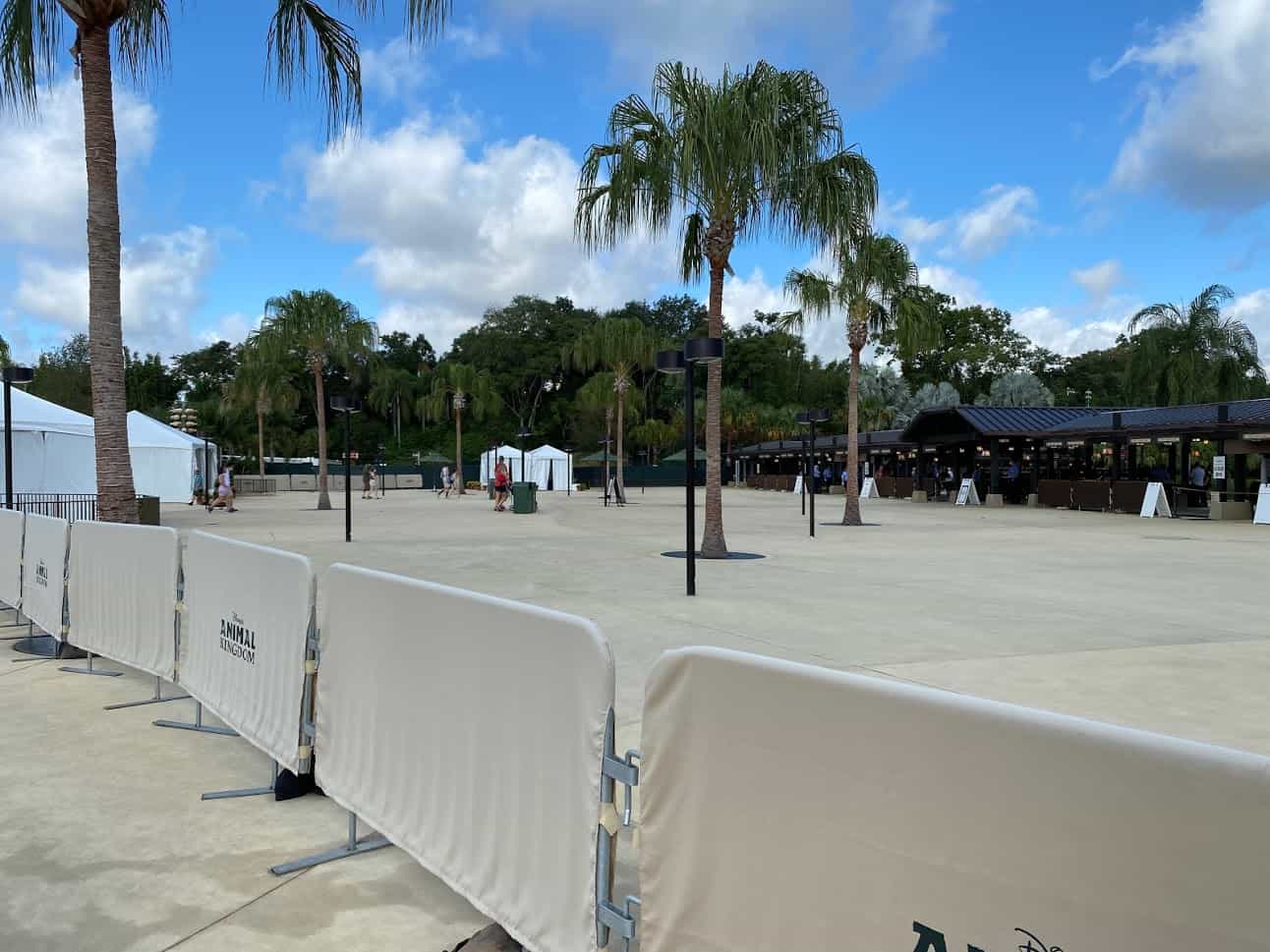 With a goal of eliminating touchpoints, gone are the days of using your fingerprint to enter the park. 
For years, Disney has used biometric technology to make sure your fingerprint matched the ticket being used to enter the park. This has always been done to avoid the resale of partially used tickets and to make sure someone didn't steal your pass. 
After a quick scan of our tickets, we were in the park. 
First Impression of Animal Kingdom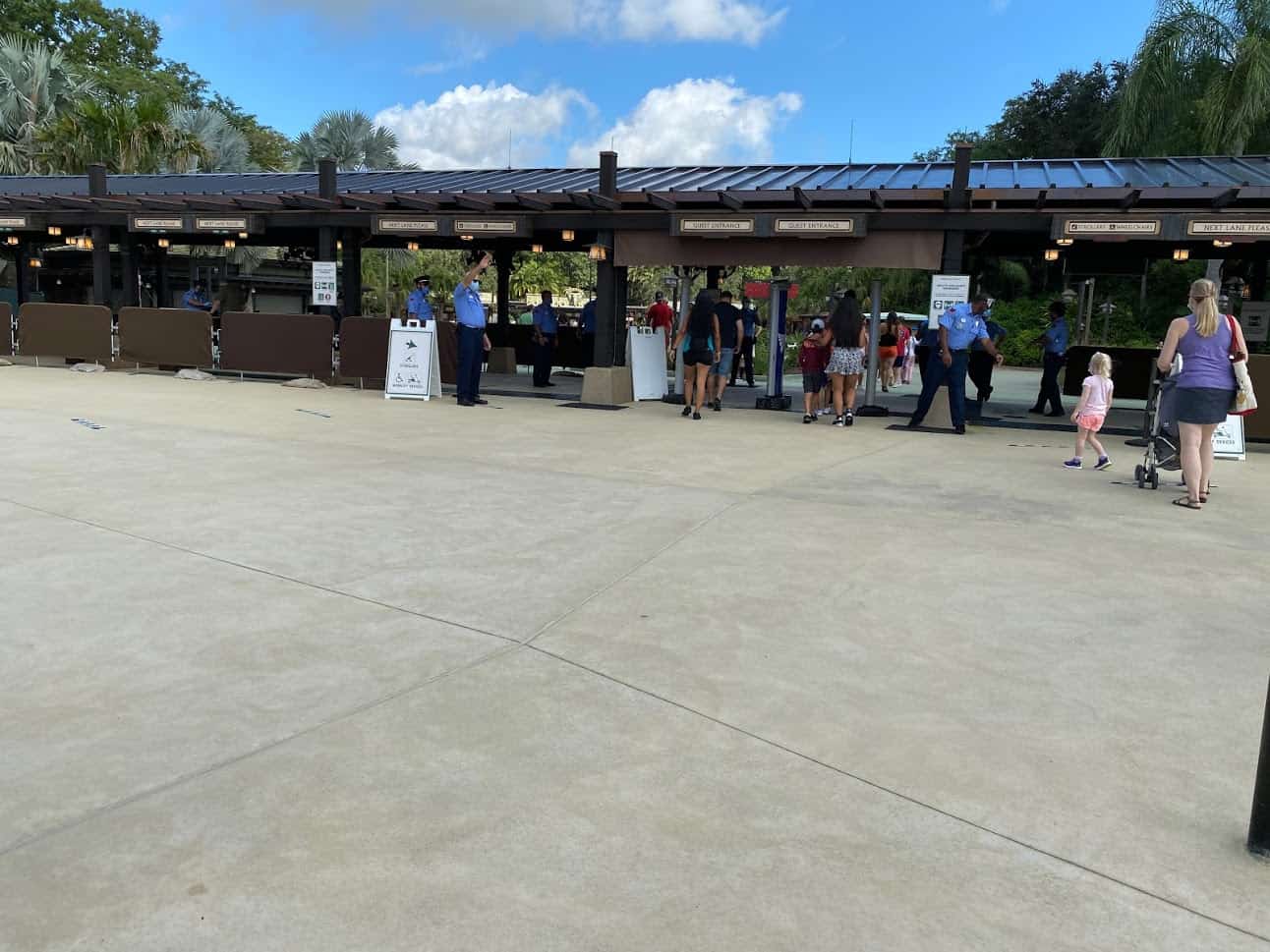 The main gate area was business as usual, as were the first few steps into the park. The restrooms, lockers, shops and snack bar were all open.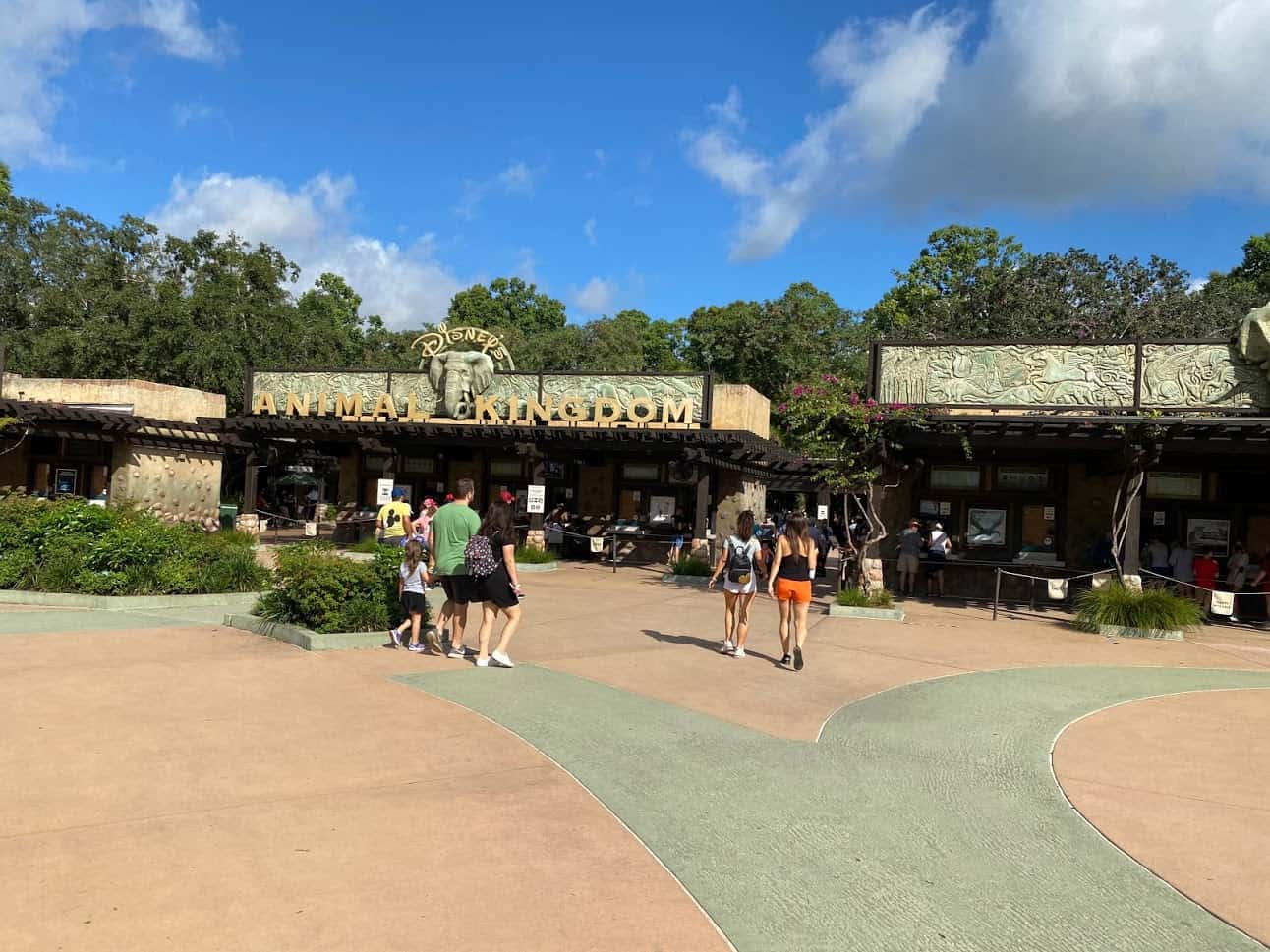 It wasn't until we'd made it through the Oasis and saw the Tree of Life looming large ahead that we could tell this wasn't the same Animal Kingdom we'd visited time and again since it opened in the late 90s.
Despite it being nearly 10 a.m., where you'd normally find crowds there were virtually no people. This Kingdom felt more like a ghost town. 
Wait Times Were Down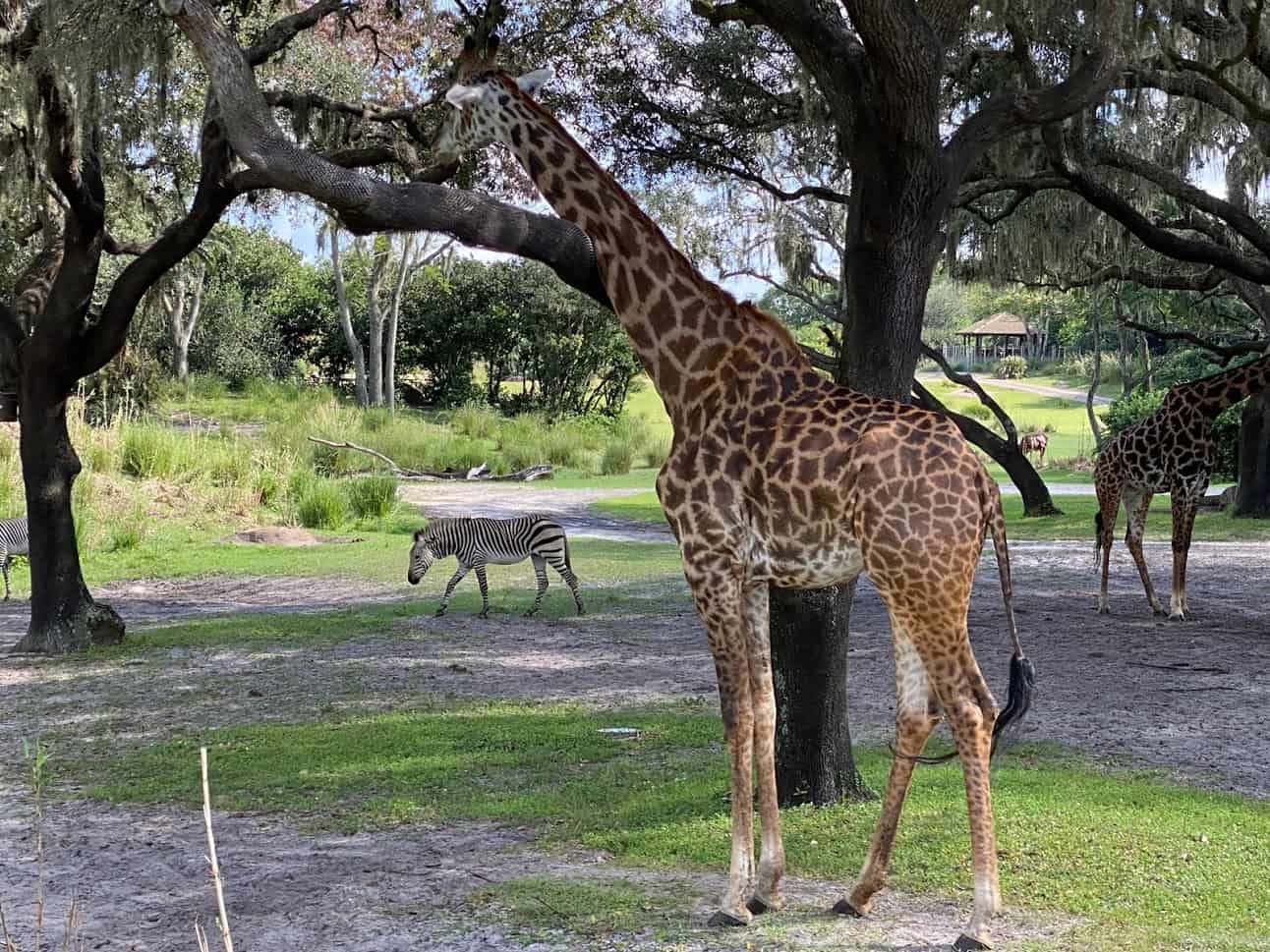 Having checked out the new Animal Kingdom-centric specials on Disney+, our first stop was Kilimanjaro Safaris to see some of the animals featured on the show.
Although it was indicated that there would be a 45 minute wait time, we were only in line about 20 minutes before boarding our jeep and heading out onto the savanna.
The lines seemed long but that was because there were markers to ensure you were physically distanced from the part in front of you.
Plastic Dividers Were Abundant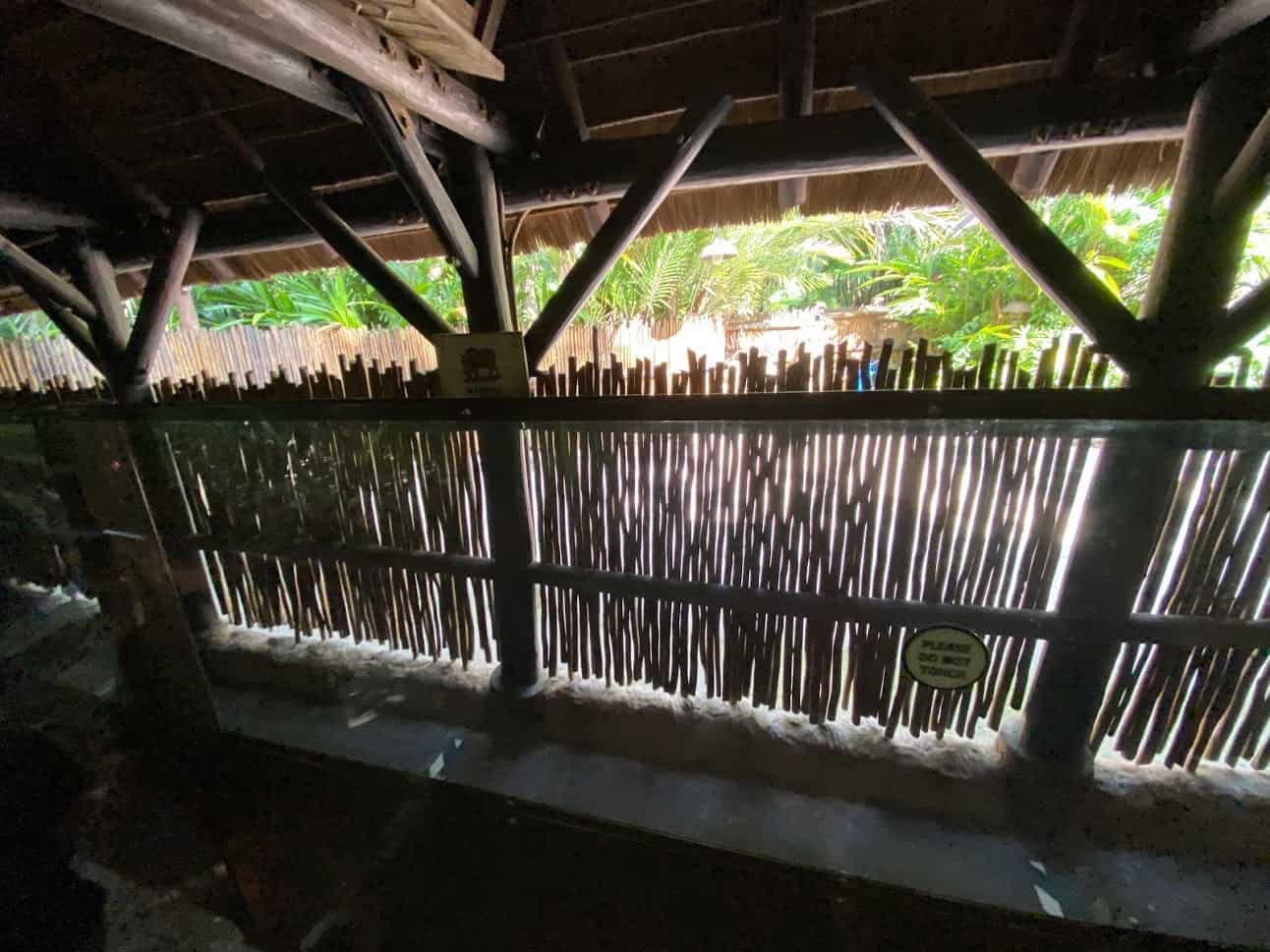 On all the rides we went on there were plastic partitions used to separate guests. For instance, on the safari, a plastic shield was in place between each bench of seats.
Places in line where you were either indoors or where queues ran next to each other, there were plastic partitions. 
Mask Wearing Was Strictly Enforced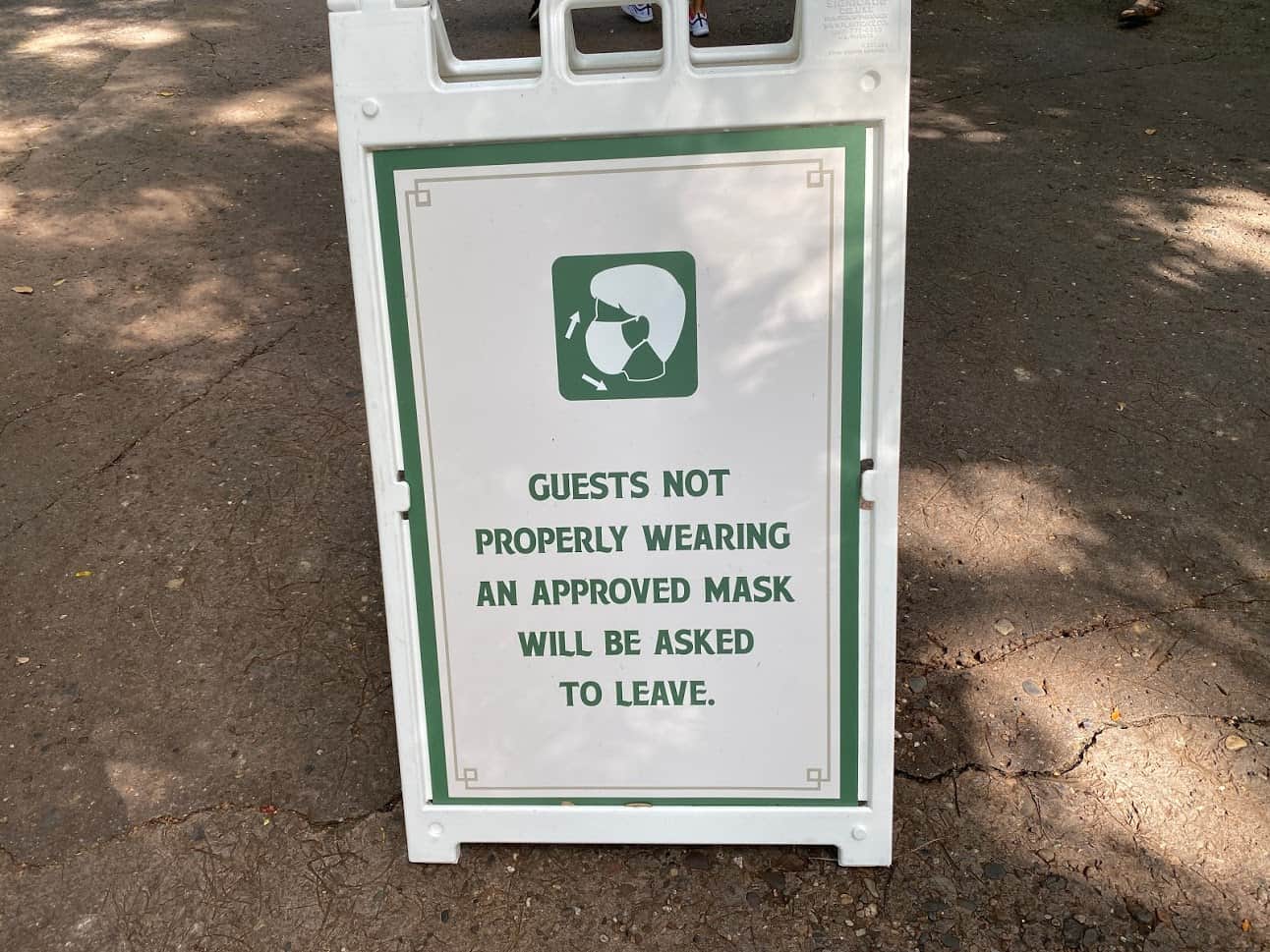 Unless you were eating or drinking, you did not have an option when it came to wearing a mask. This includes trying to take a sip of your drink while walking.
Not realizing that you had to be stationary to drink, I was sipping my beverage while walking through Pandora the World of Avatar when Cast Member walked up to politely let me know that I had to be stationary if I wanted to remove my mask to drink.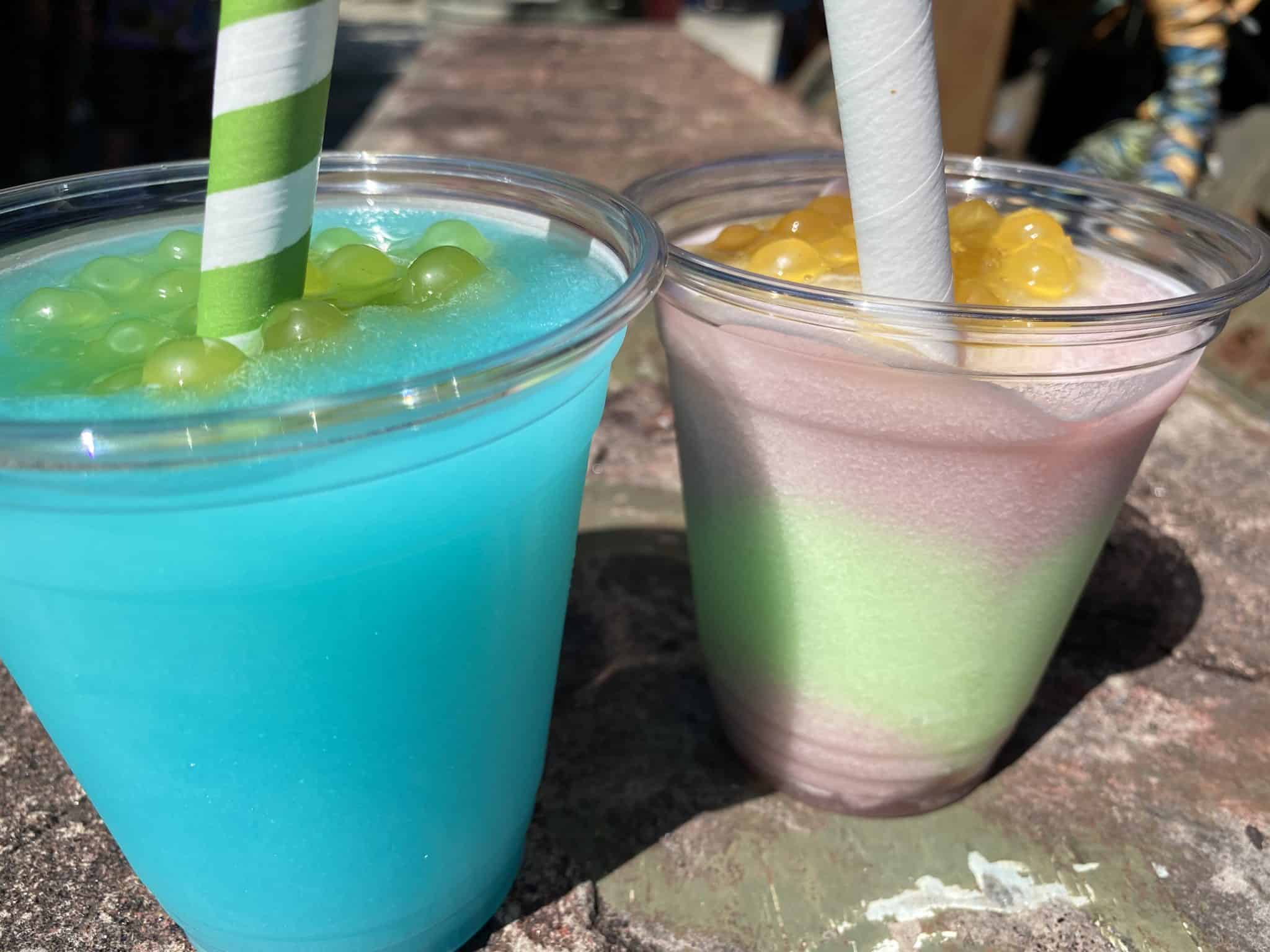 Although the requests were, as I said, polite, there were several occasions when Cast Members raised their voices in a less gentle manner when it was clear that a guest was ignoring the rules or violating protocols, such as not covering their mouth and nose with the mask as required. 
Lots of Hand Sanitizer Machines 
Around every corner, there were hand sanitizer stations. This includes throughout the park, in front of all the dining areas, before you entered each ride, at the ride exit, at each gift shop, and at the main entrances. (Those of us who are regular cruisers felt right at home, given that we're used to seeing — and using — hand sanitizing stations all around the ship!)
There were also temporary handwashing stations set up at different spots around the park. 
Dining at Animal Kingdom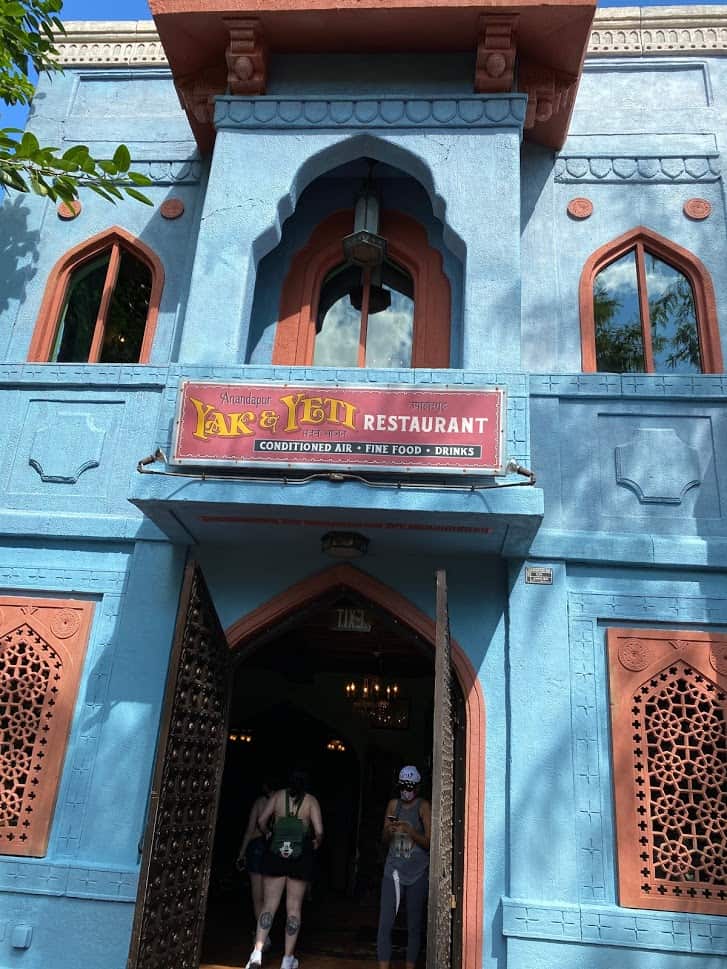 With Disney still following a lot of the guidelines issued by the Centers for Disease Control, reservations for sit-down dining are very limited. We tried for a couple of weeks to get a reservation at the southeast Asia themed Yak and Yeti restaurant with no luck. 
Tip: If your heart is set on a dining venue, make reservations ASAP to avoid disappointment.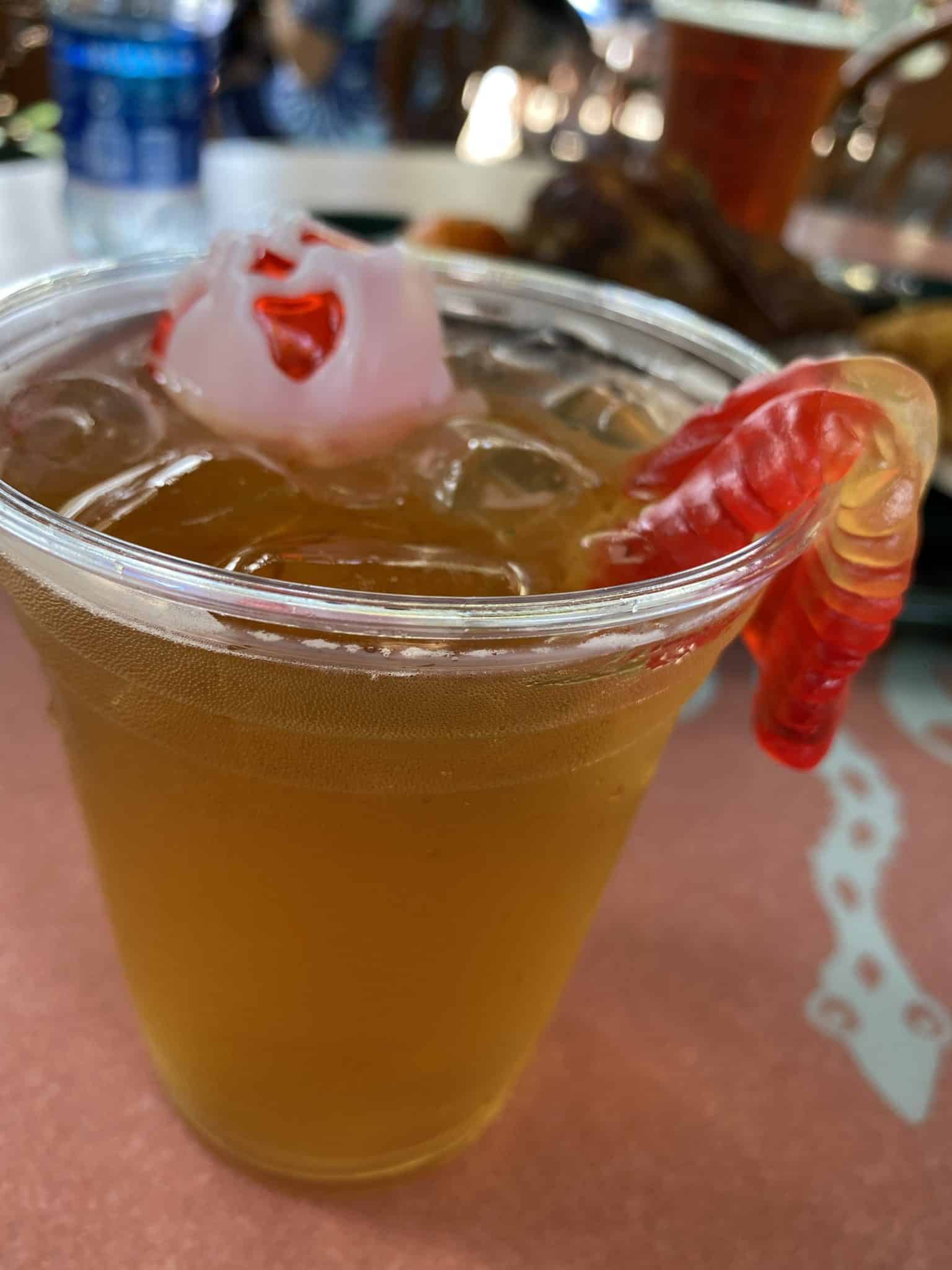 Fortunately, there are plenty of quick-service options with mobile ordering, so you're able to place and pay for your order in advance and then pick it up at a scheduled time to avoid standing in line. Once you're within your selected time frame, you click "start my order" and get an alert when it's ready.
We went with Flame Tree Barbecue and it was ready within 10 minutes of submitting our mobile order.  
Outside of each venue, there were also big signs with QR codes on them that, once scanned, presented the available menu on your smartphone.
If you don't have a smartphone or have food allergy concerns, a cashier is available at each location to assist you, but mobile ordering is strongly encouraged.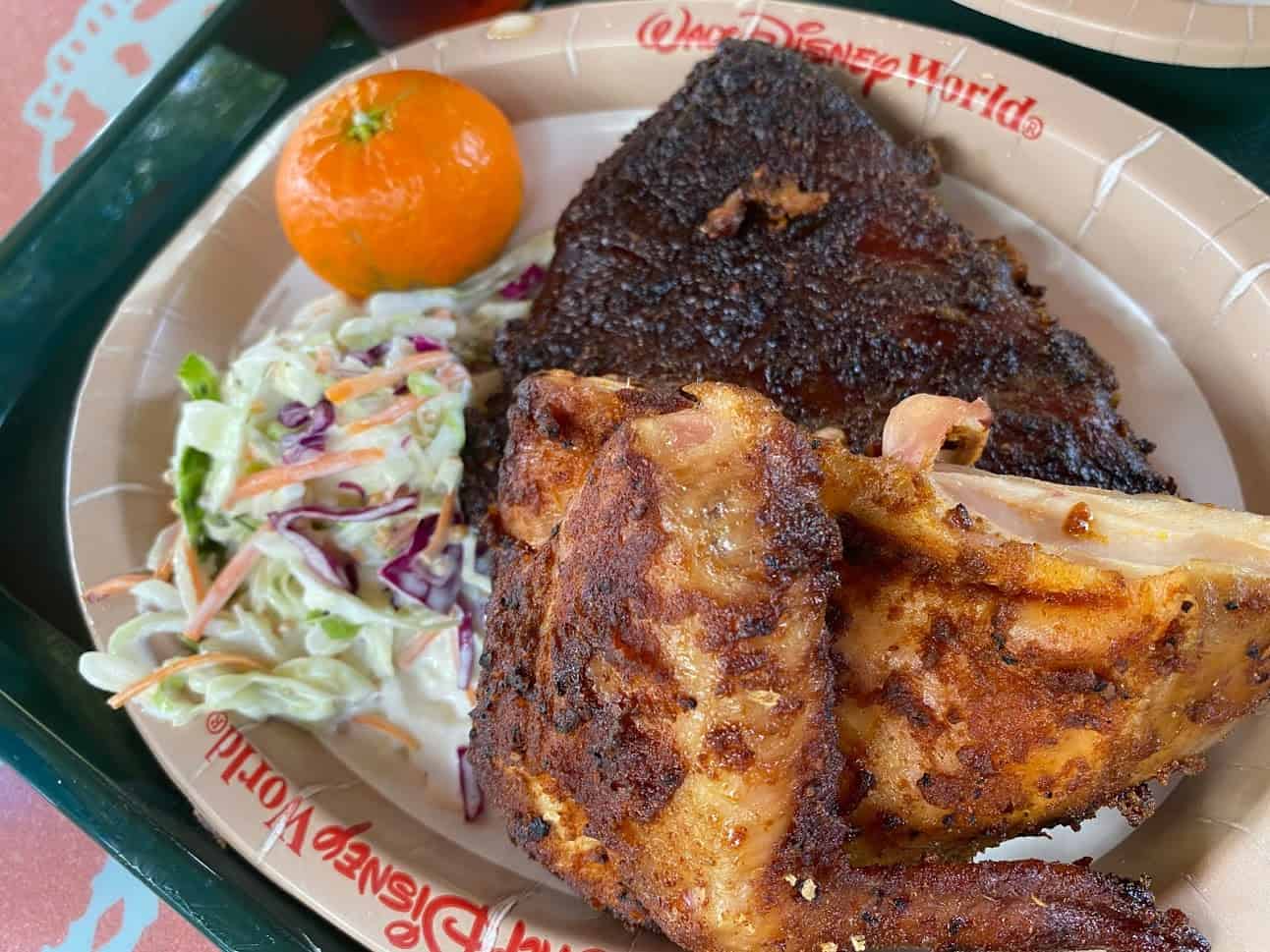 The outdoor dining area at Flame Tree had physically distanced tables with every other one having a marker stating that it was reserved for social distancing.
Since we dined at the height of the lunch rush, we had to wait a few moments to get an available table. With the new dining protocols in place, they have to sanitize the table and chairs before you sit down (which was totally fine with me!).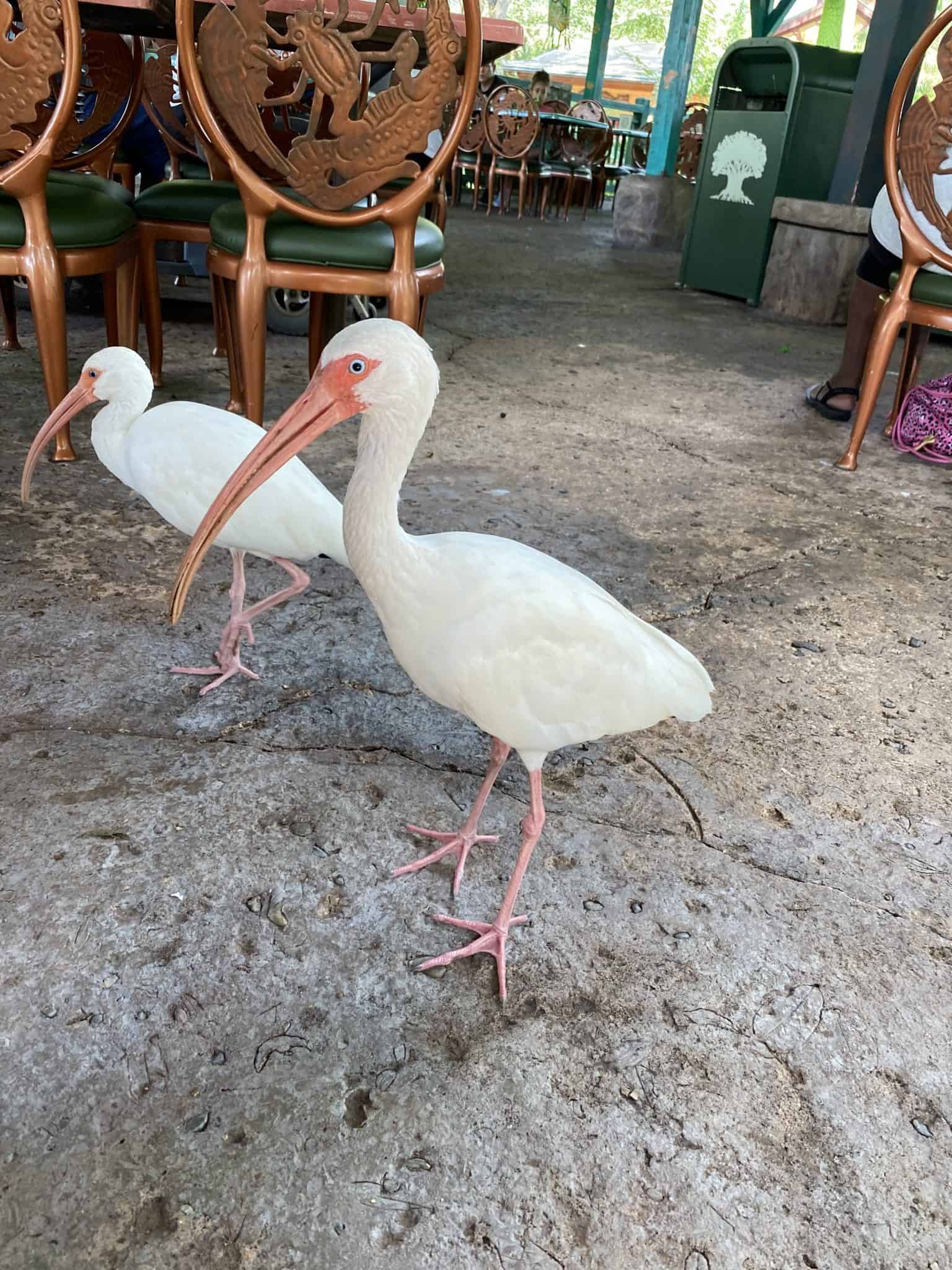 Also of note, though not related to the current health concerns, is that Flame Tree Barbecue has finally installed netting around the outdoor dining pavilions to keep the persistent and aggressive birds away from your food. It kind of worked.

Rides at Animal Kingdom 
When you're an annual pass holder, visits to the parks are often more about soaking in the Disney atmosphere than trying to jump on all the rides.
That said, we did experience a few rides and take in a show while at the park. We opted not to do Expedition Everest, since portions of the physically distanced line were in the hot Florida sun.
Aside from no FastPass+ option — and the longer than average physical lines due to social distancing and the plastic partitions being installed — all the rides were a typical attraction experience. 
Kilimanjaro Safaris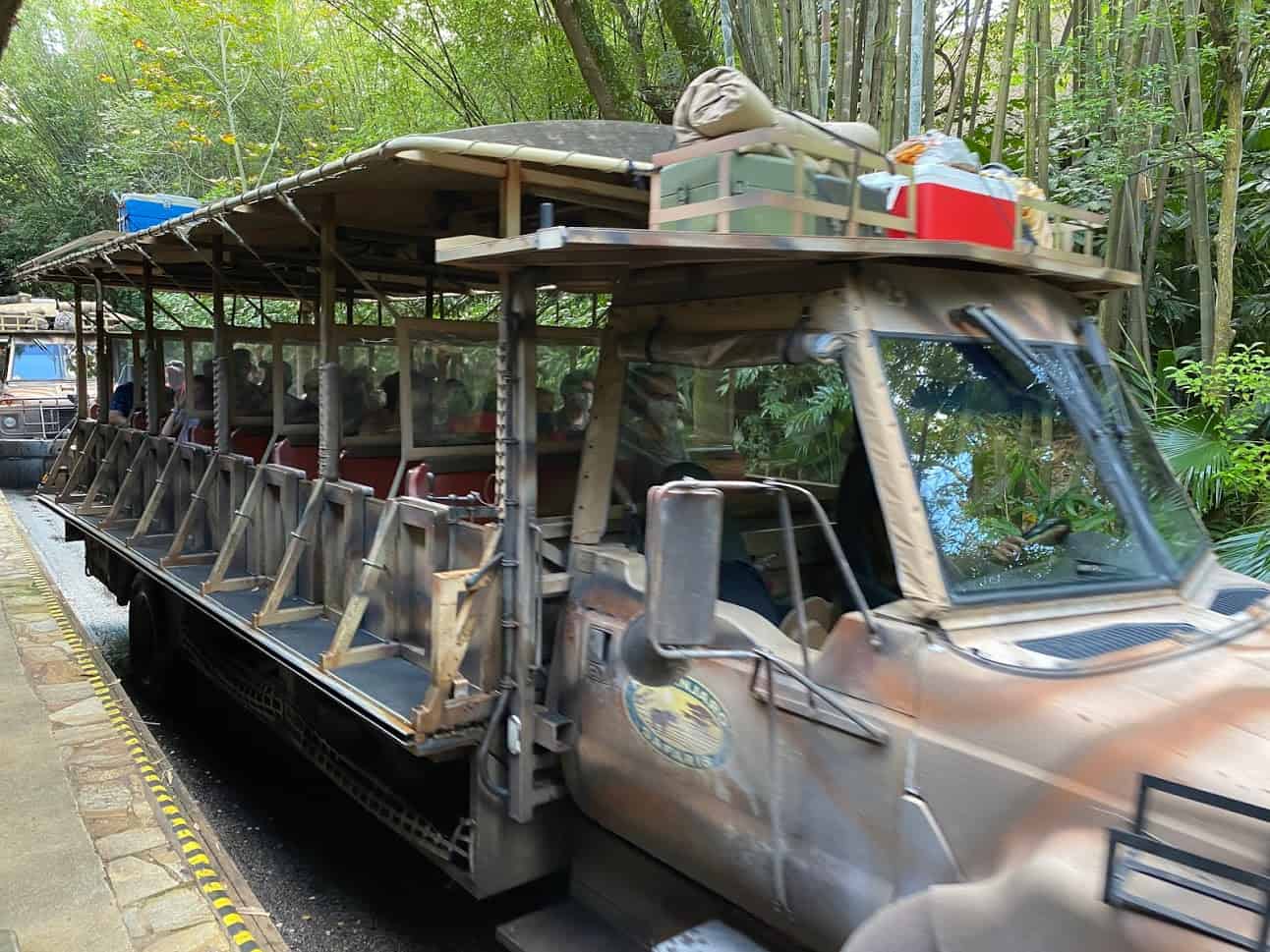 As noted earlier, the ride times were not long at all. But there were markers on the ground that showed you where to stand to avoid being too close to the people in front of you.
The line for the safari spanned back to Tusker House (specialty dining with a character experience, currently closed). The ride itself was exactly the same aside from the new protocols added for distancing. 
Note: If you have Disney+ and are planning a trip to Animal Kingdom, I highly suggest you watch the show The Magic of Disney's Animal Kingdom before going to the park. It adds a lot of color to what you'll see and offers a cool glimpse behind the scenes. 
Flight of Passage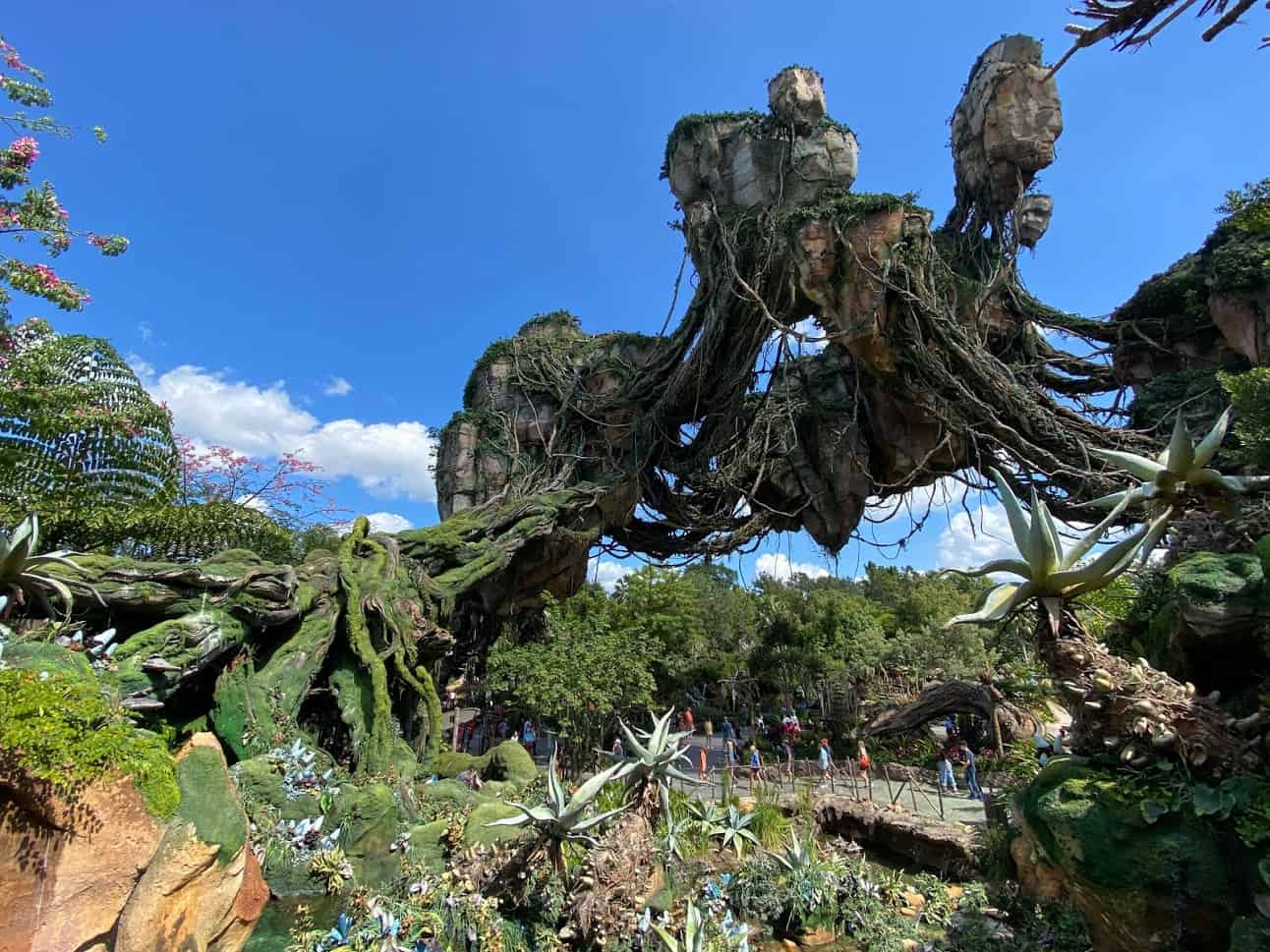 The time for this ride was hedged by about 15 minutes because the estimated wait time said 60 minutes but it only took 45 minutes. The indoor spaces have giant sheets of plexiglass separating the lines and there were hand sanitizing machines around every corner.
Once we got into the room for the ride, there were only six actual ride vehicles in the space, allowing for parties to disperse. There are normally 16 or so riders per experience.  
This ride did have a slight smell (not overpowering) of disinfectant, making me think that they could be clearing each ride unit between users. Again, I'm not complaining. The more precautions they take the better as far as I'm concerned.

A Bug's Life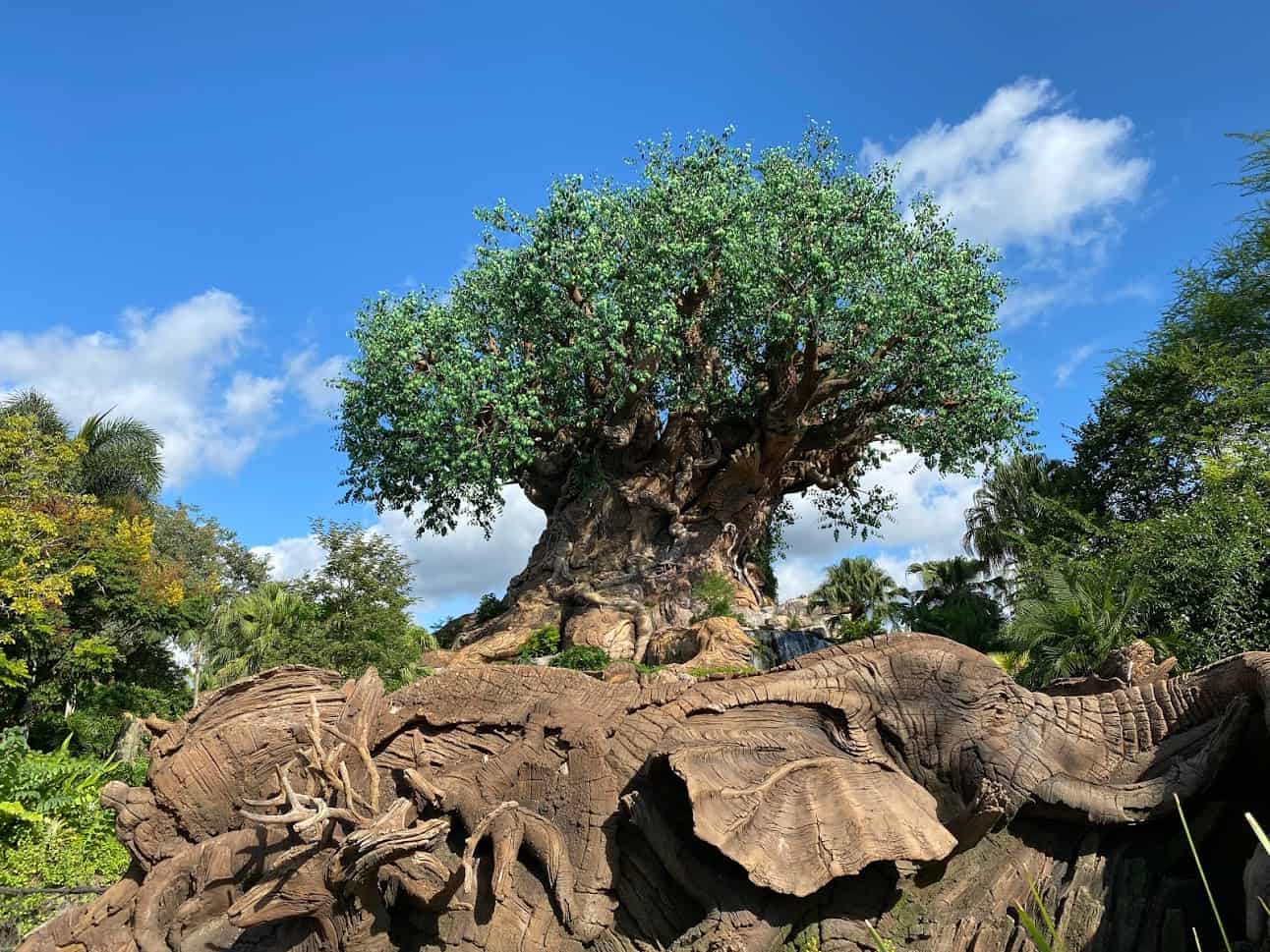 Upon entering the Tree of Life, each family or party was assigned to a circle, and each circle was about six feet away from the other circles.
The theater itself had glass partitions between each individual seat, which struck me as odd.
Why?
Because you the partitions that separated you from the person to your left and right, but there were still people in front of and behind you. One would think that the partitions would be designed to keep someone behind you from, say, coughing on you. 
This is totally an assumption but it seemed like Disney may be using some type of virus-killing aerosol spray in the theater areas. There was a slightly noticeable difference in smell when you first walked into the theater. Again, I'm just going by my instincts and this was not confirmed by Disney.
Final Thoughts of My Visit to Disney's Animal Kingdom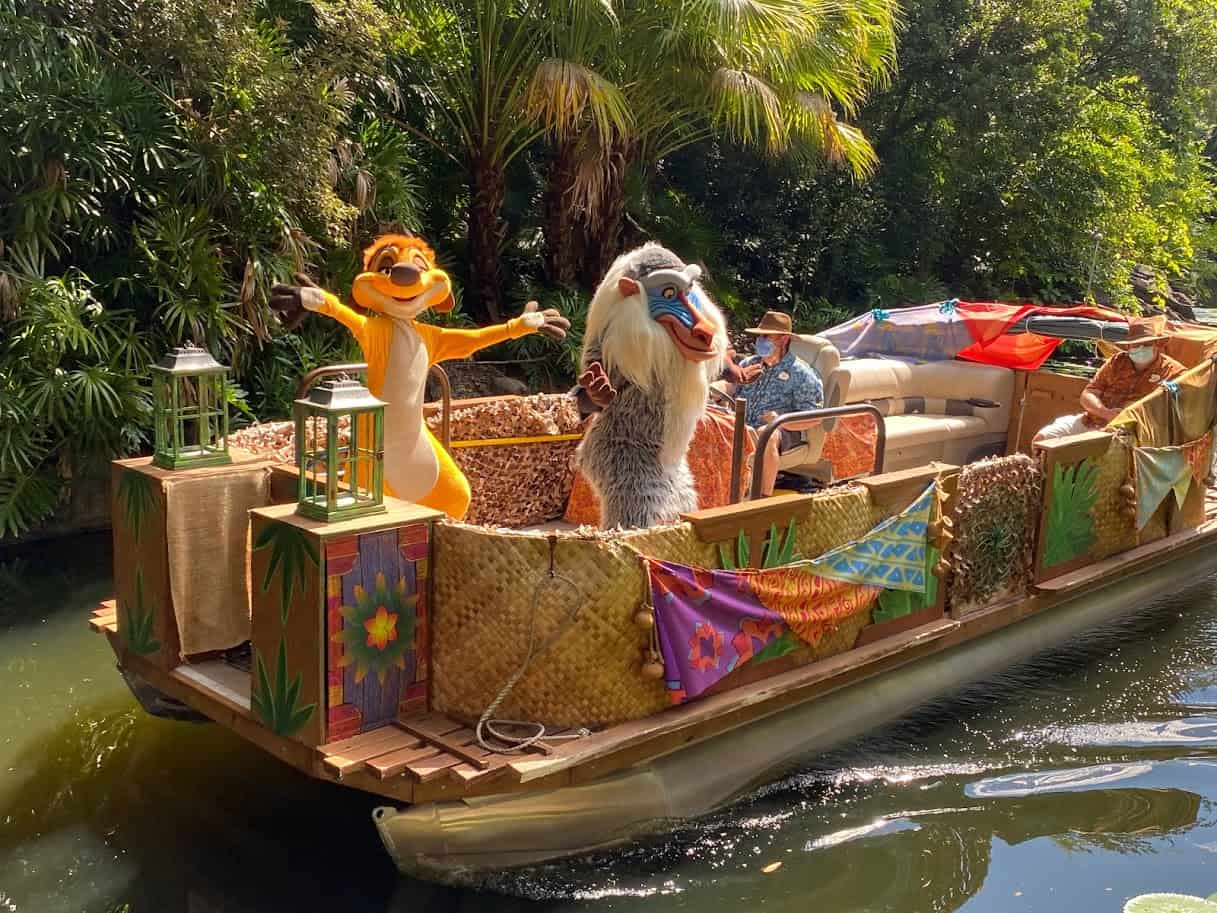 This was my first visit to a Disney park since the health crisis began to unfold back in March. Not once have I ever questioned Disney's ability to keep guests safe while re-opening. 
You will want to manage your expectations. Know that things are going to be different and it will not be the same Animal Kingdom experience you had before the protocols went into place.
A lot of families that I've spoken to have canceled their annual pass memberships until things get back to normal, or at least a lot closer to it than we are now.
Most of the entertainment offerings are currently eliminated, with just a modified bird show and the characters circling the park on the Discovery River.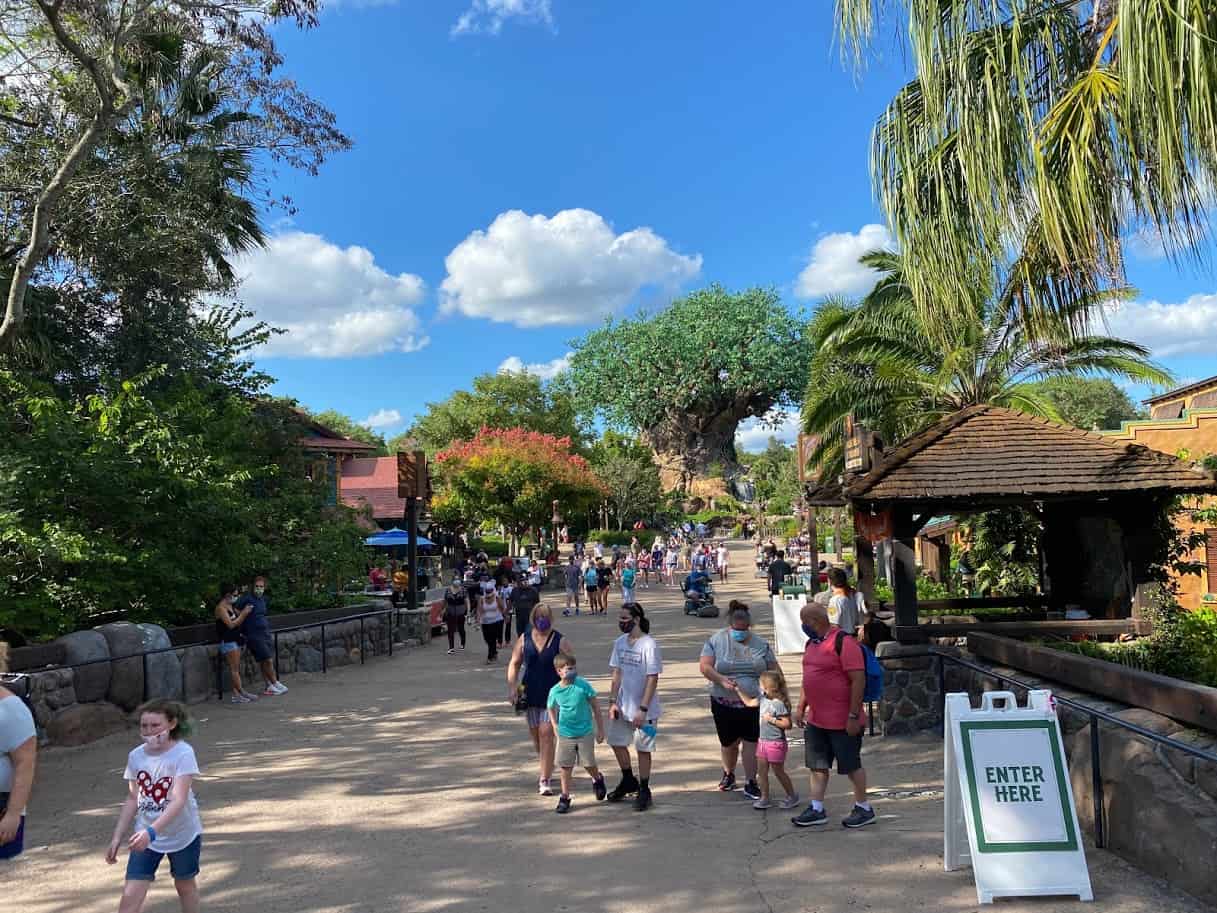 I'm someone who is comfortable navigating the new landscape of social gatherings with proper protection. Disney's Animal Kingdom was fine and never did I feel unsafe.
The Cast Members were very attentive in making sure guests are abiding by the new health and safety protocols.
When necessary, they had no problem addressing guests whose behavior might put others at risk. My whole life, Disney Cast Members have been the kindest customer-facing employees that I've seen in any industry. Seeing them take a firm stand against rule-breakers was refreshing. 
Would I hesitate to go to another Walt Disney World Theme Park? Absolutely not.
In fact, I'm already making plans and trying to decide which one will be next. I still have Hollywood Studios, Epcot, and Magic Kingdom to knock out!
Pin it!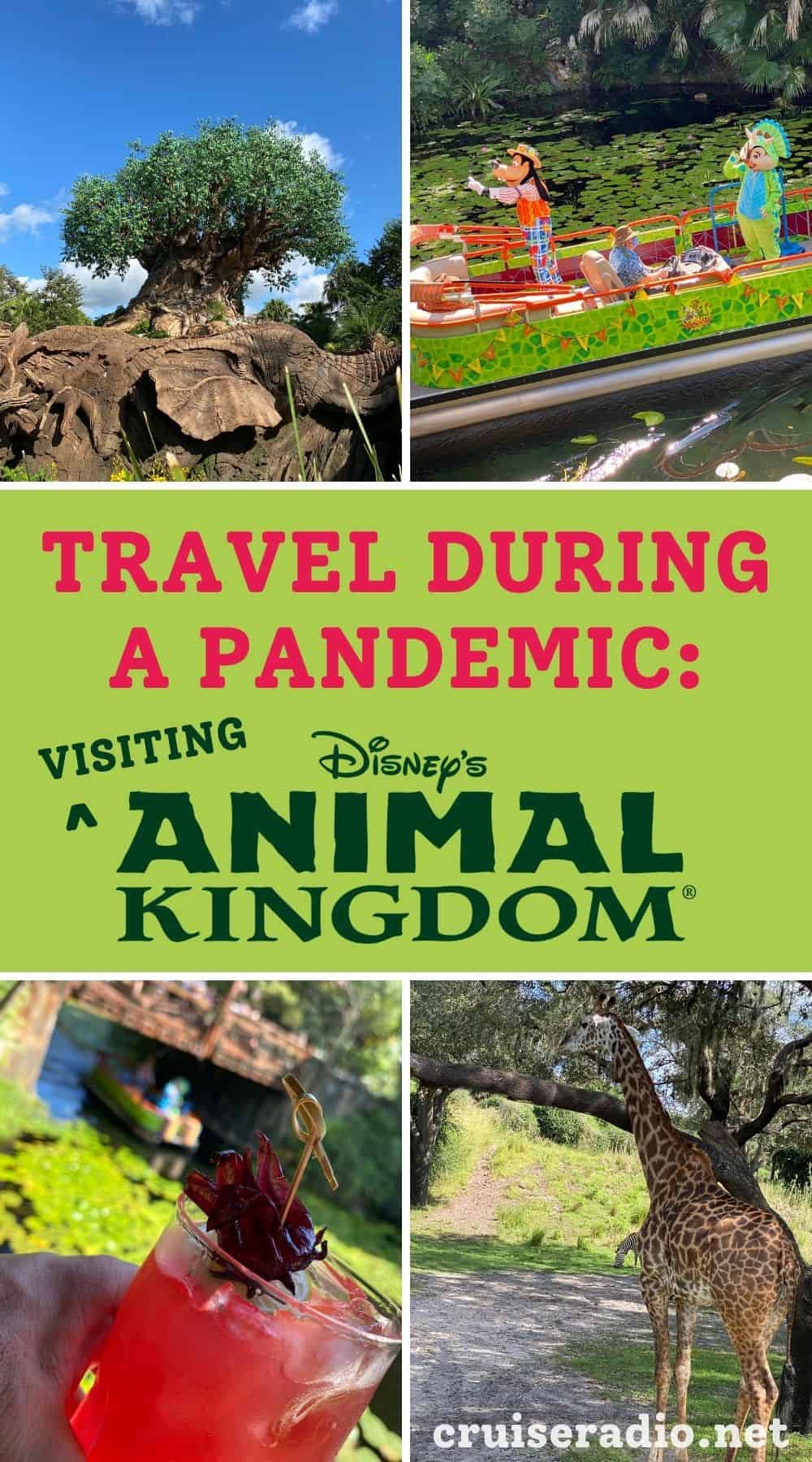 ---
---