Carnival's VIFP (Very Important Fun Person) Loyalty Program
The VIFP Club (Very Important Fun Person) is Carnival Cruise Line's loyalty program that rewards repeat cruisers with members-only perks, discounts, and amenities. The benefits get better the more you cruise.
How to Sign Up For VIFP
Before you book your first Carnival cruise, visit the Carnival VIFP Club website and click the 'Join' button. Provide your email address and create a password, and you're in. It might be the easiest club you've ever joined.
You'll immediately start receiving cruise offers from Carnival by email and you may be eligible for discounts or special offers on your first cruise.
How To Earn VIFP Loyalty Points

The real benefits kick-in once you've sailed your first cruise. You'll receive one (1) VIFP Club point for each day you cruise. On a three-night cruise to the Bahamas? That's 3 points. Enjoying a 14 Night Carnival Journeys cruise to Hawaii? You just scored 14 VIFP Club points.
READ: Best Cruise Line Loyalty Programs
The only way to earn points is by sailing on Carnival Cruise Line. While Carnival Corporation owns and operates other cruise lines, VIFP Club points and benefits are not reciprocal to Princess Cruises, Holland America Line or any other cruise line.
VIFP Levels, Rewards and Benefits
The VIFP Club has 5 membership tiers. The more points you earn, you'll move up to a higher tier and enjoy more benefits. Your Sail and Sign Card (onboard room key, charge card and ID) will reflect the color of your VIFP Tier at the start of each cruise.
Blue (First Cruise)
When you initially sign up for the VIFP Club, you'll be known as a "Blue Card," a first time Carnival cruiser. At this level, you'll receive Carnival's VIFP Club newsletter and qualify for special cruise offers.
Red (up to 24 points)
After you've sailed on your first Carnival cruise, you'll be upgraded to Red, and in addition to the VIFP Club newsletter and special offers, you'll receive a complimentary 1-liter bottle of water delivered to your stateroom on each of your cruises.
Gold (25 to 74 points)
Once you've sailed on Carnival at least 25 days, you'll receive a Gold card and be eligible for a complimentary appreciation drink on cruises of 5 nights or longer, and you'll receive a Gold VIFP Club pin on every cruise in addition to the Red benefits.
Platinum (75 to 199 points)
With increased cruise days comes increased benefits, and this is where things start getting good. You'll be invited to the Platinum and Diamond VIFP Party on cruises of 5 days or more, offering complimentary drinks and appetizers.
You'll get a complimentary drink at the sea day brunch. Love to indulge on chocolate-covered strawberries? A complimentary plate will be delivered to your room on cruises of 5 nights and longer.
There's a complimentary Carnival logo gift on every sailing. And you'll be provided with priority reservations and access to a number of services onboard, including priority check-in and boarding, priority spa reservations, a priority line at the guest services desk, and a lot more.
Diamond (200+ points)
Carnival rolls out the Diamond carpet for their most loyal passengers (figuratively of course), with all of the Platinum benefits plus a host of other perks.
Unlimited wash and fold service; an invitation to a special event hosted by the Captain; a one-time free cabin upgrade; one-time complimentary meal for 2 at a specialty restaurant; a VIFP Club luggage tag set. And a lot more.
You can get a detailed look at the VIFP program and unique perks here.
What Makes the VIFP Program unique?
Once you reach the Diamond level (200 cruise days or more), the benefits are generous. One of the most unique perks is a $100 donation made in your name to St. Jude Children's Research Hospital.
Typically, cruise line loyalty programs are all about "what's in it for me?" but Diamond cruisers on Carnival can help others, just by cruising.
Carnival VIFP Look Up
You can look up your Carnival VIFP Club number by logging in to your account on the Carnival website. If you don't know your login information or haven't sailed on Carnival since the VIFP Club was created in 2012, you can access your account information by clicking here.
Loyalty Program Thoughts
VIFP member Becky Smith says, "It is certainly nice to not have to pay for the Faster to the Fun program, as it is included as a platinum/diamond member. And when on a longer voyage, having the complimentary laundry perk is a big help, as it lets you avoid having to spend money on having laundry done or going to the self-serve laundromats on the ships."
She continued, "As a Diamond guest, sometimes there are "unofficial" perks that go along with it. It might be a special invitation to go up to the bridge [and] a number of other things that are not publicized. These will vary depending upon the ship and officers who are on board."
Looking for another cruise line loyalty program? You can find a detailed overview of each cruise line program here.
Pin it!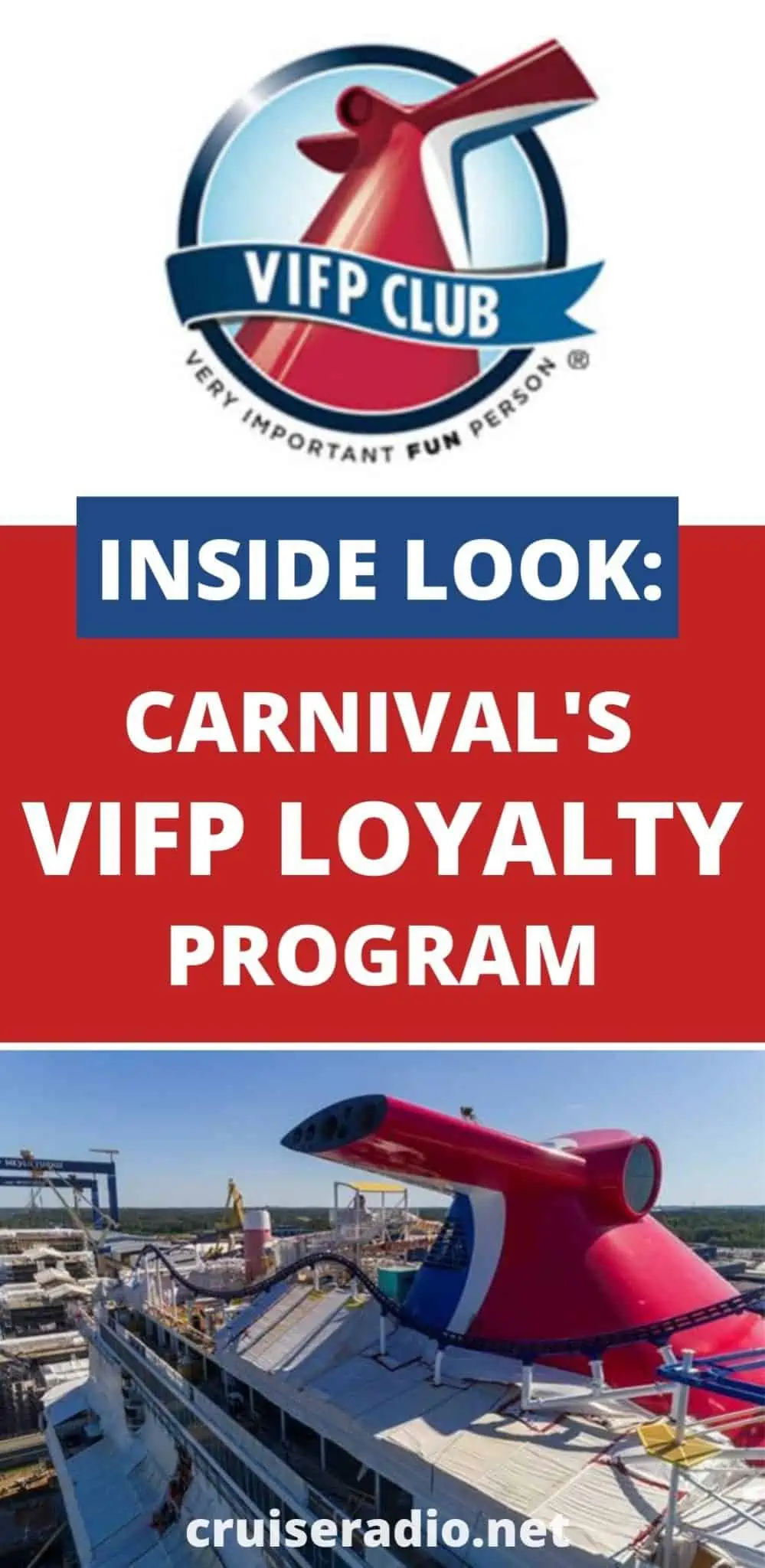 ---
---