Can I Cruise While Pregnant?
Are you pregnant or do you plan to cruise while pregnant? If so, congratulations! There's nothing more exciting than being a parent.
Whether it is an official 'babymoon' or a cruise that you've had booked for quite a while, there's plenty of spots to relax and unwind before your new baby arrives.
However, keep in mind there are many strict policies, within the cruise industry you need to be aware of before going on a cruise while pregnant – including a ban on sailing beyond a certain time during your pregnancy.
Let's take a look at things you need to know about going on a cruise while pregnant.
Cruising While Pregnant: What You Need To Know
The most important matter of business regarding being pregnant on a cruise is a mandate set by the Cruise Line International Association stating that "pregnant women who have entered the 24th week of estimated fetal gestational age at any time during the cruise should not be eligible to sail with the ship".
So, ladies, plan your cruise accordingly and keep track of dates – there is no wiggle room when it comes to following this rule.
As an example, you can see Royal Caribbean's pregnancy policy here.
If you are past 24 weeks in your pregnancy, you will not be allowed to board the ship. Keep in mind that while there is a doctor onboard, there is not an obstetrician/gynecologist specializing in women's health onboard the ship and if trouble strikes, you could be out at sea with no help readily available. Literally.
With that said, if you are under 24 weeks you can go on a cruise pregnant. Enjoy your time away from home, yet be prepared with all pregnancy-approved medications and pharmacy needs before you sail. The ship's doctor is only equipped to handle minor emergencies and procedures. There is some medicine onboard in the ship's gift shop, but be prepared to pay big bucks.
It is also in your best interest to check with your doctor before booking a cruise. If there are any complications or concerns with your pregnancy (early labor, high blood pressure, pregnant with multiples, etc.), your doctor can advise you as to whether staying ashore or proceeding with your sailing is recommended.
Will I Get Seasick If I'm Pregnant? 
While seasickness should always be considered as a possibility, keep in mind that some women are hyper-sensitive to motion, smells and certain situations.
Talk with your doctor about pregnancy-approved motion sickness medicine and patches so that you are prepared if motion sickness interrupts your cruise. It is always wise to stay well hydrated during a cruise, we'll talk more about that further below.
Can I Take A Shore Excursion While Pregnant? 
Yes, but do your research in advance as there are limitations for going on a cruise while pregnant. Look at the descriptions for shore excursions and try to find ones that are relaxing and don't involve too many strenuous activities.
For example, stay away from jet skis, paddleboarding, scuba diving, boat rides (especially if you are prone to motion sickness), climbing and more.
Also, keep in mind that walking in the heat on unstable surfaces may also become uncomfortable for you, so with stamina in mind – walking tours may also be out. A relaxing beach escape or shopping tour may be more accessible for pregnant women.
Otherwise, exploring onshore near the ship is typically a good idea so that you can make your way back onboard when you are tired or ready for that well-deserved afternoon nap.
Take a look at the shore excursions booklet where each excursion is described and noted whether it allows pregnant women to participate.
To speak with someone directly, stop by the excursions desk once you get onboard the ship to ask for recommendations. The shore excursions team is knowledgeable about activities and can help you choose one that is right for your needs.
Dietary Restrictions and Eating On A Cruise While Pregnant
When it comes to dietary restrictions, the same rules apply to the land as they do at sea. Stay away from raw foods, alcohol and of course, anything that might make you feel uneasy. You are your own best advocate when it comes to dining, don't rely on crew members to assume your restrictions. Be kind and up front with your food restrictions and be aware.
For fun on your cruise, ask bartenders to create an alcohol-free drink for you. You'll be amazed how delicious it can be – even without the alcohol. Virgin drinks are just as festive and since there is no alcohol involved, the drinks are typically a bit cheaper too.
And speaking of drinks, be sure to stay well hydrated during your cruise. Preorder water bottles for delivery to your stateroom and maybe even bring your own reusable water bottle from home too. With temperatures higher than normal (hey, it is the Caribbean!), hydration is key to staying your best 'you'.
Should I Avoid Certain Destinations While Pregnant? 
While no onshore destinations are off-limits to pregnant women, there are some things you should keep in mind while visiting different areas of the world.
Stay away from tap water. Always drink bottled water – whether you buy it on-shore or bring your own bottled water from the ship. Also, it is probably a good idea to stay away from local foods and anything that you fear may be undercooked or if you are unsure of the ingredients used to make a dish.
Now, when it comes to being on the ship there are also a few places that should be a red flag to keeping you and your baby safe.
Be aware that smoking is typically allowed inside the ship's casino. If you feel the need to gamble, try to avoid the smoking areas and ask a crew member if there is a non-smoking area available in the casino. Otherwise, save your money and consider it as the start of a savings plan for your baby on the way!
Hot tubs and saunas are considered off-limits for pregnant women and those same rules apply onboard too. Stop in at the ship's spa and ask about the possibility of any pre-natal massages available for expectant mothers. Or for a bit of pampering, treat yourself to a manicure and pedicure or maybe set an appointment to get your hair done – consider it a mini-makeover for formal night!
Finally: Enjoy Being Pregnant on a Cruise!
If you are under 24 weeks gestation, don't let limitations stop you from cruising. Use this time to relax, enjoy the daily trivia games, live entertainment and soak up some 'me time' as your life as a soon-to-be mom will involve a new baby in the coming months. 
Be prepared, plan ahead and stay aware and you are sure to have a great time on your cruise. 
Medical Disclaimer:  This article is not intended to be a substitute for professional medical advice, diagnosis, or treatment. Always seek the advice of your physician or other qualified health providers with any questions you may have regarding a medical condition.
Pin it!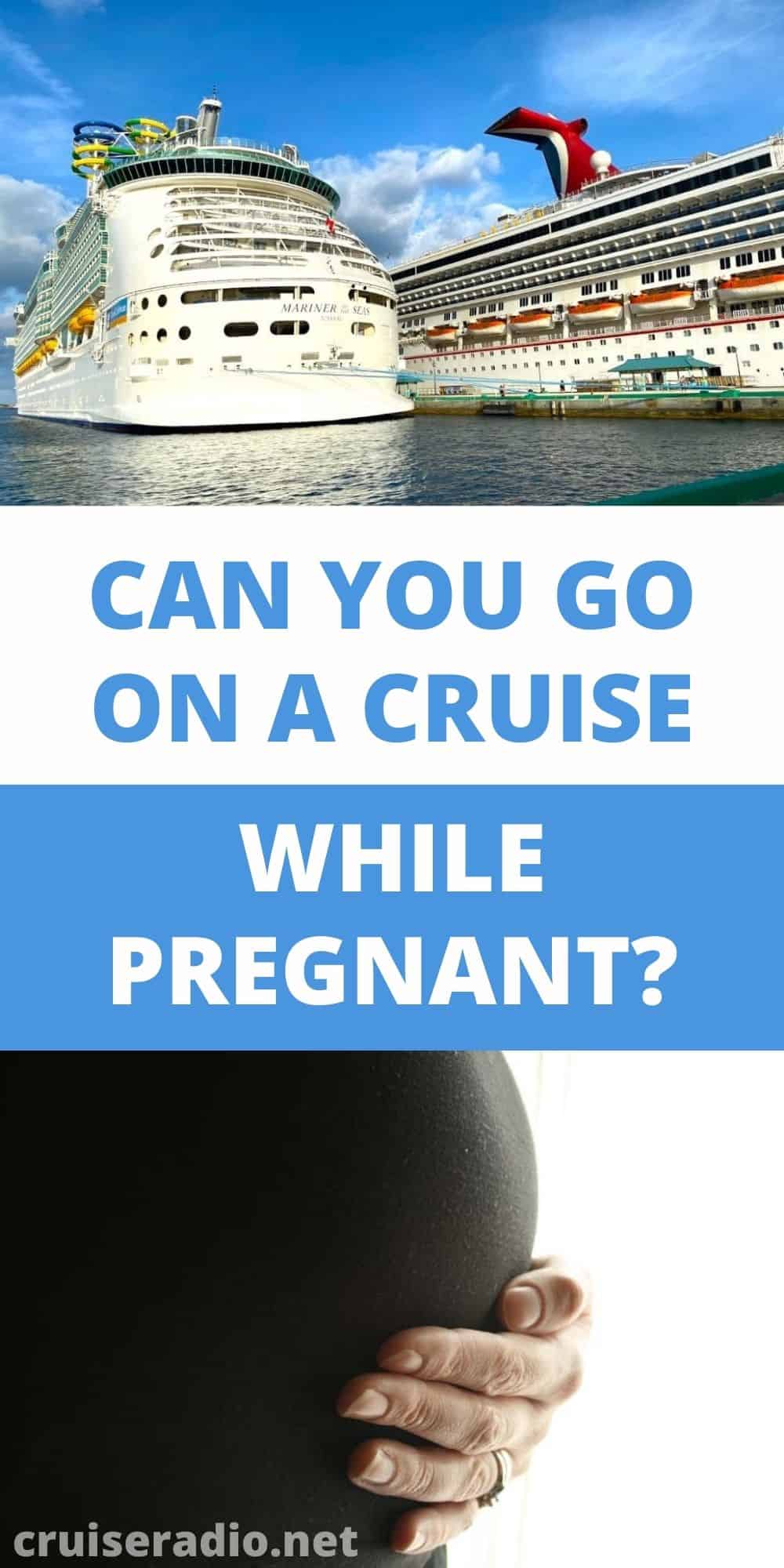 Baby bump photo in Pinterest image by summerbl4ck on Flickr
---
---