Trip Report: MSC Meraviglia in Cozumel
This morning I got up at the crack of dawn to shoot my video tour of the ship. You don't realize how big this ship really is until you walk every bit of it, deck-by-deck, capturing video footage.
Breakfast First, Chocolate Later!
We had breakfast at the buffet this morning. They made all the pastries onboard, so we did a sampling of doughnuts and croissants. There is plenty of seating in the buffet area, and it's practically double the size of the buffet spaces I've seen on other recent builds. There was both inside and outside seating, and there were plenty of spaces available at both. Like on other cruise lines, there's not only a free beverage station, but also a bar in the buffet area.
We walked a lot today because we wanted to maximize our time in Cozumel. We got off the ship right after breakfast and walked over to the Puerta Maya pier — where three Carnival ships were docked — and grabbed a drink at Three Amigos.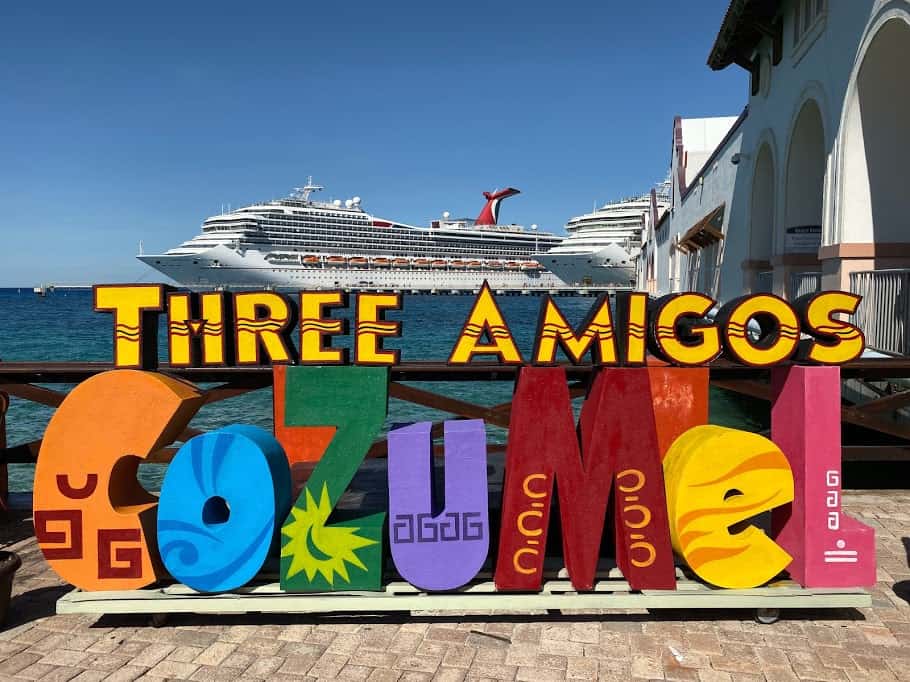 After exploring the area around the pier for a while, we had to head back to the ship, because I had the opportunity to meet with, Jean Phillipe, the man behind the incredible chocolate shop onboard.
He explained that his partnership with MSC came about after he was approached at a Las Vegas trade show by an executive from the cruise line who asked what it would take to put a full-fledged chocolate shop on board. Phillipe also talked about the training potential chocolate makers go through. And of course, what would a chocolate-centered presentation be without a few delicious samples?
READ MORE: Enjoying A Day At Sea On MSC Meraviglia
One of the coolest treats were the ships — available in dark, white and milk chocolate — created right there in the shop. They're available for purchase for $22, and I think that they might give members of the loyalty program a free ship as well, because they were making what looked like hundreds of the ships using a plastic mold.
Afterward, we got off the ship again. Since we didn't have an excursion booked, we walked over to the El Cid resort and found the perfect spot to record this week's episode of Cruise Radio. I found the perfect spot, with a great view of the ship in front of us, beach chairs all around and decent wifi.
A Little Bit Of This, A Little Bit Of That
When dinnertime rolled around, we headed for HOLA! Tapas, a small plates-venue created by Spanish chef Ramón Freixa. This place serves up Mediterranean dishes that are meant to be shared. It's a great place to go with several people because you get to try what everyone else is ordering.
To be honest, I had no clue what to order because my knowledge of Mediterranean food doesn't go much beyond gyros and chicken skewers. Luckily, the waiter really knew the menu and was able to help us figure out what to order. Dishes here are a la cart, so we made a few selections, each of which was absolutely mouthwatering.
Apparently, they make a great sangria here, because people would come from all around the ship to get more. On certain nights, they have a special with an unlimited gourmet buffet and "all you can drink" sangria for $50 a person.
The Best Show At Sea?
We all cruise for different reasons. For me, it's all about the food, the ports and the connection with the water. As regular readers know, shows don't really rank all that high with me. Truth be told, I have trouble sitting through them most of the time. That was not the case, however, tonight.
Sonor is a Cirque du Soleil show presented in a theater specifically designed for in-the-round shows. In other words, the stage is in the center of the room, with the audience surrounding it, creating a real intimacy between us and the performers.
There is a charge for the show, and they have two different options. For $18, you get the show and a cocktail, or you can pay $45 for dinner and the show. Since we'd just eaten at Hola!, we went for the cocktail package. Interestingly, despite this being the cheaper option, I think the seats are actually better. Why? Because the dinner tables are farther back in the room. Still great seats, but not as close to the action.
And "action" is definitely the word to use. I remember back in the early 2000s when Celebrity Cruises announced a Cirque-themed partnership, and I went in expecting something similar. Fun, but we're on a cruise ship, so how crazy can you really get, right?
Wrong. The acrobatics, dancing, special effects, and audience interaction created an absolutely mind-blowing evening. This was hands down, one of the best shows I've ever seen at sea. Probably the highest compliment I can possibly pay the show is that I, who doesn't really enjoy most shows, would happily see this one again in a heartbeat.
Between the perfect day in Cozumel, the food and the night-capping show, this was a pretty fantastic day. Tomorrow will be a final sea day, perfect to do a little more exploring of this great ship.
---
---