Do These Angry Cruise Passengers Deserve A Full Refund?
The Norwegian Spirit passengers who protested several skipped ports by demanding a refund scored a partial victory: The cruise line offered them a partial refund in the form of a future cruise credit.
Should the guests have been given more, or perhaps nothing at all?
What They Will Be Getting
Thanks to rough weather, Norwegian Spirit was only able to visit five out of the nine stops on its 14-day itinerary out of Southampton. In a letter distributed to passengers and distributed on October 7, Captain Teo Radun addressed the "unsafe docking conditions, including gusty winds" which forced them to cancel a stop in Greenock, Scotland.
READ MORE: Upset Cruise Passengers Rally For Refund
"While it is always our intention to maintain the ship's original itinerary whenever possible," the captain wrote, "the safety of our guests and crew takes precedence." Recognizing that many on board were not pleased by the situation, the letter said that Norwegian would be "extending a 25% future cruise credit" based on the original cruise fare paid and good for two years.
For many, however, this wasn't enough to make up for the fact that their vacation had been so drastically altered.
Did Norwegian Do The Right Thing?
One frustrated passenger took to Twitter midway through the trip, creating the account @NCLHELL1 in order to vent. After receiving the Captain's letter, the account holder — Cody McNutt — tweeted, "NCL Ruins holiday and offers passengers 25% off our next cruise after the captain is booed out of the lobby."
In a letter McNutt and his travel companions sent to Norwegian Cruise Line, they complained that, "throughout the journey, we have not received clear or consistent communication." It went on to say, "It is our hope that Norwegian Cruise Line will work to correct this nightmare of a trip" and request a 50% refund.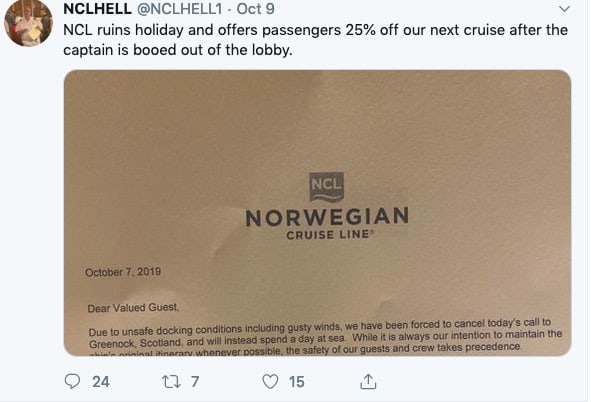 Others, however, have come to the defense of the cruise line, pointing out that while it is disappointing to have ports skipped, it was done in order to keep the passengers out of harm's way. This included some passengers, whose voices were largely drowned out by those shouting their displeasure.
"Thank you for everything you have done to make this a great vacation in spite of the itinerary change due to weather," Mary Dees wrote on Twiter. "And thank you for keeping us safe while doing it!"
And while others complained about an "unplanned stop" in Helleslyt, Dees posted a picture of the "absolutely lovely" view from her balcony.
Others, including Matt Rogers, who spoke to Cruise Radio while still aboard the sailing, pointed out that Norwegian was under no obligation to provide guests with a 25 percent future cruise credit, let alone anything above and beyond that. "They don't have to do anything, according to the cruise contract," he said.
That contract — the terms of which each guest agrees to, whether they've read it or not, before boarding the ship — specifically addresses the matter. It reads, in part, "The guest agrees that the Carrier has the sole discretion and liberty to direction the movements of the vessel."
The document lists several circumstances under which this might occur, including, their right to "cancel any scheduled call at any port for any reason and at any time before, during or after sailing of the vessel" as well as "omit, advance or delay landing at any scheduled or advertised port."
"I don't think they did anything out of the ordinary," Rogers says of the decision to change the itinerary. Saying that the seas were at times extremely rough, he adds, "I had no problem with them missing the ports. My issues with Norwegian, really more than anything, were just how the management staff [handled] the situation and allowed it to get to the point where there was genuine concern [among some of the guests] for their safety. Not from the seas, but from the mob."
That, Rogers says, could have been handled "quite a bit better."
Do you think Norwegian Cruise Line did the right thing?
---
---