Carnival Cruise Director Matt Mitcham's Next Challenge
Over the past few years, Carnival Cruise Line's Matt Mitcham has become the kind of cruise director people literally plan their vacations around.
"It's surreal," he admits, adding that it's also an honor. "I know how valuable vacation time is to people, so to have someone book a cruise because I'm there is the best feeling in the world. I take it seriously and I try to deliver every time!"
His Next Big Challenge
Having served on a variety of ships over the past 12 years, Mitcham says that experience has helped him figure out exactly what works for him. "I don't sing, I don't dance," he laughs. "I try to be as genuine, as real, and as personal, as I can be. I think that works for me. It's gotten me this far, so I'm going to keep doing it!"
In fact, it's worked so well that next year, he'll be taking over as cruise director on the ship that's had people buzzing since it was first announced, the Carnival Mardi Gras. The fact that this will be not only the line's newest but biggest ship, is a challenge that Mitcham is definitely ready to meet.
"I don't change how I am or how I operate," based on ship size he says. "But with a bigger ship, like Vista or Mardi Gras, I have more guests. So I need to make sure that I get out there that little bit more in order to interact with all of them."
That's an objective he takes very seriously. "The worst thing you can say to me at the end of the cruise is, 'Oh, you're my cruise director?'" he admits. "If you don't know who I am by day four, then I'm not doing what I need to do. Well, either that or you're spending all your time in the casino, in which case, good luck! But my whole mission is for you to know who I am."
So You Want To Be A Cruise Director?
Mitcham realizes that "not everybody needs a cruise director. Every family has one. There's always someone who plans the entire cruise. I'm just kind of there to assist with it!"
One thing that has really assisted him in getting to know guests is social media."It's super helpful," says the active user of sites like Facebook and Instagram. "I can impact a group before they even board the ship.
For example, we had a group sailing on a recent cruise. I'd already 'met' 500 guests through their Facebook group before they even got on board. I'm able to post videos, get them excited, and they already know who I am before they get on the ship."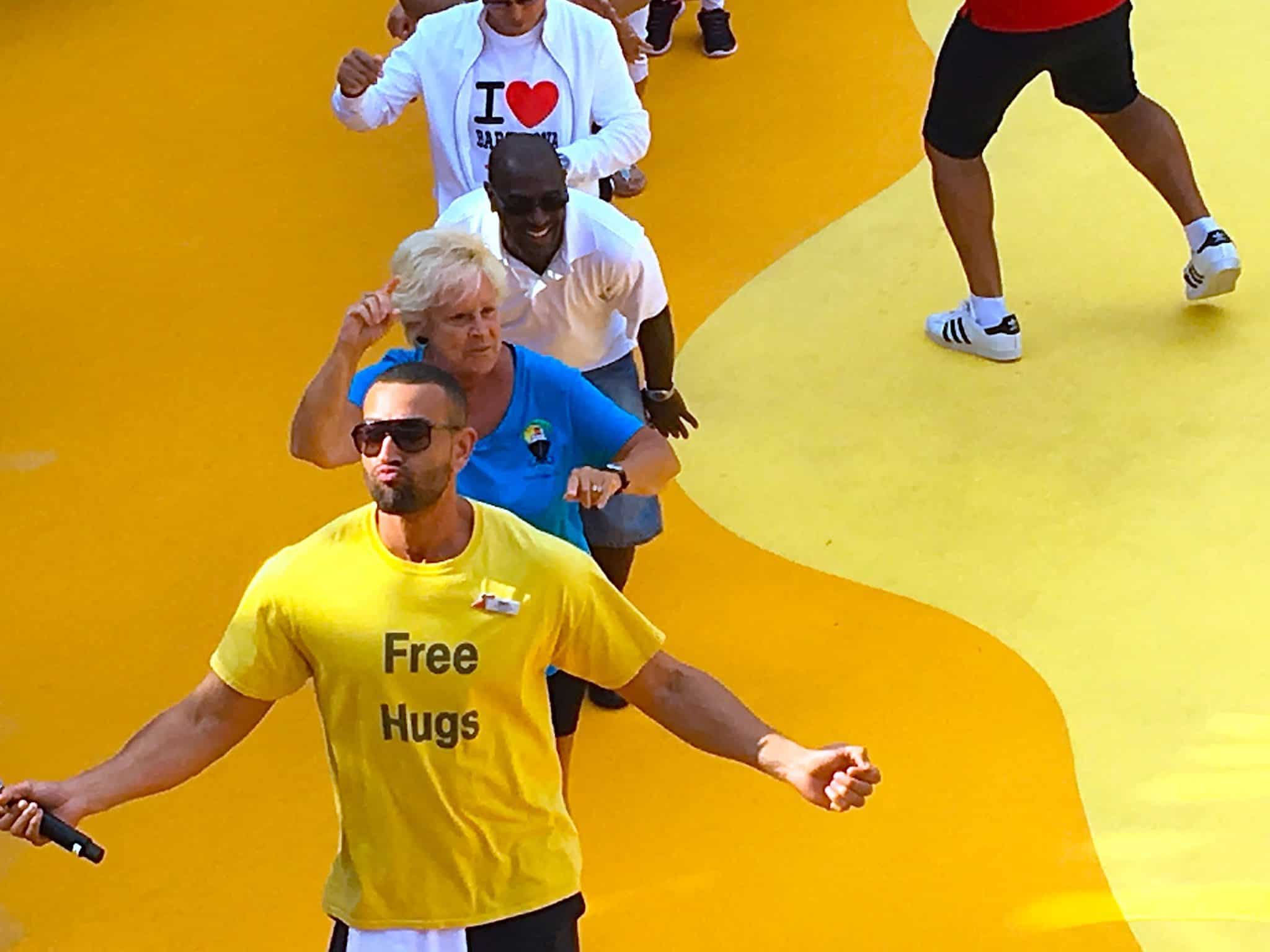 If it sounds like Mitcham is having a blast, that's because he is. So what does he tell young people who might want to pursue a similar path? "Drop out of high school now," he deadpans before adding with a laugh, "No! Don't do that, child! Stay in high school! Honestly, go to college and do your sporting first!"
As exciting as his job is, it's not something to be taken on too soon. "I get some 19-year-old kids asking, and I don't believe anybody is ready to be away from their mother at that point," he suggests. "This job is super addictive. So I would say go to school first, mature yourself. Then come out and see us at 22, and you can honestly make the best career."
Lest you think he's simply a corporate cheerleader, the enthusiastic employee insists, "I'm not just saying Carnival is fantastic because I work for them. They have great benefits, they really do care for their crew and take care of them."
READ MORE: Carnival Names Cruise Director of Mardi Gras
Another benefit he's found since joining Carnival is one the company can't necessarily guarantee: love. But that's what he's found in girlfriend Chloe Giguere.
"She's a Playlist Productions performer," says Mitcham, his face lighting up. "She was in the inaugural cast on Carnival Vista, and I was the cruise director. She chased me down… no, truth be told, I chased her down!"
That was three years ago, and things have been — forgive the pun — smooth sailing ever since.  Currently serving as the Carnival Vista's cruise director, Mitcham is already eagerly anticipating his next assignment.
When asked which of Mardi Gras' themed "zones" he's most excited about, he answers without hesitation. "I'm big on the Lido area. Did you see the roller coaster and the waterslides?"
The two-story Tiki Bar which will anchor the Lido zone has also made quite the impression on Mitcham, who'll be joined on Mardi Gras by entertainment director Hugo Hidalgo.
"It's funny, because, for the deck parties, I run around and try to interact with as many people as possible," he says. "I saw that tiki bar and thought, "Oh my, now I've got to go up another flight of stairs!" But that's gonna be a huge attraction! The people-watching from up there will be amazing. And on New Year's Eve? That's gonna be the go-to spot, right there!"
Have you had an opportunity to cruise with Matt Mitcham yet? Will you be joining him at some point after Carnival Mardi Gras launches? 
---
---