7 Carnival Cruise Line Predictions
With the upcoming introductions of Panorama, Radiance and Mardi Gras, the next few years promise to be exciting for Carnival Cruise Line. But if there's one thing we know about Carnival, it's that no matter how many things are coming down the pike, there's always more to come.
So we decided to take a stab at predicting what they might have in store.
How? By using equal parts intuition, imagination, wild speculation and, occasionally, wishful thinking.
What We Think Might Be Next For Carnival Cruise Line
1. They'll roll out an expanded specialty dining program.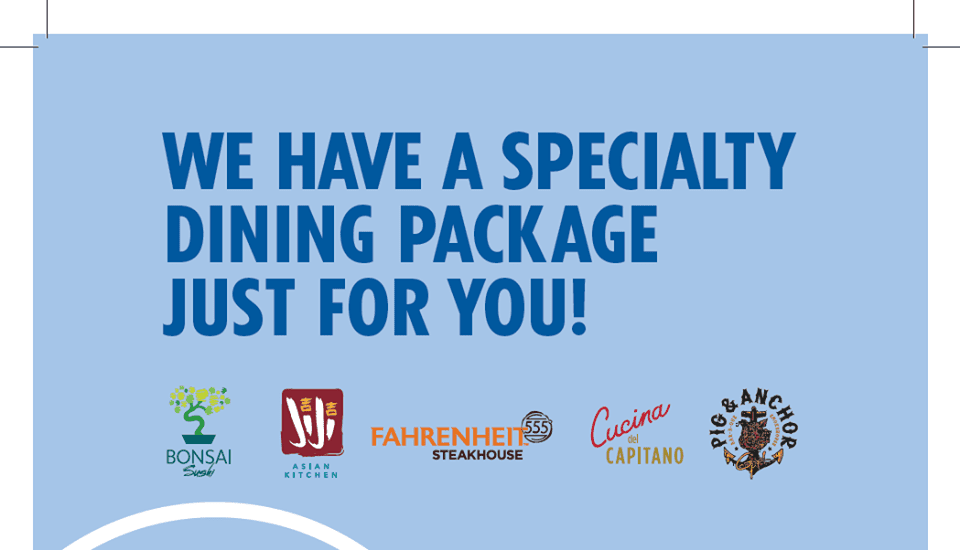 Earlier this year, the cruise line began testing a dining package on Carnival Horizon.  For $60 per person, purchasers received dinner at Fahrenheit 555 (the line's signature steakhouse) as well as two $15 vouchers which could be used at several onboard specialty restaurants.
READ MORE: Carnival Testing New Dining Program
It was a good start, but we predict that before too long, they'll take things to the next level by offering something more in line with the options offered by Norwegian Cruise Line.
On NCL, guests can pre-purchase packages offering three or more nights in any of the specialty restaurants.
2. The RedFrog Pub will expand in a big way.
Now that Carnival is brewing and canning its own beer, we can't help but but think this could be the beginning of a whole new world. Our first thought was that they could begin selling the beer in your local liquor store, but that seemed like small potatoes.
READ MORE: Carnival Cruise Line Is Now Canning Their Own Beer
Why not actually begin opening land-based versions of the RedFrog Pub? How cool would it be to go to your local RedFrog Pub, order a Parched Pig draft and then close your eyes and pretend that you're on your way to the Caribbean instead of headed home to shovel snow?
3. Carnival will announce a third private island.
In case you haven't noticed, private islands are where it's at these days… and Carnival already has two amazing destinations in Half Moon Cay and Amber Cove (which, technically, is a village as opposed to a private island). Carnival is also building a destination in Freeport, Bahamas that is set to open in the future.
READ MORE: Carnival Confirms New Destination in Freeport
But why stop there? Resorts such as Half Moon Cay are always cited as a favorite stop among cruisers. Plus, private destinations are great for cruise lines, since they provide new ways to generate revenue from guests (as opposed to them spending that money during other ports of call at which the cruise line isn't the only game in town). Popular with guests and a money-maker for Carnival? Sounds like a win/win to us!
4. They'll introduce a forward-facing atrium.
One of the most striking features on Carnival ships is the atriums. Whether it's the old-school atriums with glass elevators and touches of neon or, as on the Vista-class ships, the gorgeous Dreamscape LED funnels, they tend to be gorgeous spaces which serve numerous purposes.
On Carnival Mardi Gras, they'll be trying something new with floor-to-ceiling windows providing amazing views of the ocean. And why not, since the ocean is one of the big draws for cruisers, right? That's what makes us think that in the not-too-distant future, Carnival will yet again raise the bar where atriums are concerned by taking a cue from Mardi Gras… but moving the whole atrium to the front of the ship for the ultimate "wow" moment.
5. We'll see another Guy Fieri venue on board.
You can never have too much of a good thing, right? So you can't blame us for thinking that sooner or later, Carnival will reveal a third restaurant to join Guy's Burger Joint and the Pig & Anchor Smokehouse on their ships.
What that third eatery would offer we can't begin to imagine, but we're game for just about anything. Guy's Noodle Nook? Guy's Cereal Corner?
Having recently chowed down on trashcan nachos and dragon chili fries, the one thing we'd have a tough time imagining is Guy's Vegan Village!
But hey, we all know vacation calories don't count.
6. At least one more ship will join the Sunshine class.
It all started with the Carnival Destiny. Many people forget or never knew this, but that was the original name of what is now known as the Carnival Sunshine. For quite a while, Sunshine was the only ship in her class. But she is lonely no more, thanks to the recent arrival of Carnival Sunrise. And before long, they'll be joined by Carnival Radiance.
READ MORE: Carnival Victory Being Renamed Carnival Radiance 
And we're willing to bet that within the next year or so, Carnival will announce that a fourth ship will join the Sunshine class.
After all, despite it costing millions of dollars to radically makeover an older ship, it's far cheaper than constructing a vessel from scratch. And not for nothing, but there's a whole lot of publicity generated by the arrival of a "new" ship, even one that is maybe better described as new-to-you. So it only makes sense (on numerous levels) that Carnival would continue building on this successful program.
7. We'll see more big top-deck thrill rides.
That Mardi Gras-topping roller coaster that has people so excited? Trust us when we say there will be bigger, better thrills coming down the pike. While we're still in the "prediction" category here, this is one we'd be willing to bet big money on.
In years past, the general thinking when it came to cruise ships was "the sky's the limit." But then Carnival ignored that age old saying by creating the SkyRide. At that point,the question became, "What next… a roller coaster?" To which Carnival responded, "Why yes, in fact… that's a great idea!"
READ MORE: Everything You Need To Know About Carnival's New Rollercoaster
Earlier this year, we interviewed Carnival's Director of Innovation, Glenn Aprile, about the Bolt roller coaster. At the time, we pointed out that "Okay, you've done that… how do you top it?" was the obvious question. "I'm confident we will be able to answer that question," he replied with a sly smile.
So yeah, we have absolutely no doubt that this is one prediction that will come to pass.
What predictions do you have for Carnival Cruise Line?
---
---