Olivia's Cafe at Disney's Old Key West Resort
Dining out has changed in 2020, even at a place as magical as Walt Disney World. Our party of three had dinner in late December 2020 at Olivia's Cafe, the table-service restaurant at Disney's Old Key West Resort, to give you an idea what it's like to dine at a Walt Disney World Resort restaurant as the year draws to a close.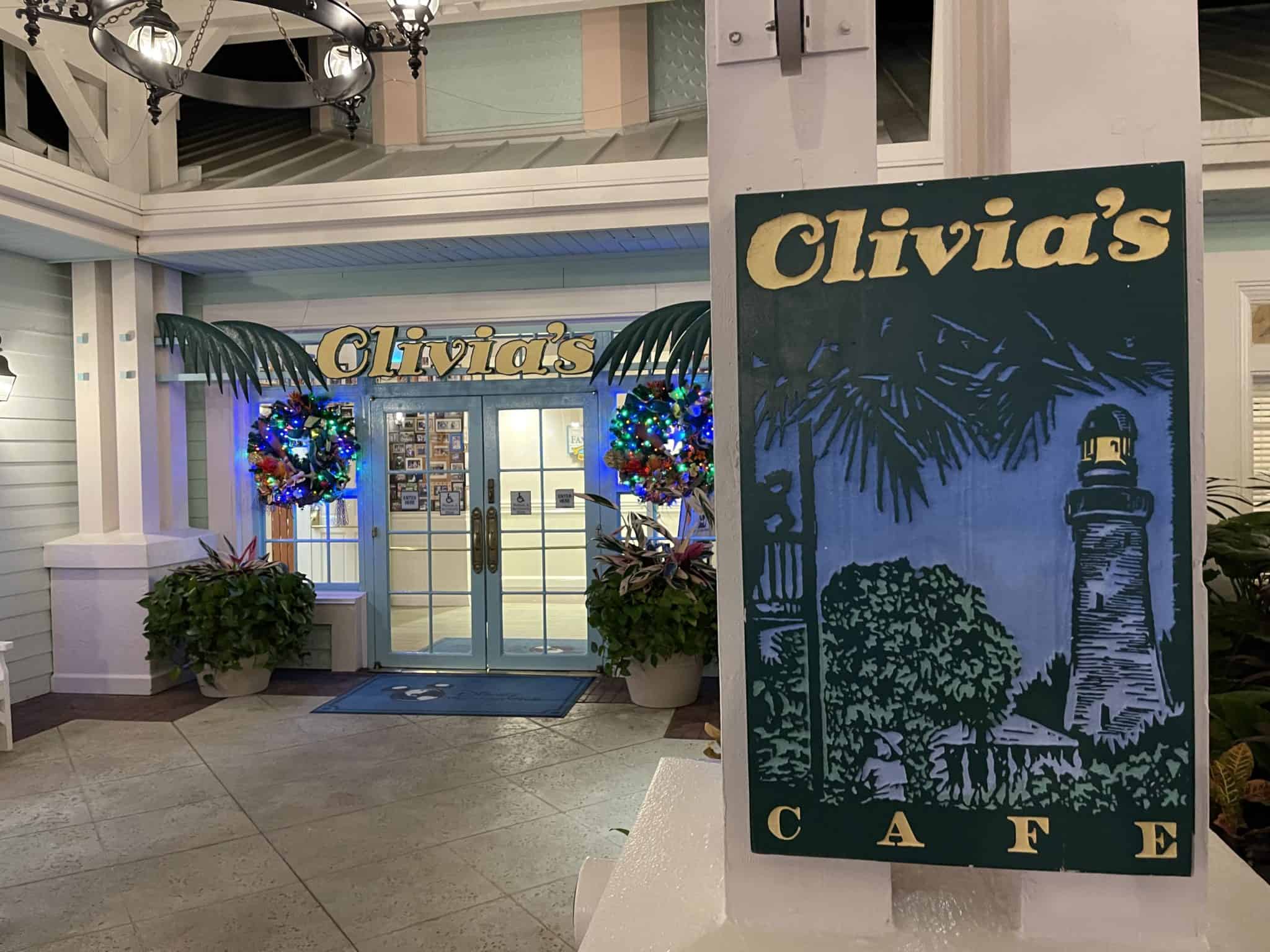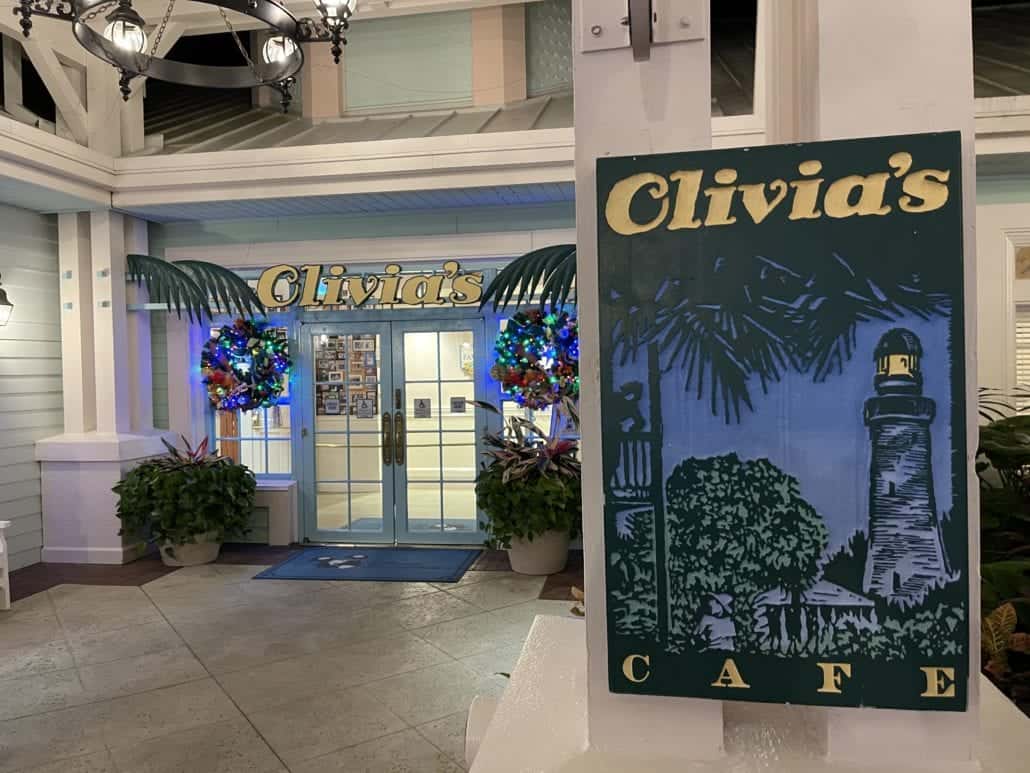 Booking and Arrival Experience
We made our reservation on the day of our meal using the My Disney Experience app. It's a quick and easy process that requires a credit card to guarantee your reservation; however, nothing is charged to your card unless you cancel with less than 24 hours notice or no-show for your reservation. Since we made a same-day reservation, we were locked in and would have been subject to penalties immediately upon confirmation.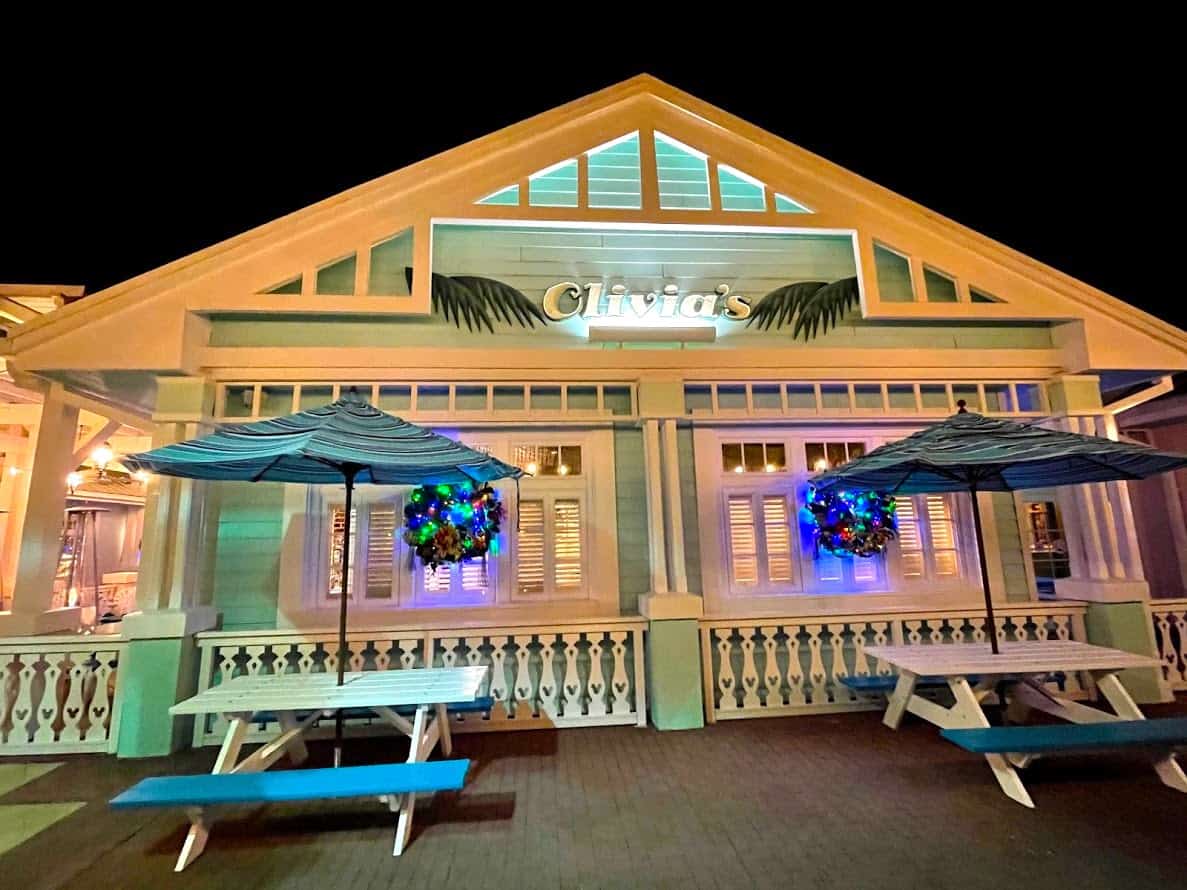 When we arrived at the restaurant, we were able to check in via the My Disney Experience app to help reduce contact with cast members. We were asked a number of questions related to food allergies, seating preference, and if we were celebrating any special occasions. When our table was ready, we received both a text message and push notification from the app, alerting us to head to the restaurant.
In the lobby, traffic flowed in one direction to maintain social distancing. We were promptly greeted, and a restaurant manager took the temperature of each member of our party before we were allowed to enter the restaurant.
Inside, roughly half the tables were blocked off, ensuring a six-foot space between parties and giving everyone more elbow room. We opted for first available seating, and were offered a table outside on the patio, despite it being a cold evening.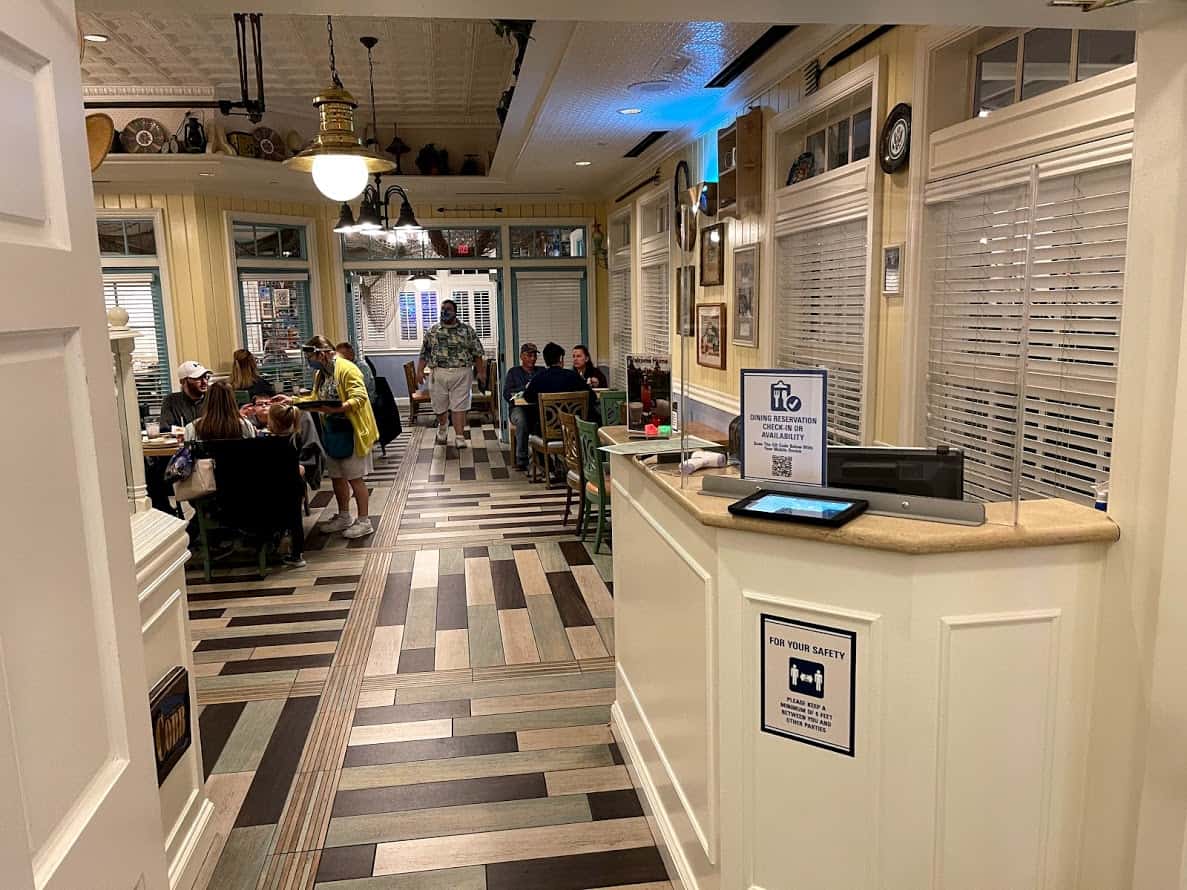 We were given the option to wait for an inside table if we wanted to wait a few extra minutes, but decided to sit outside.  We were kept warm by numerous heaters scattered about, and the staff further accommodated us and another party by moving a heater from an empty area of the patio closer to our tables.
Menu
After the extended closure earlier this year, most Walt Disney World restaurants reopened with substantially reduced menus, and Olivia's Cafe is no exception. The popular Duval Burger has been dropped from the menu, as have the Seven Mile Sea Scallops and the Conch Flats Club Sandwich. While we were able to find items that appealed to us, the scaled-down selections were noticeable.
Travel During A Pandemic: Visiting Disney's Animal Kingdom
Walt Disney World has been making an effort to increase plant-based menu offerings across the resort, and Olivia's had two entrees and one dessert that fit the bill.
Paper menus are no longer offered at Walt Disney World; we were given a QR code to scan with our smartphones to pull up the restaurant's menu on the Walt Disney World website.
Appetizers
We chose four appetizers to share: the Conch Fritters ($12) served with Key Lime mustard and roasted pepper remoulade; the Crab Cake ($13) served with avocado puree, roasted pepper remoulade sauce, and chayote salad; the soup of the day, Cheddar Ale ($8); and a simple Caesar Salad ($9).
The Conch Fritters were thick with breading and a bit disappointing, though the Key Lime mustard and remoulade complimented them nicely.
The Crab Cake was excellent, with only light breading and mostly lump crab meat. It was crispy and well-seasoned, and the portion was generous.
The Cheddar Ale soup wasn't what we expected. Members of our party thought it would be more like the rich, creamy beer cheese soup served at Le Cellier (in the Canada pavilion at Epcot), but it was a bit sourer and the Ale was very apparent; not bad, just required a palate adjustment versus our expectations.
The Caesar Salad was large, fresh, and tasty.
READ MORE: Travel During A Pandemic: Visiting Disney Springs
Entrées
Two members of our party opted for Olivia's signature dish, the Southernmost Buttermilk Chicken ($21) served with southern gravy, mashed potatoes, green beans, and a biscuit. We also tried Captain Wahoo's Catch of the Day, which was Parmesan-crusted Mahi Mahi ($26) over cheese grits with crispy brussel sprouts.
The Buttermilk Chicken was a boneless, fried fillet that was lightly breaded, moist and flavorful. The mashed potatoes had a hint of garlic, and the green beans were sauteed in butter and served very crispy. The biscuit was small but clearly freshly-made. While it was good, we likely wouldn't go out of our way to have this dish again, despite it being the item the restaurant is most known for.
The Mahi Mahi was fresh and well-prepared. The cheese grits were flavorful and complimented the mahi-mahi nicely. The crispy brussel sprouts were excellent.
One member of our party had originally ordered the Slow-Cooked Prime Rib ($37), served with Olivia's potatoes, seasonal vegetables, and a cabernet demi-glace. Unfortunately, the restaurant had already run out by the time of our reservation (8:15 pm), so if the Prime Rib is a must-have for you, try for a dinner reservation earlier in the evening.
Dessert
I wouldn't consider myself a dessert person, normally I tend to go all in with the main course leaving little to no room for anything else. However, after stalking dessert photos online for days, my mind was made up before we even arrived.
We opted for the Banana Bread Pudding Sundae ($7) served warm with Bananas Foster topping and Vanilla Bean Ice Cream, to share. It was a perfect, sweet end to the meal.
Service
Our server, Jason, was extremely friendly, personable, and fun to interact with. I'd go so far as to say that he is the quintessential Disney cast member. All the tables around us were entertained by his outgoing persona.
Because the weather was in the 40s, two members of our party ordered hot tea, and he offered each of them several different tea bags to try. It should also be noted that Jason was wearing both a face mask and face shield at all times.
Overall
While nothing on the menu was particularly memorable, our dinner at Olivia's was a pleasant experience, made even more so by Jason's personality and service. We felt comfortable and safe during our meal, and we'll likely return to the restaurant at some point in the future.
Pin it for later!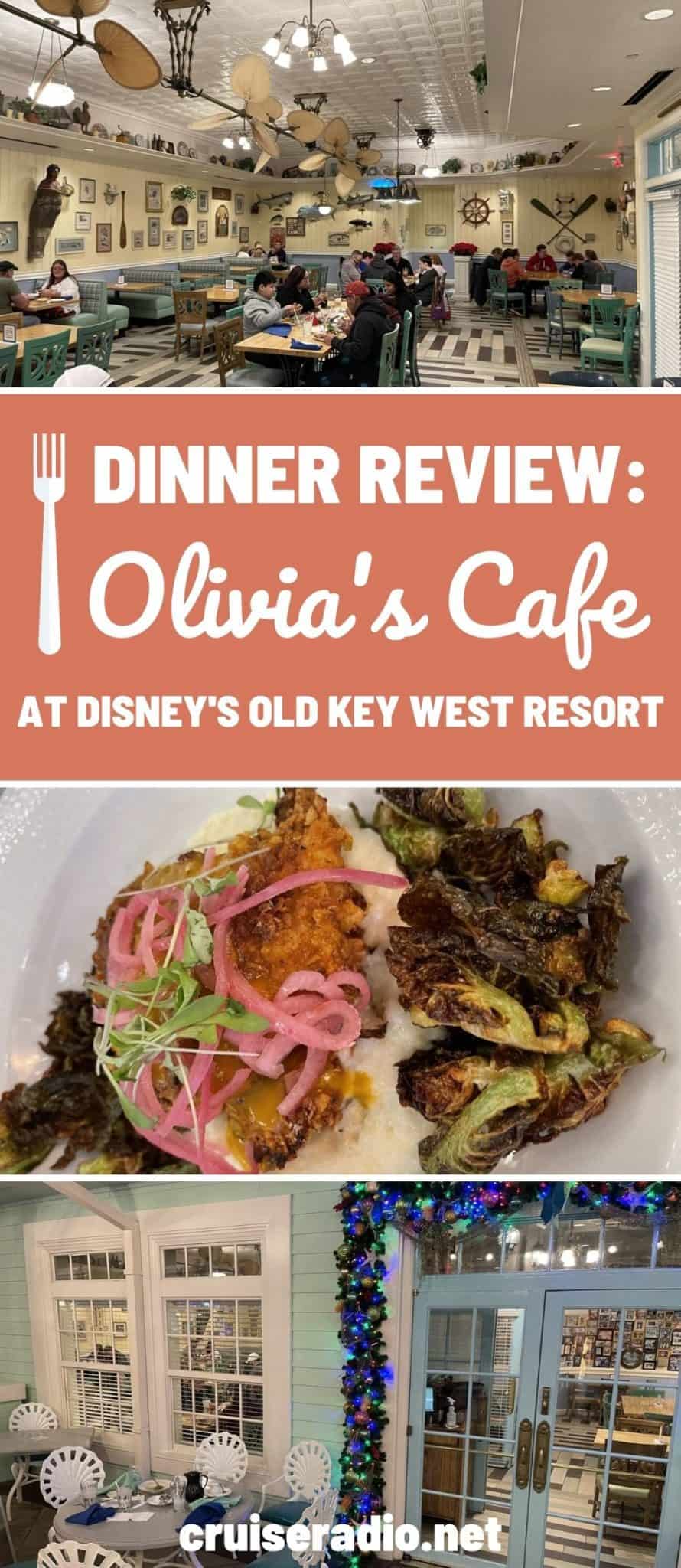 ---
---