18 Renderings of the Luxury Seabourn Venture Cruise Ship
One year from today on December 11, 2021, luxury cruise ship Seabourn Venture will sail its inaugural cruise. It will be Seabourn's very first expedition ship, and will sail voyages around South America and in Northern Europe.
As is the case with many luxury expedition ships, Venture will feature lots of gear for activities on land and while anchored, such as Zodiac boats, double sea kayaks, and mountain bikes. The ship will also include two custom-built submarines and a near-water level Bow Lounge for watching marine life.
It's always exciting when a new ship launches, and even more exciting when a line is launching an expedition ship for the first time. We thought it would be fun to show you some renderings that Seabourn has created of Seabourn Venture.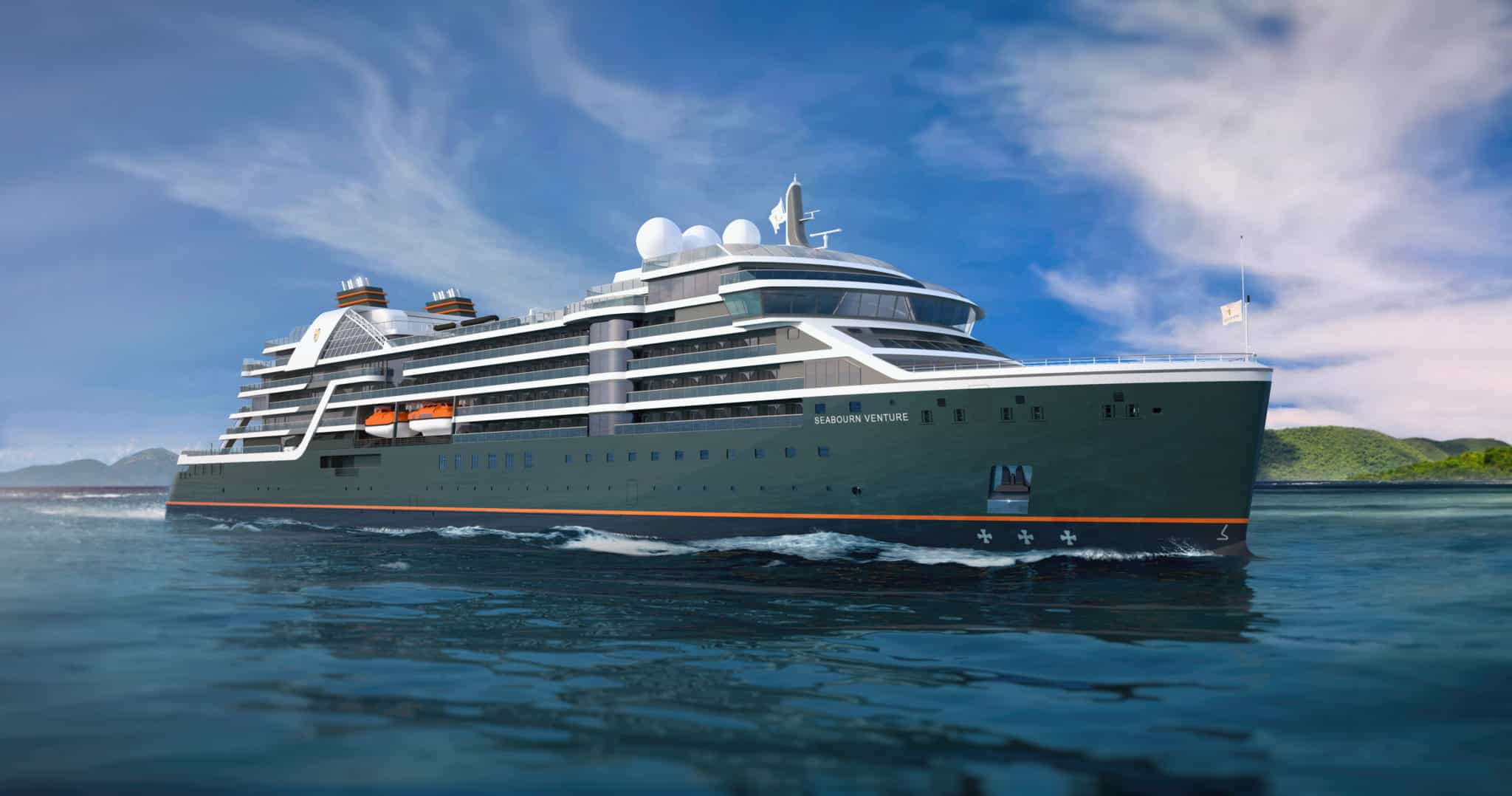 This exterior rendering really showcases how small and intimate Seabourn Venture will be. It will measure at 23,000 gross tons and hold just 264 passengers. To give you some comparisons, Carnival Vista comes in at 133,500 gross tons, and even Viking's small ocean ships are double the size at around 48,000 gross tons.
The aforementioned Bow Lounge will be on a lower deck, and allow passengers to sit and watch wildlife out of the large panoramic windows.
The two photos above are part of Seabourn Square. Seabourn's website describes it this way: "A popular destination on every Seabourn ship, Seabourn Square will be the true 'living room' of our new expedition ships. An inviting sociable space where guests will find a charming European style coffee bar, Seabourn Square has been designed as an open, comfortable environment for guests to interact with onboard officers and the expedition team and engage in conversation with family and new friends."
Located on deck 5 is The Collonade, which will be a buffet-style and table service restaurant at breakfast and lunch. Dinner here will be table-service only. The venue extends outside at the aft into The Patio, which will have its own separate menu.
READ MORE: 5 Top Luxury Cruise Lines for the Ultimate Foodie's Experience
The Sky Bar will be located on the aft deck, near two hot tubs and comfortable seating.
Seabourn Venture will be equipped with two U-Boat Worx Cruise Sub 7 submarines, which will look like the image above. Each battery-powered vessel will be able to carry six guests and one pilot, and dive as deep as 30 meters under the water's surface to explore sunken wrecks, reefs, and marine wildlife.
The Veranda Suite is the entry-level stateroom option on Seabourn Venture, measuring 355 square feet. All staterooms are suites with balconies and only get larger from here.
The line has spared no expense when it comes to private bathrooms — this is one in a Veranda Suite.
The Panorama Suite is a step up from the Veranda Suites at 417 square feet, featuring a semi-circular sitting area, soaking tub, and a bed(s) that faces the floor-to-ceiling windows.
Some of the largest and most grand suites on the ship are the two-story Wintergarden Suites and Grand Wintergarden Suites, which are 1,042 and 1,397 square feet, respectively. Both feature a generous sitting area, dining table, wet bar, and massive balconies (the Grand Wintergarden Suite has two balconies).
Seabourn Venture's Expedition Lounge will be the heart of the ship, a place to enjoy a cocktail or glass of wine and share the day's adventures with fellow travelers.
The Discovery Center will be adjacent to the Expedition Lounge, and serve as the ship's teaching and academic center for natural history and cultural programs. Seabourn's website says that "each day, guests will visit this venue for insightful lectures, briefings, and Seabourn Conversations enrichment programming designed to help educate them throughout their expedition experience. The world-class expedition team of 26 wilderness experts, scientists, historians and naturalists will deliver rich, insightful lectures and discussions on a broad array of topics related to the region where guests are sailing."
READ MORE: 15 New Cruise Ships Debuting in 2021
The aft pool deck will be the perfect place to soak up some sun during the day, and gaze at the stars (or northern lights!) at night.
A popular venue across Seabourn's fleet, The Club will be the place to relax with a drink and some light bites and enjoy music with fellow passengers. The venue will feature an impressive water vapor "fireplace" and a dedicated stage and dance floor for live performances. The Club will also offer sushi, made fresh to order each night.
The Constellation Lounge will be the highest indoor viewing point on the ship, offering sweeping 270 degree views. The Expedition team will regularly be in the lounge, helping passengers identify wildlife and points of interest outside the floor-to-ceiling windows. This will also be the spot where the Early Morning Riser breakfast is served, as well as the Afternoon Tea.
At night, the venue becomes the piano bar, serving tapas and drinks throughout the evening.
Heading down to deck 3, the ship's two Landing Zones will be the launching and returning spots for passengers venturing off the ship to explore the great outdoors. Essentially mud rooms, The Landing Zones will be a place for guests to put on and take off coats and other gear, and to store their rubber boots.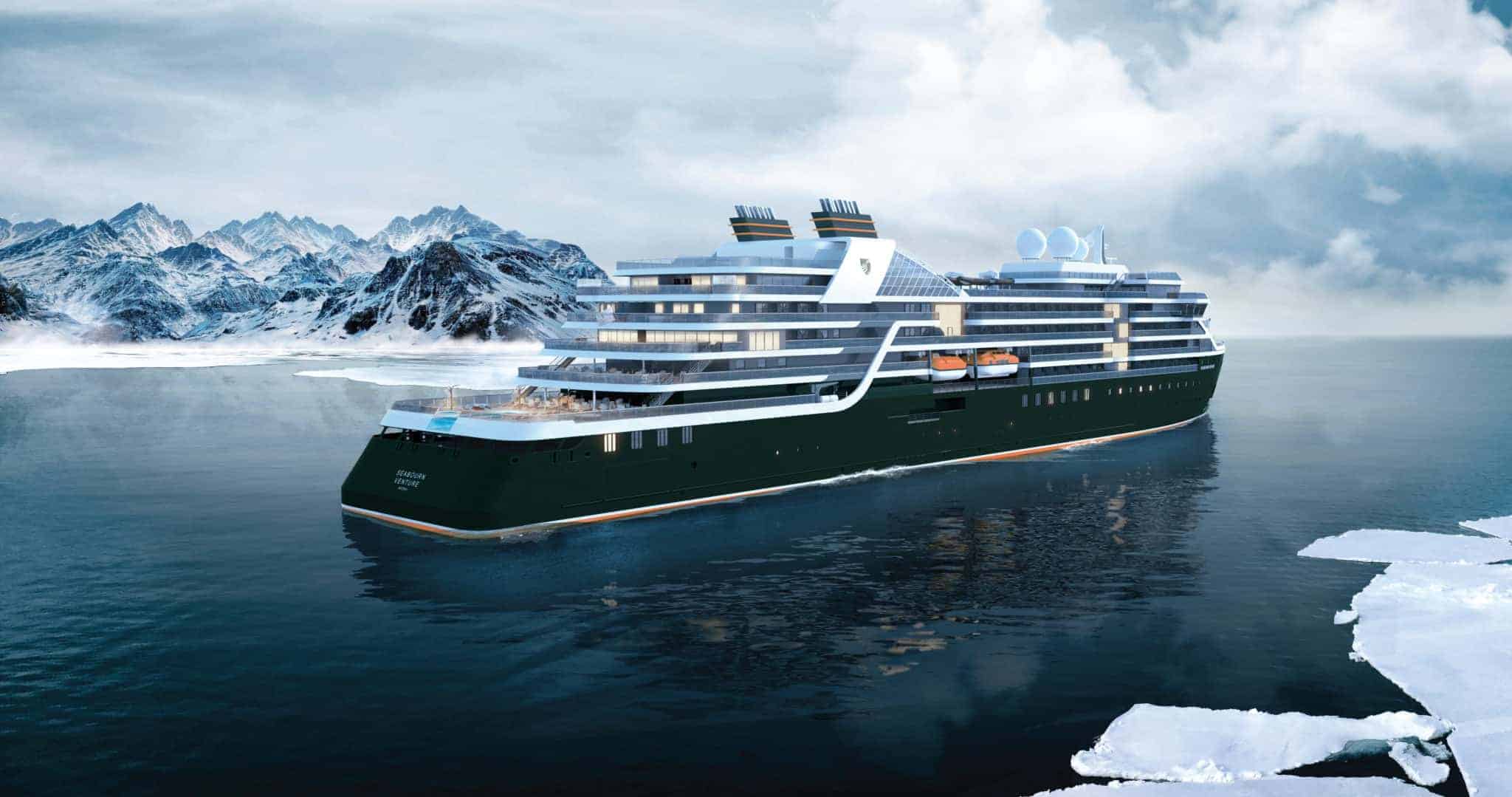 Nice aft!
Seabourn Venture's inaugural voyage will be a 12-night cruise on December 11, 2021 from London, England along the Norwegian coast to Bergen, Norway.
Renderings courtesy of Seabourn.
---
---