Carnival Files To Raise $1.5 Billion Through Equity Offering
As Carnival Corporation continues to burn through cash — to the tune of more than $500 million per month — the company has announced a $1.5 billion "at-the-market" equity offering in conjunction with J.P. Morgan Securities and Goldman Sachs & Co.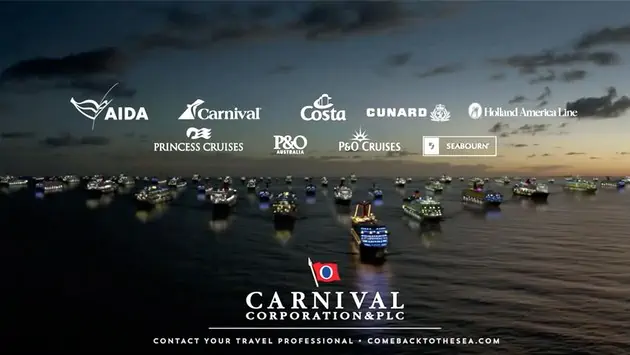 In October, Carnival Corporation announced a $2.8 billion loss for the third quarter ended August 30. Revenue dropped from $6.53 billion in Q3 2019 to $31 million in the same period this year, a stunning 99.5% decline for the world's largest cruise company.
At that time, Carnival Corp. estimated it will burn through $530 million per month in cash during the fourth quarter, as the vast majority of its fleet will remain idle. On the positive side, that's a hefty drop from $770 million a month in Q3. 
The improvement is mostly attributed to the company shedding 18 less efficient ships — 12% of its overall capacity — in the months since March, when the industry was shut down by the global health crisis.
There's also some light at the end of the tunnel, as Carnival Corporation and the rest of the cruise industry work toward a gradual restart of operations, likely sometime in the first quarter of 2021. But there are a number of hurdles to overcome first, and revenues are not expected to really take off again until the second half of 2021.
The stock offering was revealed in a Form 8-K filing with the United States Securities and Exchange Commission.
In an ATM offering, public companies incrementally sell newly issued shares into the secondary trading market through a designated broker-dealer at prevailing market prices. The dealer then delivers the proceeds to the issuing company.
In volatile markets, like we're seeing today, an ATM offering program can give a company a less expensive and less dilutive option for raising capital than private investment transactions or registered direct offerings, where securities are sold at a significant discount.
ATM programs have become increasingly common in recent years and generally have lower commissions and associated fees than underwritten offerings.
As of November 9, 2020, Carnival's stock had plummeted by 72.81% year-to-date (YTD). Its biggest competitor Royal Caribbean has seen its stock price sink by 56.3%, while the number three cruise company Norwegian Cruise Line Holdings fell by 70.95%. Though the global cruise industry comprises more than 50 cruise lines, these three companies control 75% of overall industry capacity. 
Cruise industry stocks had another rough day yesterday. Royal Caribbean dropped by 3.9%, Carnival Corp. 3.1% and NCLH closed 3% lower.
The stocks had taken a big jump in recent days thanks to news of a potential vaccine from Pfizer and the lifting of the Centers for Disease Control & Prevention (CDC) "No Sail Order."
Carnival Corporation is certainly not out of the woods and there remains much uncertainty ahead, but observers say the cruise giant has strong liquidity reserves and is still seeing strong bookings for later in 2021 and beyond.
The hope is that between onboard health mitigation measures and a potential vaccine, a wave of pent-up demand could soon help right the ship.
---
---