21 Haunting Images From a Cruise Ship Scrapyard [PHOTOS]
It has been months since Carnival Fantasy arrived at Aliaga shipbreaking yard in Turkey, sadly, to be her final resting ground.
At the time, we said farewell, making peace with this beloved piece of cruise history sailing into the great beyond. We probably should have simply left her story there. But curiosity keeps drawing us back, the ship's deconstruction fascinating us almost as much as did her long-ago introduction.
VIDEO: Carnival Fantasy Beached in Turkey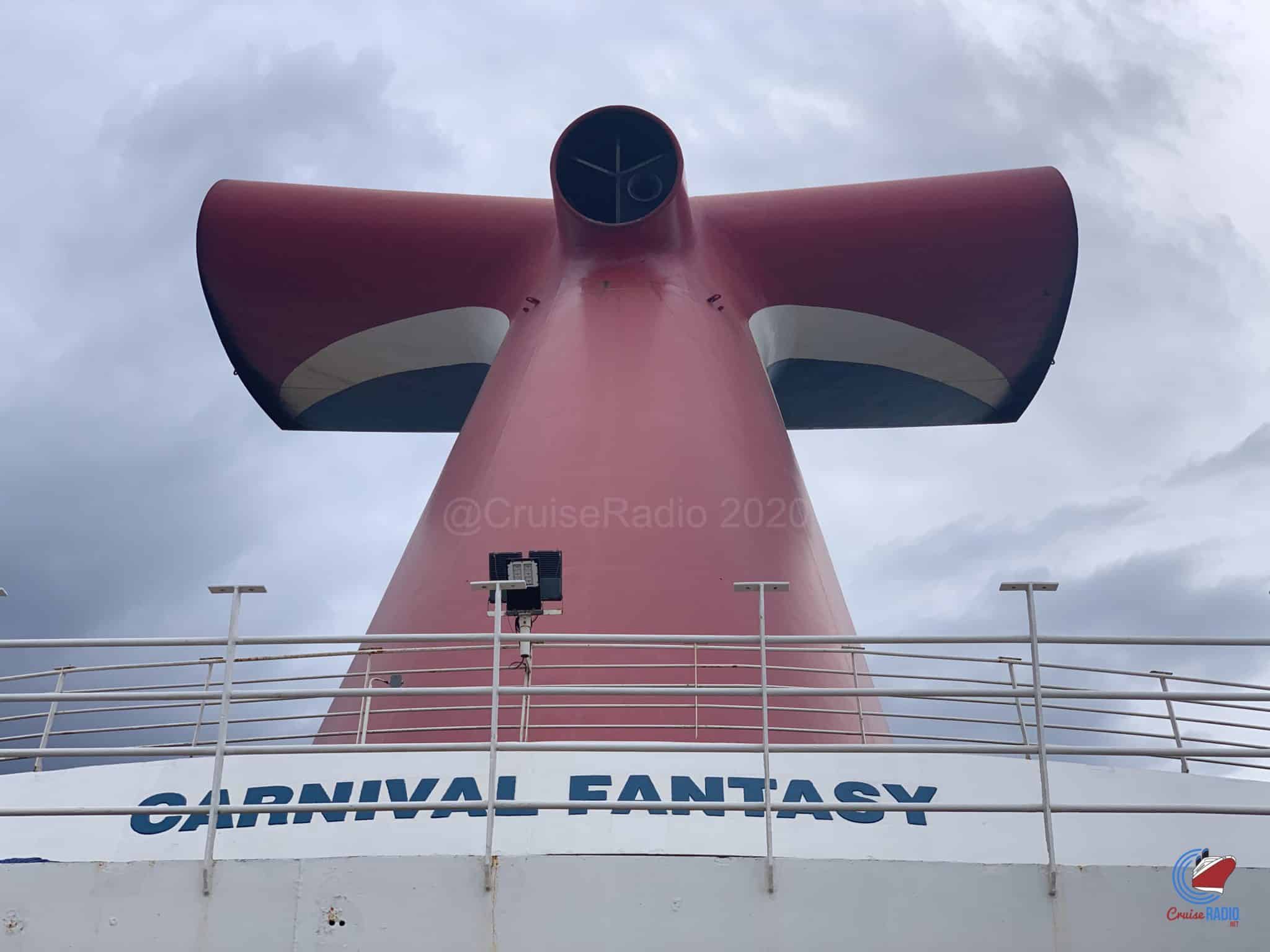 The oldest vessel in the Carnival fleet at the time of her sale, Fantasy was the flagship of the Fantasy-class, which consisted of eight vessels in total. 
Her sister ships are Elation, Sensation, Fascination, Ecstasy, Paradise, Inspiration, and Imagination. The latter two have since joined Fantasy at the scrapyard.
Fantasy now sits wedged between the Inspiration and Imagination,  further along in the deconstruction process than her sisters, as if serving as a warning to them of what's to come.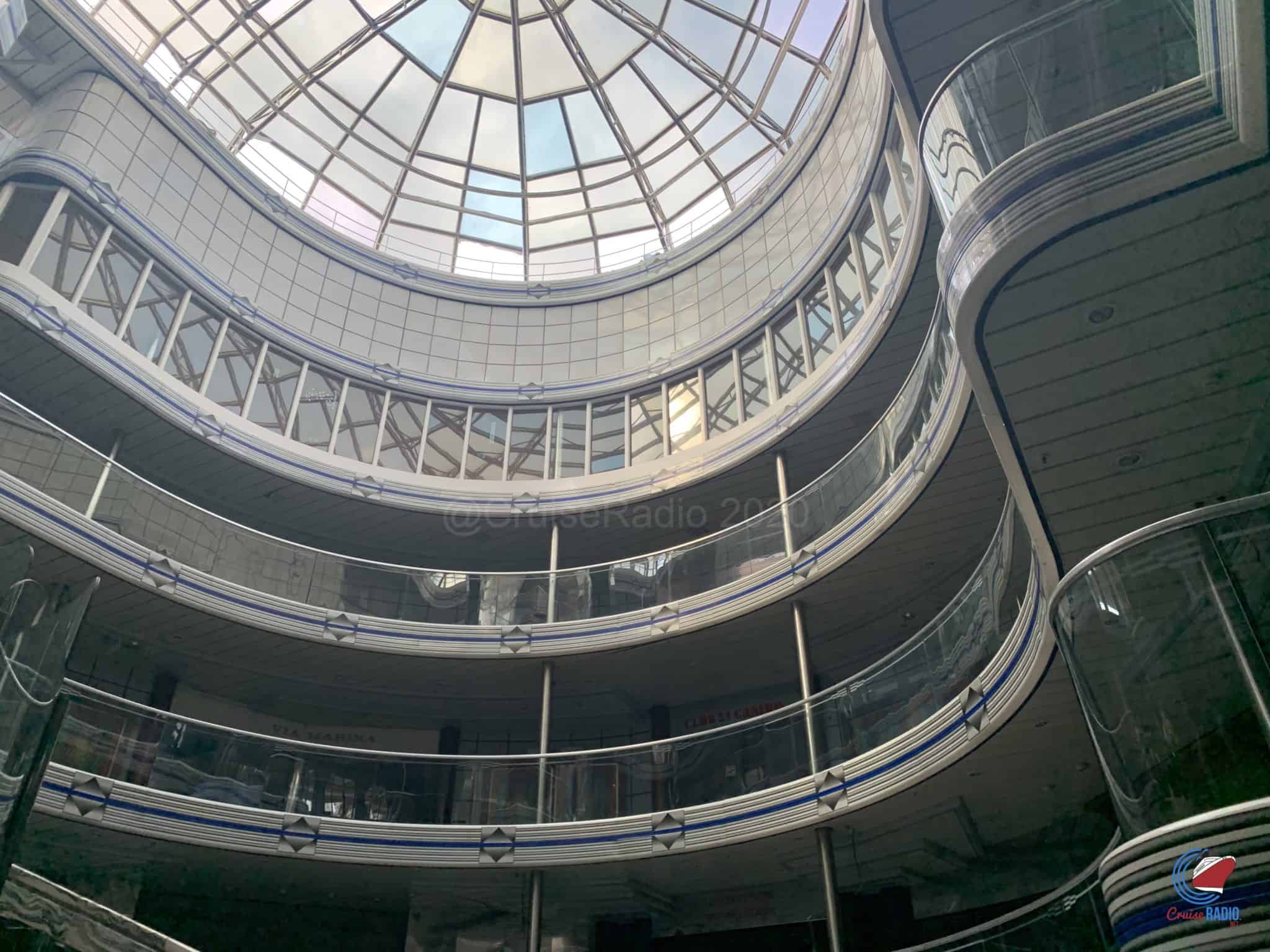 For the most part, the atrium is still intact. Fantasy paved the way for cruise ship atriums as we know them, spanning nearly a dozen decks and capped with a massive skylight.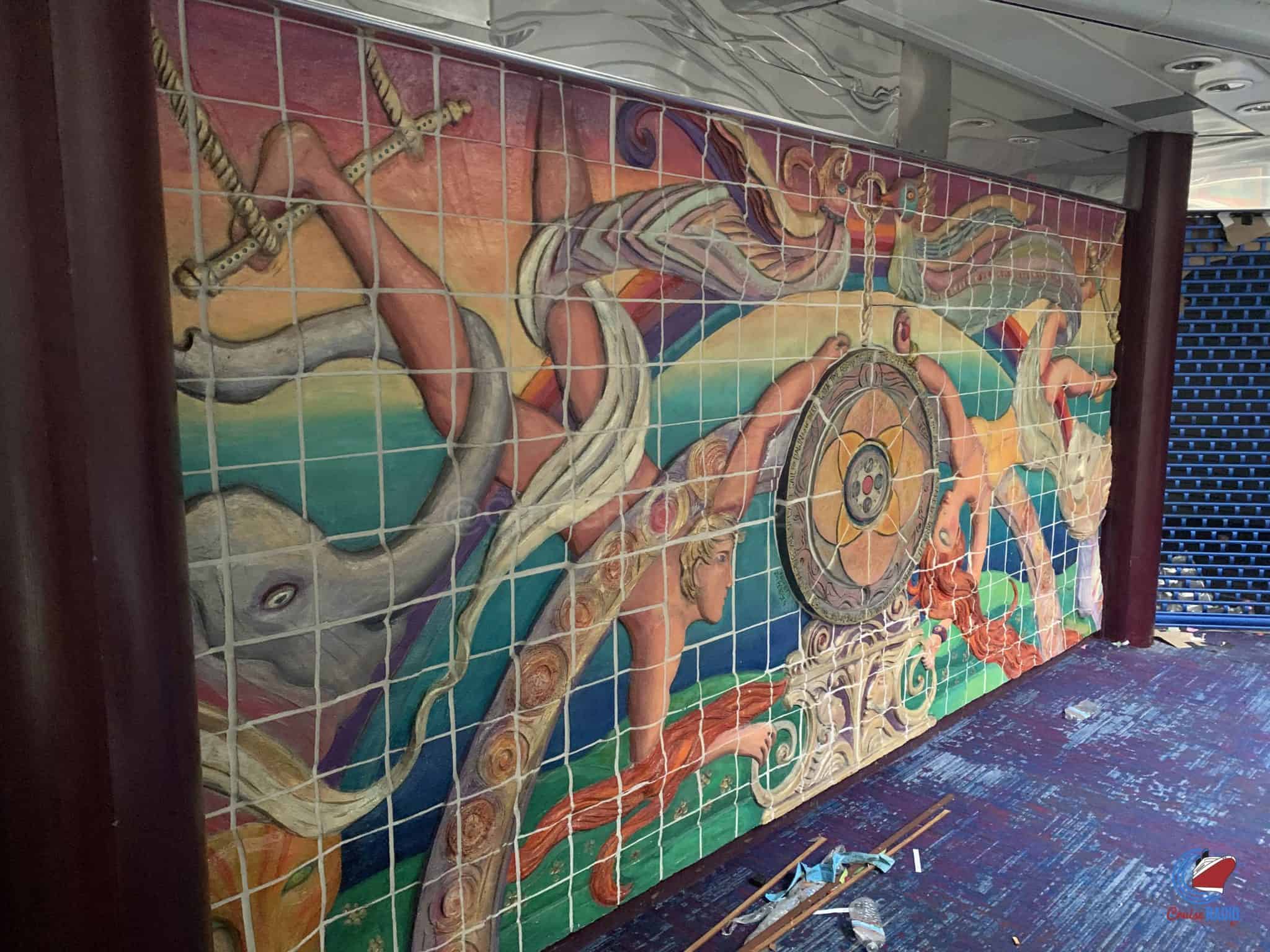 Above is one of the Carnival Fantasy murals, which was made by Helen Weber from individual hand-sculpted and painted clay tiles. The murals were located at the entrance to the main elevator bank, just across from the glass elevators which offered soaring views of the atrium.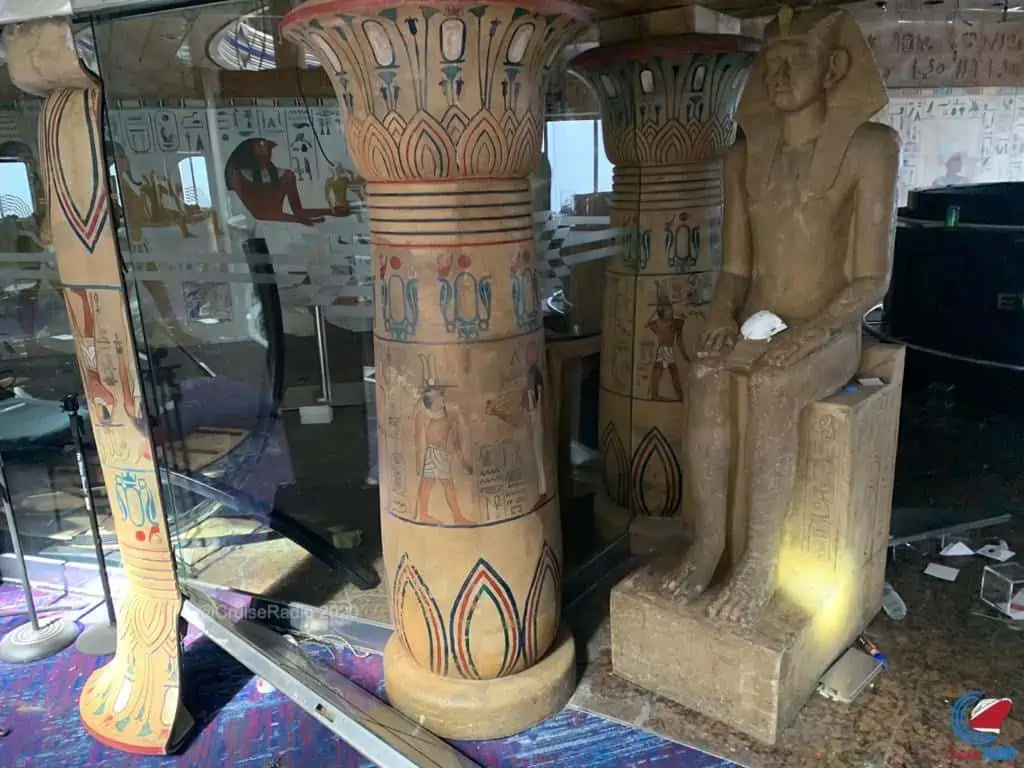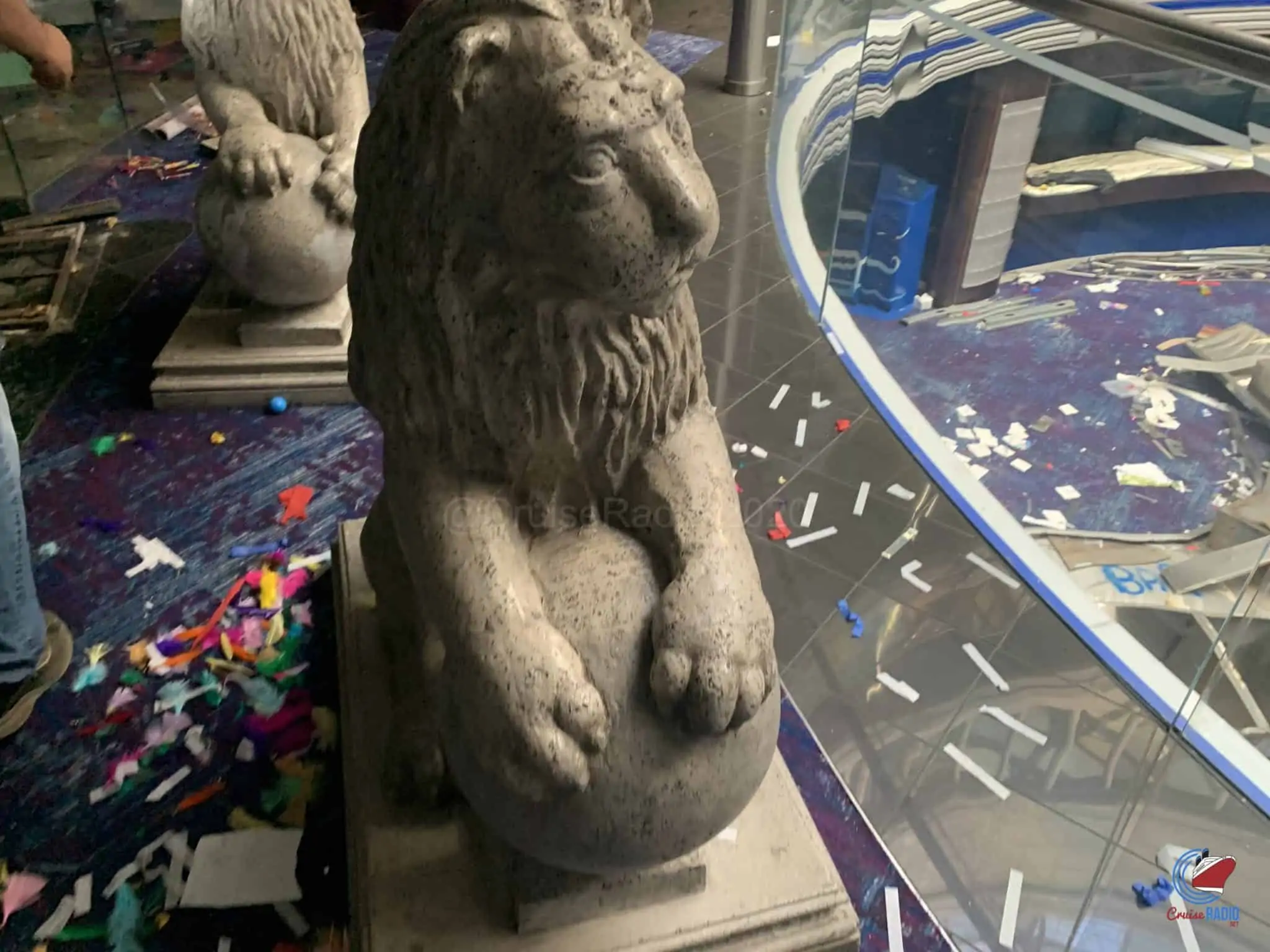 An area where guests once enjoyed Carnival's signature atrium party is now nothing but a heap of supplies piled up and waiting to be taken off the ship. If these silent statues could speak, imagine the tales they'd have to tell of what they witnessed over the years.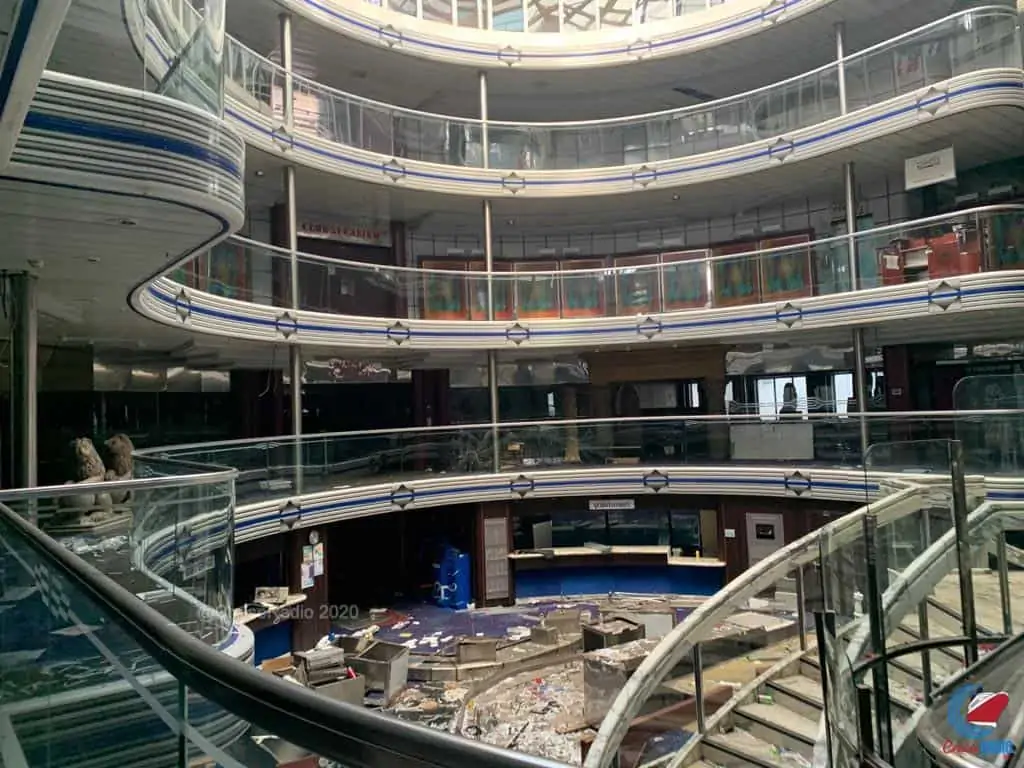 Taken in from a distance, some of the open spaces look as if they could be sets from a disaster movie. Even the wildest of revelers never managed to create this much chaos during the many parties held here.
Guests would formerly have been seen here buying their embarkation and gangway photos. Now, the area is overflowing with debris and wheelchairs.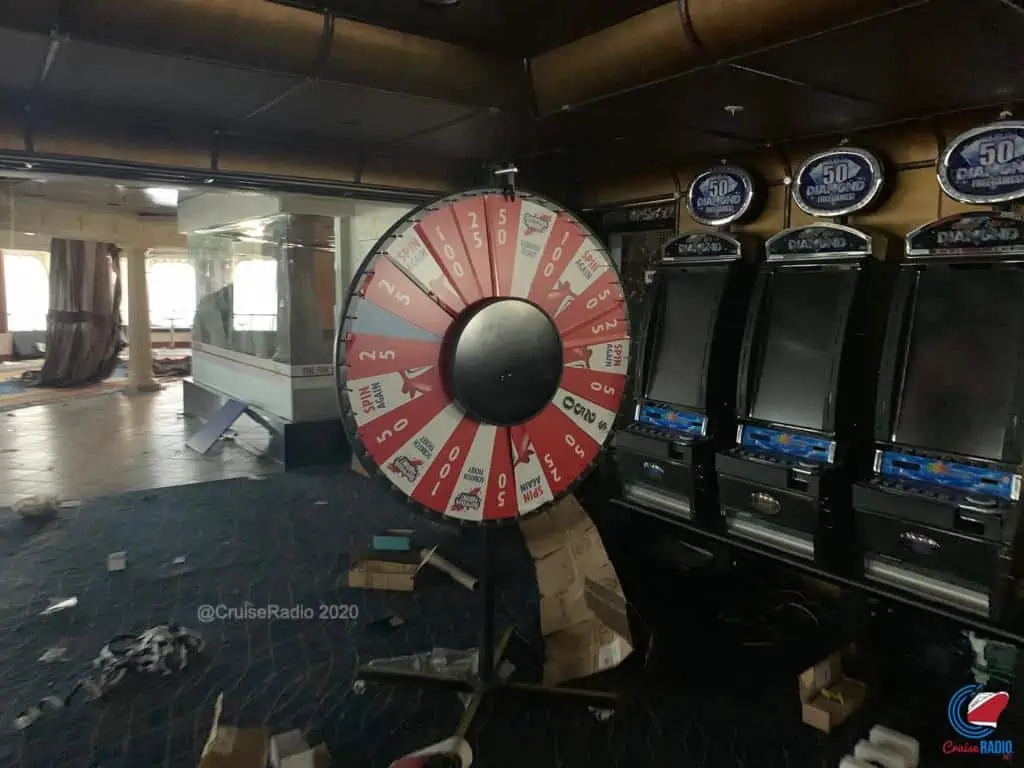 The Carnival Fantasy Club 21 Casino sits soulless with the infamous 50 Diamond slot machines. Sadly, those machines haven't paid out since March 2020.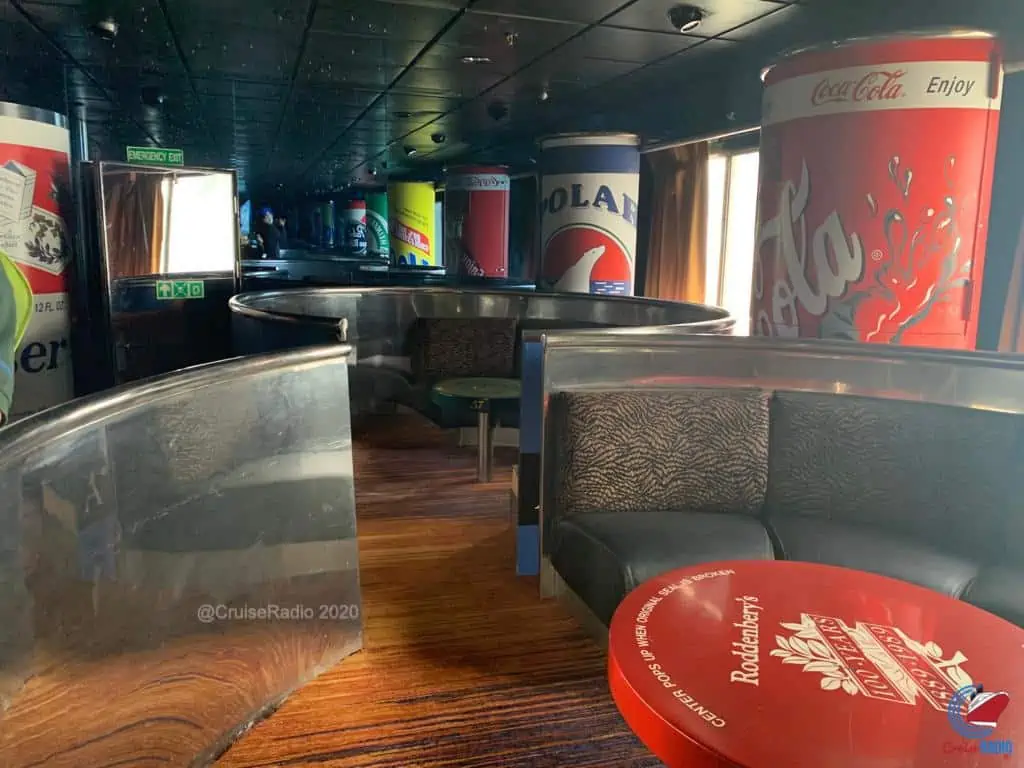 Cat's Lounge was one of the more popular venues on the ship in which to hear live music, sing karaoke, or just people watch. Because the hot spot hasn't yet been touched, it almost looks as if they could throw open the doors and host one final party.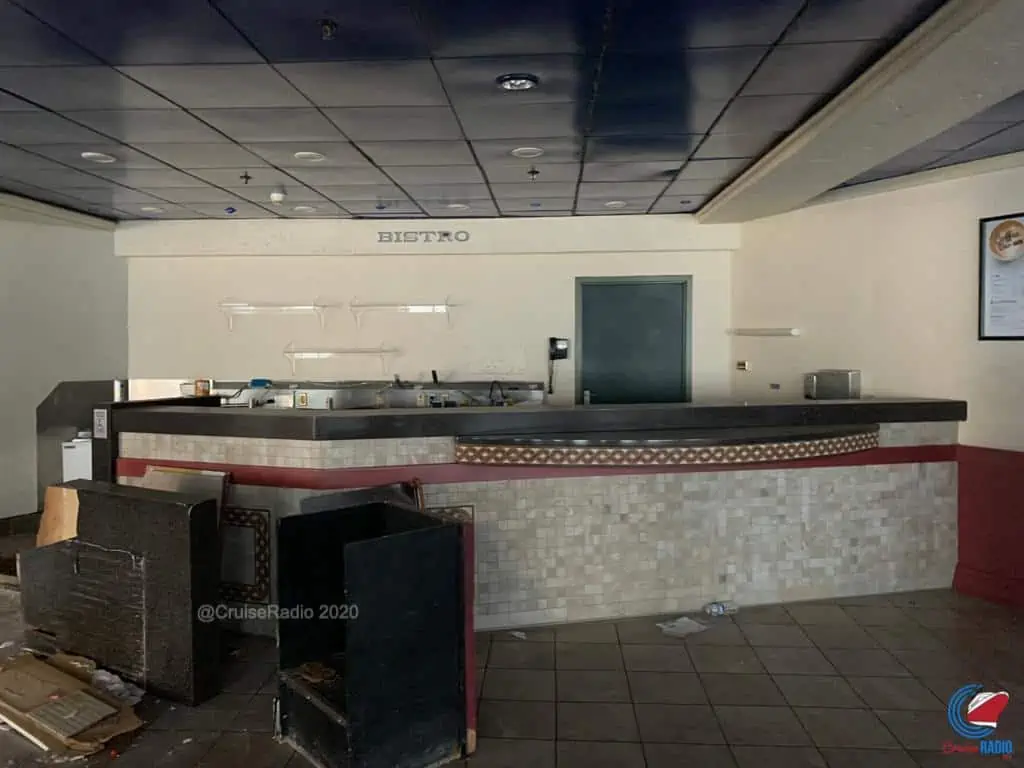 The Coffee Bar was where guests could be found getting their caffeine fix before heading off for a day of fun, whether at sea or during a visit to a port.
Stripped of all the java machines, the only buzz you'll get now is the sound of heavy machinery.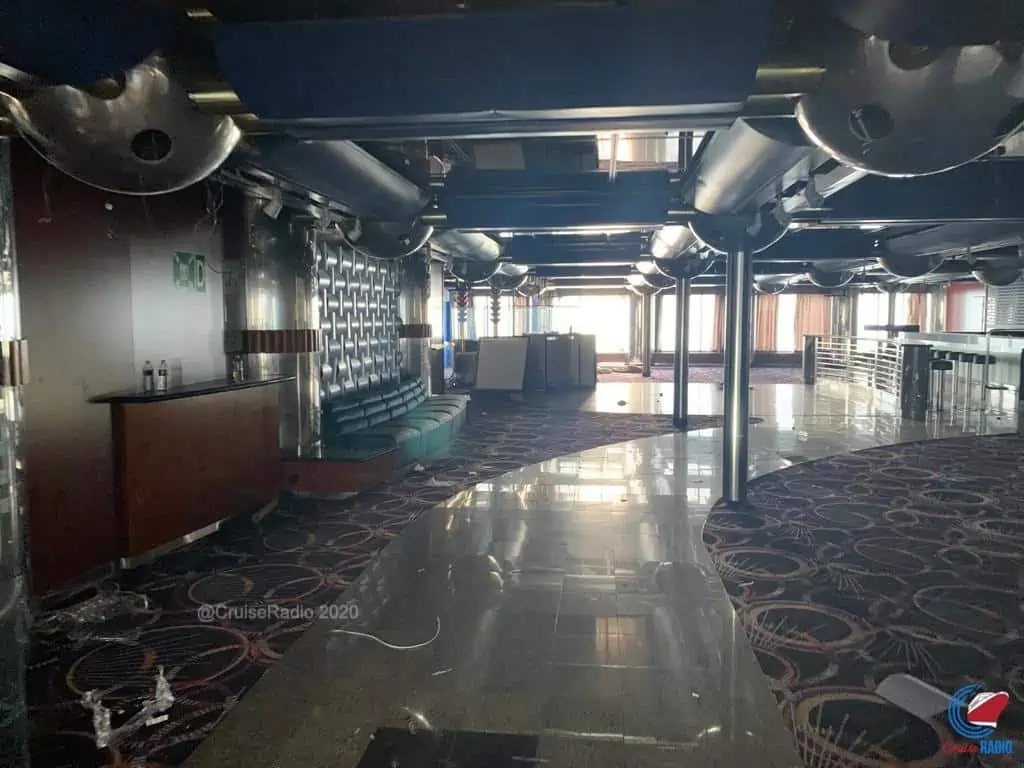 Anyone who sailed the Carnival Fantasy knows that after dark, the Electricity Discotheque was the place to be as both the young and old got their groove on. Now, it's a sad reminder that sooner or later, the music fades and the party comes to an end.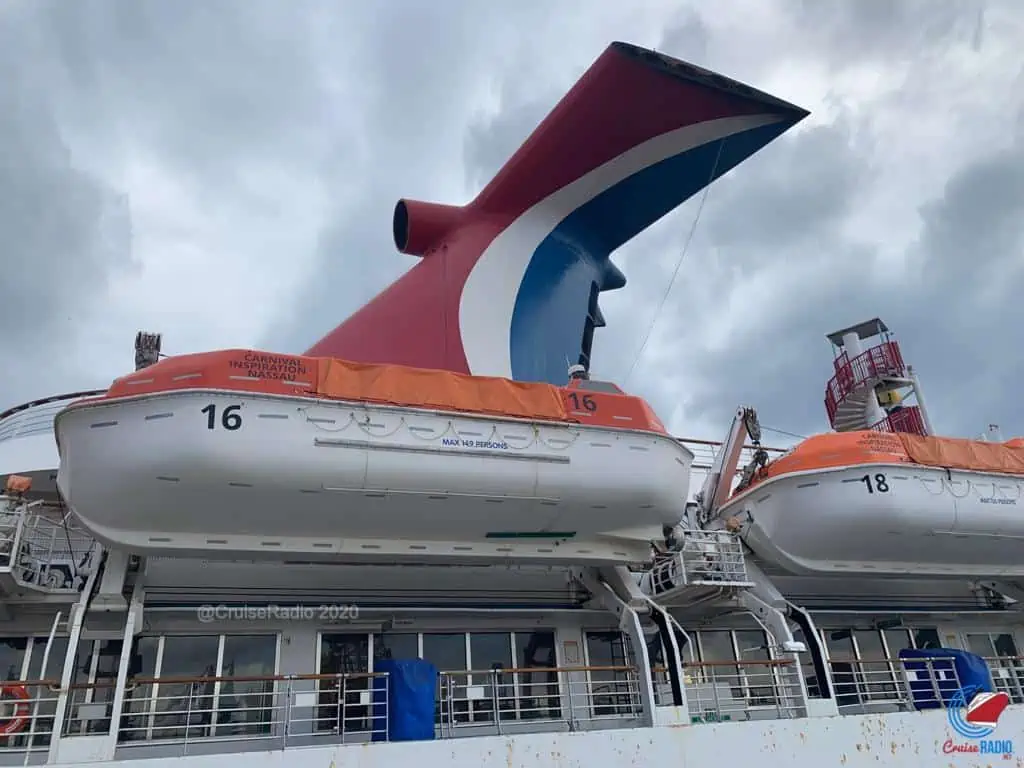 Lifeboats from sister-ship Inspiration overhang Fantasy's outer deck. That's how close the ships sit as they await their destruction.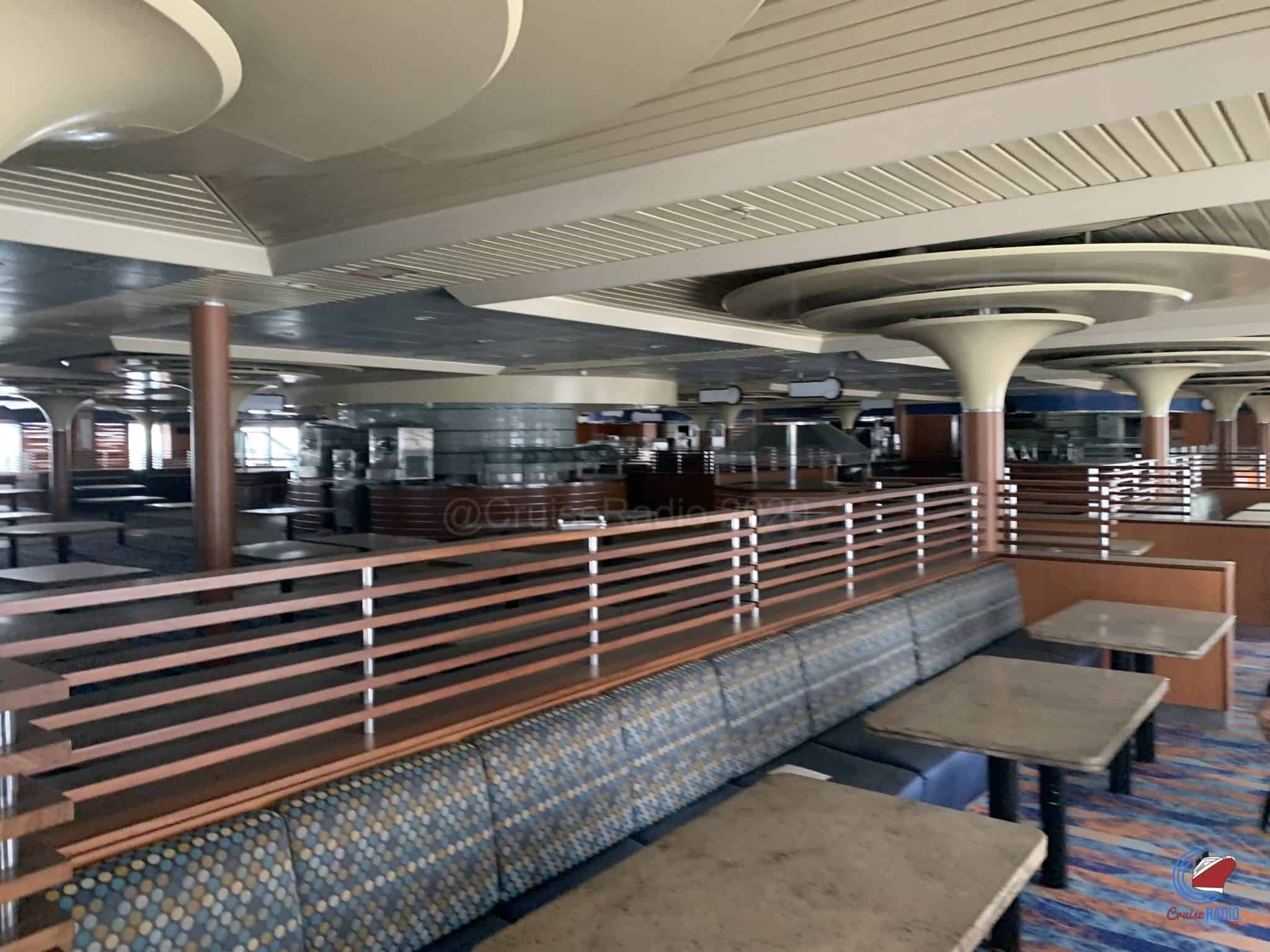 Windows on the Sea Buffet, Carnival Deli, and Pizza Pirate have all served their last meals. As the shipbreaking process works from forward to aft,  this will likely be one of the last areas to be destroyed.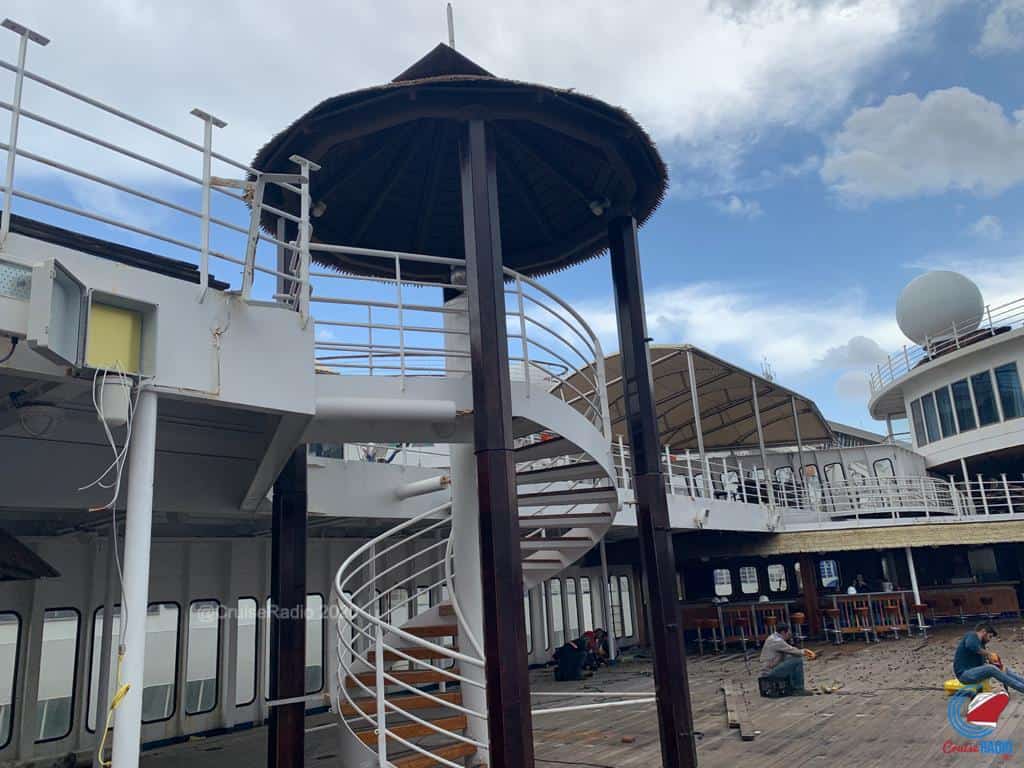 During a Fun Day at Sea, guests would be transiting that staircase all day long to resupply their buckets of beer or order another pitcher of margaritas from the BlueIguana Tequila Bar seen in the background.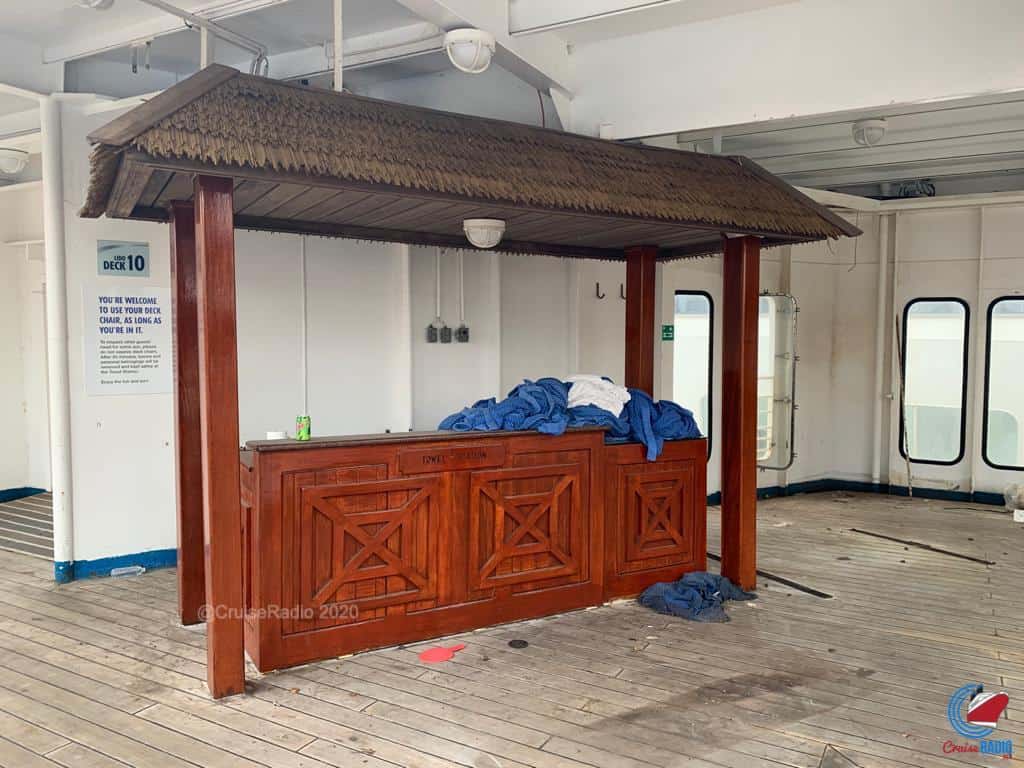 The same could be said for the Towel Hut on Lido deck where a sign still hangs in the background reminding guests that they are welcome to use the deck chairs — as long as they are sitting in them — or their items will be removed.
Coincidentally (or perhaps not), this is also the spot where deck chair hogs would claim items that were removed after they abandoned them for hours and came back, inevitably insisting they hadn't violated the rules that everyone knew they had.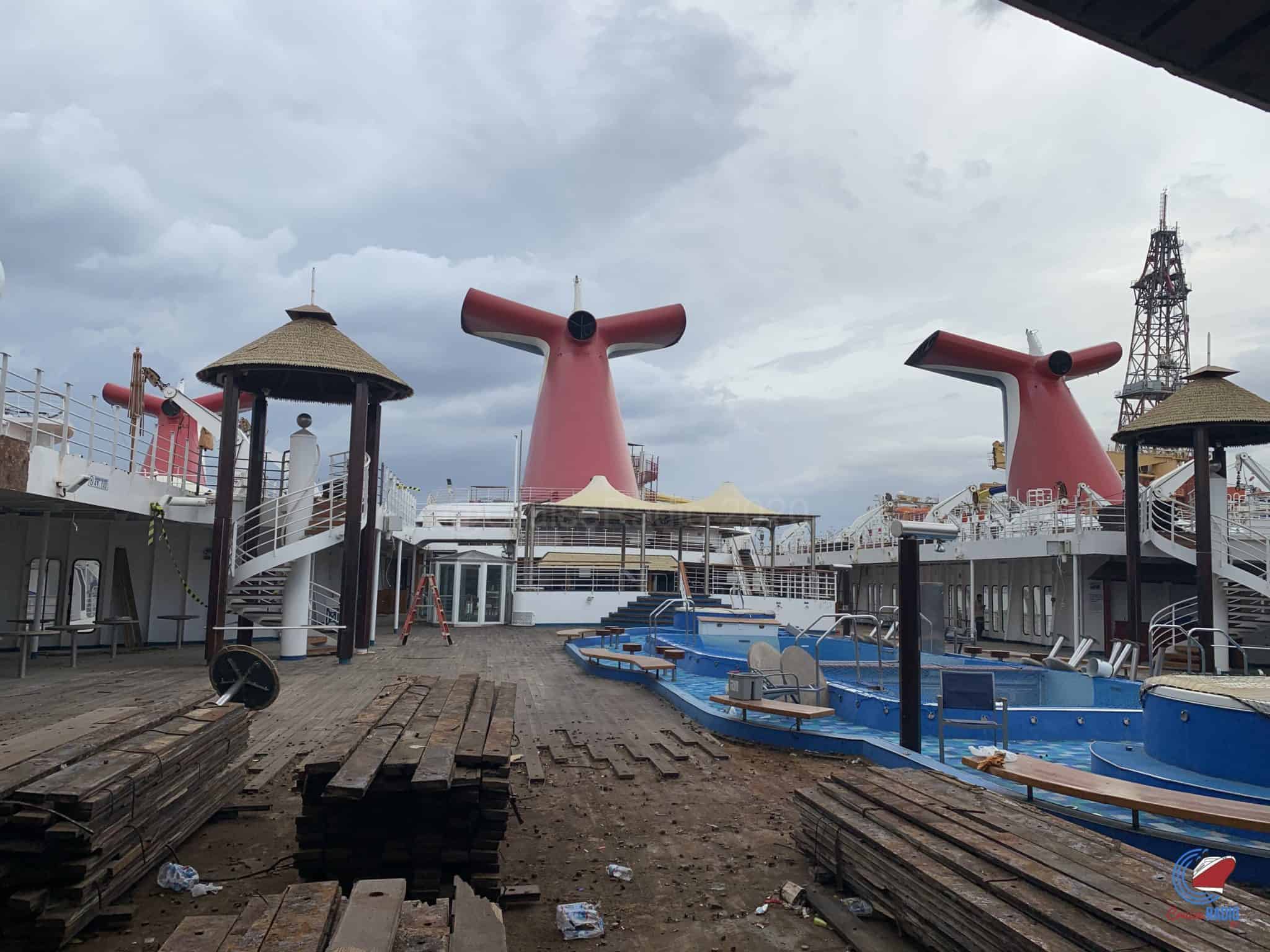 The teak flooring on Fantasy's lido deck is being ripped up and stacked so that it can be resold. Because teak wood has such a high volume of the mineral quartz, it can last anywhere from 75 to 100 years.
Given that Fantasy was only 30 years old at the time of her decommissioning, there's plenty of life left in those boards.
For reference, Oak flooring runs approximately $5 per square foot while teak decking runs more than double at approximately $12.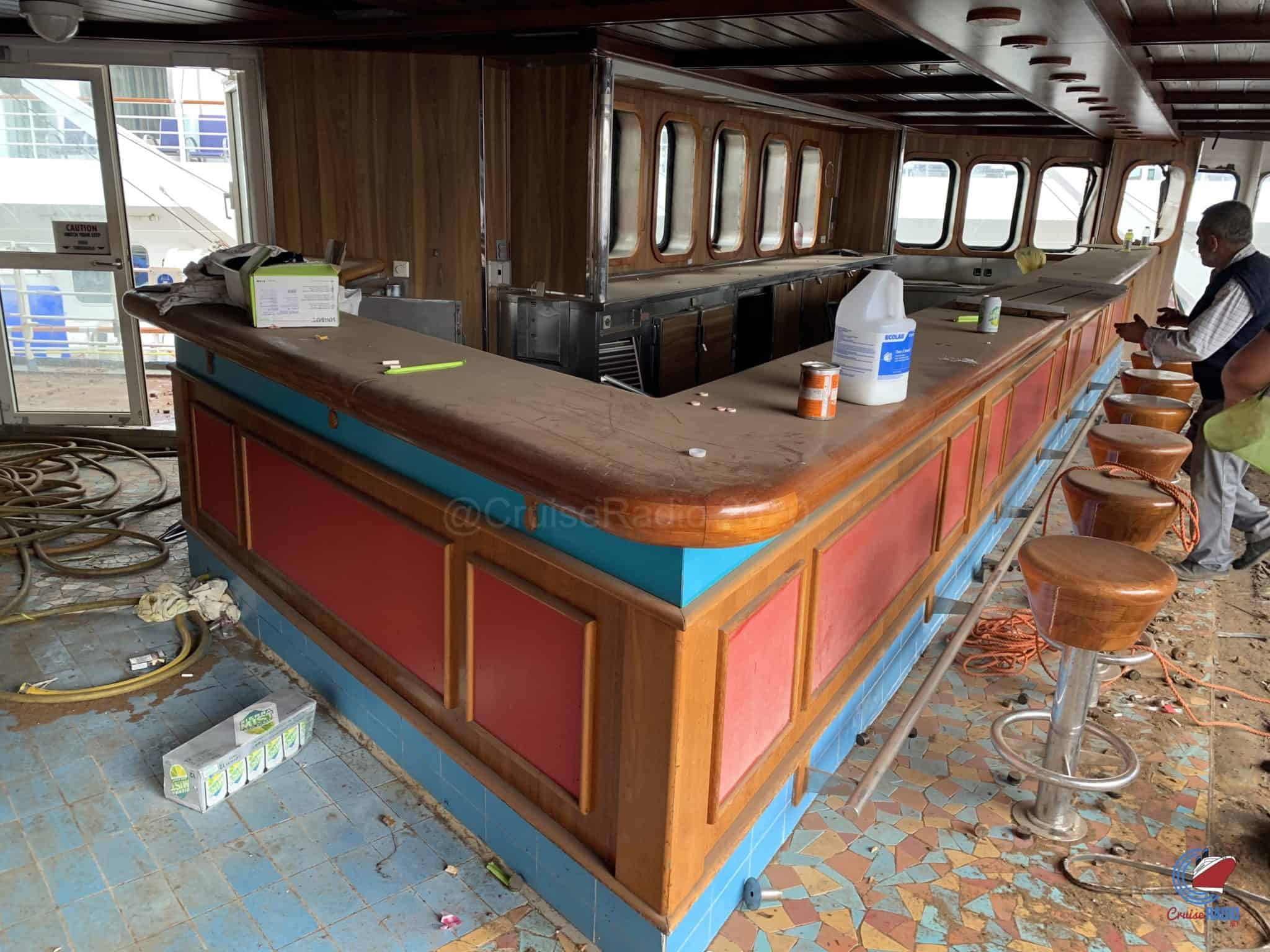 The RedFrog Rum Bar, which was home to many drinks including signature beverages like Red's Rum Treasure and the Caribbean Colada, now sits without those friendly faces taking your order and the sounds of the constantly-running blenders.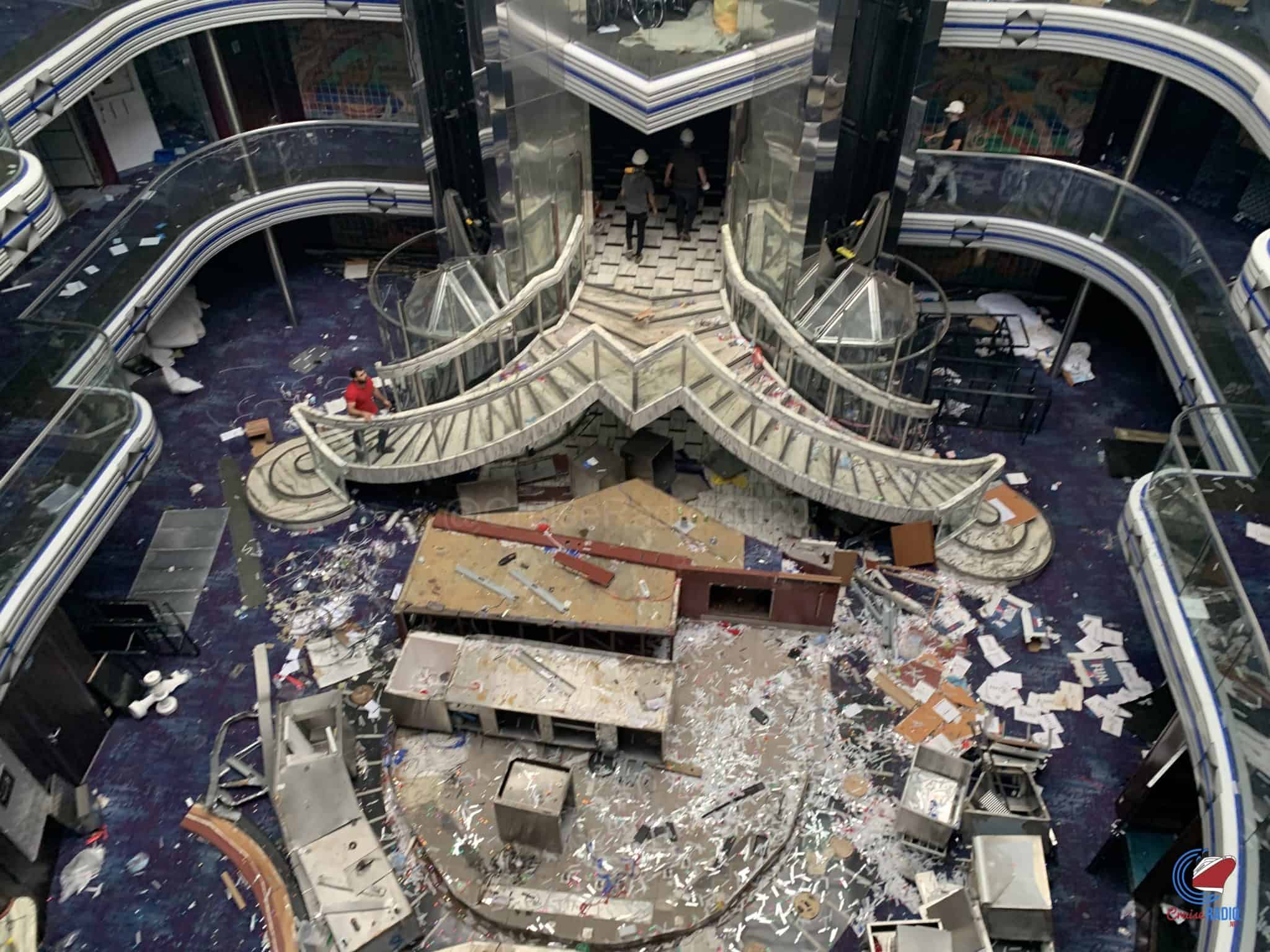 As we take one final look into the lobby, staring into the sad abyss from an upper deck, we tell ourselves this is the last visit we'll pay.
But we know in our hearts it's not true, and that we will keep coming back, looking at the painful pictures and allowing ourselves to picture each venue in happier times, right up until the time the last piece of the Fantasy is removed from that beach.
And even then, we'll be sure to keep the one thing they can't take away… our memories.
Cruise ships in our Last Look series:
Carnival Fantasy Ship Tour
All images courtesy of NauticaGoods.com.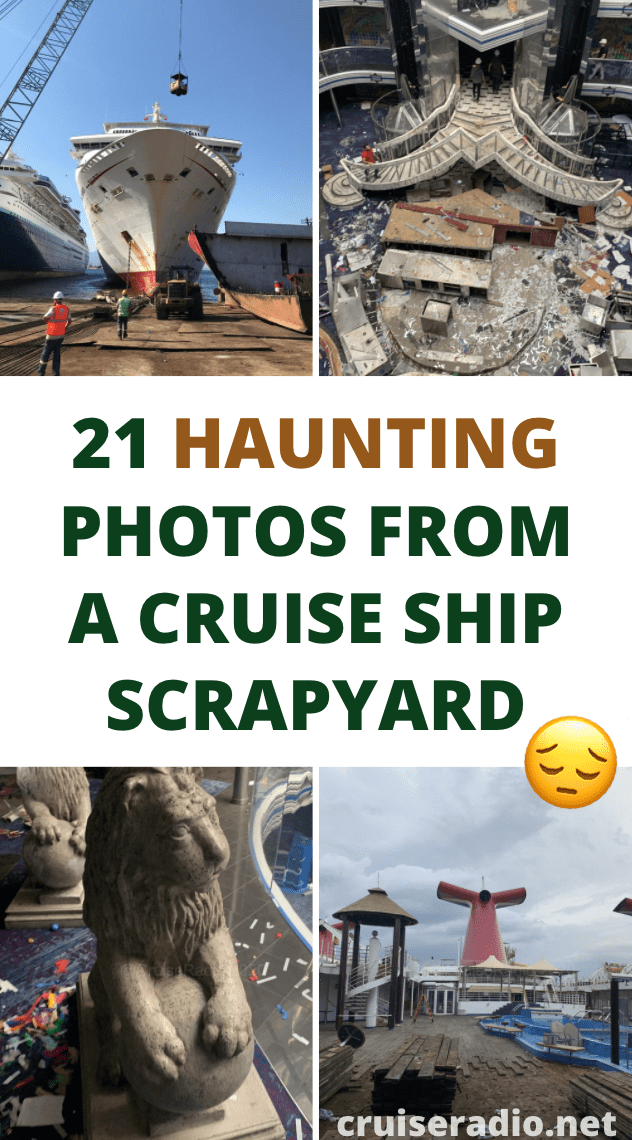 ---
---