Overview: Disney Cruise Line Weddings
Whether you are considering a destination wedding for the intimacy of a small wedding, the magic, or a unique venue, a Disney Cruise Line wedding is likely to check off all of your boxes.
Through a cruise wedding, you are able to have a prolonged wedding experience with multiple venues and endless memories. A Disney cruise wedding is more affordable than one may think and includes all a regular cruise wedding would — with a Disney flare.
Here is a basic overview if you're looking to plan the perfect Disney cruise wedding.
Extraordinary Experience
A study done by The Knot shows that the average wedding guests' cost nearly doubles for a destination wedding. Because of this, destination weddings tend to be smaller and more intimate. If you are interested in a wedding that is intimate and memorable for each individual involved, a Disney cruise wedding may be a great option.
Disney Cruise Wedding Included and Excluded Costs
A Disney Cruise Line wedding is an add-on to your already booked cruise. With standard packages ranging from $3,500-$4,500, it includes all the bells and whistles you'd expect and allows you to customize and upgrade the services to fit your unique needs.
The Timeline
You will be legally married upon arrival, prior to leaving port. The ceremony and reception average three to four hours total, but the celebration continues for days to come. Although the official aspect of the wedding will be done in a short time, you can be close to your loved ones during that time and enjoy a once in a lifetime experience together.
READ MORE: 6 Ways Cruise Weddings are Unique
Coordinated By Professionals
Upon arrival, you will meet your on-site coordinator and will later meet your on-land coordinator (for on-land weddings). Both are trained individuals in the wedding industry, as well as trained by Disney in the uniqueness that a Disney cruise wedding brings.
Your package also includes a pianist for your ceremony to add to the atmosphere and romance. As an add-on, you may also hire an on-site photographer. Although these services are available to you, couples also have the choice to bring on their own licensed professionals for some of the services, such as a photographer.
Pro Tips:
As with all cruises, fares vary throughout the year and based on location. If you're on a budget, choose a time of year where cruise costs are lower.
If you're inviting guests to be a part of such a special occasion, look into ways to lessen the chances of needing to reschedule, such as avoiding hurricane season.
If you're hiring your own photographer to capture the special day, search for a photographer with experience doing Disney cruise weddings. This will assist in lessened time searching for locations and already having knowledge of rules and regulations.
Don't be afraid to ask! Communicate your wishes to your fairy godmother. You will be surprised as to what Disney Cruise Line can make happen!
Don't forget your marriage license!
For more information on a Disney Cruise Wedding, visit their website at disneyweddings.com.
Pin it!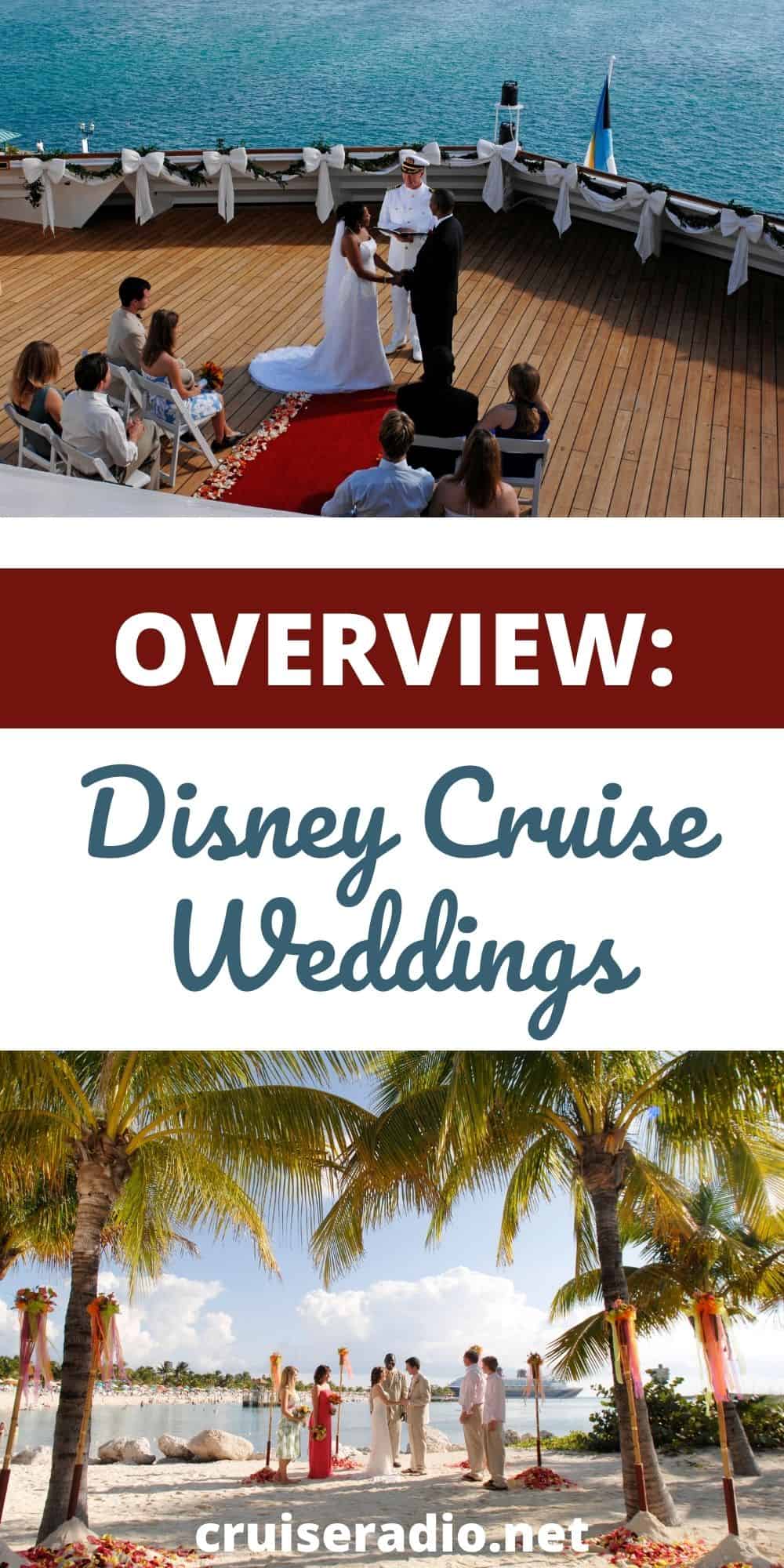 ---
---