16 Changes at Carnival Cruise Line in 2019
With 2019 coming to an end, what better time to look back on the changes made by Carnival Cruise Line over the past 12 months? With the introduction of an entirely new ship (as well as one so completely refurbished it even got a new name) to changes in everything from dress codes to soda choices, this was a big year for Carnival!
Already, we're looking forward to what 2020 will bring for the company (including the arrival of Carnival Mardi Gras and her deck-topping roller coaster), but first, let's take a moment to look back at what unfolded in 2019!
16 Carnival Cruise Line Changes in 2019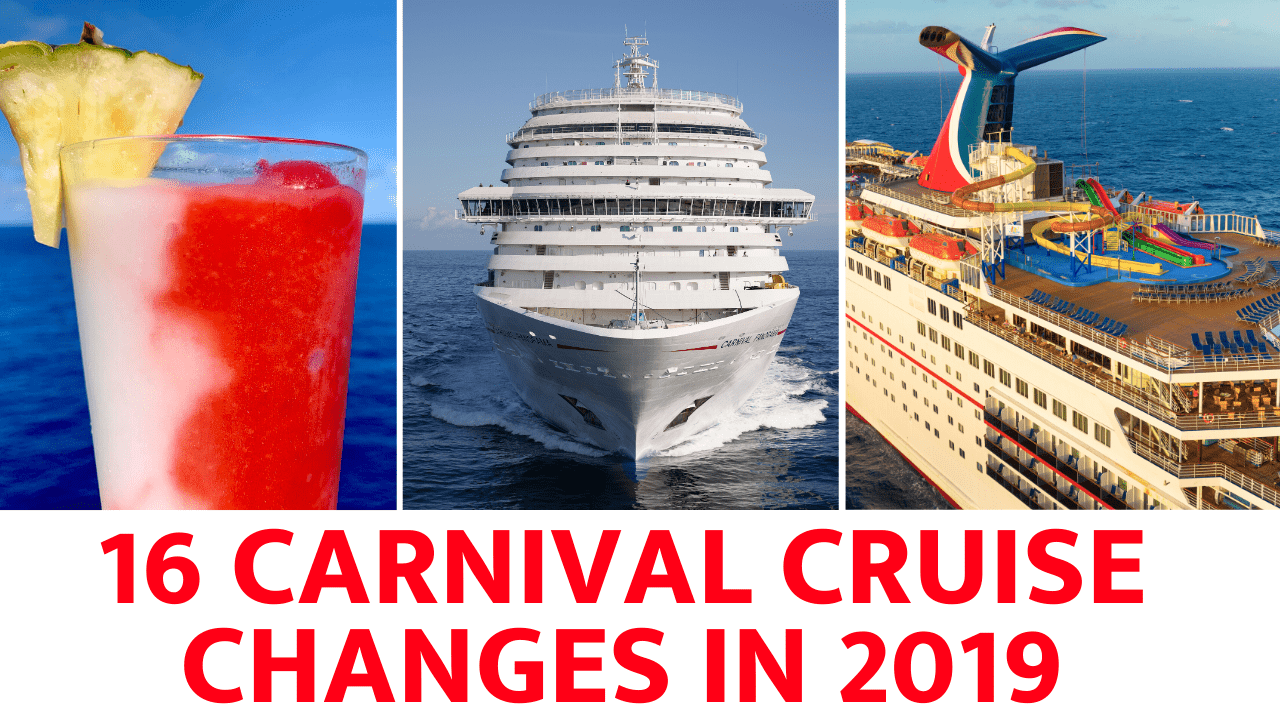 1. The Service Gratuity Increased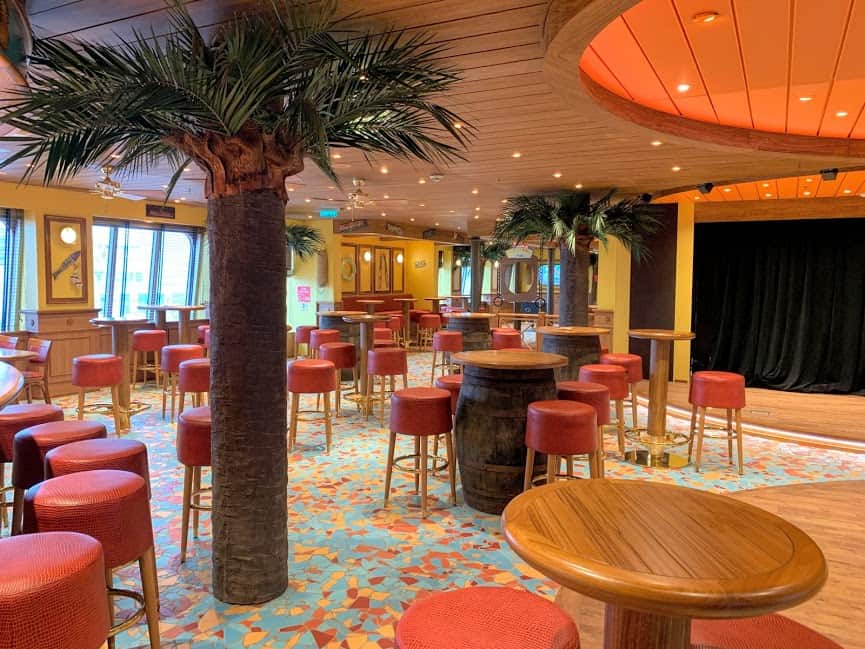 It was announced earlier this year that Carnival would increase the service gratuity for beverage service from 15 to 18 percent. According to the cruise line, of this 3% increase, 1.5% will go to the server and the remaining 1.5% will go into the employee pool.
As you may or may not know the ASP pool funds employee compensation and benefit programs, including bar level pay, itinerary stipend pay, as well as helping to provide the staff with uniform and return airline tickets.
READ MORE: Carnival Raises Drink Gratuities
For the sake of comparison, Royal Caribbean also charges 18 percent, while Norwegian Cruise Line charges 20 percent.
2. Chef's Table Menu Changed 
In 2019, the Chef's Table menu got an update, making it an entirely new experience for guests who were coming back for a second (or thirdd!) time. The menu now includes duck, sea bass, celery root pastrami, lamb, sirloin, and a new chocolate dessert. Menu aside, some ships also saw the Chef's Table get a fancy new space, including on the Carnival Sunrise.
3. Specialty Restaurants Can Now Be Booked Via The Cruise Planner 
Instead of having to E-mail requesting a specialty restaurant reservation before your cruise, Carnival made changes to the Cruise Planner which allows guests to do so there. Reservations are refundable before or on embarkation day, with the exception of Chef's Table. There is a $25 fee if the Chef's Table is not canceled within 24 hours of the reservation.
4. Sugar and Butter Packets Were Eliminated

In their continuing efforts to eliminate items from the waste stream, Carnival quit using butter and sugar packets. Instead of butter packets, there are now butter dishes on the dining room tables and a communal butter dish at the Lido Deck buffet.
READ MORE: How Cruise Ship Butter is Causing an Uproar
Cereal boxes were also eliminated. Instead, they now use the same sort of dispenser you see in hotels or at stores that sell bulk-foods.
5. Plastic Straws Were Replaced With Other Options

Speaking of eliminating waste, cruise lines in general and Carnival, in particular, have been making a major effort to remove as much plastic as possible from ships. With that in mind, Carnival has been working toward the eradication of plastic straws.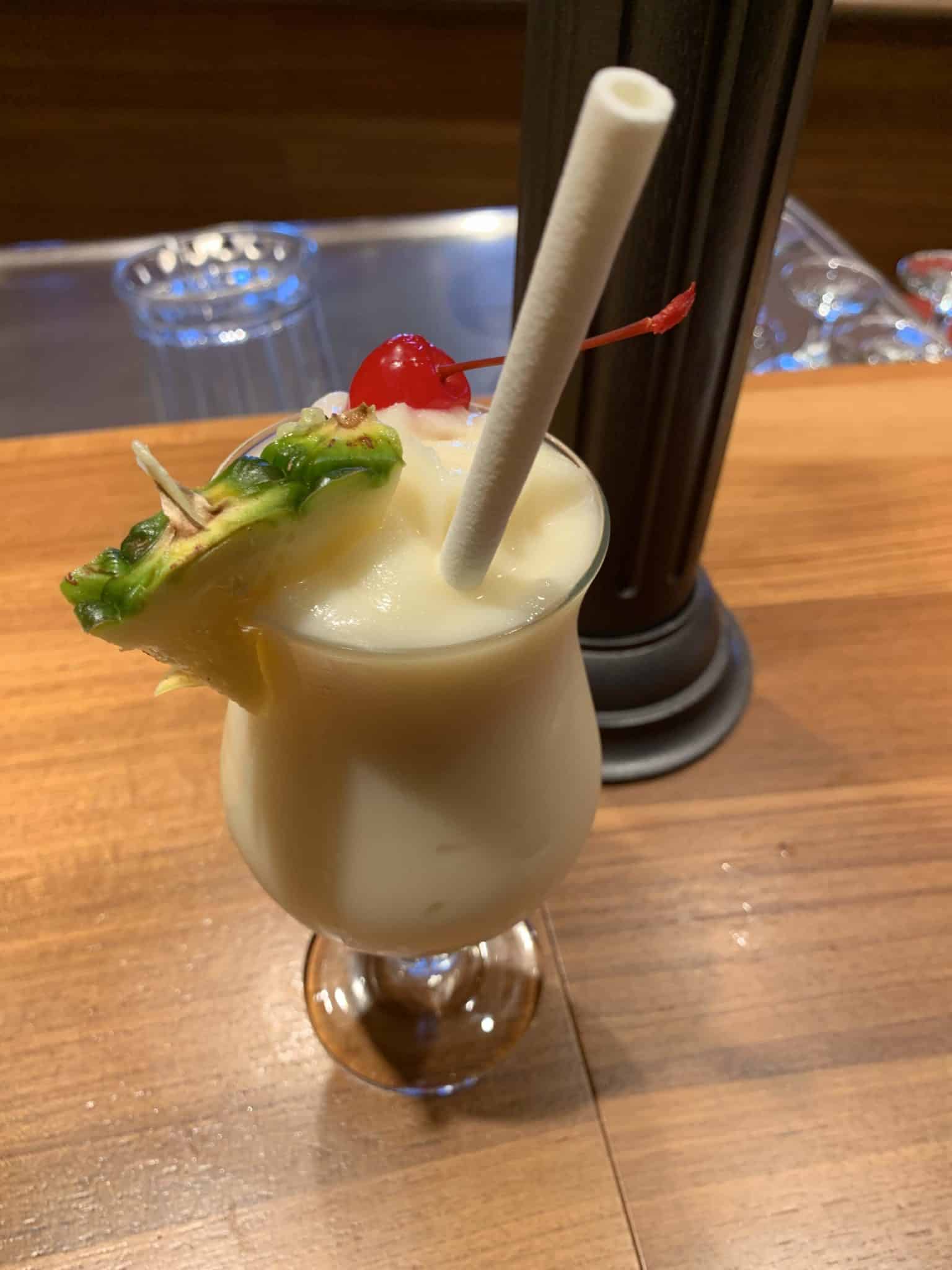 This began when they started using sugar-based edible straws, which come in two different flavors, for frozen drinks. Guests now also have the option of purchasing reusable silicone or stainless steel straws from the bars, or bringing their own straws onboard. But if you do bring your own, maybe consider using paper straws? No need to counteract the cruise line's environmental efforts, right?
6. A Change Was Made to the Dress Code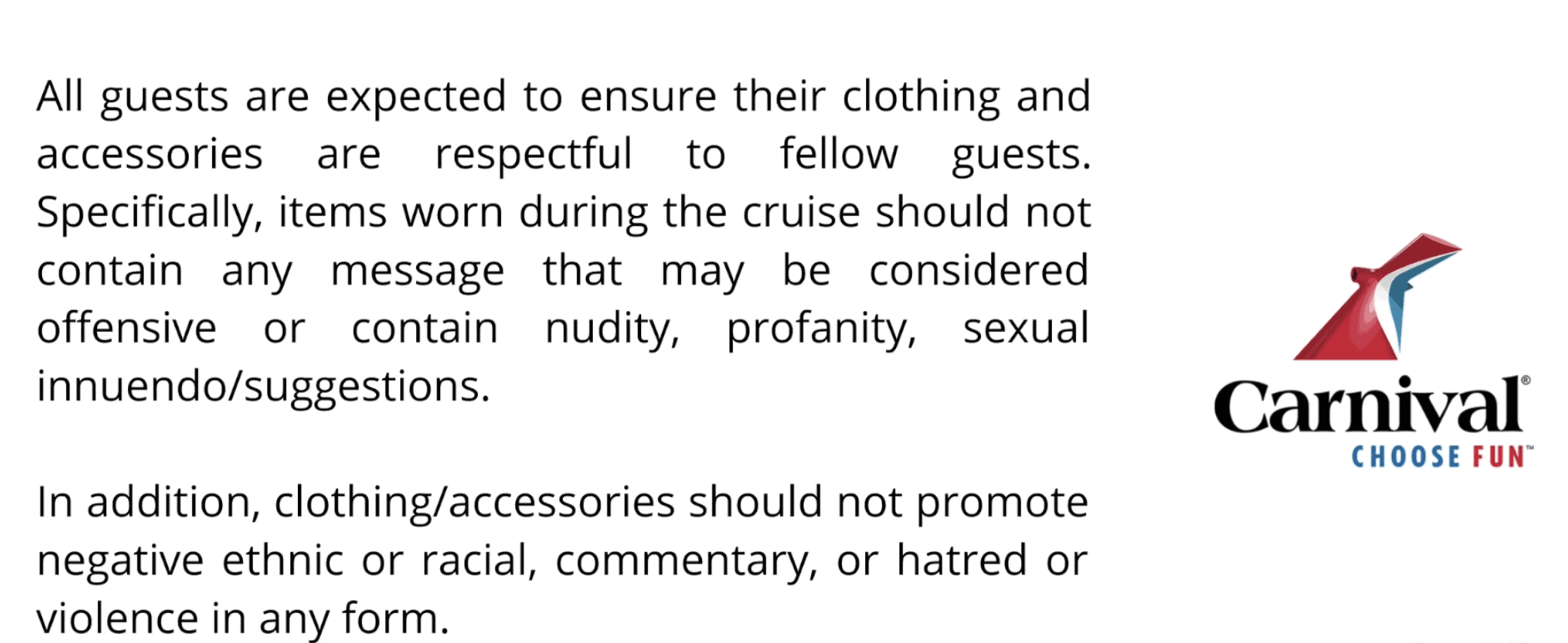 In response to complaints about things like t-shirts with inappropriate sayings printed on them, Carnival modified their dress code to read, "all guests are expected to ensure their clothing and accessories are respectful to fellow guests. Specifically, items worn during the cruise should not contain any message that may be considered offensive or contain nudity, profanity, or have sexual innuendo/suggestions."
READ MORE: Carnival's News Dress Code
Of course, the big question is who decides what's offensive, so we'll have to see how that plays out.
7. The Dr. Seuss Breakfast Saw A Price Bump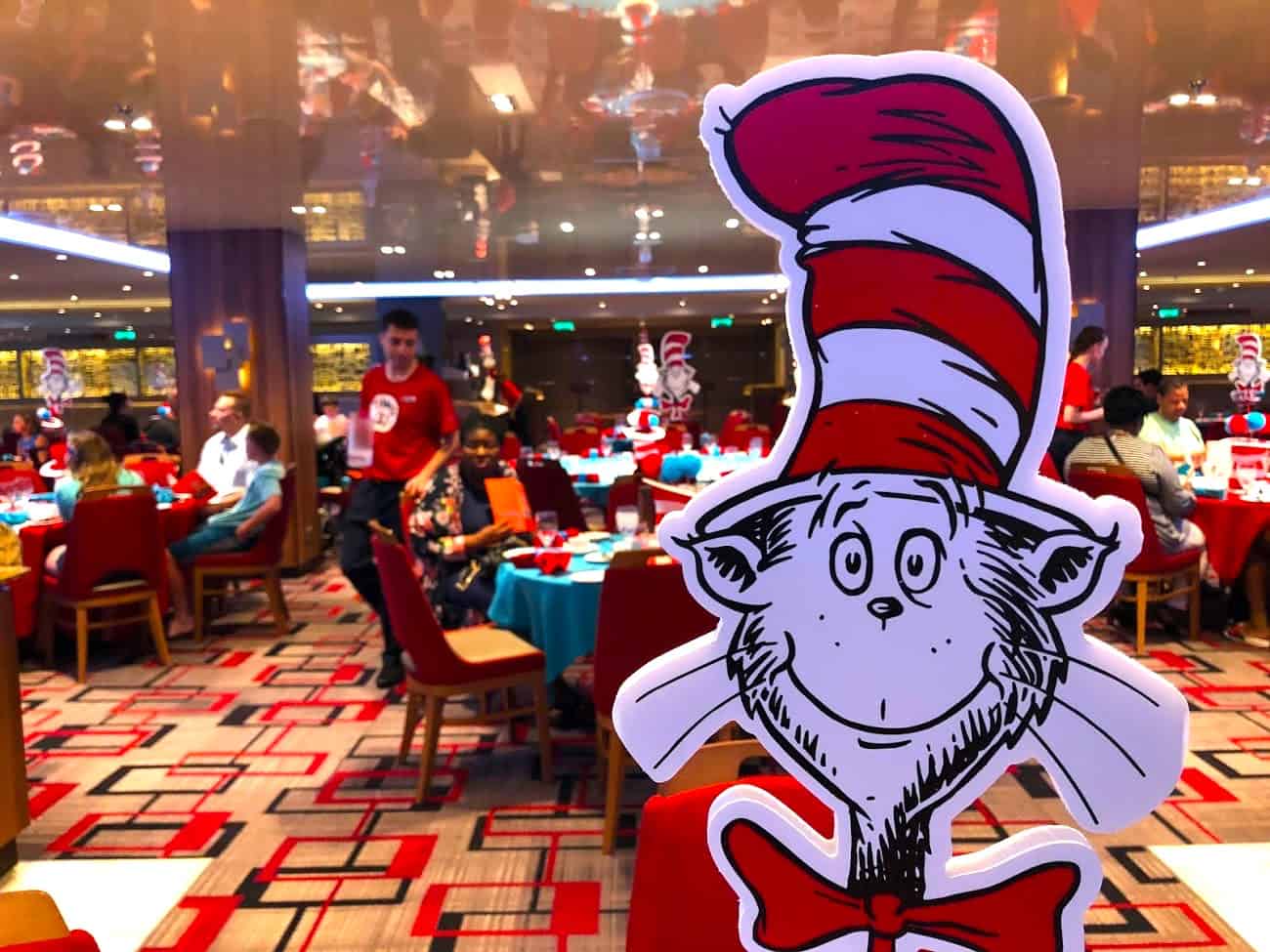 The Dr Seuss character breakfast increased from $5 to $6. It's worth noting that the price is the same for both kids and adults. This brunch is normally held on the last sea day of the cruise and is a great opportunity to get your picture taken with some of Dr. Seuss' most popular characters. Food-wise, they offer a selection of whimsical breakfast creations, and yes — green eggs and ham are definitely on the menu.
8. Some Drink Package Prices Went Up

The price of the CHEERS! drink package went up on short cruises, meaning those lasting 3 or 4 days. Technically, this goes into effect starting on January 1, but since they announced it at the end of 2019, we're including it here.
The price for the CHEERS! beverage package program for three- and four-day cruises will increase by $3 per day to $54.95 per day plus gratuity if purchased pre-cruise and $59.95 per day plus gratuity if purchased on board.
READ MORE: Carnival Hikes Price of Drink Package
Guests sailing cruises five days or longer will not have to worry, the drink package will remain $51.95 per person, per day, when purchased in advance and $56.95 per person, per day, if purchased onboard. At least for now.
In the grand scheme of things, this isn't that bad… especially when you consider that Norwegian Cruise Line charges $118.80 per day when you include the mandatory 20% service charge.
9. Anytime Dining Got A Lot Easier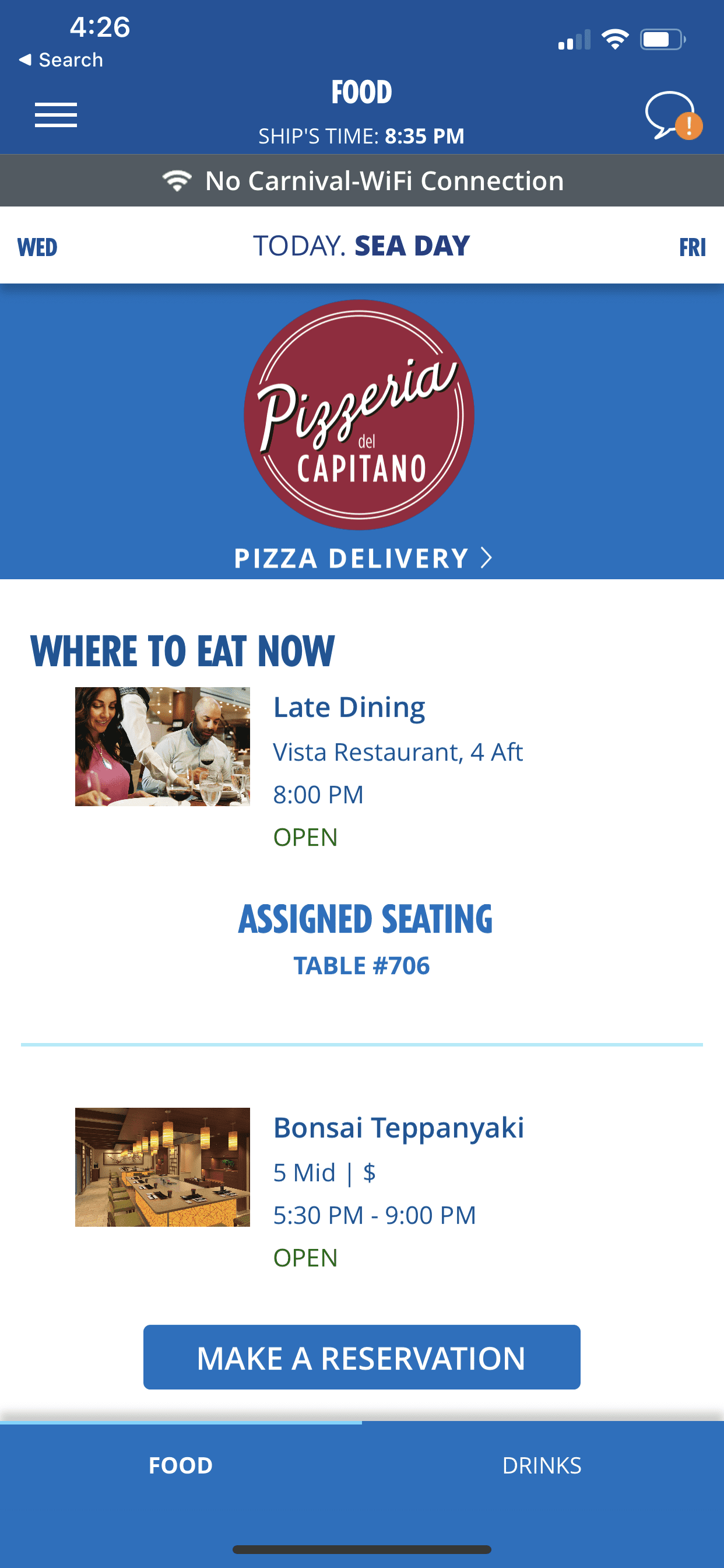 This is a change some people might not want us to share, because it makes getting a great table so much easier. But guests can now check-in for Any Time Dining on the Carnival Hub App.
Instead of waiting in a long line at the designated check-in desk and being given a pager, you can now just check-in on the app and get a notification on your phone when your table is ready.
In other words, you can keep hanging out by the pool or enjoying a pre-dinner drink at the Alchemy Bar instead of standing in line.
10. The West Coast Got A Brand New Ship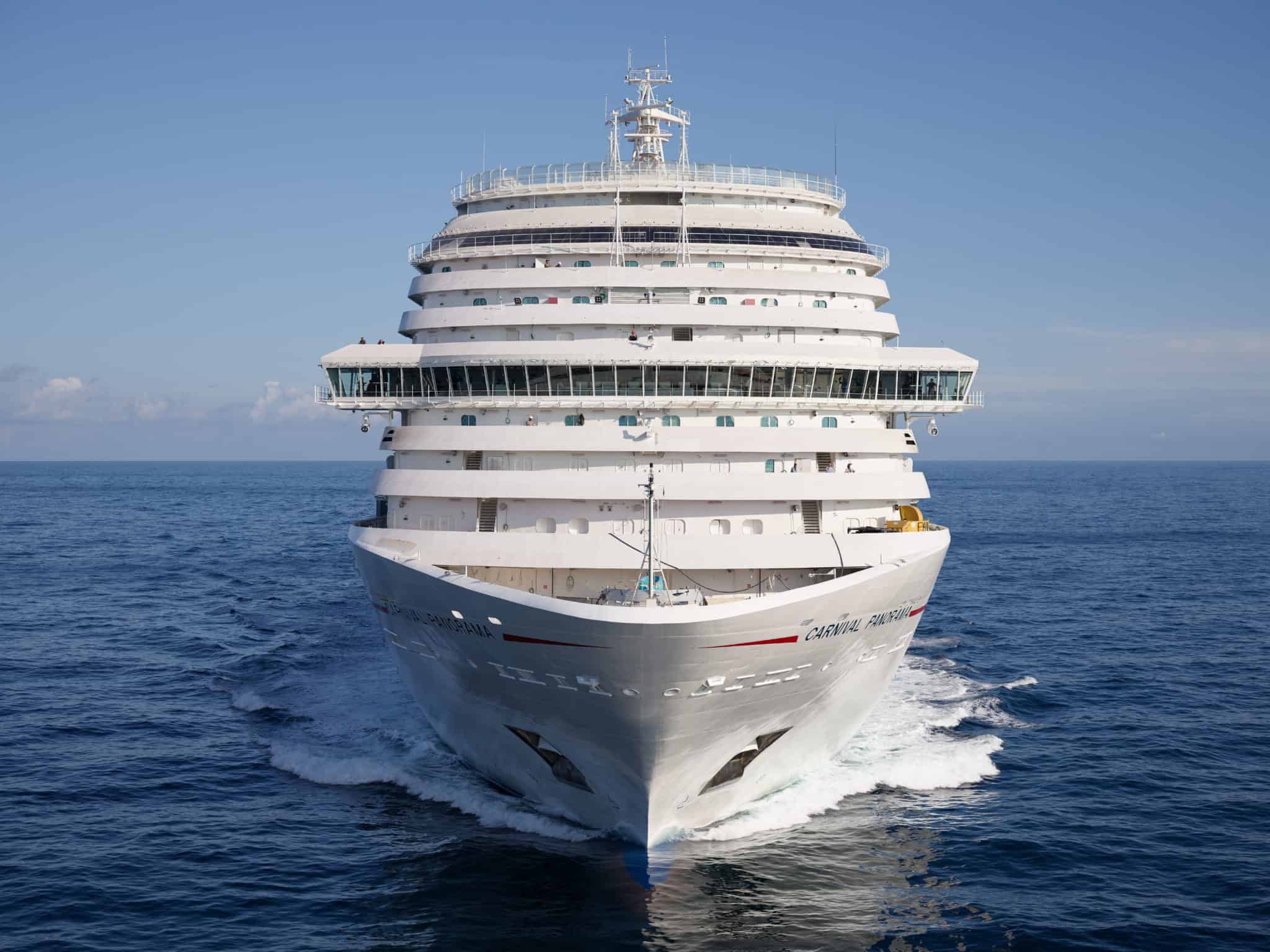 The launch of a new ship like the Carnival Panorama is always a big deal. But it was an even bigger deal since this marked the first time in over two decades that Carnival is homeporting a brand new ship on the West Coast of the US. Carnival Panorama is currently sailing 7 night Mexican Riviera cruises out of Long Beach, California. The last Carnival ship to debut on the West Coast? That was the Carnival Elation way back in 1988.
11. Carnival Splendor Took A Very Long Journey

Carnival Splendor said goodbye to North America and headed over to Singapore for a massive renovation before debuting in Australia.
Believe it or not, before the renovation this ship was one of the few in the fleet to have not gotten a Guy's Burger Joint.
Fun Fact: when Splendor sailed from Long Beach to Singapore, the 24-day Transpacific sailing was the longest ever offered by Carnival.
12. A New Bar Was Introduced

When Carnival President Christine Duffy picked Carnival Panorama up from the shipyard in October, she had an idea for a space that would be a tribute to members of the military but still maintain the feel of a sports-bar. The result was Heroes Tribute Bar.
READ MORE: Carnival Debuts Heroes Tribute Bar
The patriotic space not only honors members of the various Armed Forces, but has the sports ticker and big-screen TVs you would have found in the skybox sports bar, which originally was slated to occupy the space.
This is the first of its kind on any Carnival ship, but there are already plans to see it added to others in the future.
13. Mardi Gras' Arrival Was Delayed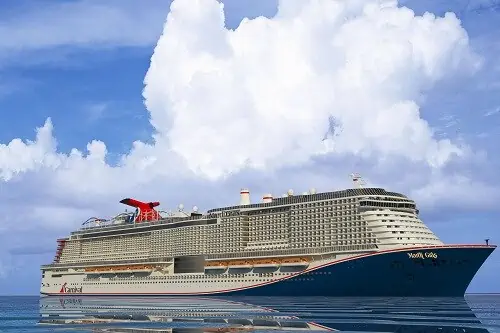 They say good things come to those who wait, and we found out in late December that that would definitely be the case with Carnival Mardi Gras. The ship, which was supposed to debut in August of 2020, ran into a few delays at the shipyard. As a result, the first eight cruises had to be cancelled and she'll now make her inaugural sailing on November 14, 2020.
Since Mardi Gras is a game-changing prototype for Carnival, it's not particularly surprising that they encountered delays. For one thing, the shipyard is dealing with installing new technology and moving parts that involve liquified natural gas.
14. Pepsi Became Carnival's Soda Of Choice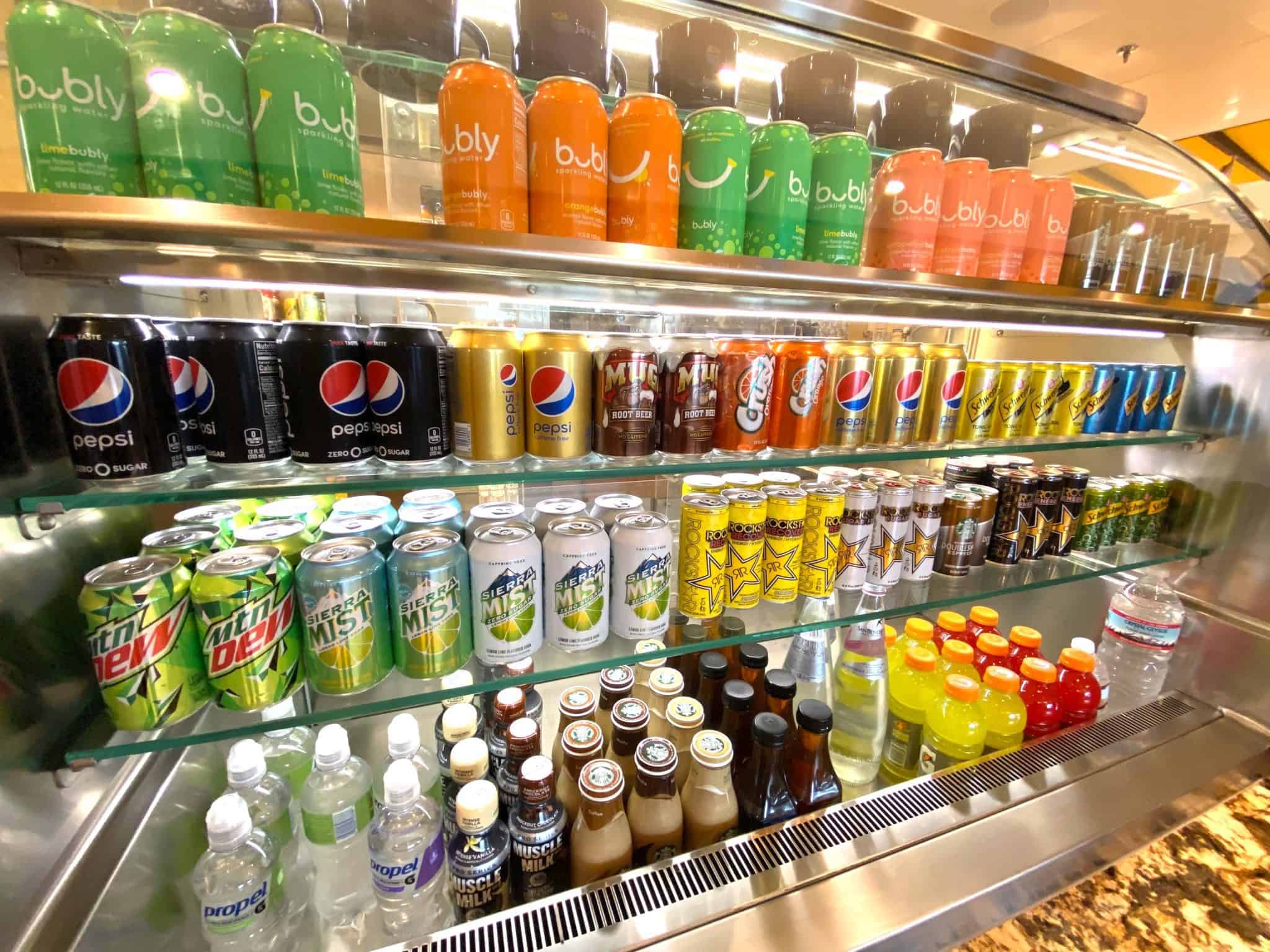 Second to last, but definitely not least — especially if you happen to be a fan of Coke products — was Carnival's decision to switch to Pepsi.
READ MORE: Carnival Switches from Coke to Pepsi
While the change is taking place fleetwide in January, Carnival Panorama already featured Pepsi products exclusively when she was launched. Norwegian cruise line also partners with Pepsi.
15. The Havana Retreat Became Even More Exclusive

In November, the popular Havana Retreat on Vista-class ships became an area that was exclusively available to guests in Havana staterooms and suites at all times. Previously, any guests on the ship could access the outdoor Havana deck and pool after 7 pm.
Carnival's Brand Ambassador John Heald said, "We want to make sure our guests who have booked premium Havana staterooms will be able to fully enjoy the special features that come with Havana accommodations."
The Havana Bar on Carnival Vista, Carnival Horizon and Carnival Panorama remain open to all guests.
16. Final Payment Due Dates Got Shorter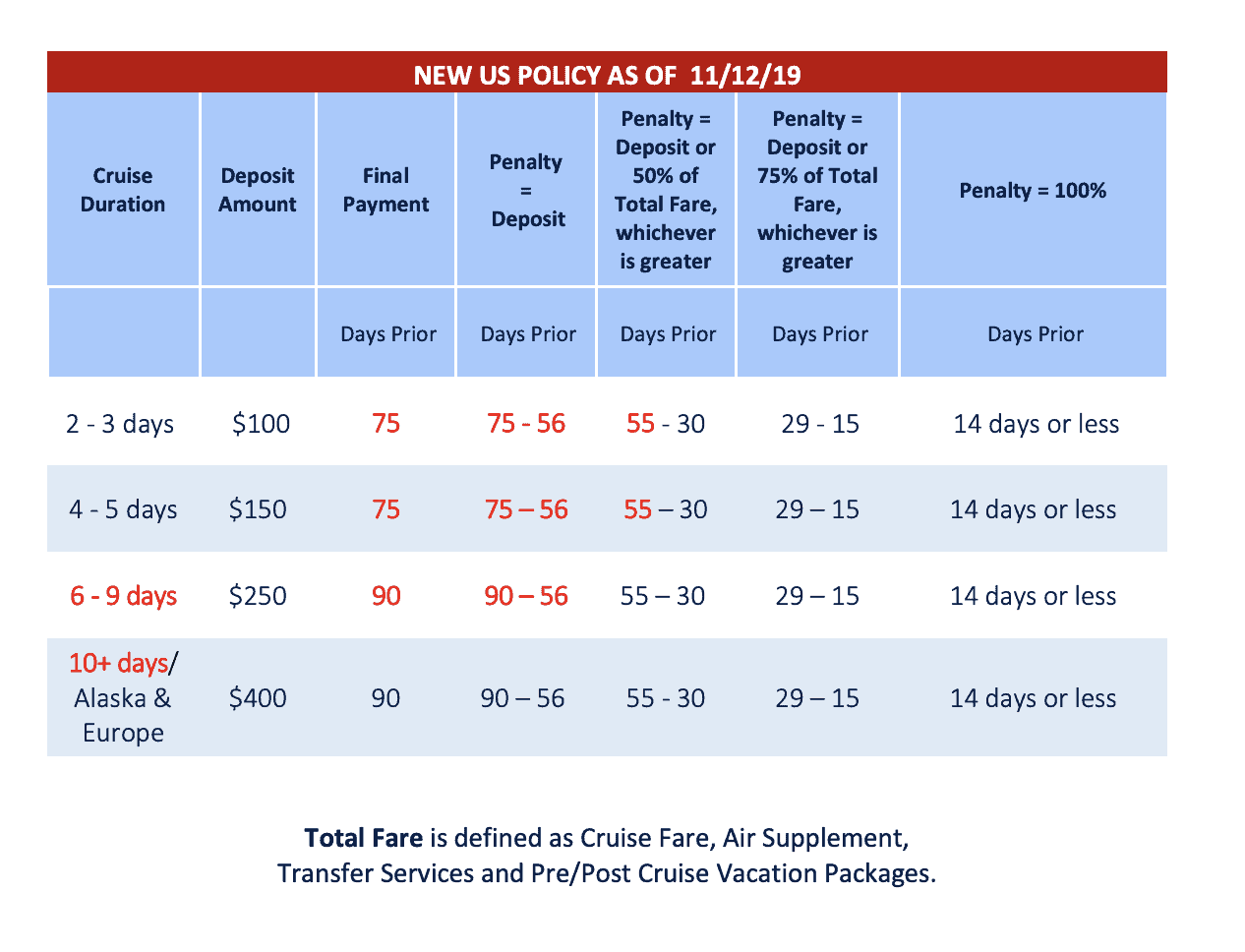 Guests who are sailing now have to pay off their cruise sooner than they used to. On cruises that are two to five days long, final payment is due 75 days before sailings, previously it was 60. For sailings six days or longer, the final payment is due 90 days before sailing.
15 Changes at Carnival Cruise Line (2019)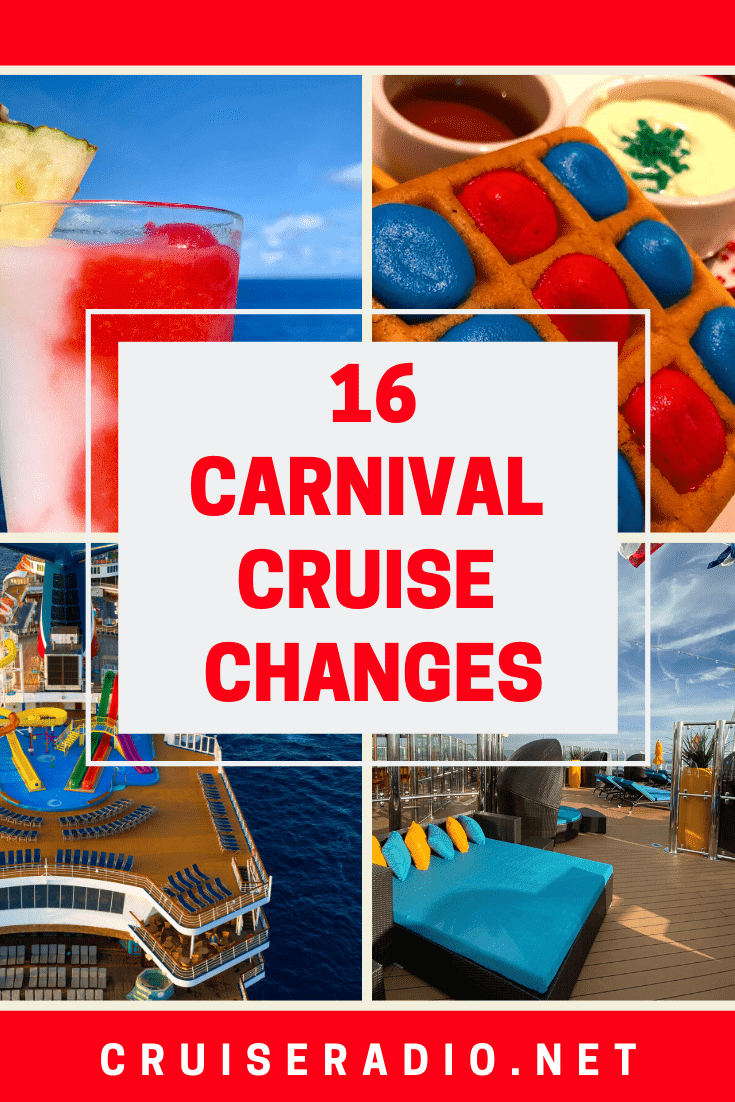 ---
---