Norwegian Cruise Line Dining Options
One of the biggest questions asked when people are planning their trip on an NCL ship is, "What are the Norwegian Cruise Line dining options?" Given that even the smallest ships in the fleet have a plethora of options, it's easy to see why that "simple" question might feel overwhelming.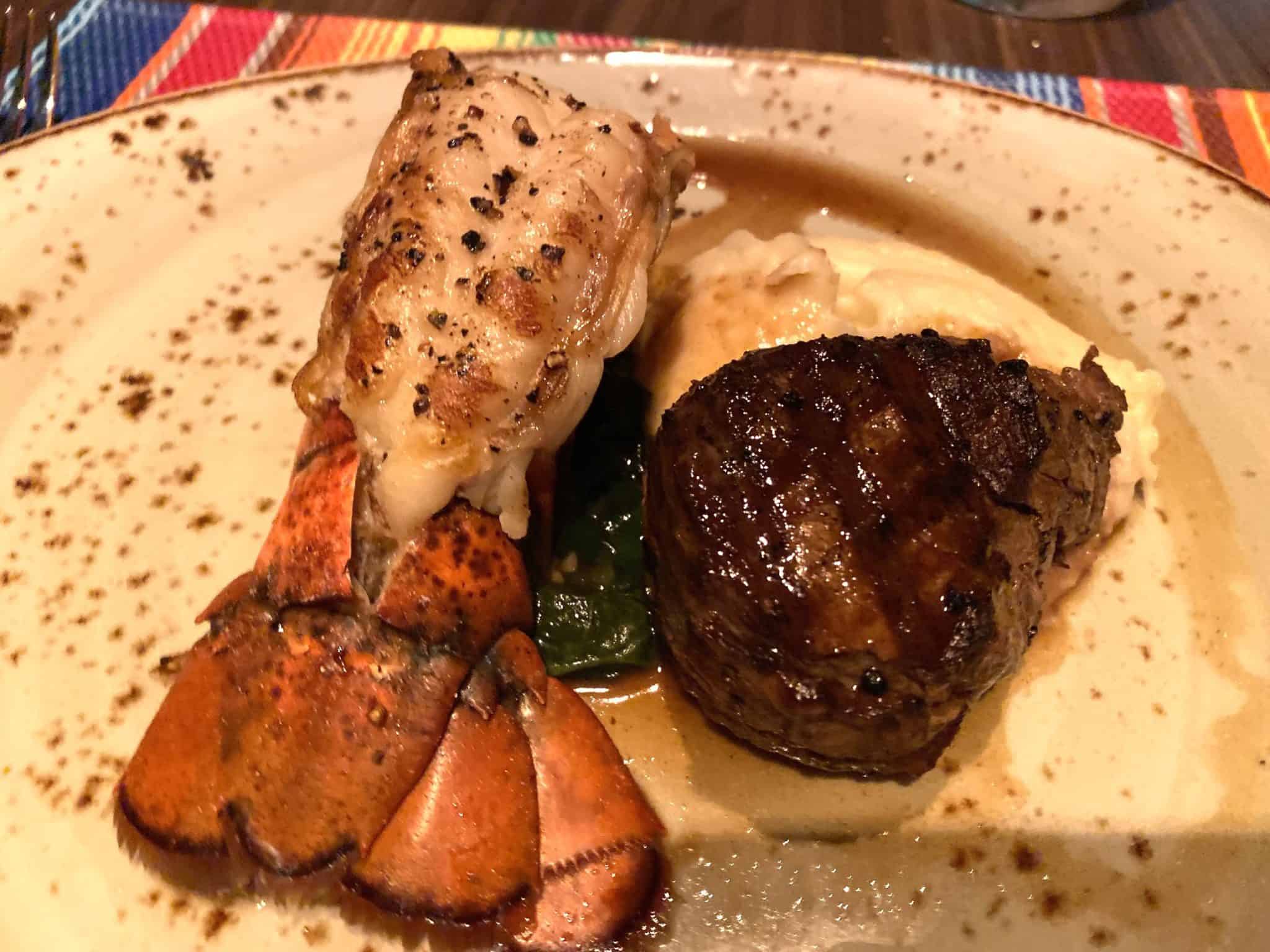 We're going to walk you through everything you need to know, from which restaurants are included and which come with a fee to what dishes Norwegian Cruise Line fans put at the top of their list.
Please note that we're about to give you a whole lot of information, but that some of it might be different from ship-to-ship or even sailing-to-sailing.
Getting Started
If there's one thing we are 100 percent certain about, it's that you will not go hungry on your Norwegian Cruise Line cruise. There's a reason they say the typical cruiser puts on a bit of weight during their voyage. And yes, it's entirely possible to eat only in the complimentary restaurants the entire time you're on board, and still have a wide variety of foods to choose from.
But we're getting a bit ahead of ourselves. Let's back up a bit, because your food-related decisions start even before you set foot on a ship.
Typically, when you book a cruise with Norwegian, you're given a variety of "perks" to choose from. How many perks you receive depends on either the category of stateroom you are staying in or the time of year, given that they sometimes have special deals which might offer you more perks, even if you're staying in an inside stateroom.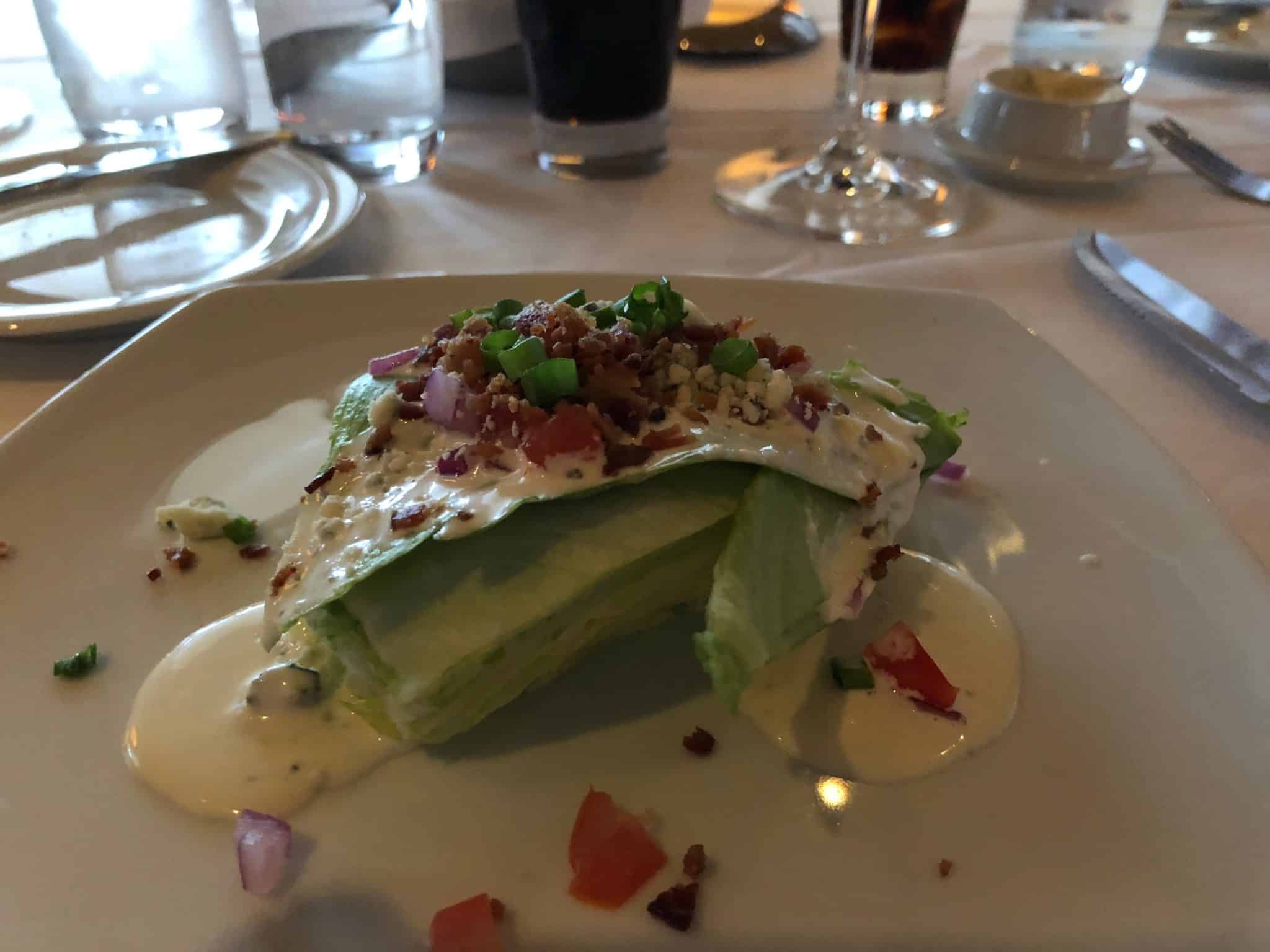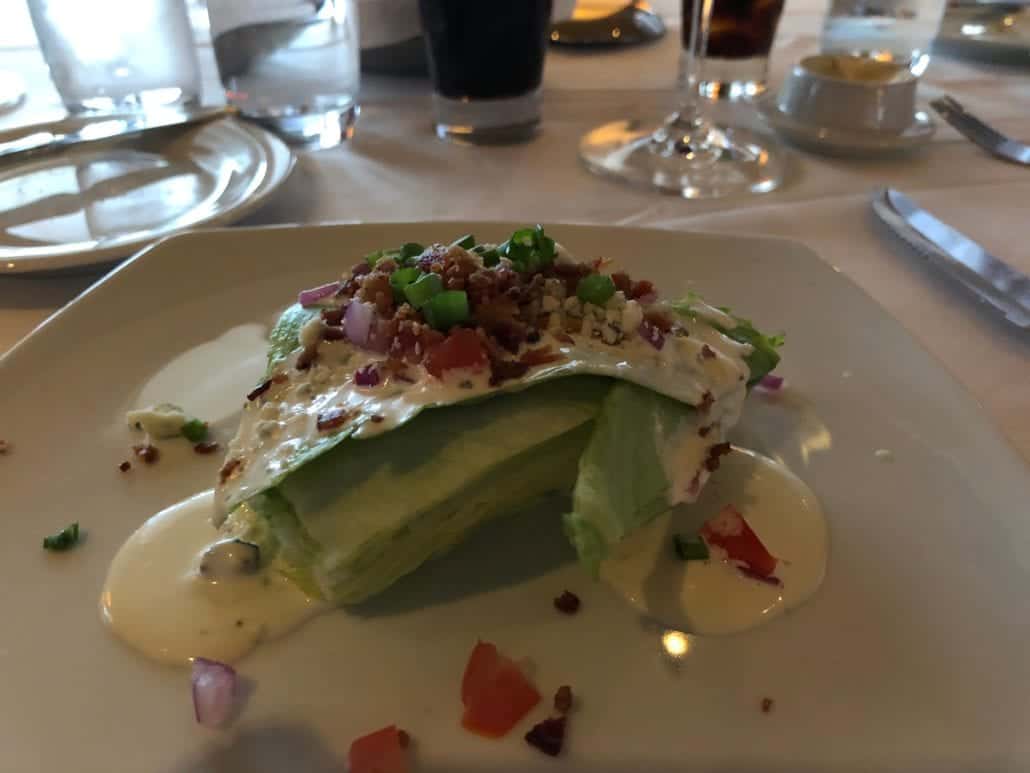 One of those perks is "specialty dining" and, if chosen, it gives you the ability to dine in specialty restaurants a certain number of nights, depending on the length of the cruise. On seven-night sailings, you are typically awarded three nights in the specialty restaurants. Your meal is covered, although drinks are not and, at the time of booking your cruise, they automatically add a service charge.
Even if you opt not to pick specialty dining as one of your "free" perks, you can still eat in the restaurants, of course. You can also purchase dining packages which offer a bit of a discount.
For example, the price of a specialty package that gives you three-nights in the for-fee restaurants is $118 (which includes the service charge).
The specialty dining package is now available fleetwide.
What's Complimentary On Norwegian Cruise Line
• Main Dining Rooms
Every Norwegian Cruise Line ship has at least one complimentary main dining room, although most have several. On the largest ships (such as the Breakaway, Escape and Bliss), you'll actually find three. Way back in 2000, Norwegian introduced the concept of Freestyle Dining, which essentially meant that you did not need reservations. Gone were the days of assigned seating, often with strangers, at an assigned time. While you can make dining reservations, the majority of passengers seem to eschew this process.
For those without reservations, seatings are handled on a first-come, first-served basis. Generally speaking, there's rarely a long wait (and always a bar nearby in which to have a drink while passing the time). Often, a hostess will hand you a buzzer which will let you know when your party's table is ready.
The main dining rooms offer pretty much what you would expect to find. There's a variety of appetizers, salads and main courses, the latter of which are divided up into "classics" and "featured."
The "classics" will often stay the same throughout your cruise, with the "featured" entrees changing nightly. After the meal, you'll be presented with a dessert menu.
At least one of the main dining rooms is also open for breakfast and lunch, with the menu offering a variety of items but staying the same throughout the week.
Trying to decide whether to eat in the main dining room or a specialty restaurant? By mid-afternoon, the evening's menu will be posted outside the main dining room, and a quick glance might help push you one way or the other.
• O'Sheehan's/The Local Bar & Grill
If you're hungry at 2 a.m., this is the place to head. While it goes by different names on different ships, one thing remains the same: there's a restaurant in which to grab food 24-hours a day. Ask longtime NCL cruisers, and they'll likely rave about the chicken wings (which come in several varieties) that are served here, as well as the fish & chips.
O'Sheehan's (as we'll call the 24-hour venue to make things easy) has three menus throughout the day: breakfast, lunch & dinner, and late night. The breakfast menu has a small selection of breakfast items that are not available on the buffet. The bakery basket offers excellent pastries and the Country Platter should be experienced at least once. The french toast has raisins in it, just a warning for those who aren't a fan.
The lunch and dinner menu has several appetizers including the soup du jour and two salads, some classic Irish items (including a shepherd's pie), fajitas and an array of burgers, hot dogs, and sandwich choices. While their nachos are surprisingly underwhelming, the brownie cheesecake should not be missed.

The Local is found mostly on newer Norwegian ships, but its menu is very similar to O'Sheehan's late-night menu. Two notable items only available at the Local is the Rachel sandwich (a turkey reuben with coleslaw) and the Watermelon Greek Salad. The Local also serves breakfast, but has fewer menu items than the main dining room. 
• The Buffet (The Garden Cafe)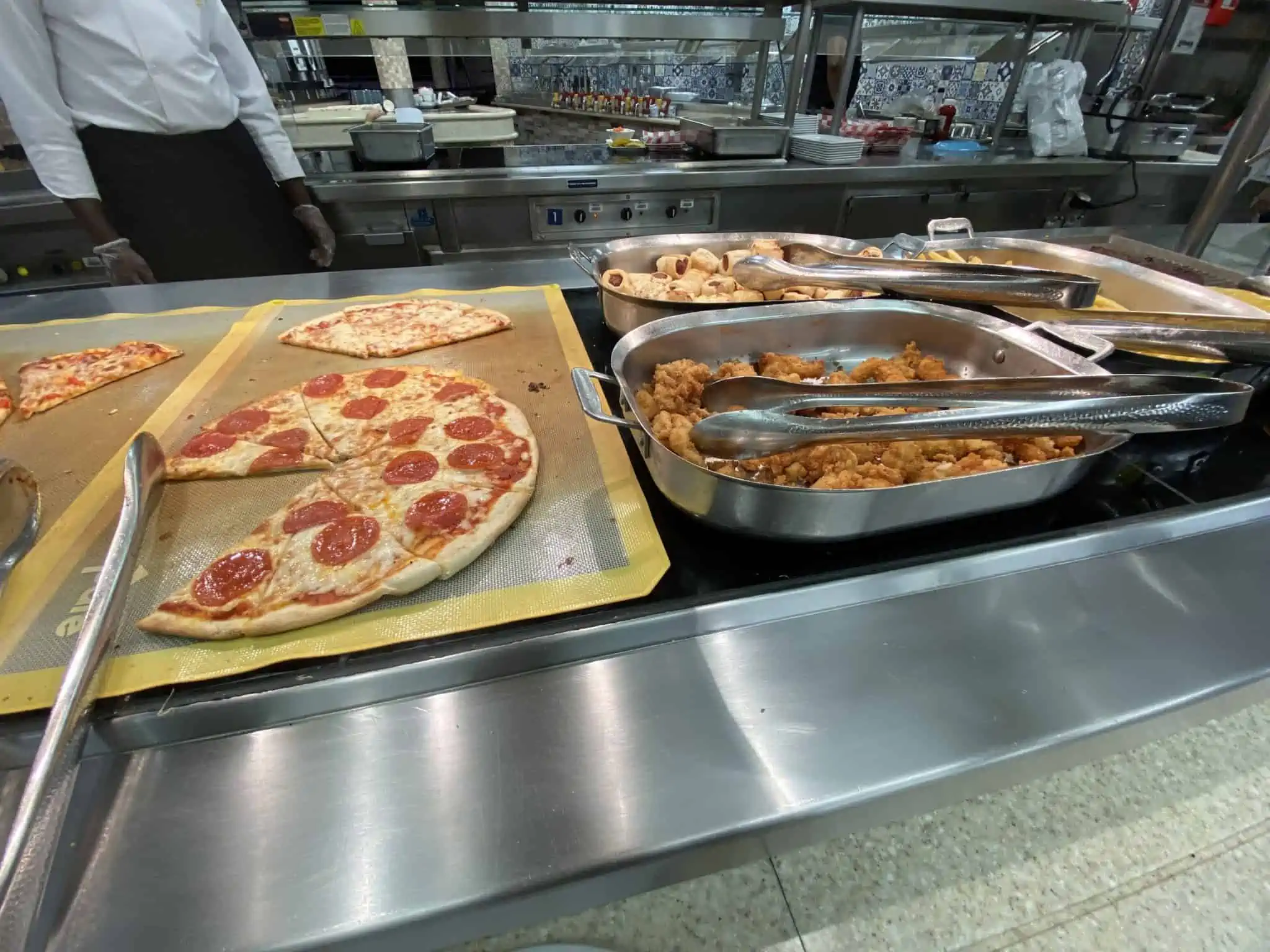 A cruise ship without a buffet would be like a train without tracks, right? Norwegian's ships offer a large buffet which is usually named the Garden Cafe. While not open 24-hours, it does serve breakfast, lunch, dinner and — in most cases — late-night snacks.
As with the main dining room, the buffet here is pretty much exactly what you'd expect. There's a salad bar and a variety of stations, some of which remain the same each day and some of which change. Overall, the food is well prepared and plentiful. If there's one item we'd say to skip it would probably be the pizza. While some cruise lines have the kind of pizza people get excited about, Norwegian's is definitely not among them.
Ice cream, coffee, tea, iced tea, and lemonade are also available in a couple of spots around the Garden Cafe.
On several ships in the fleet, there's a second, smaller buffet with limited options located outside and just past the main buffet. On Norwegian Sky, the second buffet is called The Great Outdoor Cafe.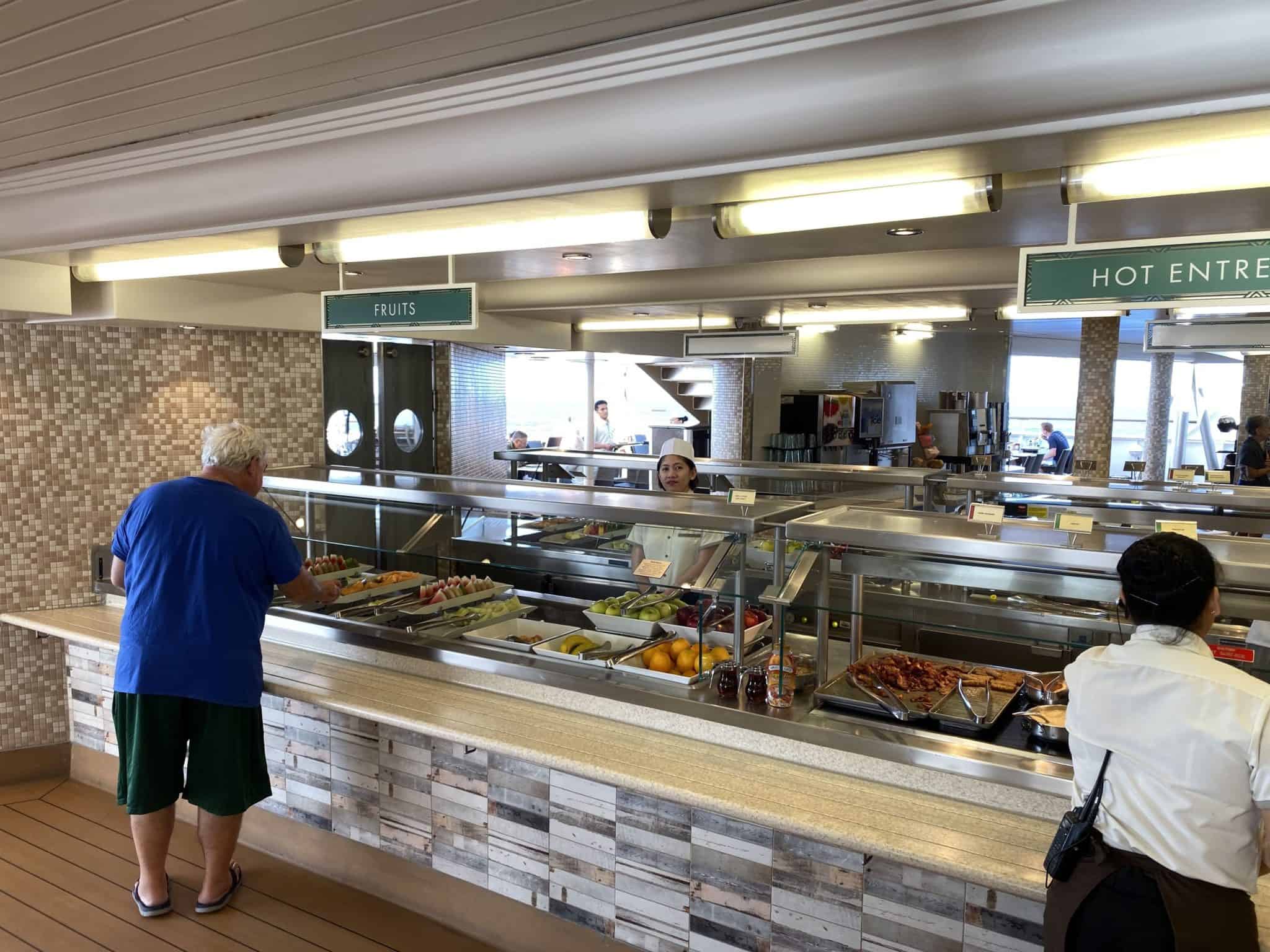 One thing we love about the Norwegian buffet and its seating area? That the tables have silverware, already wrapped in cloth napkins, readily available. You won't have to try and balance the silverware while you're scooping food onto your plate or, worse, get back to the table and realize too late that you forgot to grab some.
• Other Complimentary Options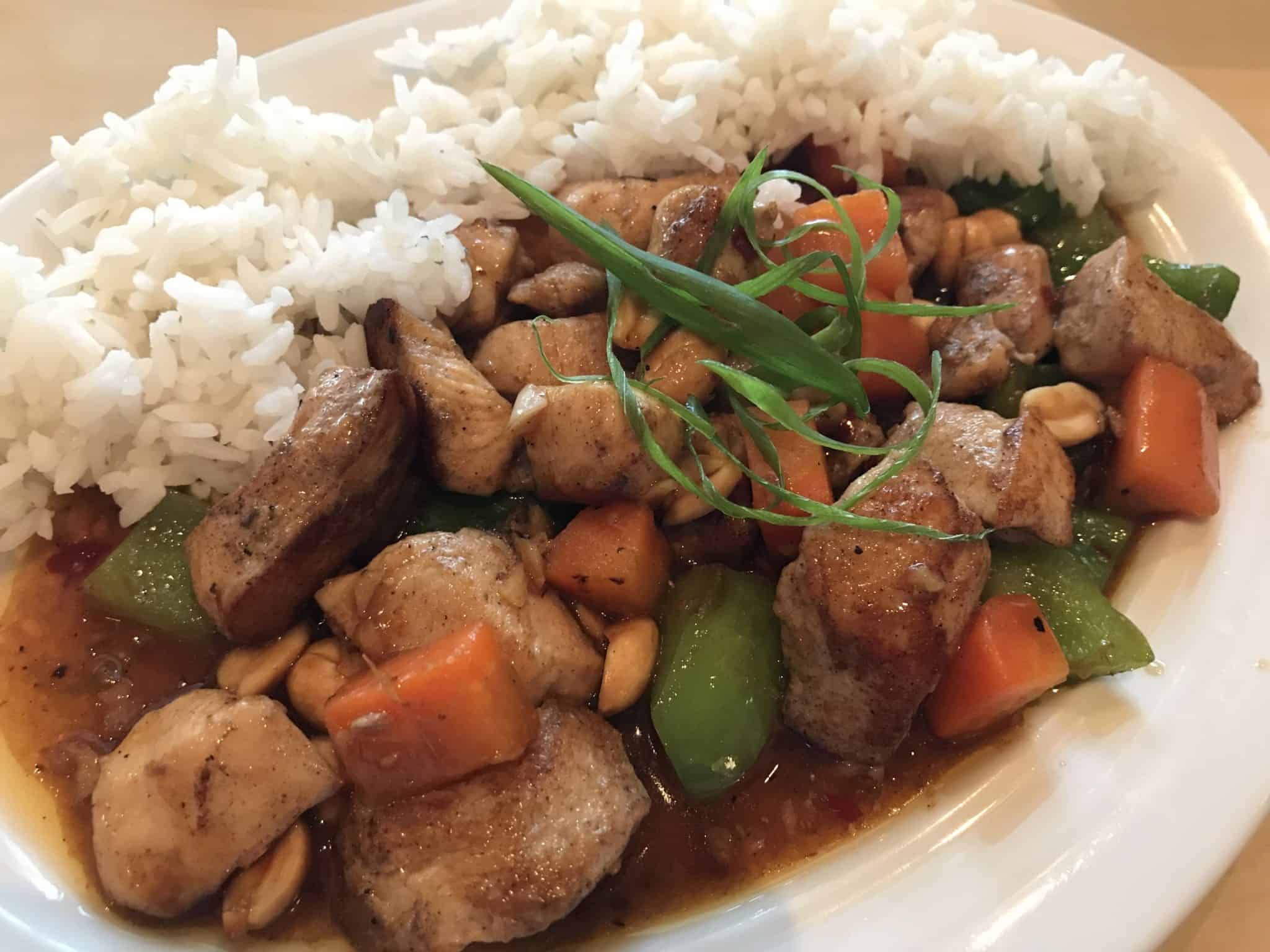 Most of Norwegian's ships also have either an Asian-fusion restaurant (each with a unique-to-the-ship name) or Shanghai's Noodle Bar featuring freshly prepared noodles, delicious wok-fried dishes, soups, and more.

The Asian restaurants usually offer traditional table service, while the noodle bars have a little order form at each seat for guests to check off what they'd like to eat. Both are an excellent alternative to the dining room or buffet.
Food can show up at the most unexpected of times and places. For example, late-night snacks are often put out at a small buffet in the casino, all the better to keep you gambling instead of leaving to fend off hunger pangs. On the newer Breakaway-Plus class ships such as Bliss and Encore, you'll find a surprisingly wide selection of buffet options available in the Observation Lounge.
For-fee Specialty Dining
Norwegian has numerous specialty dining options on every ship. Some of them have a set price, but most have a la carte menu pricing. All of them are included in the Ultimate Dining Package, but a few have an upcharge if chosen as one of the guest's package dinners. If using the dining package, the guest generally gets two appetizers, an entree and a dessert. 
Over the past few years, Norwegian has been introducing new dining concepts into their standard rotation. While on some ships you'll find Moderno Churrascaria (aka a Brazillian steakhouse), on others that venue will be replaced with Los Lobos' high-end Mexican fare.
READ MORE: Review of La Cucina
On the Norwegian Encore, longtime Italian favorite La Cuchina was replaced with up-and-comer Onda.

Since what is available varies from ship to ship, we're going to give you a rundown of the various restaurants offered on Norwegian cruise ships. To figure out which ones are available on your sailing, simply look under "dining options" on your reservations page at NCL.com.
Specialty restaurants on Norwegian Cruise Line ships are:
Le Bistro. This French restaurant is extremely popular with couples looking to celebrate a special occasion. It's definitely the kind of place you want to dress a bit nicer for, and tends to be both quiet and romantic.
Moderno Churrascaria. Come hungry to this Brazillian steakhouse, where servers walk around with huge skewers of meat and keep coming until you throw in the towel. While not exactly idea for vegetarians as a whole, the salad bar is incredibly well-stocked.

Cagney's Steakhouse. Long a favorite of Norwegian cruisers, this is one it's best to make a reservation for.

Teppanyaki. Better known to some as a hibachi restaurant, the chef here puts on a heck of a show. If you're going out with friends — old or new — and want a meal that's sure to keep people entertained, make a reservation here.
READ MORE: Cagney's Steakhouse Review
La Cucina. This traditional Italian restaurant with ala carte pricing offers everything from antipasti to pizza, with an emphasis on pasta. Although pizzas were removed from the menu a while back, they have since returned, making it a lot easier to please families with kids and/or picky eaters.
Food Republic. The best way to describe this is Asian-fusion tapas (tempura shishito peppers, sushi rolls, etc). The small plates are great for sharing, so bring a friend and try twice as many things.
Margaritaville at Sea. Yes, you can order a Cheeseburger In Paradise, and you'll have no trouble getting a table as this venue rarely attracts a crowd. (The same can't be said for the attached 5 O'Clock Somewhere bar, however.)

Los Lobos. This high-end Mexican restaurant focuses on unique flavor combinations and best of all offers tableside guacamole preparation. Our go-to entree? The carne asada.

Q Texas Smokehouse. Norwegian finally jumped on the bar-b-que craze with this restaurant which serves up amazing ribs, chicken, and brisket, smoked onboard over hickory, oak, and pecan wood. If nothing else, you'll want to check it out for the live music.

 

Ocean Blue. Originally created in partnership with Iron Chef Geoffrey Zakarian, this seafood restaurant no longer bears his name, but continues to serve up incredible, fresh dishes.

Onda by Scarpetta. If La Cuchina is classic Italian, this venue — introduced on Norwegian Encore — is high-end Italian.
Elsewhere, several ships in the Norwegian fleet feature shows (such as the Cirque du Soleil production Cirque Dreams) which come with the option of having dinner before the entertainment begins. The menus are pre-set, although vegetarian options can be arranged, and included in the price of admission.
And of course, room service is available aboard all Norwegian ships. While a limited breakfast menu is available at no charge, all other orders (no matter how big or small) come with a $7.95 delivery fee.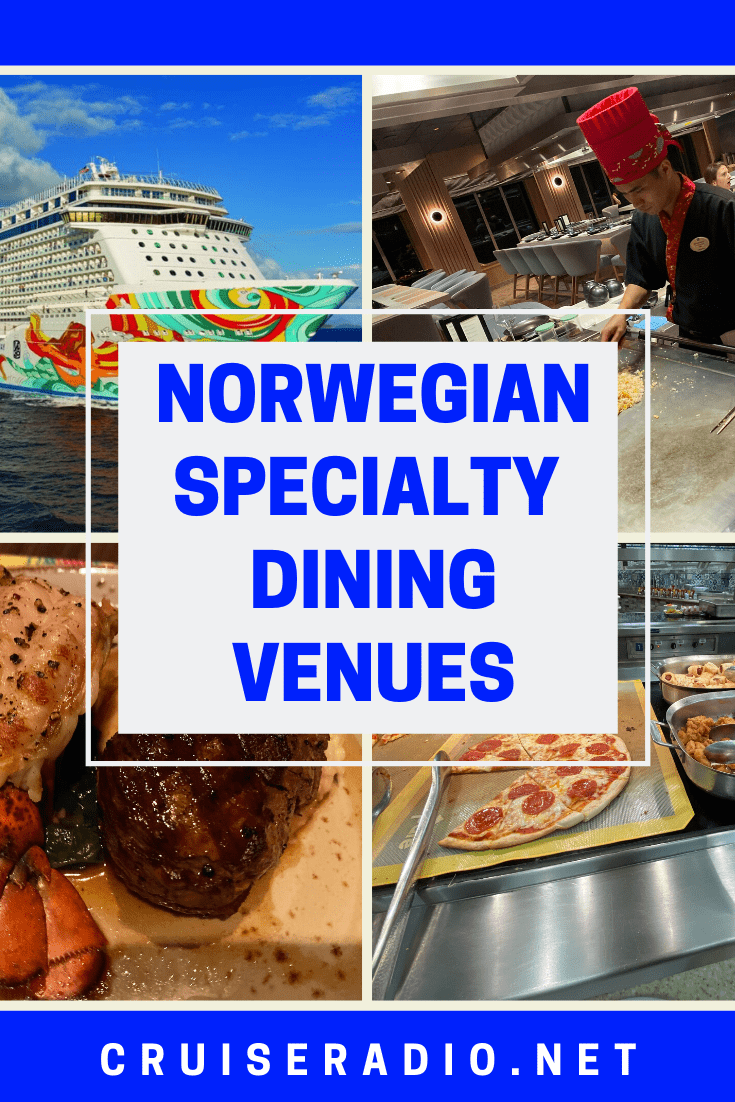 ---
---